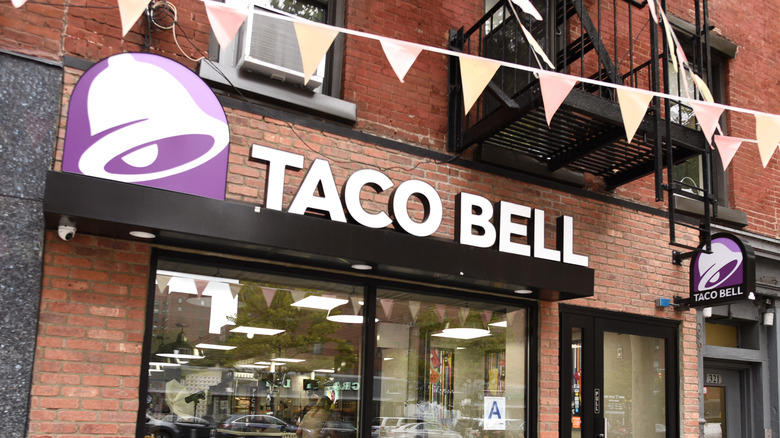 We may receive a commission on purchases made from links.
If you've ever gotten a late-night craving for some crunchy tacos and a frozen Mountain Dew Baja Blast, chances are you've headed on over to your local Taco Bell. With locations in every state (one dedicated fan even road-tripped around the country to eat at a Taco Bell in each one) and almost 30 countries, the chain is pretty ubiquitous.
Sure, the menu has gone through some changes over the years. The original restaurant served up crunchy tacos (which the Anglo customers apparently called Tay-Kohs) along with something called the chiliburger, but the restaurant's offerings evolved over the years to include beloved discontinued Taco Bell menu items like the Enchirito, Extreme Nachos, and the probably best forgotten Seafood Salad.
Even if you've mastered the art of the copycat Crunchwrap Supreme recipe and your glove compartment is overflowing with expired packets of Fire Sauce that you refuse to let go of, there's still a lot you may not know about Taco Bell. From the story of how they invented their now-famous Doritos Locos Tacos to a few of their zaniest promotions, these weird facts about Taco Bell might just end up making you hungry enough to hit the drive-thru.
Taco Bell has some of the best vegetarian fast food options around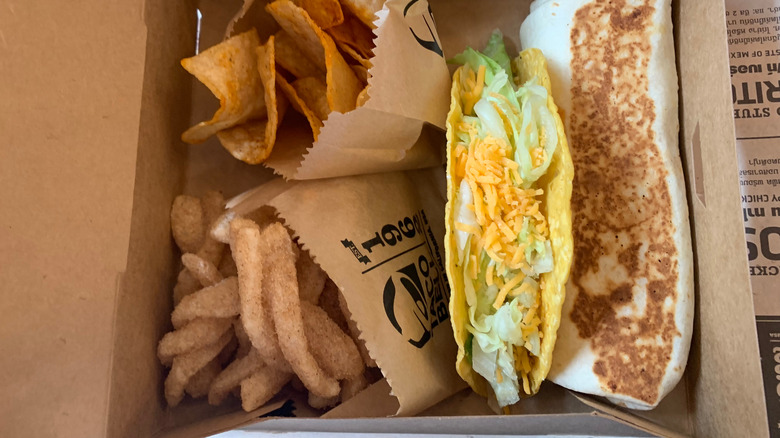 Taco Bell may be known for its meaty items like the Chipotle Chicken Loaded Griller and budget-friendly Beefy Fritos Burrito, but like a lot of other fast food restaurants, it's making expanding their vegan and vegetarian options a priority.
While Taco Bell has always been a good option for those who eat meat-free (you can sub any of the meat products in their menu items for beans, rice, or potatoes, all of which are vegan, and their guacamole can be subbed for sour cream), in 2019 it made a corporate commitment to making their menu even more friendly to vegetarians and vegans.
There are already 8 million vegetarian combinations diners can choose from at Taco Bell, and the chain is also testing their first official vegetarian menu. They even have a guide to eating vegan at Taco Bell on their website that was created in partnership with the American Vegetarian Association, which shows diners how to make some of their most classic menu items, like the Crunchwrap Supreme and soft taco, both meat and dairy free.
The chain is also testing some new vegetarian items for 2019, so meat-free diners should keep their eyes peeled for these menu additions.
Taco Bell's Batman movie promo in 1989 changed fast food advertising
In 1989, Taco Bell did something that not a lot of its peers were experimenting with at the time. They teamed up with the Tim Burton-directed "Batman" movie premiering that year for an advertising campaign that wound up being a huge success.
Taco Bell ran a promotion all summer involving Batman Collector Cups, and it ended up breaking records for the chain's promotional-tie ins. Customers who ordered a large drink would get one of the collectible plastic Batman cups, and Taco Bell restaurants were decorated with massive cardboard cutouts of Batman to drum up excitement.
One store reported that their sales went up 25% thanks to the promotion, and sales of large drinks at one location went from 600 to 1,000 a day.
Not only did the campaign boost sales at Taco Bell, but it also inspired Batman enthusiasts to actually steal the cardboard cutouts that were on display at the restaurants, leading one company spokesperson to say that Batman himself might actually be needed to come help save his cardboard cutouts from being stolen.
According to Digital Spy, this was one of the first times a movie was advertised across so many platforms that it became a product in itself — but it certainly wasn't the last time.