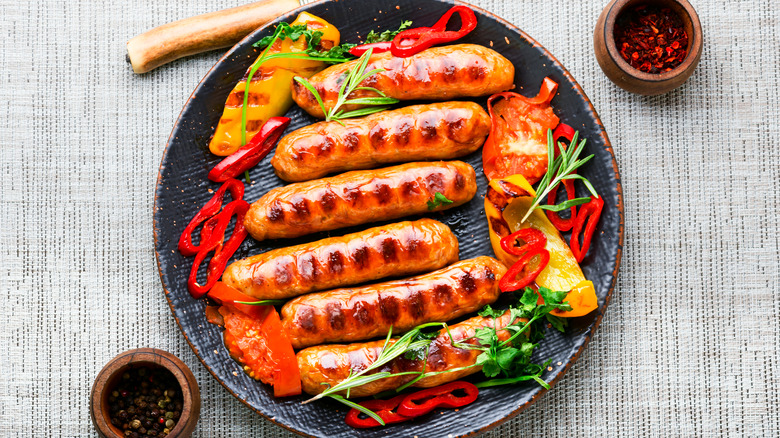 Sausages are a popular and versatile food. There are several different varieties of sausages. Sausages can be made of cured meat, smoked meat, or fresh meat. Herbs, spices, aromatic vegetables, and salt are common additions to sausages.
Different parts of the world have varying kinds of sausages. Every saucisson, salami, or sai ua sausage tells a unique story that is built on centuries of localized tradition. For those who come from cultures that consume sausages, the food is often linked with nostalgia and familiar tastes. The Lopez Sausage Company in New Jersey has added global sausages to its rotation for decades to ensure that local immigrants can enjoy a taste of home (via The New York Times). This action is a testament to the expression of identity and diversity.
There is an incredible amount of differentiation in the types and kinds of sausages available worldwide. Learning about the key sausage varieties out there is essential to maximizing and perhaps even redefining sausage enjoyment.
Spanish chorizo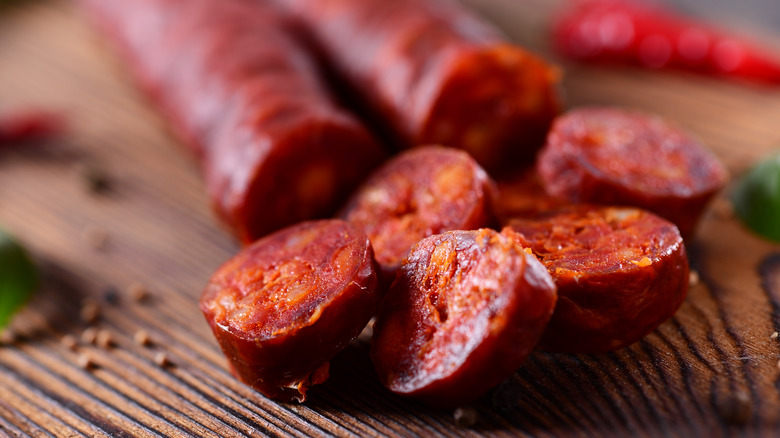 Spain is known for its incredible pork products: Jamón Ibérico ham yields translucent slices of cured pork that melt into a nutty, buttery, and salty flavor bomb while salchichón, a kind of cured sausage, goes excellently well with bread and wine.
Chorizo is another wildly popular Spanish delicacy: This sausage is distinguished by a rusty red color and a fatty shimmer interior. Spanish chorizo is firm in texture and can be quite chewy, depending on how long it has spent in the curing process. Chorizo derives its coloring from pimentón, which is a smoked Spanish paprika. This Spanish sausage also contains garlic, herbs, and white wine.
According to La Tienda, the spiced pork ferments for two days. After the first cure, the meat is stuffed into skins and formed into short and long links, smoked (most common in northern Spain), and hung to dry. Several different unique types of chorizo exist in the world. Chorizo Ibérico, made from prized Ibérico de Bellota pigs, makes for an excellent charcuterie board addition.
Chef José Andres combines bread "migas" with chorizo and grapes (via Instagram). The bread soaks up all the toasty paprika and garlic-infused pork fat bits, and a fried egg dresses the entire plate with its runny egg yolk. Chorizo can also be sautéd as well as added to stews and other dishes. The caramelized meat drippings of this sausage add an extra layer of flavorful richness to dishes.
Mexican chorizo
Although similar in color to its Spanish counterpart, Mexican chorizo has an identity of its own, along with limitless cooking possibilities. Unlike the Spanish version, Mexican chorizo is made of fresh pork sausage that is mixed with pork fat, tangy vinegar, chili, and spices and then stuffed into casings to form a sausage link and air-dried for up to one week.
According to The Washington Post, chorizo verde (green chorizo) is a milder alternative that contains charred poblano and Serrano peppers, tomatillos, cilantro, pumpkin seeds, and dried peppers. The cooking options for Mexican chorizo are nearly endless. Prior to cooking, the sausage meat must be removed from the casing by making a slit with a knife and scooping out the meat.
The meat can be mixed into burger patties, added to Texas chili, or sautéed and crumbled into tacos. Aaron Sanchez's Chile Con Queso and Chorizo dip is another worthy chorizo endeavor: Fresh chorizo chunks add texture, flavor, and a beautiful orange tint to a silky Oaxaca and manchego cheese base (via People Magazine). Finally, for a taste of Argentina, make a homemade choripán by nestling a grilled chorizo link into a French-style roll and drizzle a chimichurri sauce over the sandwich (via Saveur).
Italian pork sausage (salsiccia)
According to Greatist, in the U.S., Italian sausages contain raw ground pork, dried fennel seeds or anise, and other dried herbs. They are generally available at the butcher's or in the grocery store meat aisle.
According to La Cucina Italiana, there are multiple different variations of sausages in Italy and they vary based on region. The Italian term "salsiccia" is categorical, like "bread" or "pasta," and refers to several different sausage varieties. Regions of Italy such as Mantua, Umbria, Monza, Naples, and Calabria, to name just a few, maintain unique sausage-making traditions.
In Basilicata, chili pepper, wild fennel, pepper, and anise flavor minced meat that is shaped into casings. Puglia offers sausages such as the "cervellata in Toritto," which is prepared with ground beef and pork sausage filled with fresh basil, garlic, and pecorino cheese. The "zampina barese," also from Puglia, contains grated pecorino, tomato purée, parsley, and basil.
Other regions of Italy utilize ingredients such as pork rind, Grana Padano cheese, rice, and yellow turnips in the making of sausages. Like Mexican chorizo, fresh Italian sausages of any kind are incredibly versatile. Italian sausages can be added to soups, stews, and meat sauces. They can also be used to top a frittata with deeply caramelized sausage crumbles. "The Kitchen" co-host Katie Lee makes an incredible sausage-stuffed onion, pairing sweet red onion flavors with gorgeously peppery sausage meat (via Instagram).
Andouille
Andouille sausages are frequently used in dishes such as Louisianan gumbo, jambalaya, as well as other Cajun delicacies. According to Tasting Table, andouille is actually French in origin. This sausage is made from a pig's digestive tract: The stomach and intestines are chopped up and combined with onion and other seasonings and stuffed into a casing made of the large intestine.
In the U.S., andouille takes on a verified Cajun identity. Sausages are smoked twice to ensure a fully cooked product. Generally, European andouille is less spicy, has a courser texture, and lacks a smoky flavor as compared to Cajun andouille sausages. American Cajun andouille can be baked, boiled, broiled, or sautéed.
Traditional gumbo starts with a dark caramel roux (a thickener made from melted butter and flour) and a base of aromatic vegetables. Next, andouille sausage and chicken stock join the fun, and everything simmers low and slow until the thickened stew is ready for bowls of fluffy white rice. Grilled andouille sausages also work well in soft hotdog buns and make excellent additions to red beans and rice as well as a spicy seafood boil.
Bratwurst
Germany's OKtoberfest often features sauerkraut and beer, and bratwurst fits right in. Bratwurst is a German sausage that was brought to the U.S. by immigrants in the 1800s. In Germany, bratwurst comes in all shapes and sizes, with unique meat fillings and seasonings that vary depending on the region. American bratwurst combines ground pork and veal with warm notes of ginger and nutmeg, citrusy coriander, and caraway seed, which is an essential rye bread ingredient. In some cases, cream and eggs are also added.
Cooking bratwurst is a devout celebratory practice. The Bucyrus Bratwurst Festival in Bucyrus, Ohio (dubbed the Bratwurst Capital of America) reflects bratwurst fandom. Fire-roasted bratwursts take center stage every August, wrapped in fluffy white or rye bread and dressed in saucy condiments (via Instagram).
There are several different ways to consume Bratwurst: In North Carolina, lifestyle brand Cackalacky recommends barbecuing bratwurst and drizzling it in barbecue sauce before placing it on a hotdog bun (via Instagram). According to Columbus Monthly, chef Michael Symon vouches for his ideal bratwurst: All he requires are caramelized onions and Bertman's mustard.
Breakfast sausage
Breakfast sausages are an integral part of breakfast at several restaurants. According to Greatist, breakfast sausages in the U.S. are link sausages that are consumed alongside pancakes, eggs, or any other stateside breakfast plate. They are usually made with pork, although turkey, lamb, veal, and chicken are also used.
Typical seasonings for breakfast sausages may include dried sage, dried thyme, onion powder, garlic powder, and a dash of sugar to give the links a characteristic subtle sweetness.
According to Southern Living, sausage links are made with a smooth meat filling, while loose meat patties feature a courser grind. Adventurous cooks can attempt homemade breakfast sausage patties at home by mixing ground pork with seasonings and frying in a pan or baking in the oven. Whether they're homemade or store-bought, breakfast sausages can be integrated into a recipe that uses loose breakfast sausage in its biscuit-bound gravy.
Alternatively, try browning breakfast sausages in a lightly oiled pan to elevate a morning breakfast side. Alternatively, try a variation of this Food Network recipe: Add a splash of red wine, let it reduce slightly, and finish with a drizzle of balsamic vinegar. The sweet and tangy glaze of the reduced wine and sweet vinegar cut through the richness of the sausage in this recipe.
Kielbasa
The word kielbasa means sausage in Polish. Kielbasa varies significantly in size and flavor depending on the region. For example, the Kiełbaski myśliwska variety is made with ground pork and juniper, while the Serdelki sausage resembles an American hot dog. According to The Takeout, the kielbasa prototype that is most commonly found across America is known as a "Polska kielbasa wedzona," which is a smoked pork sausage infused with garlic, pepper, and marjoram.
Bon Appétit vouches for the simplistic elegance of grilled kielbasa combined with mustard. Mustard's tanginess compliments kielbasa's characteristic rich juiciness, and mild smokey flavor. Alternatively, a grill can be used to caramelize the snappy casing and pop it into a bun with sautéed onions and peppers, and a squirt of mustard. Kielbasa can be sliced, chopped, or diced and browned in a lightly oiled pan. Dishes such as split pea soup, legume stews, or braised greens all welcome kielbasa's smokey bite.
Longganisa
The Philippines is a beacon for fantastic food, and dishes such as chicken adobo, along with Filipino food, are beloved among U.S. epicureans. Longganisa, derived from the Spanish word "longaniza," refers to a broad selection of Filipino sausage links (via Guide to the Philippines).
The northern city of Vigan holds "The Vigan City Fiesta" every January, and a longganisa parade entertains locals from neighboring provinces with celebrations that honor the distinctly sweet-tasting and garlicky longganisa sausage.
According to The New York Times, Longganisa is short and stubby but packs a punch of heat and sweetness. In the Philippines, longganisa is eaten all day but is first and foremost a Filipino breakfast essential that is served with garlic fried rice and a fried egg (via Vigan Tourism Website).
In addition to being eaten with rice, longganisa is also dipped in vinegar with garlic, chili, and onions to cut through the richness of the sausage. To prepare longganisa, cook in a shallow pan of water and then allow the water to evaporate fully and the outer casings of the sausage to brown and glisten with fat.
Sai ua
Thailand is teeming with sausage diversity, but the sai ua sausage is a notable standout. This prevalent street food sausage undergoes two seasoning steps: First, ground pork is mixed with scallion, kaffir lime leaf, and cilantro (via Taste Atlas). Then, red curry paste, made with galangal, kaffir lime zest, lemongrass, garlic, fermented shrimp paste, chilis, shallots, and fish sauce, is added to reinforce the mixture.
This aromatic pork mixture is then assembled into one very long casing, forming a remarkable coil shape. After its cooked, the sausage is cut into pieces and served. Although it is typically grilled, sai ua can also be broiled, baked, or fried. A little salty and a little spicy, sai ua is often served with vegetables, sticky rice, and nam prikh num, a roasted green chili sauce spiked with garlic, cilantro, and fish sauce (via Serious Eats).
The "Northern Thai platter" at Pai, a northern Thai restaurant in Toronto, Canada, is a feast for the eyes and the stomach. Thai sausage slices feature on a platter overflowing with barbecue pork skewers, laab salad, grabong squash fritters, tomato relish, and sticky rice. Bon Appétit's at-home chicken Thai sausage recipe swaps out ground pork for chicken and serves them with a homemade green chili dipping sauce.
Salami
A piece of crusty warm French bread with cheese and salami truly makes for a perfect mouthful. Salami belongs to the Italian salumi family. Pork salami is centuries old: It is depicted in a 1st-century Roman cookbook.
According to British Charcuterie Live, salami is a cured sausage created by fermentation or an air-dry curing process. Sausage fans can find unique salami interpretations throughout Europe. Sopressata, a dry-aged salami, hails from Italy and is a popular charcuterie board addition. Saucisson (French salami) and salchichón (Spanish salami) both have a firm texture, a pale-colored outer casing (from a prolonged curing process), and a reddish-pink meat center.
Saucisson sec (meaning "dry salami") is a traditional French salami seasoned with garlic and black pepper (via Olympia Provisions). Similarly, Spanish salchichón differs by region; some sausages are derived from prized Iberian pigs while others use wild boar. Finally, loukanika (Greek salami) adopts the same textural attributes but introduces distinct cumin, garlic, and orange zest notes. Unsurprisingly, time is a central aspect for all salami types, and the aging process determines the specific nature of every sausage.
Mortadella
Mortadella is known as the bologna of Italy: Its texture and flavor are profoundly different from American bologna. Mortadella contains black pepper, warm spices, and toothsome pistachios that pepper a silky smooth meat mixture. According to Bon Appétit, in order to make Mortadella, seasoned pork meat paste is launched into robust casings and then immersed into a steam bath.
There's nothing like a thoughtfully crafted focaccia sandwich with a generous serving of mortadella. All'Antico Vinaio, a Florentine panini parlor is revered for its sandwich that contains delicate mortadella curls, creamy stracciatella cheese, and rich pistachio cream on Tuscan flatbread (via Grub Street).
Beyond sandwiches, ground mortadella can also be used to bolster bolognese meat sauce and add silkiness to a homemade veal ravioli filling. Of course, dangling mortadella shavings straight from the deli wrapping and into the mouth is also an acceptable (and highly encouraged) eating method.
Blood sausage
According to The Huffington Post, blood sausage is a delicious meaty delicacy that can be thoroughly enjoyed once one overcomes any possible social stigmas. Different parts of the world have their own version of blood sausage, and though no two blood sausages are the same, blood is an essential prerequisite across the board. Characteristically, cooked blood sausage is dark in color and sometimes contains a grain such as barley that helps bind everything together.
Spanish morcilla requires ground pork and pig's blood, but other flavorings are wide-ranging (via Tasting Table). Slicing into a morcilla sausage may reveal bits of rice, pine nuts, or potato and smell of aromatic onion, paprika, or cinnamon. Spanish morcilla can be fried in olive oil and paired with crusty bread or added to soups, stews, and braises.
In the U.K., blood sausage is often referred to as black pudding. According to MasterClass, black pudding is a blood sausage that can be found across Scotland, England, Ireland, and Canada. Black pudding contains either pork or beef blood and cereal grains (such as oatmeal or barley) blend with animal fat and various spices. It can be broiled or grilled, or sliced into coins and fried. Other times, black pudding can be crumbled into crisp pizza crust and melted cheese puddles (via Instagram). French boudin noir and Kenyan matura are two other prime blood sausage examples worth trying.
'Nduja
'Nduja has captured the hearts of spicy sausage lovers everywhere. The bright red sausage paste tops pizzas, squeezes into pasta fillings, and accompanies plates of molten burrata cheese (via Bloomberg). Hailing from the Vibo Valentia province in Italy, 'nduja is made with fatty pork, herbs and spices, and hallmark Calabrian chiles. The mixture is then blended into a paste, stuffed into large casings, smoked with herbs, and left to cure for three to six months.
'Nduja has a striking bright red color. Unlike other soft-textured sausages that require cooking (like Mexican chorizo), 'nduja is fully cooked and ready to eat. According to The New York Times, 'nduja only requires a piece of bread and knife for spreading. BBC Good Food recommends tossing' nduja with warm pasta, adding it to scrambled eggs, or incorporating it into homemade muffins. The red oil from 'nduja can even coat fresh langoustine in a lovely layer of hot porky fat (via Instagram).
Boerewors
According to Boerie, boerewors are thoroughly revered across South Africa and other parts of Africa (including Zimbabwe and Namibia). K's Wors, a South African meat purveyor, sheds light on boerewors' origins: The word boerewors means "farmers sausage" in Afrikaans. This sausage entered the South African culinary scene when farmers invented the stuffed meat variety about 200 years ago.
Boerewors are customarily made with ground beef although goat, pork, lamb, or other mixtures are also acceptable. Meat to fat ratios, however, are strictly monitored: South African guidelines require that all boerewors contain 90% meat, of which, only 30% may include fat. This precisely measured meat and fat mixture is mixed with herbs, spices (like allspice, cloves, coriander, and nutmeg), and lots of garlic.
According to Wine Enthusiast Magazine, during a South African braai (barbecue), boerewors, and other impressive cuts of meat are cooked on a wood fire grill (no propane allowed!). Boerewors on the grill heat up over medium-low heat or in a frying pan with a few tablespoons of water until fully cooked. After the water evaporates, the sausages are cooked in butter or oil and browned on all sides. The fried boerewors are laid over a fresh green salad, nestled on top of creamy mashed potatoes, or tossed into pasta, stews, or casseroles.
Chouriços de Goa (Goa sausage)
The story of Goan sausage is a riveting tale: According to Whetstone Magazine, from 1510 to 1961, the Portuguese rulership imposed European food habits on Goan locals. Chouriços, similar to chorizo, was a sausage that stuck despite a bitter history of forced conversion. With time, locals adapted chouriço recipes to include Indian chilies, spices, and local vinegar, producing a spicier and tangier flavor.
Most chouriços combine spice and marinated ground pork with a spiced red chile, garlic, and cashew feni masala (per Instagram). Stuffing these sausages is a labor of love: The meat filling is loaded into cleaned cow or goat guts by hand. After sufficient stuffing, the sausages are hung on bamboo rods and left to smoke over firewood stoves, and later, they are sunbathed out in the open air. The final product is firm in texture, forming red chouriço ropes with wrinkly outer casings.
Choris pao (sausage bread) is a dish that is made with a saucy chouriço stew that's piled between a fluffy bread roll or Hawaiian-style bun. Goan chef Gracian de Souza celebrates local chouriço flavors by whipping up modern chouriço pate and a savory choris sorbet. This unifying chouriço Instagram post from House of Goan Sausages further illustrates regional chouriços pride.
Half-smoke
The half-smoke is part of the rich culinary culture in Washington, D.C. According to Thrillist, a half-smoke link may appear to be a hot dog, but the spicy and smoky qualities of this sausage are truly unique. The half-smoke, when combined with a bun and a meat chili garnish, makes for an incredibly delicious meal.
There are three theories as to why the half-smoke acquired its name: The first alludes to the fact that the sausages have been smoked halfway. Others theorize that a 50/50 beef and pork meat ratio is the reason. However, ratios vary greatly depending on where you order. Finally, some note that the sausage is split lengthwise before searing the cut sides.
Although you could theoretically cook a half-smoke at home, ordering one on D.C. soil is preferable. The Washington Post recommends the DCity Smokehouse which serves up the half-smoke covered in brisket chili, cheddar cheese, red onions, and yellow mustard. Then, of course, there's Ben's Chili Bowl, the D.C. institution favored by Obama that serves up an incredible half-smoke.
Pepperoni
Pepperoni needs no explanation: Hormel pepperoni pouches are a popular snack. Despite having Italian origins, pepperoni has been integrated into American culture. In the early 20th century, Italian immigrants adapted Italian recipes to fit with available stateside ingredients. Today, pizza shops tend to flaunt slices topped with charred pieces of pepperoni.
But do we really know what pepperoni is? According to Bon Appétit, pepperoni contains pork, beef, or both. Paprika, garlic, and other herbs and spices season the meat. After the meat is stuffed into cases, the sausages are aged for a few days, smoked, and dried. Mild fermentation ensures a tangy flavor, causing extra moisture to evaporate and the pepperoni to solidify.
"Food Network Star" Jeff Mauro stuffs pepperoni into pizza pockets, homemade tomato sauce, and mozzarella cheese (via Instagram). Pepperoni slices can also flavor meat sauces and rice dishes, or also infuse toasted bread crumbs with their vibrant luscious appearance and oozing fat.