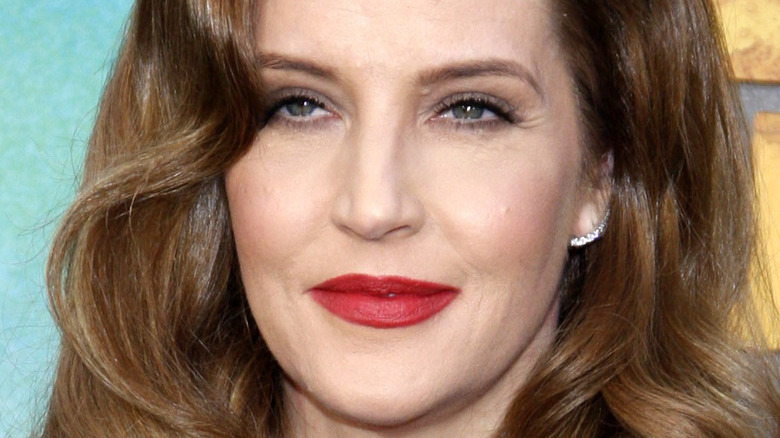 Someone like Lisa Marie Presley, the sole child of the King of Rock n' Roll, could have disappeared in her father's shadow, but she didn't. Presley made a name for herself in music, releasing three albums of her own. The first two, "To Whom It May Concern" in 2003 and "Now What" in 2005, were certified gold and debuted in the top 10 on the Billboard 200 charts. She also keeps Elvis' legacy alive as a trustee of the Elvis Presley Estate along with her mother, Priscilla Presley, per Biography.
Of course, when it comes to her own legacy, a lot will be written about her various failed marriages. But if there's anyone who can handle it, it's Lisa Marie. In her own songs, she's called herself a "son of a b****," a nickname she identified with since she was a child and which personified her refusal to remain a victim. In 2003, she said it was a quality she inherited from her father and afterward used to protect his dignity and legacy, per Playboy Magazine. And with her recent public stamp of approval of the 2022 film "Elvis" (via Instagram), it's a quality that defines her eagerness to protect those she loves. Read on to discover some of the toughest moments of Lisa Marie Presley's life.
Her parents divorced when she was only 5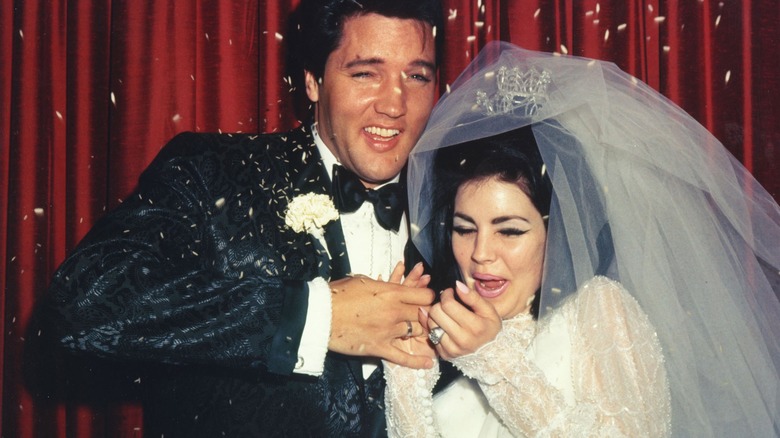 Lisa Marie Presley's parents had a strange marriage. Her mother, Priscilla Presley, neé Beaulieu, was just 14 years old when she fell in love with a 24-year-old Elvis Presley. While still in high school, Priscilla moved to Memphis and spent much of her time with Elvis at Graceland. She had trouble keeping up in school, and Elvis offered her amphetamines to keep her awake, per People. By many accounts, Elvis was a loving husband and father, and Priscilla enjoyed taking care of him, per People. But the relationship was on Elvis' terms, and she began to feel constrained by it. According to Biography, Priscilla once described herself as Elvis' "living doll": he demanded she change her appearance by putting porcelain caps on her teeth and dying her hair to match his. Additionally, after the birth of Lisa Marie, Elvis refused to have sex with her and conducted affairs with other women.
Their divorce was finalized in 1973 — when Lisa Marie was only 5 years old — but it was amicable. Priscilla still loved Elvis, but she wanted independence, per Entertainment Tonight. She and Lisa Marie continued to be regular visitors at Graceland, where Lisa Marie had fond childhood moments. In interviews, Lisa Marie described Graceland as a place where she and her friends were free to engage in fun, wild antics without consequence, like riding and destroying golf carts around the property. In this respect, she took after her father, who was also free-spirited (via YouTube).
Her father died when she was just 9
Lisa Marie Presley sensed something was wrong. Before Elvis died on August 16, 1977, when she was only 9 years old, his health went into decline. Occasionally, Lisa Marie would discover Elvis losing his balance while standing. With no one else around, she would try to rescue him and hold him up herself. With time, his health became worse, and Lisa Marie could tell he wasn't happy but wasn't fully aware of his condition. She was at Graceland with Elvis when he died, and the last time she saw him was at 4 a.m. She was up past her bedtime, and Elvis kissed her goodnight (via YouTube). She then became the first to find her father's unconscious body. She immediately called Elvis' ex-girlfriend Linda Thompson, who wrote in her memoir "A Little Thing Called Life" that Lisa Marie was frantic (via Showbiz Cheatsheet).
His body remained at home for three days, which Lisa Marie found comforting since it softened the reality of his death, and she lingered by his body during that time (per YouTube). Priscilla Presley found out the news from Elvis' road manager. Once at Graceland, she found Lisa Marie playing with her friends per usual. Priscilla assumed Lisa Marie didn't understand the tragedy of the situation yet, per Entertainment Tonight. As an adult, Lisa Marie has been reluctant to divulge details of that night and believes it would only serve to capitalize on her father's death, per Playboy.
She was reportedly sexually abused by her mother's boyfriend
After her divorce from Elvis, Priscilla Presley began a relationship with male model Michael Edwards, who had a daughter the same age as Lisa Marie, according to Interview Magazine. In 1978, Edwards told People Magazine that although Lisa Marie had warmed up to him, no one could eclipse Elvis — who had recently died — as her father figure. The three of them lived together in a home in Los Angeles, and Lisa Marie attended a nearby private school. Although Priscilla painted a picture of a peaceful and quiet domestic life, a much darker and disturbing dynamic was growing underneath. After Priscilla and Edwards split up, he wrote a tell-all called "Priscilla, Elvis, and Me." In it, he described an emerging attraction to Lisa Marie, who was a minor. He abruptly ended a swimming session with Lisa Marie after realizing he was sexually attracted to her during an innocent hug.
In an interview with Playboy, Lisa Marie called Edwards "sick." She remembered him trying to enter her bedroom and acting inappropriately while he was drunk. Speaking to the Daily Mail, Priscilla revealed that her relationship with Edwards wasn't what she thought it was. He reportedly received a book deal, and his revelations of their private lives amounted to a betrayal.
If you or anyone you know has been a victim of sexual assault, help is available. Visit the Rape, Abuse & Incest National Network website or contact RAINN's National Helpline at 1-800-656-HOPE (4673).
She regretted her decision to divorce Danny Keough for Michael Jackson
Lisa Marie Presley was only 17 when she met her first future husband, musician Danny Keough. They met at the Scientology Celebrity Center rehab facility, where Lisa Marie was sent after dropping out of high school and using drugs. They married three years later, on October 3, 1988, and it lasted six years, per Biography. According to People, Keough was a "nobody," and their marriage was shrouded in secrecy, likely in order to avoid publicity. Their honeymoon consisted of a Scientology passenger cruise vacation in the Caribbean. They had two children, Danielle and Benjamin.
Presley believed that her unsymmetrical wealth and power status compared to Keough's made him uncomfortable and created feelings of resentment. At the time, she believed the solution was to marry someone on her level. They separated, and only 20 days after their divorce was finalized, Presley married Michael Jackson (via Biography). They had dated for only four months before solidifying their relationship in a private ceremony in the Dominican Republic, and they famously announced their marriage at the MTV Music Awards in 1994 and kissed on stage, per Biography. However, in an interview with Marie Claire, Presley said that "probably the biggest mistake of [her] life" was ending her marriage to Keough in order to marry Jackson. While the relationship with Jackson dissolved after two years, she was able to maintain a close friendship with Keough, who once homeschooled their children at Presley's house, per Rolling Stone.
Lisa Marie Presley's marriage to Michael Jackson was a disaster
The Lisa Marie Presley-Michael Jackson relationship seemed destined to fail. Presley was coming out of a marriage, and Jackson had already been accused of child molestation, per Biography. In an interview with Rolling Stone, Presley said that Jackson persuaded her to believe his version of events and painted the accusations as extortion. She said that Jackson was very convincing, and she was determined to help him. His philanthropy convinced her he was a good person, and she believed they could have been a power couple. Jackson had first been interested in her when she was a teenager, but that interest wasn't mutual, and she was in love with Danny Keough at the time. Years later, Jackson reached out to her again in an offer to hear her demo, and she acquiesced. They kept in contact, and in a moment that Presley later regretted, she told Jackson that she was unhappy with her marriage to Keough. This only motivated Jackson.
Once married, their relationship quickly devolved. The famous MTV kiss was orchestrated by Jackson's PR team. And then, in an infamous 1995 interview with Diane Sawyer, Presley defended Jackson's friendship with children by saying it was innocuous. She felt taken advantage of; her instinct to protect Jackson — who she thought was wrongfully accused — was used against her. Presley resented how public opinion of her changed. People thought she had an ulterior motive, but she really loved him at the time (via Rolling Stone).
Her marriage to Nicolas Cage didn't last a year
Lisa Marie Presley embarked on a new ill-fated marriage, this time to actor Nicolas Cage. They met at a party in 2001, and Presley felt at ease with their similar backgrounds. Like Presley, he was born into a famous family within the entertainment industry. Presley admired how Cage was able to separate himself from the Coppola legacy and pave his own path to success, per Playboy. They began a rocky relationship marred by multiple splits until they finally married on August 10, 2002. They attended a premiere together for Cage's film "Adaptation" on November 23, and Cage filed for divorce only two days later. Speaking to Rolling Stone a year later, Presley attributed the dramatic turn of events to Cage being a "hothead." He issued a public statement that was mostly reticent except for admitting that he loved Presley. She then issued a statement, expressing regret at the outcome but stating that their marriage was a mistake. When Presley released an album, there were rumors that her song "Gone" was written about Cage.
In an interview with Marie Claire in 2007, Presley said the marriage was a result of being wild and young. Her days of marrying for the fun of it were over. As for Cage, he told Barbara Walters in a 2003 interview that he regretted how he handled the divorce. The marriage and divorce shouldn't have been rushed (via InStyle).
She had a bitter divorce from Michael Lockwood
Lisa Marie Presley thought she found stability when she married musician Michael Lockwood, with whom she had twins, per Marie Claire. But after 10 years of marriage, Presley filed for divorce in 2016, citing irreconcilable differences. Her lawyers said that Lockwood took advantage of her financially while he was responsible for her assets during the marriage. She also didn't like his approach as a father, per People. In the immediate aftermath of their separation, Presley couldn't serve Lockwood because his whereabouts were unknown. In a dark turn of events, Presley said she found child pornography on his computer, which led to their twin daughters being turned in to child protective services, according to People. However, a few months later, the police closed their investigation without filing charges. At the time, the twins were living with their grandmother, Priscilla Presley (per People).
While the terms of child custody still needed to be sorted out, it wasn't until 2021 that their divorce was finalized, per People. But this came after she was court-ordered to pay Lockwood $100,000 in legal fees in addition to a previous $50,000 in 2017, per E! News. In fact, Lockwood originally wanted $450,000. Luckily for Presley, a judge overturned the ruling, and Presley no longer owned Lockwood restitution, per New York Daily News.
Lisa Marie Presley underwent a lengthy custody battle
Lisa Marie Presley and Michael Lockwood underwent a testy three-month-long custody battle for their twin daughters with various accusations thrown around. Presley's issues with drug abuse were named as a concern by Lockwood's legal team. His lawyers also said that his children informed him that Presley walked around her home haphazardly with guns, per People. Additionally, Presley called into question Lockwood's parenting when she originally filed for divorce and later said she found lewd photos of children on his computer, per The Blast.
While their final custody status was being sorted out in court, they had joint custody of the children. Presley had physical rights, while Lockwood was granted three supervised visits a week. Under that agreement, the children were not allowed to fly out of state without the permission of both parents. This became a problem when Presley wanted to bring her children to Elvis Presley's 85th annual birthday celebration at Graceland in Memphis, Tennessee. Lockwood refused to sign off on the trip, and Presley appealed to a judge for permission. It was refused since it wasn't considered an emergency, per The Blast. Their custody trial started on July 20, 2020, which resulted in joint custody between the parents. The judge reprimanded them, however, saying that their actions and in-fighting were "detrimental" to the twins, per Showbiz CheatSheet.
If you or anyone you know is struggling with addiction issues, help is available. Visit the Substance Abuse and Mental Health Services Administration website or contact SAMHSA's National Helpline at 1-800-662-HELP (4357).
Her son died at 27
No parent should have to bury their child, the saying goes, but sadly, Lisa Marie Presley did. Benjamin Keough, son of Presley and grandson to Elvis Presley, died from a gunshot wound in July 2020. It was self-inflicted, and a coroner determined his death to be suicide. Lisa Marie released a statement through a rep saying she was heartbroken and inconsolable, per BBC News. There were tabloid reports that she and her ex-husband, Danny Keough, who is Keough's father, moved in together as they both grieved (via The U.S. Sun).
Keough's friend, Brandon Howard, said that he struggled with the pressure of the "Presley" family name prior to his suicide. Expectations boxed him into an acting or musical career. But despite his depression, Keough was often the first among his friends to be there for others, and Howard added that Keough had a great laugh and was an excellent chef, per People. In 2009, there were reports that Keough signed a $5 million five-album deal with Universal Music, but that rumor was denied by the company, per Entertainment Weekly. In an interview with the HuffPost, in the midst of her 2013 "Storm & Grace" tour, Lisa Marie said that she supported Keough in pursuing his own interests when asked if he liked to sing.
If you or anyone you know is having suicidal thoughts, please call the National Suicide Prevention Lifeline by dialing 988 or by calling 1-800-273-TALK (8255)​.
She's dealt with substance abuse
Lisa Marie Presley has usually been private about her battle with opioids, but she opened up about her struggle when she wrote the foreword to Harry Nelson's book "The United States of Opioids." Her addiction began after the 2008 birth of her twin daughters with a painkiller prescription. Her foreword touched on the ongoing crisis and the drug's corrosive nature, which affected both her father, Elvis Presley, and her ex-husband, Michael Jackson. Lisa Marie's drug addiction was publicized through divorce filings during trial, and she admitted to using cocaine during her last year of marriage, per Yahoo! Entertainment. In an interview with Today, Lisa Marie said her struggles with addiction began when she was 45 (via Entertainment Tonight). But she's come a long way, and her therapist said her recovery was remarkable, calling her a "miracle."
During her custody battle with ex-husband Michael Lockwood, his legal team cited her devastation over her son Benjamin Keough's death as a potential trigger for a drug abuse relapse, per Showbiz CheatSheet. Lisa Marie had gone to rehab somewhere between three to five times, according to the court documents (via Yahoo! Entertainment).
If you or anyone you know is struggling with addiction issues, help is available. Visit the Substance Abuse and Mental Health Services Administration website or contact SAMHSA's National Helpline at 1-800-662-HELP (4357).
She was in dire financial straits
When Lisa Marie Presley inherited the Elvis estate in 1993 at the age of 25, it was valued at $100 million. But instead of receiving the money itself, Presley appointed trustees to oversee her inheritance. Businessman Barry Siegel emerged as the main manager of her assets. Within two years of his position, he sold 85% of the trust's interest in the Elvis estate, selling $100 million and only receiving $40 million in turn. There was an additional $25 million in stock. But by 2015, Lisa Marie's fortune had dwindled to $14,000, per Forbes. Her divorce documents in 2018 revealed that she was $16.7 million in debt and had defaulted on a $6 million mortgage, per People.
In 2018, Presley sued Siegel, alleging that after the $25 million in stock went south, he liquidated her assets to compensate for the losses without informing her. Her lawsuit also says that he bought a $9 million English manor from her trust while using the funds as collateral. Siegel made a countersuit, blaming Presley's profligacy for the lost fortune, and says that the deal she believes is fraudulent was responsible for clearing her debt, per People. Her father's estate still nets her $4,361 a month.