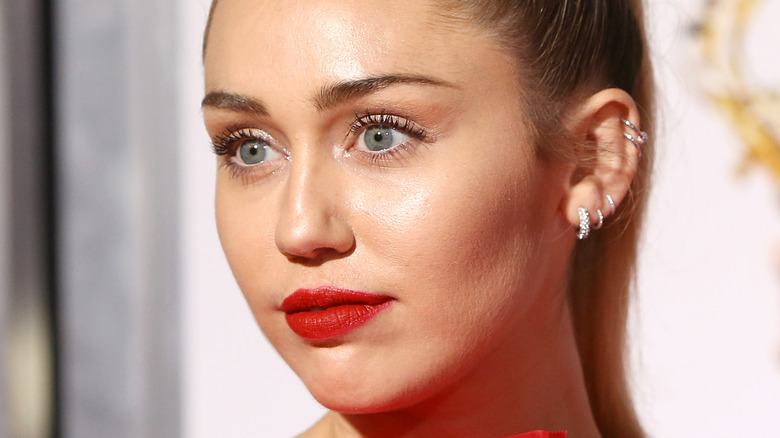 Prior to the onset of COVID-19 in early 2020, most of us were more than happy to be as close to the hustle and bustle of city life as possible. But once the pandemic hit, we itched to get away from our neighbors, and that's when remote country homes started to look pretty good. By living further away from cities, shops, and restaurants, people can enjoy more privacy, larger homes, more space for outdoor activities and recreation, and more peace and safety. According to Gulf Shores Real Estate, these have always been the perks of rural living.
But it seems like these celebrities have long been in on those secrets. Although most stars choose to set their roots down in Los Angeles, these celebrities have found their dream homes far away from paparazzi, nosy fans, and next-door neighbors in these remote and secluded abodes. See some of the most glamorous A-list homes in remote locations below.
John Travolta's historic mansion on an island in Maine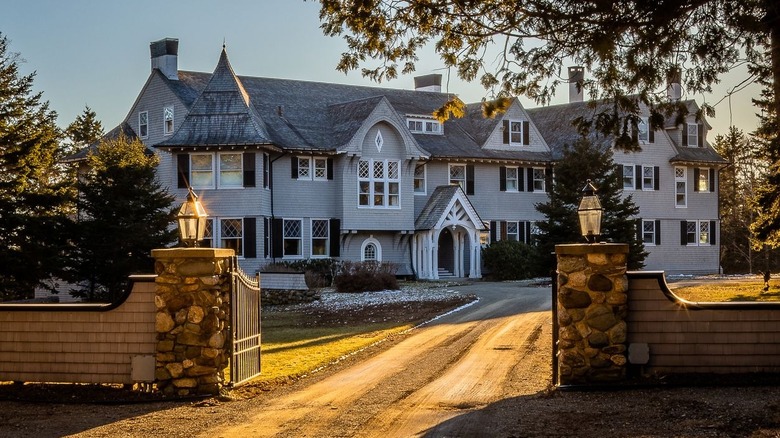 As a star more associated with yesteryear than any of today's productions, John Travolta probably didn't need a colossal Maine home hidden away on 50 acres of land on Islesboro Island. But it makes sense, considering when Travolta picked up the estate located on Sabbathday Harbor. According to Mansion Global, Travolta and his late wife Kelly Preston bought the home three decades ago. However, in early 2021 — just three years after Preston succumbed to cancer — Travolta decided to part ways with the stately spot with nearly two dozen bedrooms. He listed it for $5 million, but there haven't been any takers.
That's unfortunate, considering how stunning this 120-year-old mansion is. It's a true water retreat, thanks to its views of Penobscot Bay and the Atlantic Ocean from its windows. Thanks to the dock, a buyer can also use Sabbathday Harbor as they please. Plus, the estate is surrounded by a lush pine forest for privacy. It also has lots of classic touches inside for a buyer who can appreciate a bit of history. A living room stone fireplace is surrounded by sunny yellow wallpaper and yellow floral drapery. And the dining room has yet another fireplace, topped by a candlelit chandelier.
Michael Bloomberg's $45 million Colorado ranch
After former New York City mayor Michael Bloomberg announced that he would not be running for U.S. president in early 2020, he might have been looking for some privacy when he splurged on a ranch on a whopping 4,600 acres. Per The Wall Street Journal, Bloomberg paid nearly $45 million for the Colorado pad dubbed "Westlands," which was put on the market by an equity firm founder.
As if the 4,600 acres weren't enough, Bloomberg's home, not far from Aspen, has plenty of space. The 19,000 square foot estate also has everything one needs to never step foot outside of property lines, such as a private movie theater, a personal golf course, a tennis court, and field for riding horses, and a helipad for a quick escape. Plus, both fishing and hunting are plentiful on the rustic landscape. However, despite the property's many amenities, it still has an ample dose of coziness. Dark woods line the walls and ceilings, and sky-high stone fireplaces also reach the ceilings, said Insider. Exposed wood beams and chandeliers constructed from deer antlers also bring more rustic touches to the interior. The bedrooms, too, have their own fireplaces and evoke an authentic cabin feel thanks to the log rafter walls.
Kanye West's Wyoming estate with lakes, a restaurant, and a saloon
Although Kim Kardashian and Kanye West are no more, it looks like West has quite the abode to recover from the damage. TMZ reported that his Wyoming real estate collection includes a ranch fittingly called Monster Lake Ranch, which sits on nearly 4,000 acres and cost West $14 million. After he cut the check, he also gave it a new name, said The Sun. He refers to it either as Yeezy Campus or West Lake Ranch. However, unlike some Los Angeles homes, which fetch this price just for four walls, West's country ranch is much more than a place to sleep. It includes two lakes, fenced-in areas for animals, meadows full of hay for animal grazing, and a place to store and train horses. Plus, all of this is surrounded by jaw-dropping views of both mountains and cliffs.
If visitors want to get a little less rustic, there's also a go-kart track, a 3,500 square foot building ideal for gatherings, a restaurant, a shooting range, and even a saloon. But despite the many features of this huge property, it's also not exactly selling up to par. West listed it for $11 million in late 2021, so even if he sells the property at full-ask, he still won't make back his total investment.
Oprah's getaway on an island in Washington
You know you're working a lot when you don't have the time to use an island estate with 43 acres of beachfront access. But if anyone is busy, it's Oprah Winfrey, and that's exactly what happened just three years after she picked up a Washington island escape for $14 million. Per Puget Sound Business Journal, Winfrey bought the place on Orca Island sight-unseen, but she quickly changed her mind after writing the $8 million check. She soon put the 10,000 square foot home and its property back on the market. At least Winfrey made out with a $6 million profit on this deal, and the buyer got a four-bedroom, three-level home, said Architectural Digest. The home also has an eye-catching roof made of copper and slate, as well as an interior that features lots of contrasting wood tones for a bucolic ambiance.
However, the new buyer didn't just get a home and some land with this deal. Winfrey's former estate, which she completely updated after buying, also includes a private beach, greenhouse, store for purchasing necessities, and several other homes for visitors. But just because Winfrey's Orcas Island acreage is no more doesn't mean the star is done with the area. She owns several other homes here, too.
Miley Cyrus's country home overlooking 33 acres in a small Tennessee town
Everyone knows that Miley Cyrus is a country girl deep down, and she still holds true to that even after her many years of stardom. Perhaps that's why in addition to her glitzy properties in several celebrity hotspots, she also opted for a white farmhouse straight out of a storybook in the same Tennessee hometown where she was raised. The Observer said that Cyrus paid nearly $6 million for the country escape that measures 7,000 square feet through two floors at 242 Arrowhead Road, Franklin.
But being located in a small, remote town isn't the only thing keeping the paparazzi from swarming Cyrus at this location. Her home, which she bought in 2017, sits on 33 acres behind an exclusive road accessible only to owners and invited guests. The mansion itself has the perfect mix of high-end touches, like its own bar and elevator, as well as rustic throwbacks, like a cozy wraparound porch, exposed wood beams, several fireplaces, and a patio on the second floor for insane views of the property beyond. There are also many design elements incorporating the home's rustic setting, like exposed bricks and lots of stone. Even the pool is surrounded by stone, as is the spa.
Ben Affleck's traditional Georgian estate on 90 acres
With all of the big movies and big news that Ben Affleck has been a part of lately — we're looking at you, Bennifer — we're surprised that Affleck was ready to part with his colossal Georgia property on 87 acres. He put it up for sale in mid-2018 and continued to keep it on the market despite its lack of interested buyers through 2021. Homes & Gardens reported that for four years, Affleck kept cutting the North Newport River property price on Hampton Island Preserve from $8.9 million to $7.6 million. But besides having tons of property — there are three homes here — the place also has tons of character.
The main residence is a 6,000 square foot, two-story mansion with four bedrooms, all designed in the Greek Revival style, said People. Visitors are welcomed into the home between grand white columns and a tall set of stairs, all reminiscent of classic Georgian architecture. It gets even more impressive inside, where huge ceilings fill the entire home, as do several fireplaces. Affleck has kept the décor traditional, too, with elegant chandeliers, towering bookshelves full of books, fine china, patterned armchairs, and a dark wood dining room table. There's even a claw-footed tub and several rocking chairs.
Nicole Kidman and Keith's Urban's working Australian farm
Born to Australian parents, it's only fitting that Nicole Kidman has owned a $4.5 million Australian farm and farmhouse since 2008, where she spends tons of time with husband Keith Urban and their kids. For Kidman, it's a pastoral respite where she can get away from life on the fast lane on the property's 111 acres. Vogue said that here, Kidman spends time with the Bunya Hill farm's many animals graze on green lawns, and she also finds fresh garden produce for family meals. Onsite, there's also a separate cottage that doubles as a home for visitors, which is equipped with lots of rustic touches, including a modest kitchen.
At the nearly 150-year-old main home itself, Kidman has helped the place retain its original charm through décor. It has a traditional layout, including an impressive library, a throwback billiards room, and a formal living room equipped with a roaring fireplace and a piano. Much of it is with cream and beige tones, furthering the peaceful ambiance.
Justin Timberlake and Jessica Biel's rustic Montana escape at a private ski club
Justin Timberlake and Jessica Biel have been a power couple in the movie and music scenes for seemingly forever. They enjoy flourishing careers and reside in a sprawling Hollywood Hills home. However, it seems like they're ready to take a step away from the spotlight, as their California home is now for sale for $35 million. According to Hello!, Timberlake and Biel are heading to their Montana abode full-time. Perhaps, they hope to raise their kids — who are six years old and one year old — away from the flashing lights at their Big Sky mansion that they bought in 2015.
Besides the home's many celebrity-worthy amenities, there are many perks in the broader property, part of the private Yellowstone Club ski resort. The club that the house is situated on has nearly 3,000 acres of open space for skiing, a golf course with insane mountain views, and ample hiking and other outdoor activities. Inside, wood floors give the Western home a rustic touch, brightened up with pops of color from pale blue walls. Tons of windows provide the Timberlake and Biel family a front-row seat to the Montana mountains. While the above photo is not their exact house, it's another million-dollar mansion available at the private club, giving you an idea of the aesthetic.
Blake Lively and Ryan Reynolds' upstate New York home with a quaint country feel
While most celebrities choose to pick up plush pads in New York City, Blake Lively and Ryan Reynolds have a home a bit further north to provide a more family-friendly living setup for their kids. Per Haute Residence, Lively and Reynolds have a home in Pound Ridge, New York, next to none other than the queen of domesticity herself — Martha Stewart. The power couple's nearly 5,000 square foot abode sits atop a hill surrounded by forestry and 1.8 acres. It cost $2.35 million in 2012. It has lots of traditional country touches, including a cozy porch with wicker furniture, views of a nearby body of water, and lots of roaring fireplaces.
The home includes seven bedrooms and several dressing rooms, said E! News, and if that isn't enough space, there's an onsite barn, too, which is ideal for entertaining. The town includes quaint mom-and-pop shops, the Inn at Pound Ridge for country-style meals and private events, and even a local bakery — so you might see them popping by. Plus, despite their retreat's rustic seclusion, it's all only about an hour's drive from the big city if they need to pop in for work.
Kevin Costner's Colorado ranch named after 'Dances with Wolves'
When most people head to Colorado for winter activities, they're usually forced to spend time in the car to get to their destinations for ice skating, ice fishing, dog sledding, and more. But not Kevin Costner. Travel + Leisure reported that the actor owns a ranch on 160 acres, dubbed Dunbar Ranch. The ranch has all of that and more — and even better, it's just minutes away from Aspen. Plus, anyone (with $36,000) can stay here. The property includes three separate homes and can accommodate nearly three dozen people.
The ranch, named after the character Lieutenant John Dunbar from Costner's film "Dances with Wolves," might have a hefty price tag, but it might be worth its steep bill thanks to the activities available on the property. These include equestrian riding, hiking, and kayaking. Plus, once you're ready to escape from the cold here, the property's personal chefs can cook up a hot meal, or you can pop into the hot tub hidden in a secret passageway only accessible from the home's primary suite. The mansion also includes six bedrooms, exposed wood beams, wood floors, lots of fur rugs, and crazy views of Independence Pass and Aspen Mountain.
Harrison Ford's Wyoming abode on 800 acres, half of which is a nature preserve
Harrison Ford and Calista Flockhart, who have been married for nearly two decades, have long been major stars but have kept personal drama out of the limelight. Perhaps that's partly due to the 800-acre ranch they own in Jackson Hole, Wyoming, near the Snake River. Inquisitr said that Ford had owned the ranch for nearly 40 years, and he bought it while married to his previous wife, Melissa Mathison. Since then, much has changed in Jackson Hole. At the time, the town was still very underdeveloped, making it the perfect place for Ford to build a property, which he assisted in designing (via The Land Report). These days, Ford enjoys flying his plane, hiking, or riding his bike near his Western home.
It doesn't seem like the property will get less remote anytime soon, considering Jackson Hole's growth through the last few decades. However, Ford donated half of the estate to a nature preserve, which means that the land will continue to be home to roaring rivers, seemingly endless forests of pine trees, amazing mountain peaks, and blue skies.
Frank Sinatra's Palm Desert hideaway
Celebrities wanting to get away from it all with a secluded property certainly isn't a new concept judging by Frank Sinatra's former mansion. In the 1960s, Sinatra built a luxury cabin in Palm Desert, California. The property was situated less than five hours from Las Vegas, where Sinatra frequently performed. According to Top Ten Real Estate Deals, the home, dubbed Villa Maggio after Private Angelo Maggio in "From Here to Eternity," was the place to be for Sinatra and the rest of the Rat Pack. Here, they could relax on the property's 10 acres, far away from reporters' eyes.
We could see how Villa Maggio — which hit the market for $4.25 million in 2021 — provided some much-needed relaxation to Sinatra. It features a whopping seven fireplaces and stunning views from a towering deck. It also includes five bedrooms and two kitchens. It was clearly more the merrier here — there's even a home for visitors on the property with another four bedrooms. Outside, there's also a pool house near an area for playing tennis, a spa, a resort-worthy pool, 25 parking spots ideal for parties, and even a helipad for secret arrivals.
Kenny Rogers' Georgian country estate that once served as a public resort
Kenny Rogers was an award-winning musician, but he was also a real estate mogul in his own right. Per Country Living, Rogers designed the nearly 1,000-acre Beaver Dam Farms, a colossal Georgian estate that's literally as big as some resorts. It has a 12,000 square foot main house, five homes for visitors, a lake house, and many amenities like several pools, lakes, a tennis court, and a place for riding horses. But in 2003, Rogers decided that his dream home didn't make sense for him anymore since he was spending most of his time on the West Coast.
He sold it to the owner of a local resort, who lived there with his family before converting Beaver Dam Farms into a resort, too. After several years, the owner passed away, and the home located two hours from Atlanta hit the auction block (via Top Ten Real Estate Deals). It sold for an undisclosed amount but was valued between $30 to $40 million. But since bidding started at $3.5 million, the sale price could have varied widely.
Bob Hope's Palm Springs home on the side of a mountain
Although you can't quite miss the 24,000 square foot former home of Bob Hope with its unique, volcano-like shape, you won't have much luck trying to access it. Per Golf.com, the house that Hope spent years creating to his every last wish is built on the side of the Santa Rosa Mountains atop very rough terrain. What's now known as the "Bob Hope House" was designed by Frank Lloyd Wright in an ultra-modern style more reminiscent of "The Jetsons" than anything else most of us have seen before.
It doesn't seem like Hope had much need to leave the house, which sold for $13 million in 2016 to a financier that gave it a revamp. The home includes six bedrooms and 10 bathrooms and beautiful views of the Coachella Valley, said HGTV. The natural-appearing landscape is also integrated into the side of the unique mansion, such as a rocky waterfall and a mix of mature trees. Plus, there's an enormous pool next to a concrete patio with a fire pit, ideal for entertaining.