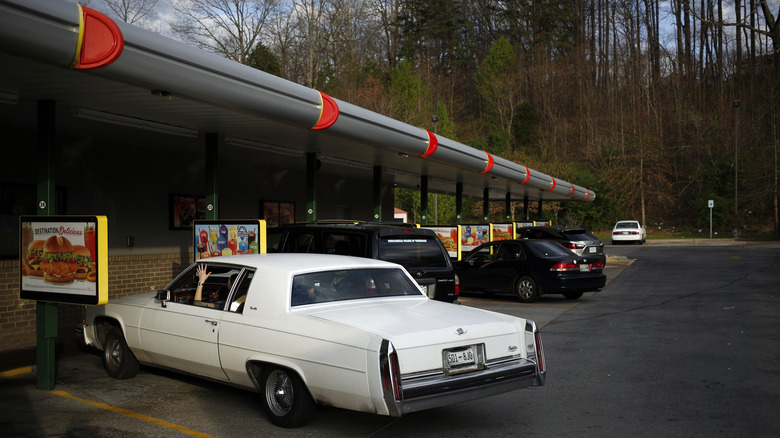 To look back at the first-ever Sonic Drive-In restaurant is a bit trickier than you might expect, because the original Sonic can be thought of in two ways. While the first fast food restaurant called Sonic Drive-In opened in 1959, it was actually a new location of an already existing (though small) chain. The forebear of Sonic was a fast food joint called Top Hat that was really just a root beer stand that sold a few food items, per Zippia. The first Top Hat location, which opened in Shawnee, Oklahoma in 1953, was a walk-up, not a drive-in.
The idea for a drive-in fast food restaurant — not to be confused with the drive-thru you know and love today — was inspired by a trip Top Hat founder Troy Smith took to Louisiana the year after opening his first location. There, Smith saw a little restaurant with improvised two-way intercoms set up at parking spaces that allowed motorists to order food without exiting their cars. He would soon emulate the feature — and in fact, it was the audio-based ordering system that would come to define the rebranded and expanded chain.
By 1958, there was a handful of Top Hat Drive-Ins across Oklahoma, but it was in the following year that the chain finally came into its own.
Sonic changed its name largely to avoid legal trouble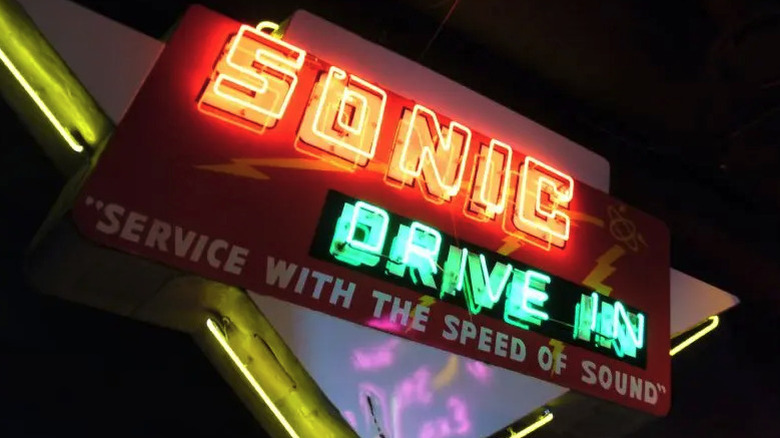 Today, Sonic Drive-In's slogan is "America's Drive-In," but when the first official Sonic was founded in Stillwater, Oklahoma, according to the company's history, its tagline was "Service at the Speed of Sound." This was partly a nod to the jet age (and burgeoning space age) that was exciting people around the world, but it was also in relation to the fact that customers communicated with employees via intercom systems, literally ordering via sound. And the meals were delivered speedily, of course.
But clever marketing and branding aside, there's another reason the newest fast food joint in Stillwater, Oklahoma in 1959 was named Sonic Drive-In instead of becoming yet another Top Hat Drive-In location. According to Zippia, there was already a food business operating in the area with the name Top Hat, which had taken out a trademark on the title. Not wishing to face legal trouble, Top Hat/Sonic founder Troy Smith decided a new name was in order. The one he picked for the latest and all subsequent locations perfectly suited the times and the business model.
The restaurant's radio ordering was revolutionary
While the intercom system used at the first Sonic Drive-In back in 1959 was inspired by a homemade intercom seen several years before, it was nonetheless billed as revolutionary, via Sonic. The company touted the orderly and systematic setup of the new restaurant's exterior. Sonic featured a number of parking spots in a row, each of which had a placard displaying Sonic's menu and a two-way radio system that customers could use to place their orders.
The arrangement enabled Sonic Drive-In employees to field multiple orders at once and prepare and deliver them rapidly, rather than processing orders on a one-by-one basis. Each parking spot also featured a little table where a Sonic employee could drop off an order. This was a great convenience, especially for diners who wanted to stay and eat in the comfort of their vehicles instead of driving off to eat elsewhere.
The menu featured multiple burgers, dogs, and sandwiches
The first Sonic Drive-In menu was robust when compared to the first menus of competitors like McDonald's or Burger King. The former offered only a hamburger, cheeseburger, and fries in terms of solid food choices, per Business Insider. In fact, those were the same menu items that Burger King offered when it opened (via Delish). So why did Sonic offer so many more foodstuffs than McD's or BK? First, it opened later: McDonald's had first debuted in 1948 and Burger King in 1954, so fast food menus were a better-known commodity in 1959. And, of course, Sonic had already been operating for several years as Top Hat.
That first 1959 menu, according to Reddit's Vintage Menus section, featured four different hot dogs (like the Foot Long Cheese Coney for 35 cents), a Corn Dog on a Stick, onion rings, tater tots, fries, several hamburger and cheeseburger options, a couple of sandwiches, a Frito Chili Pie, fried pies (available a la mode), and a few other variations on these foods and desserts. The Sonic menu from 1959 is actually about as varied as you'll find at some fast food chains even today, such as the In-n-Out menu.
Sonic already had several sweet drinks on the menu in 1959
Today, Sonic Drive-In is arguably best known (or at least best loved by many people) for its plethora of sweet drinks. According to Thrillist, there are more than 1,063,953 total drink combinations that can be made when blending their fountain drinks and flavored Slush beverages. Back in 1959, you couldn't mix and blend your way to well over a million drinks, but the restaurant already had some unique sweet beverages on the menu.
Per a menu shared via Reddit, these first tasty Sonic drinks included a Grape Slush and an Orange Slush, a Limeade, and of course a few sodas, such as Coca-Cola, Pepsi-Cola (a pair you would never see featured on the same menu today), Dr. Pepper, and root beer. (That last choice is not surprising, given that the first Top Hat was a root beer stand.) Also on the Sonic menu in 1959 were vanilla, strawberry, chocolate, and pineapple "Shakes-Malts"; Frosties made with root beer, Dr. Pepper, or cola; and floats. You could also get iced tea, coffee, hot chocolate, and cold milk.
The 1959 menu had a sandwich called the Whopper
The Whopper is the signature burger product sold by Burger King, and it has been their flagship menu item since its introduction in 1957, according to Insider. So, what's the deal with Sonic having a Whopper of its own on the menu back in 1959?
In reality, the Whopper that Sonic featured back in the day wasn't a big 'ole burger at all, via a menu shared on Reddit. Sonic's version was a 40-cent fish sandwich branded as the one "that didn't get away." It consisted of a "slab [of] boneless fish on [a] toasted bun [served with] shredded lettuce [and] tartar sauce," so it was basically like a fish-and-chips style of sandwich. Today, according to Inspire Stories, many Sonic Drive-In locations have a fish sandwich served on a brioche bun, while some have a slightly mystifying Seafood & Crab Sandwich, but there is no seafood option on the chain's national menu.
The roller skates were there from the start
Those widely known roller-skate-wearing servers have been at Sonic Drive-In locations from the start, per Thrillist. They were the brainchild of the chain's founder, Troy Smith, who thought employees on wheels may speed up the delivery of orders, leading to fast customer cycling, more business, and greater customer satisfaction. Each year, Sonic hosts a skating competition to see who is the most skilled skating employee on the payroll.
As a marketing strategy, having Sonic Drive-In employees wear roller skates tied in with the whole "Service at the Speed of Sound" approach the chain had adopted in 1959. Wearing the skates was not (and still is not) a requirement for Sonic workers (especially not the people who work in the kitchens) — but it's a benefit for any employee who can skate to do so. Per a Reddit AMA ("ask me anything") Q&A session, a former Sonic employee noted that the skate-mounted "car hops" got a higher hourly pay rate and were also tipped by customers much more often (and more generously).
The first Sonic debuted the iconic covered parking spots
About half a dozen years ago, according to the Stillwater News Press, a Sonic Drive-In at 215 North Main Street in Stillwater, Oklahoma underwent some major upgrades. These renovations were conducted with the utmost care because this location is the site of the first-ever Sonic, which opened in 1959. While thoroughly modernized, the location also maintains many of the original design elements.
Among those original details are the covered parking spots, which were considered new and unique more than half a century ago. In addition to having the ability to order from their cars via intercom and to receive curbside food deliveries, customers also had the advantage of being protected from the sun or rain. (Differing from the original design, the modernized Stillwater Sonic also has a large covered patio with a decorative fire feature and several large televisions.)
"I can't think of any other format that's more relevant or timeless than the drive-in format," Claudia San Pedro, president of Sonic, said in an interview with Nation's Restaurant News. "As you think about how we fit into people's lives, the ability to be able to go onto our lots and not have to stand in line, but to go into any stall or dock and be able to order what you want, how you want it, when you want it, is truly, I think, the essence of freedom."
The logo once looked quite different than it does today
According to images shared by Sonic of CT, despite the streamlined branding that Sonic wanted to put forth in its slogan and ordering and delivery process, the signage at the first Sonic Drive-In location was not in line with that approach. That first location had a clutter of signs posted all about, sharing the name of the restaurant and hawking its major products (hamburgers and onion rings, for example) as well as its unique drive-in business model.
And while today's Sonic Drive-In sign has a bow tie shape emblazoned with the chain's name, in 1959 the main sign was a huge parallelogram set onto a large white arrow with lightning bolts flashing across it and the "Service at the Speed of Sound" slogan written underneath the brand name. (Note that the Sonic at the original Stillwater location uses a sign much like the original, with the words "America's First… Since 1959" added, according to Stillwater News Press.)
The priciest items on the menu cost 45 cents
The first Sonic Drive-In menu had some rather pricey menu items for that time period. The most expensive foods on offer back in 1959 were the cheeseburgers and the Bar-B-Q Beef Sonic Special sandwich, both of which cost a whopping 45 cents. Actually, the price was not all that high when adjusting the numbers for inflation — according to a calculator from Retirement Simulation, 45 cents in 1959 would be equal to about $4.34 as of 2022, which is actually a reasonable price for a cheeseburger or BBQ sandwich.
If you wanted a make a whole meal of it and order a cheeseburger, a sack of french fries, and, say, a Root Beer Frostie, that would have run you a cool dollar, which is about $9.64 today. That's actually a bit steep for a fast food meal, especially considering that you can get a burger, fries, and a drink from most Sonic locations for about $7 today, via Fast Food Menu Prices. (Though granted, said drink will not be a rich, tasty Frostie, largely because the chain no longer offers them.)
The cheapest items on the menu cost 10 cents
If those 45-cent cheeseburgers and Bar-B-Q Beef sandwiches were a bit too rich for your blood, at least the soft drinks were nice and cheap. You could get a root beer, a cola (Pepsi or Coke), a Dr. Pepper, a Limeade, or an iced tea for just 10 cents. That's only 96 cents in today's currency, according to Retirement Simulation's inflation calculator. Granted, that 10-cent price was for the small size — a large would cost you double — but in 1959, you could even get some of Sonic's specialty beverages for that low price, such as the chain's Grape Slush or Orange Slush. And you could also get a "hot, fresh" cup of coffee for a dime back in the day.
For some reference, according to Fast Food Menu Prices, a small soft drink from Sonic (we looked specifically at the Limeade) costs $1.69 in 2022. The Slushes are still quite affordable, with a small Famous Slush costing $1.19, which is scarcely more than you'd expect with inflation alone.
The founders established a strange business model as franchise interest grew
The founders of Sonic — Troy Smith, the man behind Top Hat, and his first business partner and co-operator, Charlie Pappe, per the Oklahoma Historical Society – knew soon after the first official Sonic Drive-In opened that they were onto something. What they didn't know was exactly how best to make money as the chain expanded beyond its first few locations into a franchise model. Ultimately, they came up with a unique way to turn a profit from new Sonic businesses.
The first few locations that opened after the original 1959 restaurant didn't have to share their profits directly with their parent company, but they did have to pay a royalty fee of 1 cent per burger wrapper that they bought from the chain's sandwich bag vendor, the Cardinal Paper Company. Smith and Pappe figured that since anyone operating the chain had to use sandwich wrappers from that supplier, the more food they sold, the more wrappers they would need, and the more profits would be made by collecting a penny a bag. The model worked to an extent, but it was scrapped as the chain continued to expand, making way for more traditional franchise arrangements.
The first Stillwater location features the original Sonic sign — and a commemorative statue
The first official Sonic Drive-In opened in the small town of Stillwater, Oklahoma in 1959. In the decades since, thousands of Sonic franchises have opened across the country. In 2015, that first Sonic Drive-In building was demolished and rebuilt for a more modern look and feel — but the original sign was left intact (via Roadside America). Additionally, to commemorate the history of that inaugural Sonic location, there is a life-size statue of the location's first manager, Gene Longworth.
After managing the original Stillwater location for 13 years, Longworth started purchasing his own franchises, according to Inspire Stories. Today, he takes pride in having helped expand Sonic Drive-In to more than 3,600 locations across the country.
"For Sonic to spread nationwide, it's unbelievable. Becoming a Sonic franchisee was always the best business you could get into," said Longworth. "Our operations in the restaurants and our ability to get a guest's order out to them quickly, I think it's the best system in the business."