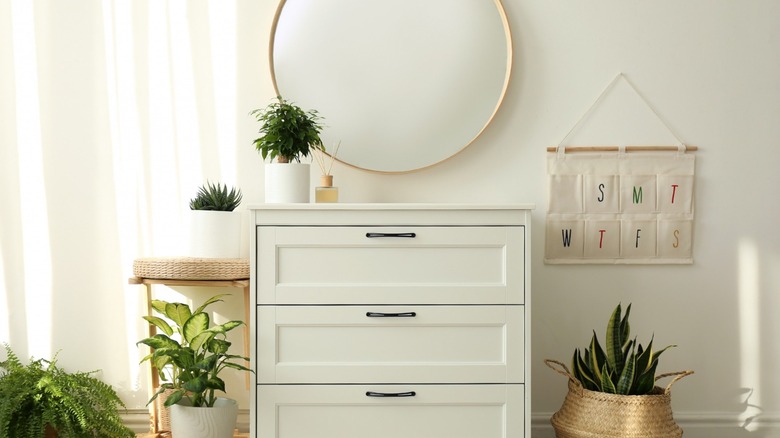 We may receive a commission on purchases made from links.
When it comes to renovating areas around your home, you can easily spend a large amount of money. Whether it's simply replacing the entire flooring, installing all new cabinets, or updating your bedroom furniture, everything adds up. If you think it's time for some new improvements, you can start slow with an affordable budget and do some DIY projects or look into low-price items. The range for a home renovation can be anywhere between $3,200 to $160,000, according to HomeAdvisor, but it all depends on whether you're renovating your entire home or just a few areas.
If you're looking into solely updating your drawers, you have a few options: You can replace the entire dresser with a new one or you can spend less money and get an instant upgrade by updating your drawer hardware (via Dwell). If you opt for the hardware route, you can get creative, considering the hundreds of drawer hardware designs there are to choose from. Step one is planning out how you might want your project to turn out, though; this will help you to narrow down your choices. Here are five ways you can change out just the hardware of your dresser drawers to give them a chic look.
1. Crescent shape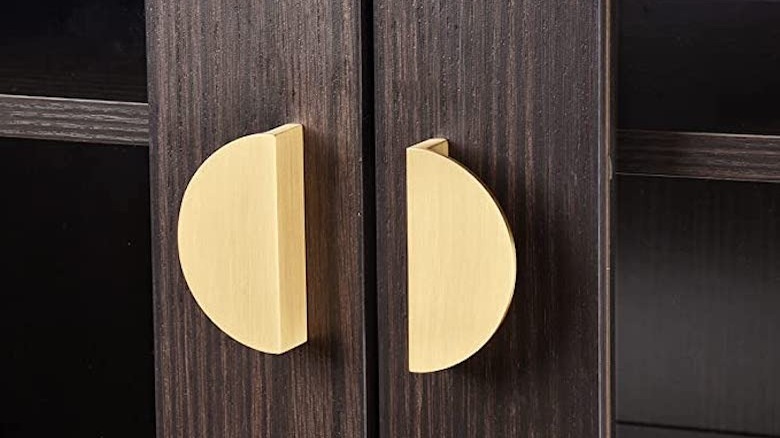 To get out of the comfort of a simple round knob, consider opting for a geometric-shaped one, such as a crescent moon pull. These pulls come in a variety of finishes like brass, gold, and silver, to fit a variety of dresser designs. The crescent pulls will make your dresser look chicer in any room it's in. You can find these pulls in various stores, from home improvement to big-box retailers. Amazon, for example, has a pair of crescent pulls (pictured above) with high reviews, with past purchasers claiming they're easy to install, sturdy, and worth the money.
You can get creative with crescent moon pulls, such as going with a different finish for each row of drawers. There are also various ways to style your dresser if you don't want to make the drawer hardware the main focus, such as adding flowers or picture frames to the dresser's flat surface. You can always leave it clean without any extra décor items, too, to make it stand alone and be the center of attention.
2. Brass finish
A brass knob or pull can make your entire dresser look more elegant and chic by bringing a warmer tone to your room. They're a timeless design, so they'll always be in style and should easily last you until your next dresser drawer update, given the material. Paxton Hardware claims that brass knobs are durable, sturdier, and recyclable, so it's also good for the environment since they can be used repeatedly. Brass comes in a range of tones from dark to light, depending on how it's manufactured.
It's extremely versatile, you can use brass knobs or pulls against any dresser finish, such as wood, solid white, or even a bright color such as blue or pink. The brass knobs or pulls will grab anyone's attention the second they walk into the room. This type of drawer hardware has been used for centuries, and it can remain in a rather pristine condition despite any bumps that come to them.
3. No hardware
Dresser drawers without knobs or pulls make for a clean, chic design. While it's true that not having knobs or pulls can make it a bit difficult to open your dresser drawers, you can make this your DIY project instead, by adding a lip (pictured above) where you can easily pull the drawer open. This look can work with any finish your dresser has from a wood finish to a sleek white.
The lack of drawer hardware makes any dresser fit the minimalist style, according to Emily Henderson. She focuses on the "no hardware" look on kitchen cabinets, but the general idea works just as great for dressers. If you have a bold accent wall that your dresser is against, then the dresser could definitely be used more as a minimal piece while still looking lavish. The no-hardware look will draw more attention to the entirety of your wall if you pair it with the right amount of décor pieces.
4. Marble knobs
Marble is known to be a top contender when it comes to home interior design. Whether it's used in the kitchen as a countertop, in the living room for side tables, or in the bathroom as flooring, marble shows up somewhere in many homes. Using marble knobs can be a great accent piece to your dresser drawers and a great way to update the look of your storage piece to make it look a bit more luxurious. Marble is sleek and clean, and it works especially well with white drawers.
Per CB2, refurbishing your old drawer hardware with marble knobs can refresh your entire dresser and bedroom. It'll create a subtle change that only those who pay extra attention to detail will notice. You could also make it the main focal point, however, of your entire room if you have furniture that's in the same neutral color palette as your main dresser.
5. Copper finish
A copper finish can elevate the look of most any piece of furniture, especially drawers. They're a slightly pink color and can work with a range of others. To keep it on a chic theme, you can add it to a neutral-toned dresser, such as white or beige. You can also, however, add copper bars to a wood-finish dresser or a brightly colored one such as turquoise; this can turn your room into a country or nautical theme, depending on the other pieces of furniture you have.
Not only will copper bars give your drawers a striking look, but they'll also destroy microbes and bacteria. According to More Handles, copper-based surfaces kill bacteria in less than two hours, which could help prevent those in your household from getting sick. Copper bars won't only make your dresser look chicer and your space fresher, but may also help prevent you from having to take a trip to the hospital.