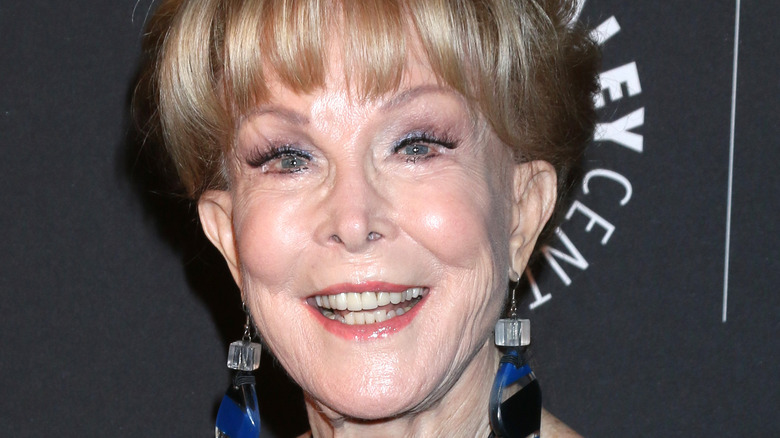 We may receive a commission on purchases made from links.
Barbara Eden has had a prolific acting career expanding over an impressive seven decades. While she first appeared on television in the 1950s, she really took the world by storm in 1965, when she played the lead in the beloved sitcom "I Dream Of Jeannie." During her time on television, she seared her image and persona in the memory of millions of viewers with her beauty and sharp comedic chops. Due to her unique flair as an actress, she managed to make an impression on Hollywood as more than just a pretty face. "She's a wonderful comedian, a good actress and a genuinely nice person," Author Geoffrey Mark told Closer Weekly.
Therefore, it's no surprise that Eden's net worth is estimated to be a whopping $10 million, according to Celebrity Net Worth. Although she is undoubtedly mainly associated with her role as Jeannie, the two-time Golden Globe nominee has many other admirable projects under her belt that have all contributed to her massive value.
She got an early start in the entertainment industry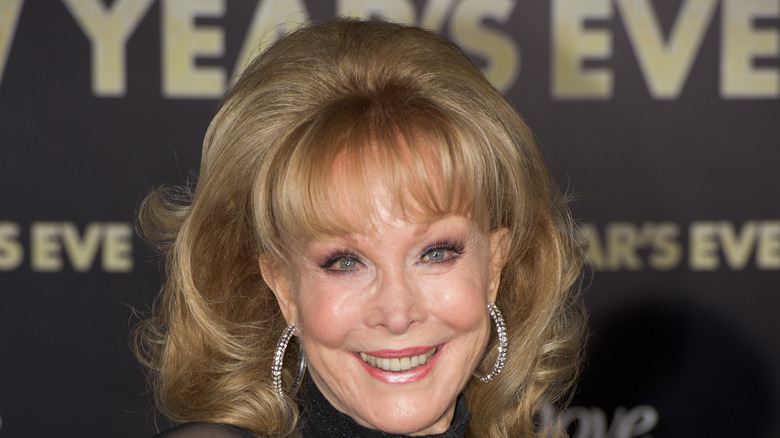 Barbara Eden discovered her talent for the stage at a young age, getting her first taste of show business as a singer. As she was raised during the Great Depression, her mother would frequently sing to her children, as songs were one of their only available forms of entertainment (via Hollywood Walk Of Fame). This led Eden to develop a love of performing, and she naturally developed her skills in the art form.
During her childhood, Eden would sing at her church and high school choir, according to Closer Weekly. This led her to sing at local nightclubs as a teenager, and she also studied voice at the San Francisco Conservatory of Music. She was determined and passionate to the point in which she even picked up a job outside of school to pay for lessons, per The Wall Street Journal.
From there, she picked up acting, believing it would help her skills as a singer. "Barbara, you're singing every note perfectly, but you don't mean the words you're singing. I think you should study acting," her mother told her one day after hearing her practice, as Eden recalled to The Wall Street Journal. Gaining an Actor's Equity membership at the ripe age of 16, she learned the craft of acting at the Elizabeth Holloway School of Theater (via TV Guide). In 1951, she used her undeniable stage presence to enroll in a beauty pageant, successfully earning her the title of Miss San Francisco.
She made her leap into television
After her mother urged her to go into acting, Barbara Eden decided to move to Los Angeles, where she first stayed with her aunt and uncle and then the Hollywood Studio Club For Women. She told The Wall Street Journal that she originally met with a casting director for Warner Brothers, who told her that she wasn't pretty enough for the camera. However, she didn't let this comment defeat her dreams, and she returned to acting after a brief setback.
Then, on one fateful day in 1956, Eden was told by her agent to wear a form-fitting black dress to CBS. She auditioned for a hit comedy sketch series for "The Johnny Carson Show." The show was reportedly looking for an actress to play the role of a "dumb blonde." Although she originally didn't get the part, the producer intervened. Eden ended up appearing on 14 episodes. This got her foot in the door in the television acting industry and introduced her to mainstream audiences. "My comedic timing was quite good," Eden told The Wall Street Journal. She's not lying, as clips from the sketch show.
She has had many notable acting roles
From sketch comedy segments on "The Johnny Carson Show," Barbara Eden made a name for herself in Hollywood, booking other memorable roles before she reached mega-stardom. In 1957, she made an appearance on one of the most successful comedy television shows of all time: "I Love Lucy". In the episode "Country Club Dance," Eden played the niece of the Ricardos' neighbor. "You don't usually find a pretty girl who can project and be funny at the same time," Lucille Ball told the upcoming actress while on set, according to Eden's autobiography "Jeannie Out Of The Bottle." Impressed by Eden's comedic chops, Ball expressed interest in signing Eden to a contract (via Fox News). However, Eden successfully tested at Fox during that time and decided to go in a different direction with the major network. Fox offered her a seven-year contract, which Eden said was "far too good" to turn down, and promised to pay her $200 per week.
Beginning in 1957 and lasting until 1959, Eden was a regular main cast member on the sitcom "How To Marry A Millionaire," which ran for two seasons. The story follows three young roommates based in New York City who attempt to wed wealthy men. Typecast as the signature "dumb blonde," Eden's character Loco was described as "ditzy but sexy," according to the show's IMBD page.
In 1960, Eden starred alongside Elvis Presley in the Western film "Flaming Star." Decades later, Eden told Fox News that the film was praised by critics, but did not achieve high numbers at the box office due to the lack of singing.
I Dream Of Jeannie made her a Hollywood symbol
Barbara Eden's undeniable big break came when she was cast as the main character Jeannie on the NBC sitcom "I Dream Of Jeannie." Eden had low expectations that she would be considered for the part due to her competition being "tall, gorgeous brunettes," she admitted to "Today." However, Eden was offered the iconic role six weeks after her initial audition (via Closer Weekly).
The fantasy series follows the many whimsical adventures of a 2,000-year-old genie who falls in love with an astronaut. Running for five seasons from 1965 to 1970, the show was a smash hit, launching Eden's name into the American zeitgeist. According to "Today," a whopping 20 million viewers were watching each week by the second season. The show reasoned that the strong following for "Jeannie" occurred because it offered a necessary escape during a chaotic time period. "It takes people out of themselves and into another world," Eden told People regarding its popularity and reputation.
Eden was noted for playing the character of Jeannie with a flavor of innocence and playfulness. According to its creator and executive producer Sidney Sheldon, viewers and the media fell in love with Eden immediately. "It was always only Jeannie the public was interested in," Sheldon is quoted as saying in Barbara Eden's memoir (via ABC News).
Her role of Jeannie broke television barriers
It was because of "I Dream Of Jeannie" that Barbara Eden was able to solidify her name in pop culture history. A major sex symbol, Eden's beauty and signature revealing outfit on the show stirred much controversy in the media. Her famous costume, which included an exposed midriff, was considered ultra risqué at the time.
Despite allowing more skin than usual, NBC producers at some point decided not to allow the series to show Eden's navel on air, according to The Los Angeles Times. Eden told "Today" that executive producer George Schlatter wanted to "premiere" Eden's belly button on camera, but this idea was shut down by the network. "George said he'd never seen so many suits sitting around a table in his life discussing someone's anatomy," Eden said. In a later interview with Fox News, Eden joked, "I know a lot of women are known for very glamorous body parts, but my navel? Ha!"
In 2018, Eden was asked about the way the show has aged and her feelings about presumably being typecast in what could be interpreted as a sexist character. She explained that she was not personally offended by the role, and is grateful for what Jeannie has done for her legacy. "Isn't it lucky that I have one character that people remember?" she said on "Today" (via Yahoo). In a 2021 interview with People, Eden reflected on Jeannie once again, saying, "She's easy to live with." She added, "I think what makes me so happy is that so many people around the world like her."
Her fame didn't end with her Jeannie role
In 1970, "I Dream Of Jeannie" was canceled after five seasons following a decline in ratings. This is widely speculated to be due to the fact that Jeannie married her "master" Tony Nelson in one of the later episodes. This was a writing choice that Barbara Eden, main co-star Larry Hagman, and creator Sidney Sheldon all said they disapproved of, as they found it to be anticlimactic. "'The fun of Jeannie is the sexual tension between Jeannie and her master. Once you marry them, that's gone. You have nothing to work with,'" Sheldon said (via Closer Weekly). However, "I Dream Of Jeannie" still managed to be a timeless classic decades later. The show achieved a resurgence, having reruns across the globe, and is available on major streaming services (via The LA Times).
Unlike many actors who are mainly associated with one particular character, Eden managed to escape the fate of being pigeonholed as Jeannie. "I had forgotten about her," Eden said of her defining role on "Today" while celebrating the 50th anniversary of "I Dream Of Jeannie." Eden went on to book consistent work for over 50 years, solidifying her enduring career in television. Her later acting credits include a role in "Harper Valley P.T.A" as well as appearances on "Dallas", "Sabrina The Teenage Witch", "The George Lopez Show", "Army Wives", and more.
She married three times
As far as her personal life goes, Barbara Eden has wed multiple times to men of varying degrees of success. Her first marriage, which began in 1958 and ended in 1974, was to fellow actor Michael Ansara from 1958 to 1974 (via Closer Weekly). An accomplished entertainer, Ansara also appeared on episodes of "I Dream Of Jeannie." Eden had her only child, a boy named Matthew, with Ansara in 1965. Sadly, her son died from an unintentional drug overdose in 2001 at the age of 35.
Three years after her first divorce, Eden married for a second time, this time to a Chicago Sun-Times advertising executive named Charles Donald Fegert. Their relationship lasted five years.
After remaining single for years, Eden found love again with architect and real estate developer Jon Eicholtz. The pair married in 1991. As of 2022, the two are still going strong after three decades of marriage. When asked how they managed to make their happy partnership work, Eden told Closer Weekly that it's all about perspective and empathy. "You should walk in the other person's shoes if you're having a little problem," she remarked in 2020. She also added that she is grateful that her husband is supportive of her career and independence.
If you or anyone you know is struggling with addiction issues, help is available. Visit the Substance Abuse and Mental Health Services Administration website or contact SAMHSA's National Helpline at 1-800-662-HELP (4357).
She is an accomplished author
Barbara Eden's famous acting projects and marriages aren't the only endeavors that have contributed to her extensive net worth. A creative woman with many talents, Eden has also written four books. Her first title, "Barbara Eden: My Story" came out in 1986. In 1997, she published a collection of recipes called "The I Dream of Jeannie Cookbook." She then went on to release an autobiographical memoir "Jeannie Out Of The Bottle" in 2012, which chronicled her extensive career on screen from an intimate, personal perspective (via The Hollywood Reporter).
Then, in 2021, she penned a children's book titled "Barbara and the Djinn." The story follows a young girl named Barbara who gets taken on adventures by a genie. "It's very simple, and it's all about understanding people who are different and having empathy and love for them," Eden told The Hollywood Reporter regarding the central message. "When the Djinn comes out of the lamp, she deals with it and goes on a journey," she continued. However, she revealed, "We couldn't use a bottle because we don't own the rights."
Barbara Eden is still going strong
On August 23, 2021, Barbara Eden became a nonagenarian. At 90, Eden said was still residing in Beverly Hills with her husband Jon Eicholtz and had recently welcomed a labradoodle puppy named Bentley (via People). She told The Wall Street Journal in 2022 that she's been in the same house for some 35 years, and she leaves the cooking to her husband.
According to Page Six, the actress exercises regularly and has an active social life. When it comes to her career, she told Closer Weekly that she doesn't plan on retiring anytime soon. "I will be kicking along until they kick me out," she said in 2019. "That's what keeps my energy up. I love to work," she added, while also excitedly mentioning that she frequently travels with Eicholtz.
"I feel sorry for people like my poor father who had to work every day at something he didn't like," the actor told Page Six. As for her, she feels extremely fortunate to have found a job she truly enjoys. Perhaps that is not just the secret to an impressive net worth but to staying youthful, because as Eden herself declared to the publication, "I feel young!"