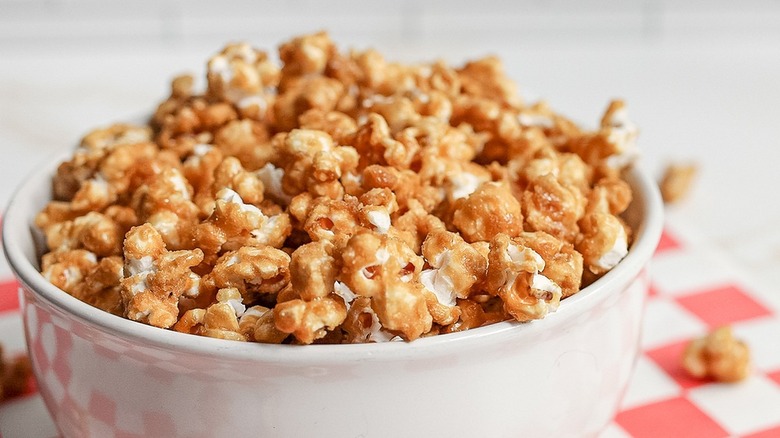 When it's time for a movie night, there's no better snack than popcorn. The light, salty, and buttery treat is an absolute classic, both in the movie theater and your makeshift living room theater. But what if you could add a delightfully sweet element to it? Thanks to this sticky-sweet caramel corn recipe, courtesy of recipe developer Jessica Morone, you can have the best of both worlds: salty, buttery popcorn with a deliciously sweet and rich caramel coating.
"My favorite thing about this recipe is how easy it is," Morone explains. In the past, Morone thought it would be too difficult to make her own caramel corn, so she opted for store-bought instead. "Now that I know how simple it is to make my own, and how much more delicious it is than the store-bought kind, I am definitely just going to make homemade caramel corn in the future," she says.
So, what exactly puts the caramel in caramel corn? No, you don't just melt down some caramel candies and drizzle it over popcorn. Instead, you melt down a combination of brown sugar, corn syrup, maple syrup, and a few other ingredients to make the caramel sauce, then you toss the buttery popcorn in the sticky goodness. Don't worry, Morone assures us that this popcorn "isn't too hard or sticky," but definitely is "the perfect amount of crispy."
Gather the ingredients for sticky-sweet caramel corn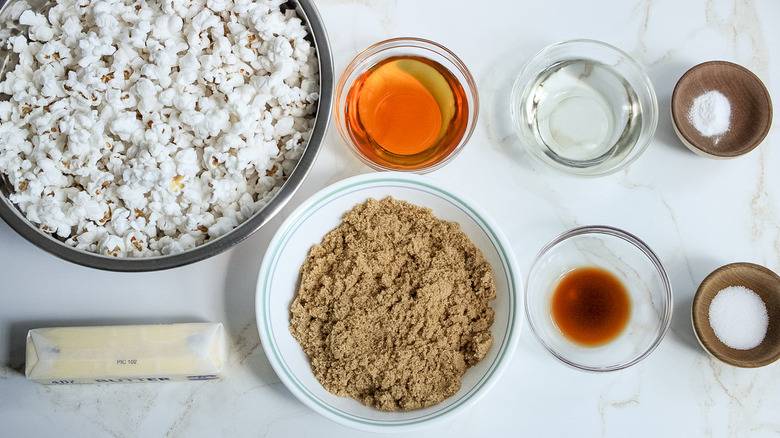 The base of caramel corn is simply basic popcorn, so you'll need 10 cups of popped popcorn for this recipe. (If you're making it from scratch, Morone notes that you'll need about ⅓ cup worth of kernels.) Meanwhile, you'll also need unsalted butter, light brown sugar, light corn syrup, maple syrup, vanilla extract, salt, and baking soda.
"The special ingredient here is maple syrup," Morone explains. "The maple gives the flavor a bit of extra depth and makes it taste better than regular caramel corn." She also notes that there isn't too much syrup in the recipe, so don't worry about it overpowering the other flavors.
Lay out the popcorn on a baking sheet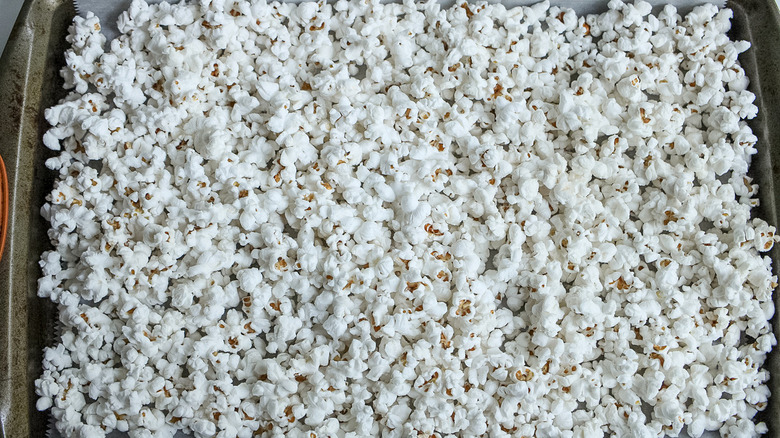 Go ahead and preheat your oven to 250 F. Grab a large baking sheet and line it with parchment paper, then spread the popcorn out evenly into a layer as singular as it can get.
Make the sticky-sweet caramel sauce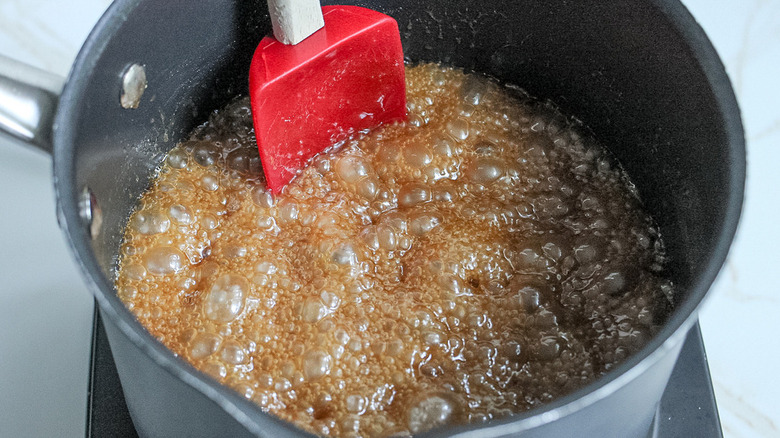 Now it's time to make that deliciously sweet caramel mixture. Into a medium-sized saucepan over medium heat, add the butter, brown sugar, corn syrup, and maple syrup. Stir these ingredients together until the mixture begins to boil, then bring it to a simmer and keep it there for 3-4 minutes. Then, remove the pan from the heat and add the salt, vanilla extract, and baking soda, making sure to stir until everything is well-combined.
Drizzle the caramel onto the popcorn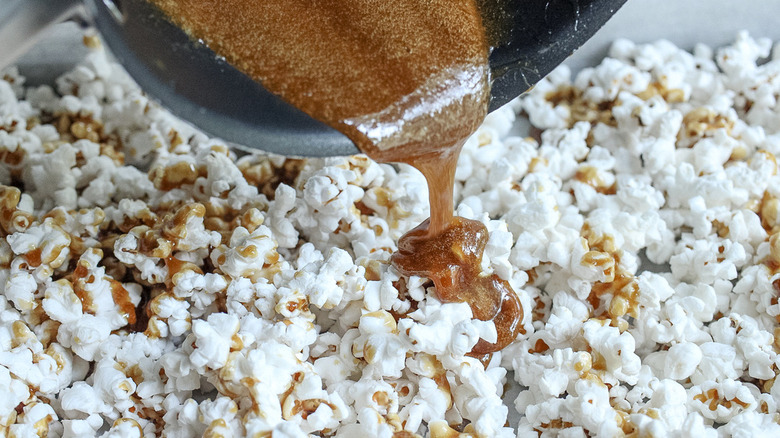 Now, drizzle that caramel sauce right onto the popcorn and stir it in — don't worry if the sauce doesn't touch each and every piece of popcorn. As Morone explains, the popcorn will continue to get more and more coated each time you stir it, which will come in following steps.
Bake and serve the caramel corn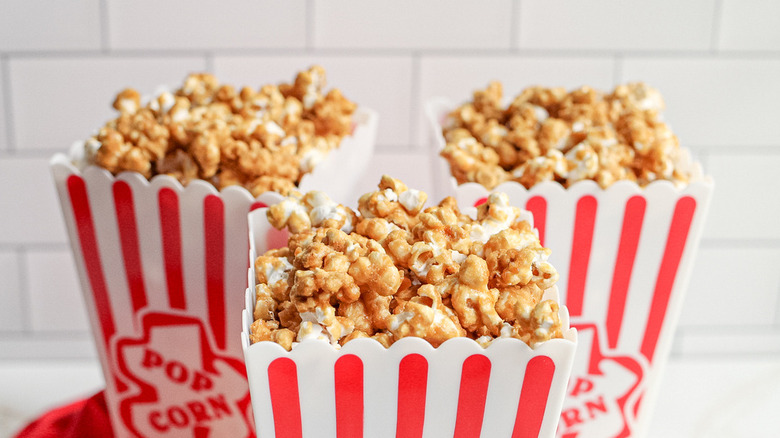 Place the baking sheet with the popcorn into the oven, and bake it for 45 minutes. Be sure to take the sheet out and stir the popcorn every 15 minutes; this is where you ensure that the caramel is evenly distributed amongst the kernels. Once the 45 minutes is up, remove the popcorn from the oven and let it cool. Keep in mind that the popcorn will crisp up more and more as it sits — which, for reference, can be for up to 2 weeks, as long as it's kept in an airtight container.
"This is the perfect snack for anytime, whether its an afternoon snack or for a movie night," Morone describes. "And because it can stay fresh for weeks, you can make a lot of it and keep eating it whenever you want." It's always a good idea to find a go-to recipe for make-ahead snacks, and this rich, sweet, and delicious caramel corn definitely fits the bill.
10 cups popped popcorn (about ⅓ cup kernels before popping)
½ cup unsalted butter
1 cup light brown sugar
¼ cup light corn syrup
¼ cup pure maple syrup
1 teaspoon vanilla extract
½ teaspoon salt
¼ teaspoon baking soda
Preheat the oven to 250 F. Line a large baking sheet with parchment paper.
Spread the popped popcorn evenly onto the prepared baking sheet and set aside.
Add the butter, brown sugar, corn syrup, and maple syrup into a medium-sized saucepan. Heat the mixture over medium heat, stirring frequently until it begins to boil. Simmer over medium heat for 3-4 minutes.
Remove the pan from heat and stir in the salt, vanilla extract, and baking soda until well-combined.
Drizzle the caramel on top of the popcorn and stir gently to coat the popcorn. The popcorn doesn't need to be fully coated at this point.
Bake the popcorn in the preheated oven for 45 minutes, stirring the popcorn every 15 minutes to further coat the popcorn in the caramel sauce. After 45 minutes, remove the popcorn from the oven and let it cool — it will get crunchy as it cools.
Store the popcorn in an airtight container for up to 2 weeks.