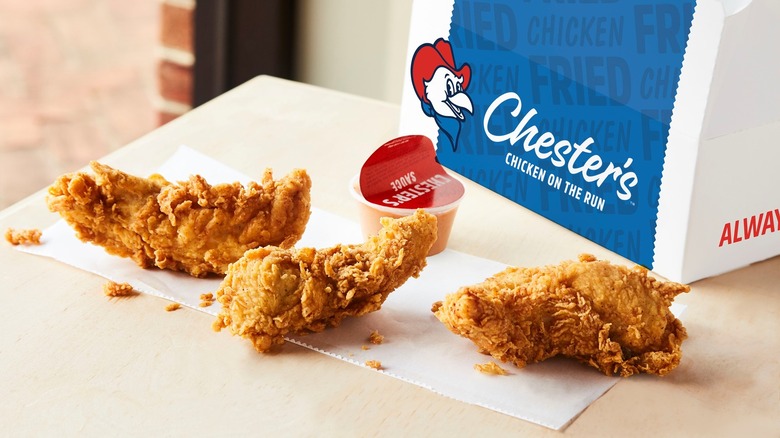 When you're on the road and looking for a good fast food joint, sure, you could go to a McDonald's or Wendy's for a juicy cheeseburger, but there's a lot more out there that you can get, like a taco from Taco Bell, or, another popular choice of fast food, fried chicken. You can find fast food chicken just about anywhere — Jollibee, Chick-fil-A, Popeyes, of course, but one chicken chain that you may have heard of is Chester's Chicken. Though it might not be the first fast food or chicken restaurant that pops up in your mind, it's still one of the better places to go if you like fried poultry.
Chester's Chicken isn't in the spotlight like Popeyes or Church's Chicken, so even if you have heard of the chicken chain, there's a good chance you don't know too much about it, other than fried chicken and pie on the menu. There's a lot more behind this cowboy chicken-themed restaurant, however, and we're here to tell you all about it.
The Chester's founder was originally frying donuts, not chicken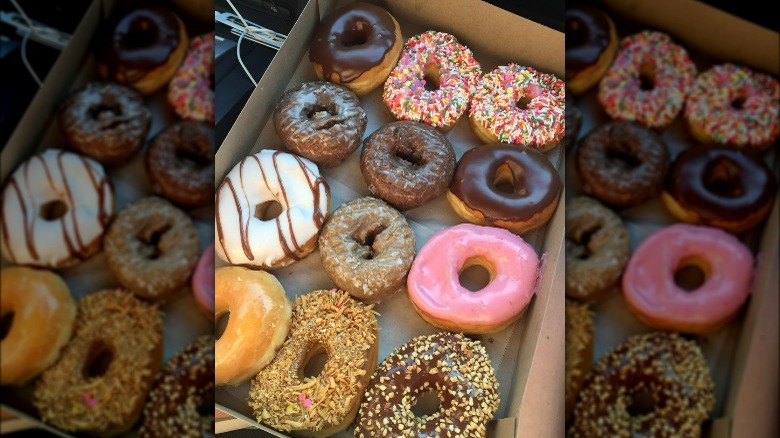 We all start out somewhere, and that includes the founder of the Chester's Chicken chain. Some founders of famous food chains find their footing in their industries from the bottom and work their way up, while others, like W.O. Giles, started off doing something else completely. In 1952, W.O. Giles, the founder of Chester's Chicken, bought Hol-in-One Donut Co. in Arkansas (via Giles). He later took this business to Montgomery, Alabama, and sold frozen donuts along with a line of donuts fryers. The company still makes fryers and food prep equipment — which paved the way for Chester's Chicken.
According to the Giles company site, the brand soon grew to include chicken fryers, and out of that stemmed Chester's Chicken. In 1965, the company created the Chester the Chicken mascot (via Chester's Chicken), and the family-owned business became a chicken chain, along with an enterprise that continues to sell donuts and chicken fryers to this day. The Chester Fried Chicken chain, unfortunately, doesn't have any donuts on its menu, but it's good to know that while the owner didn't always fry chicken, he was an expert in selling different fried foods.
Chester's has rebranded recently
Nothing stays the same forever, and that goes for a lot of brand logos and mascots. Some do so for more problematic reasons, but in the case of Chester's, it was simply time for something new. According to NRN, the company redesign was done "to help franchisees lower costs while raising in-store sales." The redesign included a digital menu, packaging, and a simplified logo. This was done to add emphasis on Chester's freshly made fried chicken, reflecting this through the bright, fresh new look.
The old Chester's logo was made up of a bold black and yellow font, while the new Chester's logo has "Chester's: Chicken on the Run" written in a dark blue font, with the friendly, happy face of the chicken mascot next to it, with his hat, his smile, and his bandanna (via CSPDaily). Furthermore, the brand completely rehauled its website, moving it to an entirely different domain that is password-protected and showcases all of the company's delicious chicken items. This was done to make the website and brand appear more friendly and accessible to customers so that its fried chicken could be consumed, and enjoyed, by more people.
The company has over 1,200 locations, and is still expanding
The most popular fast food chains are ubiquitous. Places like Five Guys and In-N-Out have a ton of stores. Chester's also has a lot of locations. According to the chain itself, Chester's has over 1,200 locations that have been serving chicken for more than 50 years. For comparison, Popeyes has around 3,450 locations (via Nibble Matrix). That's pretty successful for a fast food joint, and Chester's has plans to keep growing.
Plenty of media outlets have written about Chester's expanding. According to the North Thompson Star, a Chester's Chicken location opened in Barrière, Canada, in October 2021. Another Chester's Chicken launched in Fort Worth, Texas, in July 2022. Texas alone has 70 Chester's locations, so there's a good chance if you happen to be in the Lone Star State, you'll come across one. While Chester's isn't as big as Popeyes or McDonald's, it's slowly but surely growing, and you may see more locations pop up in the future.
The chain launched its chicken sandwiches the same time Popeyes first did
Popeyes had a major success with its chicken sandwich, as noted by CNN. The chain is notorious for its fantastically fried chicken sandwiches, tenders, and all things chicken. Looking at both the Popeyes' and Chester's menus, you can see some pretty strong similarities between the two stores. Not only are both chains heavy on chicken, but you can also find fruit-filled pies on each of their dessert menus (via Popeyes). The similarities don't end there, however. Not only does Chester's have chicken sandwiches that are much like what you could find at Popeyes, but their sandwiches launched around the same time.
According to a Chester's press release, the chain unveiled its chicken sandwich on August 15th, 2019 (via Chester's). Popeyes' chicken sandwich was released on August 12th, just a few days before the Chester's chicken sandwich (via Fox News). These menu items have shockingly similar release dates, but either way, there's a good chance you've had a Popeyes chicken sandwich before, so it might be a fun food to compare to Chester's sandwich should you ever come across it.
The mac and cheese seems to be the brand's most-favored side
An order from a fast food chain isn't complete without a delicious side. If you go to McDonald's, that usually consists of an order of fries. At Popeyes, you can get its unbeatable, savory biscuits. At Chester's, you've got quite a bit to choose from. You can get potato wedges, mashed potatoes, and green beans with bacon. It's a lot more stuff than you might find at a barbeque restaurant, and when paired with fried chicken, these sides can help contribute to a pretty satisfying meal. One of the best sides that Chester's has is its mac and cheese.
Chester's mac and cheese is made using extra creamy cheddar cheese, along with cavatappi noodles. It's reminiscent of a home-cooked mac and cheese, and many Chester's fans seem to agree with this sentiment. In a Twitter poll, Chester's asked its fans to pick between three of its sides: mac and cheese, green beans, and mashed potatoes (via Twitter). The green beans didn't receive any votes, but there was no contest between the mac and cheese and mashed potatoes. With over 66% of the votes, the mac and cheese took the crown, so if you ever come across this side, you know you're in for a good time.
Most of the restaurants locations are in gas stations
Many restaurants have numerous locations scattered across the country, operating out of many different places. Some consist of the store itself or a spot at a food court in a mall. Some, like Wawa, operate primarily out of gas stations and other locations. It's the same with Chester's Chicken. If you've ever come across a Chester's, it was more than likely at a gas station or convenience store, and as you were shopping for something else entirely, you realized that you were in need of a fried, fresh pick-me-up.
Most photos of Chester's that you'll see online will be operating in a small corner of some sort of store. According to Restaurant Nation News, Chester's primarily operates in gas stations and supermarkets, but with the previously mentioned redesign, they're able to work in smaller locations, including airports. If you stop by a 7-Eleven, you'll be able to find them selling Chester's Chicken. So if you're ever in a rush and need to get yourself some gas or groceries, you'll be able to kill two birds with one stone and get some chicken.
Livers and Gizzards are on the menu — and surprisingly well-received
Chicken tenders and sandwiches aren't the only things you can find on the Chester's menu. Yes, you can find sides and desserts, but in terms of chicken, you can also find some menu items that you can't get from other chicken chains. If you look at Chester's menu online, you can find a section designated for fried gizzards and livers. That's right. Both chicken liver and gizzards take up a good section of the Chester's menu, which should come as no surprise, as both items are common to find in the poultry aisle of grocery stores.
What might come as a surprise is that there's a good number of Chester's fans who like these unique, interesting, and fun foods. If you take a look at numerous reviews online, there are many people who praise their fried gizzards and livers. One review on Trip Advisor writes that the fried gizzards and livers were extremely tasty, while another review described the gizzards in particular as chewy, but tasty. You've likely never thought about having fried gizzards over a fried chicken sandwich or set of tenders, but if you ever stop by Chester's, it may be fun to try out one of their other fried chicken foods.
Chester's teamed up with Love's Travel Stops to create Truckersgiving
Love's Travel Stops has hundreds of locations spanning 41 states, according to the company. Based in Oklahoma City, it operates gas stations and RV locations that offer food and drink for people on the road. Naturally, Chester's Chicken, a food concept that operates out of loads of groceries stores, has worked with Love's Travel Stops in the past, and one of the brand's collaborations stands out above the rest. Back on November 18, in 2021, the two companies worked together to bring the public "Truckersgiving." And no, that didn't mean Chester's started selling turkey. It did, however, mean good food for truckers who came down to a Chester's within a Love's location.
"Truckersgiving" was a day in which Love's and Chester's celebrated truck drivers, claiming that truck drivers alone are responsible for the delivery of many critical goods. According to QSR Magazine, with Truckersgiving, truck drivers had the chance to go to a Love-Chester's location on the day of the event, show the employees a commercial driver's license (CDL), and get themselves a hat, along with a side of Chester's delicious mac and cheese — even if you're not a truck driver, mac and cheese is a pretty enticing thing to go to Chester's for.
The fried part of the brand name was dropped
The Chester's brand, as previously mentioned, got a serious overhaul and rebranding. From its logo to its website, the company did a lot to make its appearance and accessibility better — including the name of the entire chicken chain. At first glance, it might not appear as if any major changes were made to the name — Chester's has always been Chester's. But there was a little more to the company's name than what it is now, and though it isn't the most significant of changes, it's still an interesting decision.
Originally, the chicken chain was known as "Chester Fried," as opposed to Chester's (via Chester's), and was known as such since 1974. This likely reflected the wide range of fried chicken foods that they sold within each fast food restaurant. However, in 2002, the "Fried" aspect of the name was dropped, and it simply became known as Chester's. According to QSR Magazine, Ted Giles, the CEO of Chester's, claimed that this name change was done to ensure brand consistency. It isn't the biggest name change out there, and doesn't really change anything in terms of the chicken the company makes, but if you were to ever wonder what exactly happened to Chester Fried, the answer is nothing: It's just Chester's now.
The fried chicken is made using the brand's own special recipe
There's nothing like a crispy, crunchy batch of fried chicken. Sure, you could make a batch of your own fried chicken at home, but when you're in a pinch, having fast food joints like Chester's and Popeyes around is a blessing. While it's all pretty much made the same way — frying chicken — different restaurants and fast food joints add a little something extra and unique to their fried chicken dishes. When it comes to Chester's Chicken, the company also has its own classic spin on its poultry products, fried to its own definition of crispy, savory, and flavorful perfection.
If you stop by a Chester's, then there's a good chance you're going to get some chicken tenders, a sandwich, or anything in between, so it's good to know how the main component of each of these products is crafted. According to Chester's itself, the company's chicken is never frozen and is made freshly over the course of a day. The chicken is made out of a double-breaded coating, created from Chester's own breading and batter dip. Chester's also uses a blend of special spices, along with their own formulated shortening. After this, the chicken is fried, and we get delicious, juicy chicken.
The chain is ranked as ranked as the No. 5 franchise in the Chicken Category by Entrepreneur Magazine
There are lots of chicken chains out there: Chick-fil-A, Popeyes, and of course, Chester's. They all have pretty similar items on their menu when it comes to their chicken products, and if you're a lover of all things fried chicken, you might find yourself wondering which is the best. While your initial thoughts may turn to some of the more popular chains, some of the lesser-known restaurants, like Chester's, are equally as delicious, if not more so. In fact, there was a time when Chester's had a pretty high placement on chicken franchise rankings, including what you could find in Entrepreneur Magazine.
According to Chester's themselves, the company was ranked as the fourth-best franchise in the Chicken Category by Entrepreneur Magazine (via Twitter), but it's slipped a spot on the magazine's ranking page, Chester's is the fifth chicken franchise, topped by Bojangles, KFC, Wingstop, and, of course, Popeyes. Even though Chester's tripped in Entrepreneur Magazine, being placed at No. 5 is still an impressive spot, so you're certain to find some pretty good chicken there.