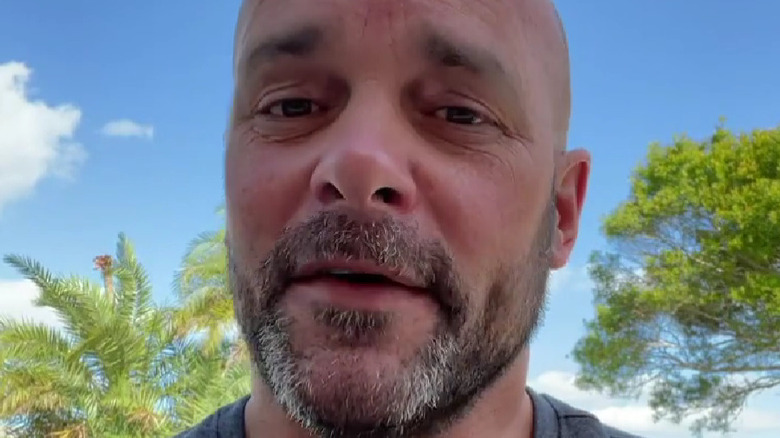 As a potential home buyer, it seems like there is a never-ending list of factors to think about. Do you want to live in the city or the suburbs? Ranch or split-level? New model or older home? At first, a new model may sound like the perfect place to live — it's move-in ready, designed to fit your style, and requires little maintenance, but what about an older home? Before you dismiss older homes as a viable choice, you should consider the advantages of owning one. Older homes typically cost less and have more property space than modern-day homes, Piers Crawford says.
Buying an older home can be intimidating if you aren't used to renovating antiquated buildings; however, this doesn't mean you can't learn how. Thanks to Bryan Baeumler from HGTV Canada's "Renovation Island," you can transform your outdated fixer-upper into a chic, modern-day palace. Here are some of his top ideas for renovating an older home.
Ditch the damaged doors
To give your older home an upgrade, Bryan Baeumler told MSN to replace not only the damaged or outdated doors but all the doors on that level. The key is to have a seamless cohesiveness throughout the home. If you're unsure whether or not you should replace your doors, Feldco says to check the functionality of the door. If you have trouble opening or closing it, or the locks aren't working, it's worth looking into. You may be able to fix the situation with a simple handle replacement, but in extreme cases, you'll need to ditch the door altogether.
If you've inspected your doors and confirmed they need a complete restoration, Baeumler suggests using a pre-hung door, which is an entire unit containing the door frame and slab (the actual door), Lowe's explains. If you don't need to alter the doorway, all you have to do is replace the door slab and leave the door frame be.
Work on the windows
Whether or not you've thought of them as such, windows play a large part in making your space feel like a home. Of course, their purpose is to bring light into your home, but they offer a picturesque view of the outdoors, which can make you as a homeowner feels at ease. According to the American Window Company, your windows give guests a taste of what to expect when they enter your home. Additionally, windows play an essential role in keeping the warm air in and the cold air out.
An older home means older windows, so if you notice a consistent draft coming from your window, there's a good possibility your window is leaking and needs replacing, Brothers Services Company says. If this is the case, Bryan Baeumler recommends seeking professional help. He told MSN that it's better to let the experts handle something of this stature to avoid mistakes.
Open up the floor plan
According to Bloomberg, the idea of an open floor plan didn't become popular until the 1970s, meaning a majority of homes built before that time had the traditional closed-off floor plan. To make your older home feel more modern, Bryan Baeumler told MSN an excellent way to achieve this is by opening up your space. An open floor plan comes with a lot of benefits, including more light, better communication between you and others in the home, and makes traffic flow seamlessly throughout your home, MasterClass states.
That being said, you need to take some precautions before you go knocking down walls all willy-nilly. The first step is ensuring the wall isn't load-bearing (meaning, you can't knock it down without the roof caving in). If the wall doesn't carry any weight, you're good to go with the demolishing; however, keep in mind that walls with any electrical wiring, plumbing, or HVAC vents need extra attention, Popular Mechanics says.
Give your deck a makeover
When your backyard has an unsightly, dilapidated deck, it can really date your home. Not only is the battered deck bad for your home's curb appeal, but it's a safety hazard to you and your family. If the deck isn't structurally sound, it can collapse right underneath your feet, Rockford Mutual states. To avoid this catastrophe, the best course of action is to completely demolish your deck and start from scratch. According to MSN, Bryan Baeumler says one of the most important factors in building a new deck is using the right materials (he recommends cedar wood).
If cedar isn't your favorite, there are plenty of other materials you can use to give your deck the make-over it needs. You can choose from composite and exotic woods. The most common types include pressure-treated wood, PVC decking, and hardwoods, says decks.com. No matter which you choose, it's sure to freshen up your old home.
Finish the basement
When you think of the basement in an older home, you probably picture a dark, wet space with rotted walls and broken floors (okay, maybe that's a bit extreme, but you wouldn't be far off from the truth in some old homes). Of course, just like with the rest of the home, an unfinished basement can be fixed with the proper tools and knowledge. Bryan Baeumler told MSN the key to finishing a basement is ensuring you have all the proper permits before going ahead with the remodel.
According to Finished Basements & More, the reason you need a building permit for a basement renovation is for your own protection. Even if your basement is currently up-to-code, there's a chance your city may change code requirements in the future; however, if you have the permits ready to go, you won't be subjected to the consequences. Additionally, permitting your home makes it easier to sell down the line.