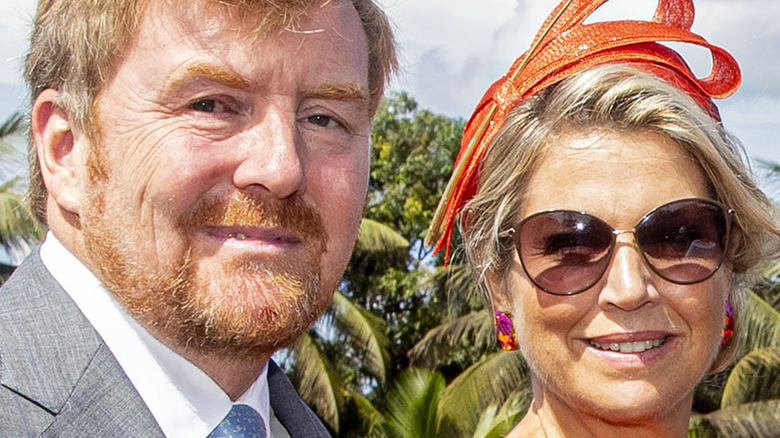 Being a member of the royal family is basically a full-time job. But that doesn't mean that the royals don't know how to unwind. Just like the rest of us, every now and then, the royals need a good holiday. Of course, unlike us, most of their go-to destinations are (literally) fit for a queen.
The royal family has a number of trusted vacation spots. From hiking around Queen Elizabeth's favorite place, the Scottish castle of Balmoral, to sunbathing on the sunny beaches of Mallorca to skiing the luxurious snowy Alps, the royal family certainly has some gorgeous holiday destinations. Curious to learn more about the favorite vacation destinations of the royals? We looked back at some of the most famous royal vacations in history to find the top holiday spot picks of the queen, Prince Charles and Princess Diana, Prince William and Kate Middleton, Prince Harry and Meghan Markle, and more.
Balmoral is a Scottish royal paradise that the queen adores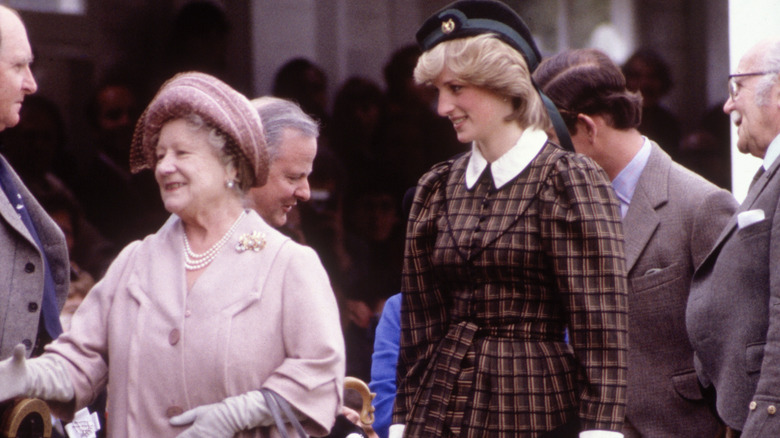 It should hardly come as a surprise that the royal family has several vacation homes across the U.K. Their most frequently visited holiday home is Balmoral, a sprawling castle set in the stunning Highlands of Scotland.
As Town & Country reported, Queen Elizabeth II visits the home every year at the end of the summer. As her granddaughter, Princess Eugenie, said in the documentary "Our Queen At Ninety," "I think Granny is the most happy there. I think she really, really loves the Highlands."
So, what's the appeal of Balmoral? Well, while most of us get away to seek out a more luxurious lifestyle, but for the royal family, it's the opposite. At Balmoral, the family can take a break from their duties and "act as normal people," as Lord Lichfield, a former royal photographer, once said (via The Telegraph). Apparently, they spend most of their time exploring the Highlands and even do their own dishes!
The queen has a luxurious getaway home in Malta
Balmoral isn't the only vacation home of Queen Elizabeth II — she also once had a stunning residence in Malta. Villa Guardamangia was home to the queen and her late husband, Prince Philip, from 1949 to 1951. After moving back to the U.K., they continued to visit their home in Malta for many years.
According to Hello!, the massive Baroque-style home had a lounge, dining room, living room, six bedrooms, and three bathrooms. Outdoors were several picturesque courtyards and a staggering 9,680 feet of surrounding land. Even though the queen's visits to Malta grew few and far between over the years, it still has a very special place in her heart. Per Hello!, as she said during a 2015 visit: "Visiting Malta is very special for me. I remember happy days here with Prince Philip when we were first married."
The home is now owned by the government of Malta and underwent restoration before reopening to the public in December 2021 (via Heritage Malta).
The royals are often seen on the slopes in the Swiss and French Alps
The royal family certainly loves outdoor activities, so it's no wonder they are often seen visiting the ski slopes on their winter holidays.
In 2013, Prince William, Prince Harry, and Kate Middleton visited the Arosa Resort in the Alps with several friends to attend the wedding of dressage champion Laura Bechtolsheimer and polo player Mark Tomlinson. According to the Daily Mail, the group seemed to have a great time hitting the slopes during their stay. In 2016, Courcheval in the French Alps was the chosen spot for William and Kate's first family vacation with their children (via Hello!). In 2017, a mini scandal broke out when William was seen on the slopes in the Alps again — this time without his family (per E! News). But, in 2022, the whole family, along with Kate's sister, Pippa Middleton, returned to the Alps (via Hello!).
It seems like the younger royals simply can't get enough of skiing in the Alps. In fact, according to Vogue, Kate and William actually first bonded over their love of the sport!
Several royals love soaking up the sun in Mustique
Mustique, a breathtaking island in the Carribean, was one of the favorite spots of Princess Margaret — you may remember her many trips to the island in "The Crown." In more recent years, it's become a holiday spot for some of the younger royals, too, such as Prince William, Kate Middleton, and Princess Diana. As House & Garden reported, Mustique is an exclusive, ultra-glamorous stretch of island that has also hosted the likes of David Bowie, Johnny Depp, and Mick Jagger.
Margaret famously visited Mustique in 1976 with Roddy Llewellyn, with whom she was having an affair. As Marie Claire noted, images of the pair soaking up the sun on the luxurious Carribean beaches sent the tabloids into a frenzy. Because Margaret loved to visit Mustique, in 1971, she had a gorgeous villa built, with five bedrooms, two pools, and a significant staff. Today, you can rent the property starting around $25,000 a week.
According to Vogue, Mustique is also a favorite holiday spot for William and Kate who visit the island roughly once a year.
Prince Harry and Meghan Markle love visiting Botswana
Before they married, Prince Harry and Meghan Markle famously went on a romantic safari getaway to Botswana in Africa. As Harry explained in their engagement interview, "We camped out with each other under the stars. She came and joined me for five days out there, which was absolutely fantastic." In another interview, Meghan said, "When we go to Botswana, we grab a backpack and pitch a tent! It's not much, but that's how we like it!" (via Harper's Bazaar).
But while the pair did go camping, it seems that the royal version of camping is a little different — most of their trip was reportedly spent at the Meno a Kweno safari camp, where rooms cost almost $2,000 a night (via the Observer). Based on images of the safari camp, Harry and Meghan lived in serious luxury during their stay in Botswana (via the Gentleman's Journal).
In 2019, Meghan recreated their Botswana trip in their own backyard. As one source told People, "It's a place that means so much to them — and to Harry in particular — so Meghan wanted to bring that happy place to him on his day so she set up a tent, got sleeping bags, cooked dinner, and recreated Botswana where they fell in love."
The Duke and Duchess of Cambridge love getting away to the Isle of Scilly in Cornwall
Sometimes, jetting off to Europe or Africa simply isn't practical for the royals. For Prince William and Kate Middleton, the Isle of Scilly in Cornwall (only a few hours from London) is a favorite vacation spot. In 2021, Hello! reported that William and Kate had taken their family to Scilly for the second year in a row. As it turns out, William had visited as a child with his parents, Prince Charles and Princess Diana, and his brother, Prince Harry, in 1989. According to the Daily Mail, the family stayed on Tresco Island, owned by Charles, in a four-bedroom stone cottage surrounded by beautiful beaches and cycling paths. As one source said, "They were keen to support our travel industry."
William's father, Charles, and his wife, Camilla Parker-Bowles, also have a holiday home in Scilly. Dolphin House is a six-bedroom home in an old rectory also on Tresco Island with picturesque blue and white decor and idyllic waterfront views. According to Hello!, you can even live out all of your royal holiday dreams and rent the place for around $2,675 a week.
The palatial Osborne House on the Isle of Wight is an old royal holiday spot
Back in the 1800s, one of the go-to holiday spots for the royal family was Osborne House on the Isle of Wight. Queen Victoria and Prince Albert commissioned and owned the gigantic castle. Built in the palazzo style, the huge home and its perfectly manicured gardens look like something out of the south of Italy. Today, you can visit the home and how it may have looked during the Victorian era. You'll see the ornate bedrooms, the extravagant dining room, and the stunning private beach where the royal family may have spent time sunbathing in privacy. According to Hello!, Victoria once exclaimed, "It is impossible to imagine a prettier spot" — and it's easy to see why.
While the home was clearly a favorite spot for Victoria, after her death, King Edward gave up the estate and passed it over to the state. For several years, it became part of the Royal Navy College, but, in 1954, the queen opened it up to the public.
Prince Charles loves visiting Greece — especially Corfu
For Prince Charles, there is no better holiday spot than Greece. As he once said during a visit, "My wife [Camilla] and I could not be more delighted to be back in Greece, which has long held the most special place in my heart. After all, Greece is the land of my grandfather; and of my father's birth, nearly [100] years ago, in the centenary year of Greek Independence" (via People). He went on to explain that his grandmother had hid a Jewish family in Greece during the Second World War. "In feeling a profound connection to Greece — her landscapes, her history and her culture — I am hardly alone: there is something of her essence in us all," he said.
According to My London, the couple's favorite spot is the small island of Corfu. With its copious natural life, beautiful harbor, and incredible party scene, it's easy to see why this royal couple keeps coming back.
Necker Island in the Caribbean was a favorite spot for Princess Diana
Back in 1990, Princess Diana famously visited Richard Branson's private island in the Caribbean, Necker Island, with her two sons, Prince William and Prince Harry. As Express reported, a Channel 5 documentary dug into this semi-scandalous trip in 2021. According to one expert, Diana was drawn to the luxurious island because of its security — particularly to hide from the paparazzi. "He [Richard] can deliver great security, marvellous privacy and you'll have a lovely relaxing time in your own villa which is going to cost roughly £4,000 or £5,000 a night," said travel expert Simon Calder.
Of course, the paparazzi did manage to snap a few shots of the princess and her sons on the beach. And even though the island is incredibly exclusive, Diana seemed to have a pretty normal beach experience — which must have been a welcome change. "When I saw pictures of Diana on the beach in Necker with William and Harry they were glorious to watch and they were doing just what we do," said journalist Carole Malone. "It was bucket and spade stuff."
Diana and Charles also spent time in Mallorca
As SeeMallorca reported, Prince Charles and Princess Diana both visited Mallorca in Spain on several occasions. The former couple first visited in 1986 after an invitation from King Juan Carlos I. They stayed in a royal palace, spent time on the king's yacht, took the kids to a waterpark, and spent plenty of time lounging on the beach. The couple returned for three years in a row — 1987, 1988, and 1990 — and Diana returned without Charles in 1996.
Marivent Palace, where Charles and Diana stayed, is open to the public if you want to see the luxury for yourself. The palace, built in the Mediterranean style, is situated on a picturesque hill.
By the looks of things, Diana's final visit to Mallorca will even appear on "The Crown." As the Daily Mail reported, Elizabeth Debicki recreates Diana's trip, and fans will see the princess on a jet ski.
Prince Andrew and Fergie honeymooned on a private yacht in Portugal's Azores Islands
In 1986, Prince Andrew and Sarah Ferguson chose the breathtaking Azores Islands in Portugal as their honeymoon destination. Their trip began with a beautiful, secluded five-day cruise around the nine islands on a private yacht. According to the Associated Press, they even had Portuguese marines keeping other boats more than 200 yards from the ship at all times to give the pair extra privacy. At the end of their cruise, the former royal couple (who still live together) shared a dinner party onboard with local officials (via the Casper-Star Tribune).
While the couple's trip was shrouded in secrecy, we do know that the nine Azores Islands could not be more idyllic. With perfect summer weather for sunbathing and swimming and endlessly stunning views from the water, it's safe to say that Andrew and Fergie had a truly luxurious honeymoon on their large private yacht!
Anmer Hall became the perfect luxury staycation spot for Will and Kate during COVID quarantine
During the COVID-19 pandemic, most of us had to put our vacation plans on hold — even those of us in the royal family! However, Prince William and Kate Middleton did manage to get away to one of their U.K. holiday homes. The pair spent plenty of time in Anmer Hall in Norfolk, a stunning 10-bedroom estate, which underwent a staggering $2.3 million in renovations prior to the royal family's COVID getaway (via Hello!). It seems the couple loved their time in Norfolk. In fact, as William said, "We spend as much time as we can here, it's very peaceful" (via Hello!).
In some of the couple's Zoom appearances from Anmer Hall, it's possible to get a sense of the sprawling property. By the looks of things, it features a large study with floor-to- ceiling bookcases, a large green dining room with plenty of antique pieces of decor, a large conservatory, and expansive private fields outdoors. It's easy to see why the Duke and Duchess of Cambridge can't get enough of this stunning property.
Princess Diana loved visiting Nevis in the Carribean
According to the Daily Mail, the beautiful Nevis Island in the Caribbean was one of Princess Diana's favorite spots to visit. She visited the island with her two sons, Prince William and Prince Harry, in the '90s. The Daily Mail reported that the island is without "tourism on a large scale," as "no cruise ships nor long-haul flights stop at the island." This makes Nevis a perfect spot for a fairly secluded escape.
The island features a stunning volcano, Nevis Peak, and plenty of places to take scenic walks through the rainforest.
During her visit, Diana stayed at the Montpelier Plantation, a luxurious, laid-back, beachfront hotel with plenty of bars, restaurants, and activities. As Tim Hoffman, whose mother worked at the hotel, told The Telegraph, "She used to play cricket on Pinneys beach with her boys. It was a last minute arrangement and she didn't hire out the hotel exclusively for herself… But the restaurant was closed to outside bookings so that no one else could walk in."
Several members of the royal family have chosen the Bahamas as their summer vacation spot
It seems the royals love a beachside vacation. On several occasions, the royals have picked the Bahamas as their getaway destination. In 2022, Prince William and Kate Middleton stayed at a super luxurious resort in Atlantis called The Cove that features huge suites which overlook two beaches. As Travel + Leisure reported, their trip was part of a royal tour.
Casa Casuarina is another luxury getaway home in the Bahamas where many royal family members, including Prince Charles, Princess Diana, William, and Kate, have stayed over the years. As Forbes reported, the five-bedroom, 11-bathroom villa has 180 feet of sandy beach, a pool, a large terrace, and a gorgeous modern interior. Apparently, the home is worth around $12.5 million. No wonder so many royals keep coming back to this luxurious Bahamas getaway!