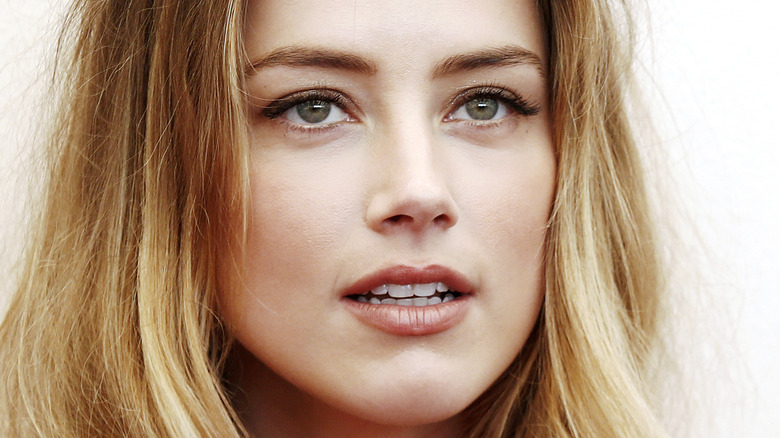 When Johnny Depp and Amber Heard walked into a Virginia courtroom in April 2022 to air their relationship's dirty laundry, it seemed as though the pop culture world stood still. The ex-couple had been at each other's throats since their high-profile marriage and divorce hit the headlines. Over the course of their separation, Heard made startling accusations against the "Pirates of the Caribbean" star, confessing that she had been abused throughout their relationship. For his part, Depp stayed relatively quiet — that is, until he took the stand.
Depp and Heard's individual legal teams painstakingly went over the details of the former co-stars' relationship, presenting two very different narratives to the jury. On one hand, Heard was portrayed as a victim of domestic abuse, which she alluded to in a column published by The Washington Post. On the other hand, Depp was positioned as the recipient of such behavior, flipping the "he said, she said" script on its head. As the trial got underway and more information about the couple's past relationship was revealed, questions about Heard naturally arose. Amid the chaos, confusion, countering evidence, and uncomfortable testimonies, the world soon learned that Heard and Depp's relationship was far more complex than previously thought. But how did Heard get to that point, and what had her life looked like up until that fateful trial?
If you or someone you know is dealing with domestic abuse, you can call the National Domestic Violence Hotline at 1−800−799−7233. You can also find more information, resources, and support at their website.
Amber was born into a religious, conservative family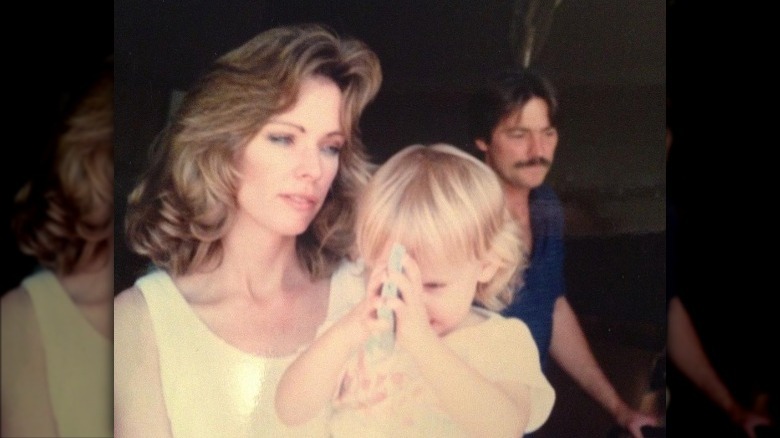 While Amber Heard may now be known for her outspoken, unabashed reputation, she was born into a very different environment. As noted by Independent, Amber was born to her mother Paige Parsons and her father David Heard on April 22, 1986, in the state of Texas. Amber and her younger sister, Whitney Heard, were raised in a very conservative household that subscribed to the Catholic faith and traditions. The Heard family had a "modest" income, and from all accounts led a normal, albeit strict, way of life.
Both Amber and Whitney had aspirations to work in the entertainment industry, but only Amber made it big. As noted by SCMP, Whitney started and maintains a career in the hotel and hospitality industry, cropping up in headlines from time to time thanks to her sister's high profile.
As a child, Amber often accompanied her father on work runs, which exposed her at an early age to the realities that immigrants face. David, her father, ran a small construction operation and hired migrant workers frequently, the actor told Wonderland Magazine. "I was born in South Central Texas by the accidental geography of miles," Amber said. "I didn't have those arms on me, but I saw that they were there."
She became curious about philosophy as a young child
Being brought up in a small, conservative, and religious family may not have laid the foundational work for Amber Heard to question the world around her, so she turned to books and the works of philosophers. Telling Wonderland Magazine that her curiosity was piqued around the age of 8, Heard said books gave her the insight she craved. Becoming aware at a young age that societal expectations of men were very different than those of women, Heard sought answers in the works of George Orwell and Ray Bradbury.
"It seemed inherently unfair to be told I had to dress a certain way," Heard said of her school uniforms and the ways in which she was treated differently than her male counterparts. "Why is it my burden what a boy might be distracted by? Why is it not incumbent on our young men to be taught to behave? I have been a feminist always, ever since I could make an opinion, because I'm a humanist."
Saying that she found "magic" in Bradbury's "Fahrenheit 451," the actor confessed, "I'd look around the room wondering: Does nobody else get this? It resonated with me." Further explaining that such works forced her to question the world around her — and examine "her own skepticism" — Heard reasoned that such readings helped pave her way.
Amber fought for the rights of same-gender couples while in high school
Although Amber Heard is possibly forever tied to the legal fate of Johnny Depp, she was once involved in a case with the ACLU back in her high school years. As she detailed in an interview with Wonderland Magazine, a same-gender couple was targeted when the high school wouldn't let them attend prom. No matter what you think of Heard these days, a 16-year-old jumping to her peers' defense and appealing to the ACLU for help is an impressive move.
In 2010, Amber Heard revealed that she is bisexual while speaking at GLAAD's 25th-anniversary event (per Us Magazine). Recounting what it was like to come out to her parents, Heard said, via People, "I am from Austin, Texas. My dad is out of central casting Texan. Good Southern man, and I was raised in a religious home … I remember when I told them about my relationship, that I was in love with this woman, and at the beginning of that it was just tears, tears … They didn't know how to process it."
She competed in beauty pageants as a teen
It's no secret that Amber Heard is one of Hollywood's most dazzling stars. In an interview with Glamour, the actor recounted how she started on the beauty pageant circuit as a teenager. Due to the fact that her family didn't have a ton of financial leeway, Heard relied on the good graces of her neighbors and local Austin, Texas business owners to help raise money for her pageant efforts. "Pageants are weird," Heard later reflected while chatting with Glamour. "I can't support the objectification."
But don't think that Heard was all glitz and glam. The Texas native clearly lived life in accordance with the state's Wild West reputation, and she often joined her dad as he worked on construction sites and corralled horses. Unsurprisingly, he wasn't said to be a fan of the pageant circuit.
"I was his hunting and fishing buddy," Heard said of her dad. "When I was 12, I was struggling to stay on a bucking horse that was particularly unhappy about the arrangement. I spotted a little patch of grass, and I leapt. It didn't just take the look on my dad's face to put me back in the saddle. But that helped."
Amber turned to atheism after enduring a tragedy
Some moments in life mark distinct turning points. While it's always preferred for these instances to be positive, sometimes the negative experiences turn out to be more impactful. For Amber Heard, her outlook on religion — which had been a huge part of her upbringing — was forever changed after her best friend died in a car accident. She was just 16 at the time, and the soon-to-be high school dropout was never the same.
"My very best friend died in a car accident when I was 16 years old. That was the hardest blow emotionally that I have ever had to endure," Heard said in a now archived profile written by USA Today. "Suddenly, you realize tomorrow might not come. Now I live by the motto, 'Today is what I have.'"
Having been changed by such a tragedy, Heard eventually found herself in her first serious relationship, and her then-boyfriend brought her attention to atheism and the work of Ayn Rand. "I've read all of her books," Heard said of Rand. "Ever since then, I have been obsessed with her ideals. All I've ever needed is myself."
The actor rebelled against her upbringing and moved to Los Angeles
It was only a matter of time before Amber Heard struck out on her own, and the high school dropout (who eventually did finish her degree through a home-study program) picked up her life in Texas and never looked back. Claiming to be "bored" with "conservative, God-fearin' Texas," Heard took the plunge and tried to make it as a model in New York, Glamour noted. When that didn't work out, the "obstinate, bisexual, vegan atheist" decided to jump to the other side of the country and pursue a career in Hollywood. "I guess you could say I had my own things to rebel against," Heard told the outlet.
Heard's early days in Los Angeles, however, were anything but glamorous. She tried out for pretty much every opportunity she could find, using the city's notoriously bad public transportation system to go from audition to audition. "I would audition for everything, from Hot Girl Number 3 at Party to Daughter Leaving for College," Heard said. "I would go around, a lot of times by city bus. I'd sit toward the back and change underneath my jacket."
Amber's career started to gain momentum in the mid-2000s
While Amber Heard took any and all opportunities she could in the early years of her career, things started to pick up pace in the early to mid-2000s. As noted by Independent, Heard's first movie role came via the 2004 sports film "Friday Night Lights," which was later developed into a TV series. From there, the actor made her on-screen presence known in the film "All the Boys Love Mandy Lane," which premiered at the Toronto International Film Festival in 2006.
Things really started to change for Heard, however, after she joined the likes of Seth Rogen, James Franco, and Danny McBride in the hit 2008 film "Pineapple Express." Her work in the film projected her onto the main stage in a way that she hadn't experienced up until that point, and from there, her career blossomed. The following year, Heard appeared in "Zombieland," and two years later, she crossed paths with her future ex-husband, Johnny Depp, in the 2011 film "The Rum Diary."
The actor found herself in hot water in 2009
Although 2009 brought a great film opportunity to Amber Heard in "Zombieland," the year wasn't all sunshine and rainbows (or zombies). At the time, Heard was in a romantic relationship with her girlfriend Tasya van Ree, a photographer and artist, and the two were spotted at the Seattle-Tacoma International Airport on a seemingly normal day in September. As confirmed to USA Today, the two got into a "fracas" while at the airport, and Heard was seen grabbing van Ree by the arm and hitting her. She was arrested and taken into custody by Port of Seattle Police and was later charged with a fourth-degree misdemeanor for domestic violence.
The following day, September 15, 2009, Heard had to appear in Seattle's King County District Court. Things clearly weren't looking good for the actor, but she found out later in the day that she would not be charged by prosecutors. An interesting hiccup in the case came two years later, when the Port of Seattle Police got a request for all information related to the arrest to be deleted. Given that it wasn't against the law in Washington, the case files were tossed out with the trash.
Amber married Johnny Depp in 2015
Amber Heard and Johnny Depp took the celebrity world by storm when they commenced their whirlwind relationship. After co-starring in "The Rum Diary," the duo went from friends to lovers, and eventually tied the knot during a civil ceremony in February 2015. Just a few days later, the newlyweds and their friends and family traveled to Depp's private island in the Bahamas for a more extravagant service, per People. Casual, right?
"Wedding guests were treated to an amazing weekend that ended with a romantic beach ceremony," an inside source said of the wedding. "Guests relaxed on the beaches, had fun snorkeling, and enjoyed food cooked by private chefs. Everyone seemed to have the best time. It was a very celebratory vibe."
But just a short 15 months later, the two called it quits, and Heard filed divorce papers. What's more, Heard also filed for a restraining order against Depp, claiming that he had assaulted her throughout their relationship. "Given the brevity of this marriage and the most recent and tragic loss of his mother, Johnny will not respond to any of the salacious false stories, gossip, misinformation, and lies about his personal life," Depp's representative said at the time. "Hopefully the dissolution of this short marriage will be resolved quickly." As we all know, that did not happen.
The actor penned an op-ed about her relationship
When Amber Heard and Johnny Depp finalized their divorce, both parties decided that their relationship should stay out of the headlines. The ex-couple came to an arrangement that neither would make "derogatory, disparaging, critical, or accusatory statements, either directly or indirectly, express or implied" about the other, per Variety.
That agreement, however, was turned on its head when Heard published the now controversial column in The Washington Post in 2018, writing that she was not only a representative of domestic violence, but that she was living proof that men are held to account far less than women.
"Two years ago, I became a public figure representing domestic abuse, and I felt the full force of our culture's wrath for women who speak out," Heard wrote. "I had the rare vantage point of seeing, in real-time, how institutions protect men accused of abuse." While Heard's words rang true for many women and survivors of abuse, the column — while not naming Depp specifically — incited a tidal wave of legal woes for the "Aquaman" star. The piece ultimately became the center of the court battle that millions tuned in to watch unfold.
If you or someone you know is dealing with domestic abuse, you can call the National Domestic Violence Hotline at 1−800−799−7233. You can also find more information, resources, and support at their website.
Amber became a mom in 2021
In a surprising turn of events — given that her name was being thrown around in the headlines due to her legal battle with ex Johnny Depp — Amber Heard announced that she had become a mom. Her daughter, Oonagh, was born via surrogate on April 8, 2021. The actor took to Instagram to explain why her journey to motherhood might have seemed rather unconventional.
"I wanted to do it on my own terms. I now appreciate how radical it is for us as women to think about one of the most fundamental parts of our destinies in this way," Heard wrote to her millions of followers. "I hope we arrive at a point in which it's normalized to not want a ring in order to have a crib."
She went on to write that while she wanted to keep her daughter and her journey to motherhood out of the private eye, her work as an actor and public figure "compelled" her to share her story. At the end of her statement on Instagram, she wrote, "My daughter was born on April 8, 2021. Her name is Oonagh Paige Heard. She's the beginning of the rest of my life."
The actor became the center of controversy
It seemed as though it was the trial of the century when Amber Heard and Johnny Depp battled it out in court. What unfolded on the stand was a complicated, emotional, and convoluted mess of testimony, evidence, and cross-examination. After weeks of court appearances, the jury found that the "Aquaman" actor's claims — that Depp had abused her throughout their relationship — was not supported by the evidence. The jury was unanimous in its decision, presenting a rather public blow to Heard, per NBC News.
"The crying, the facial expressions that she had, the staring at the jury. All of us were very uncomfortable," a juror told Variety of Heard after the fact. "She would answer one question and she would be crying, and two seconds later she would turn ice cold. Some of us used the expression 'crocodile tears.'"
Of her opponent, Depp, the anonymous juror said he was "more believable" than his ex-wife, recounting the atrocities throughout their marriage in a more genuine way. "He just seemed a little more real in terms of how he was responding to questions. His emotional state was very stable throughout," the juror explained. It seemed that society as a whole was also taking Depp's side.
If you or someone you know is dealing with domestic abuse, you can call the National Domestic Violence Hotline at 1−800−799−7233. You can also find more information, resources, and support at their website.
What does Amber Heard's life look like now?
After she was defeated in court, Amber Heard took to social media to express her dismay over the jury's decision, writing in part, "I'm heartbroken that the mountain of evidence still was not enough to stand up to the disproportionate power, influence, and sway of my ex-husband." While Johnny Depp has made it clear that he wants to move on with his life — restarting his music career and vehemently shooting down attempts to get him back into court — Heard has been adamant that the trial be redone, focusing on the supposed mistaken identity of a jury member. However, as noted by NPR, Heard's efforts to have the case revisited were shot down by a Virginia judge, Penney Azcarate, in July 2022.
"The juror was vetted, sat for the entire jury, deliberated, and reached a verdict," Azcarate wrote. "The only evidence before this Court is that this juror and all jurors followed their oaths, the Court's instructions, and orders. This Court is bound by the competent decision of the jury."
As for her personal life, Heard is reported to be single as of publication (via HITC), choosing to focus on her daughter. She has been silent on social media since her court battle with Depp came to an end.