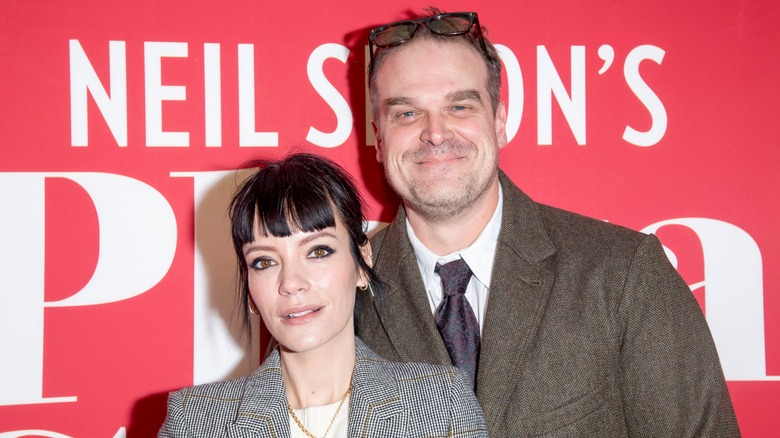 Whether it was love at first sight or more of a slow burn, the marriage between beloved "Stranger Things" star David Harbour and iconic "Smile" singer Lily Allen has revealed the power of strength in numbers. Both celebrities have seen their careers rise since their coupling: from Harbour's turn in "Black Widow" and the fifth season of "Stranger Things" to Allen's debut in London's West End and her return to the Glastonbury Festival stage. Since the two were first spotted in public attending the theater together in 2019, the power couple has portrayed consistent public support and admiration for each other, as well as a deep-seated honesty about their struggles.
Harbour and Allen often take to Instagram to publicly profess affection, tease their fans with engagement rumors, and even announced their surprise Vegas wedding to their rabid following. In fact, from the moment the pair became Instagram official, Harbour and Allen have been delighting the public with their raw, genuine affection for one another. When their relationship was first made public, many people were surprised at the seemingly random pairing, but a closer look reveals that the two have far more in common than at first meets the eye.
This wasn't David Harbour's first attempt at marriage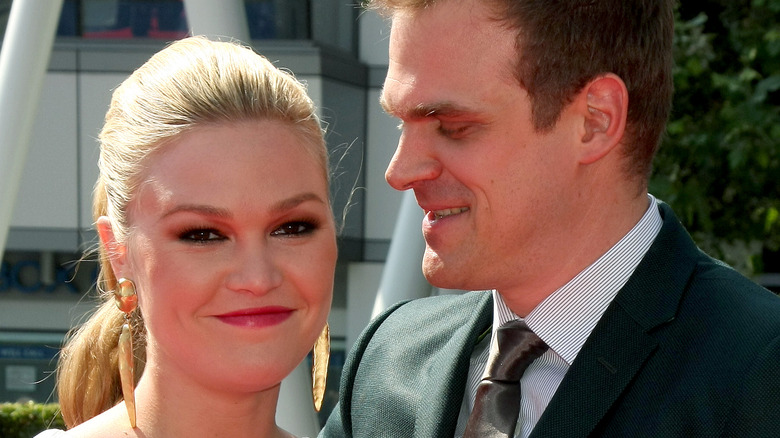 Before he met Lily Allen, David Harbour had several well-known girlfriends, according to Elle. He was even rumored to be engaged to Maria Thayer, with whom he was linked from 2009 to 2011. Harbour then dated Julia Stiles (of "Dexter" and "The Bourne Identity" fame, and, yes, that was her with Heath Ledger in "Ten Things I Hate About You" too). Their relationship lasted a long four years until 2015.
Harbour was quiet about his relationships for a few years, but in 2019, he shared a little Instagram PDA with actress Alison Sudol ("Fantastic Beasts"). She once gushed on Instagram, "What a generous, large-hearted, roaring wonder of a person I get to walk around and do stuff with. Like eat food and read books out loud and watch our dog sleep. And isn't that great. What an ignited soul, what a fire-spirit. What a brilliant artist. What a caring, deep, intuitive individual who has changed my life completely and utterly. What a lucky woman I am."
They remained Instagram friends even after they broke up and Harbour began dating Lily Allen.
Harbour isn't afraid of regrets, though, even in relationships. He told Netflix, "I think regret is a powerful, good thing because it makes you evaluate your future behavior…. [Change] really only comes through mistakes and regret."
Lily Allen tried marriage once before
Lily Allen was married to entrepreneur Sam Cooper from 2011 to 2018. They had two daughters, Ethel and Marnie, and a son, George, who was stillborn. The pair were engaged in Bali and married for a tumultuous five years. Allen wrote about leaving to go on tour while Sam stayed home with the children in her book "My Thoughts Exactly" (via Us Weekly). "I had always assumed I'd chuck my kid over my shoulder and take them around the world," she wrote. "But Sam didn't want that. He didn't think it was a stable environment for them … I think it was quite selfish. He got to stay at home and have the family that I'd just spent three years making inside me," she continued. "I had to go out and earn money and leave that family behind."
After the couple split, Cosmopolitan reported that she still reacted poorly to the news that Cooper was dating someone else. Cooper married aristocrat India Windsor-Clive and said of his bride, "She is beautiful, wonderful, magical in every way… and she said yes!!!! An extraordinarily lucky man I am. Wow" (via Mirror). The two recently had their first child together, as seen in the Daily Mail.
How the romance began
How Lily Allen and David Harbour began dating depends on who's asking. They have the "official" version that claims they met backstage at a talk show, but as David told GQ, they met on the exclusive dating app Raya. He was in London filming "Black Widow," and Allen was in Italy. They started texting and met for a few dates. As Harbour told James Corden, Allen knew she loved him right away. He related, "She said when I saw you, I saw the biggest person I had ever seen in my life and also the smallest person I had ever seen in my life … Isn't that interesting? That's what made her fall in love with me — that I was very big and also very small in a certain way" (via YouTube).
But it was on their third date when he decided to be honest about his beliefs, and she didn't flinch that he knew it was love. "It would take a really extraordinary person to be accepting of the things that I said. And I remember thinking: Wow, that's somebody I want to be around." While dating apps are always a gamble, and even the exclusive Raya app is not without its share of controversy, cupid seems to have found its mark. As Harbour told Netflix (via YouTube), a soulmate is "someone who you look into their eyes and you feel a deep compassion and kind of kindred spirit for. And I've found it."
Physical attraction and other mysteries
When the couple had their first date, David Harbour was sporting long hair and was overweight. He was in the process of filming "Black Widow" and needed to beef up to play the Red Guardian, "this dude who's big and violent with tattoos and gold teeth and also needs you to like his jokes," as Harbour told Us Weekly. "It's a true testament to my undeniable charisma when I say that my wife met me at 280 pounds with this beard and this hair."
Lily Allen found him so attractive "as-is" that once he was done filming and began working out and slimming down, "she honestly has some mixed feelings about it." But Harbour didn't find that worrying. On the contrary, he felt it was a good thing to start the relationship, not looking his best. "It's really good to start the relationship from that part, as opposed to being the young, handsome buck and watching yourself degenerate over the years."
As far as Allen's attractive bits, Harbour, in 2019, told People, "I really only look at my girlfriend's eyes until she's turned away from me, and I stare at her stunningly beautiful butt." But a woman's most attractive attribute, according to David Harbour? "A healthy appetite." Hear, hear, David. Hear, hear!
Rumors of engagement
The rumors of an engagement between David Harbour and Lily Allen were fueled by an off-kilter conversation between the couple during an Instagram Live chat. From Allen's Instagram account, according to ET Online, the two were lying in bed while chatting with fans. Allen said to Harbour, "You think you married a pop star … Not that we're married. We aren't."
And Harbour replied, "But she is my wife, my wife," and Allen agreed, "We do pretend."
A few months later, in May of 2020, Allen appeared to confirm engagement rumors when she posted a photo on Instagram (via ET Online) that sported a lovely diamond on her left hand. A fan asked her about it, and she replied with a nod to the movie "Fight Club." "The first rule about engagement," she joked. Though they played coy with their answers on occasion, their public displays of affection, and even the way they created a scene of cozy domesticity during the pandemic.
The incident that made him propose
Though David Harbour was sure about his feelings for Lily Allen, it wasn't until a fateful bike ride with Allen's daughters that he knew the time was right to propose. As he told Jimmy Kimmel (via YouTube), he was on a bike ride with Allen's two daughters, Ethel, 9, and Marnie, 8, shortly after the pandemic began. The couple had been quarantined together, along with Allen's children. Marnie kept calling him "Dad" and then changing his name to "David." When Ethel chided her, "He's not our dad!" Marnie adjusted, "He's kind of our stepdad."
"No, he isn't!" snapped Ethel. Marnie parried with the all-encompassing question, "Well, what is he?" Ethel's response? "He's just some guy in our lives!"
Harbour knew without a doubt, "I need to marry this woman immediately." Although, even after a Vegas wedding in which the girls were flower girls (via Instagram) and the only attendants, Harbour reported to Kimmel with a chuckle, "I'm still just some guy in their lives."
The not-so-secret Vegas wedding
Because they were engaged during a global pandemic, the pair got tired of waiting for the perfect marital setting. As Lily Allen told the "Sex, Lies, & DM Slides" podcast, "It was never about wanting to get married in Vegas … We just wanted to get married. And because of the lockdown situations everywhere … [Vegas] was assumed to be the only place stupid enough to have ceremonies."
The two were married at the Graceland Chapel by an Elvis impersonator. They bought the three-song package and, according to Allen, "The vows were really funny. It was like, you know, I vow never to step on your Blue Suede Shoes."
The couple was attended by Allen's daughters, Ethel and Marnie, and the new family had a fancy reception dinner of In-N-Out Burger afterward (via Instagram). Even though they intended it to be a private affair, Harbour told Jimmy Kimmel (via YouTube), the Nevada County Clerk's office tweeted a photo of their marriage license before the newly married couple had even made it back to their home in L.A. At that point, there was nothing to do but announce it themselves via social media.
Maybe babies
To celebrate their first anniversary on September 7, 2021, Lily Allen posted a bevy of photos of her wedding to David Harbour. The snaps included several candid shots of their fast food reception and featured her daughters, Ethel and Marnie, who were dressed in peach flower girl dresses paired with sneakers. The photos are no longer available via Instagram, but Elle reported that the caption on the initial posting read, "1 year down with this guy. Happy Anniversary baby @dkharbour. I prefer my life with you in it. You can stay."
When she was asked if the couple planned to have children, Allen told The Sunday Times that she was open to the idea now that her children were getting older but also hinted that it might be necessary to wait a few years. Allen, who has been very open about her battles with sobriety, explained that after fighting so hard for health and well-being that she believes she is in a comfortable space. "I'm in a really good place," she said and added that she is unsure of how a pregnancy might affect her body at this point in her life. "I don't know if I'd mess with my hormones at this particular point."
Marriage agrees with David
Now a seasoned marriage veteran, David Harbour appears to show no sign of regret about his marriage to worldwide pop star Lily Allen. In 2021, the "Stranger Things" actor told People, "I'm so grateful that I'm not alone anymore, and that I have someone that I can tell everything to and who can tell me everything … I'm always so overcome with gratitude for that because I've been alone for most of my life."
Marriage seems to agree with his career, too. Last year, Harbour starred in "Black Widow," and he's most recently been seen promoting yet another blockbuster season of Netflix's "Stranger Things" with Allen and her kids at his side. As he told People in a separate interview, "I have never met someone who is so deeply kind as her. I've never felt so taken care of and cared for by another human being."
Their busy lives don't always make married life easy. Last year, Lily told The Sunday Times that "On the perfect date night with my husband, we'd be in the same room because that doesn't happen very often and I would like to see him… some day."
David becomes a parent
Though David Harbour played a father on television in "Stranger Things," he had minimal experience with children before marriage. He told the "That Scene with Dan Patrick" podcast that his experience portraying a father in "Stranger Things" helped him connect to his role in the life of his wife's children.
"The show did open my heart in a lot of different ways. One of the ways that it did was it started to make me realize how thin my existence was without a family," the actor explained. "The fact that this guy [Hopper] was maturing into a father, [it's] something, clearly, that my subconscious was crying out to do. I think it's personally why things are successful, it's because there's some unique alchemy between the performer and the role. I feel like there's something in Hopper that had this deep need for family, and there was something in me that had it, too but that I wasn't even aware of. The role allowed me to do that in my real life, it was a nice test run."
Since taking on the role of stepfather, he's learned how difficult it can be. He told Stephen Boss (via YouTube), "They're British and I'm this cheese-fed American man and they really do like the fact they have an extra jungle gym. They crawl all over me; they make it their job to try to hurt me as much as they can. My lower back is destroyed."
Lily Allen thrives in married life
Though Lily Allen was once quoted in Stylist as saying, "Marriage is a contract between the government and/or god. Neither of which I believe in," it seems that she's taken to her marriage with David Harbour with a much more favorable result.
Lily Allen stopped performing in 2019 and took time to get sober. Three years later, with a solid marriage and her health regained, Allen retook the stage for the first time in June of 2022. She joined pop star Olivia Rodrigo in a performance of "F*** You" at the Glastonbury Festival in England. Her daughters watched from the audience as Allen and Rodrigo sang their anthem in response to the recent Supreme Court ruling about Roe v. Wade. Allen reported on Instagram, "Quite emosh … I didn't know whether i'd be able to get up on a stage like that sober again if i'm honest, a part of me thought it was all in the past. I had the most amazing day … Who knows, maybe i won't hang up my [microphone] just yet."
New career options ahead
Allen explored a different type of role in 2021 when she appeared as an actor on London's West End in "2:22 — A Ghost Story." She didn't do it without the support of her husband, of course. David Harbour wrote about Allen's debut on Instagram, "Very proud of my slightly nervous, immensely brave, annoyingly talented wife @lilyallen who has her first preview of her play @222aghoststory tonight. Like, that she's acting in!" Allen was nominated for an Olivier award for her performance in the play. The Independent recently confirmed she would star in a new series by Sharon Horgan (of "Catastrophe") for Sky media. The series is called "Dreamland," and In addition to acting, Allen has tried her hand (no pun intended) at a completely different industry, launching a sex toy with the brand Womanizer (via NME). Harbour had nothing but support for her venture, claiming on Instagram, "I'm buying one for my wife."