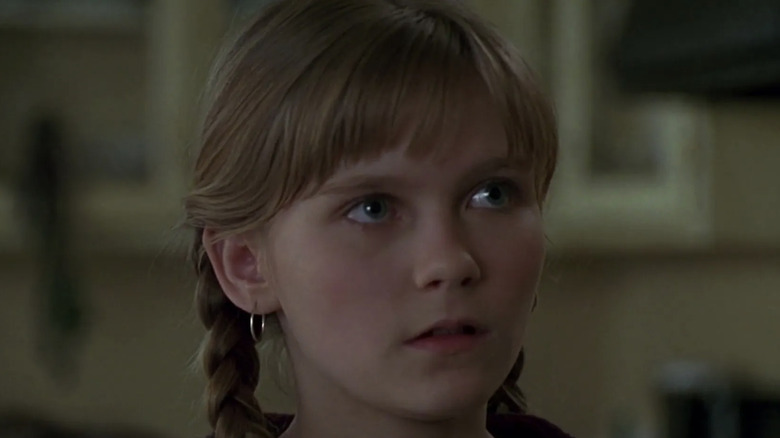 In 1995, the world was introduced to the movie "Jumanji," a modern classic that became one of the top ten grossing films of the year and spawned an entire franchise of sequels, spin-offs, board games, video games, and even an animated TV series. Originally, many critics panned the film, believing it to be too "traumatic" for children, as Roger Ebert believed, or criticized the special effects, as we see in the Washington Post (an odd criticism, since "Jumanji" would go on to win a Saturn Award for best special effects). But the film's enduring legacy, popularity, (and, of course, its box office results) tell a very different story. In fact, families are still buying copies today for their home collections. "Jumanji" is often considered one of the top 100 family films of all time.
The film's plot is deceptively straightforward: In 1969, young Alan Parrish is sucked into a board game. Decades later, siblings Judy and Peter Shepherd discover the game and begin to play, releasing Alan and a whole host of natural disasters, angry wildlife, and even a vengeful hunter. With its relatively small cast, many of the actors have gone on to become familiar silver screen faces, while others have become Hollywood legends. Here's a look at what the beloved cast is up to today.
Bonnie Hunt (Sarah Whittle)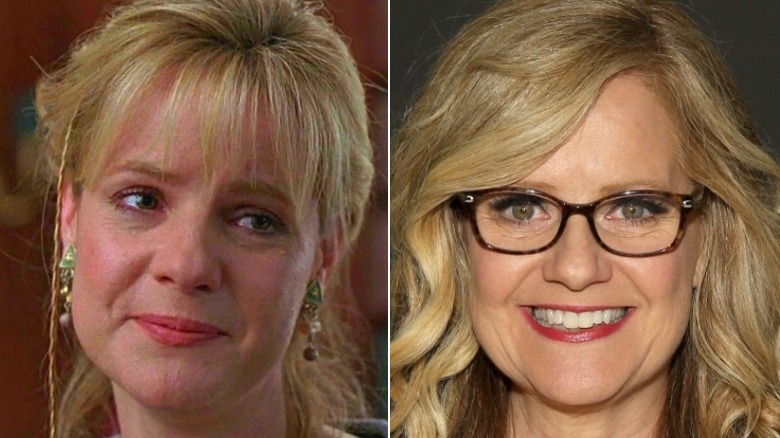 This recognizable actress has been a Hollywood darling for almost 40 years, a skilled comedienne who even co-founded an improv troupe back in the '80s. In fact, during the filming for "Jumanji," Robin Williams (famously a brilliant improv actor) and Hunt agreed to stick to the script, according to a New York Times interview, but would also beg the crew for one more improv take, just for fun. (If someone could please find these outtakes, the rest of the internet would be very grateful.)
All jokes aside, Hunt was the only actor from "Jumanji" to win an award for their performance, taking home the Saturn Award for best supporting actress for her performance as Sarah Whittle. Oddly enough, in a New York Times interview, "Jumanji" director Joe Johnston recalls thinking that Hunt's portrayal of Sarah was "completely over the top. But once she made me understand what her character had gone through to become this crazy lady, she sold me." Clearly, Bonnie Hunt knows best.
Bonnie Hunt starred in several award-winning films in the '90s, notably "Jerry Maguire" and "The Green Mile," and went on to become one of the most familiar Disney voices, with eight films and counting under her belt. Currently, she voices Ms. Flint in the Disney/Pixar series "Monsters at Work" while acting in and producing "The Corona Dialogues: A Dylan Brady Project," an independent comedy short film series created during (you guessed it) the COVID-19 pandemic. Hunt's newest project will see the creator write, executive produce, and act as showrunner for the new Apple children's series, "Amber Brown."
Kirsten Dunst (Judy Shepherd)
Kirsten Dunst might only have been 13 years old when she played Judy Shepherd on "Jumanji," but she was already a seasoned actress, having starred in 1994's "Interview with the Vampire" at the age of 10. Funnily enough, Scarlet Johansson actually auditioned for the role of Judy, but the part went to Dunst instead. According to Bebe Neuwirth in an interview with the New York Times, on the set of "Jumanji" Dunst had "a depth. Even as a child, she was a very interesting actress who had something unusual about her." It's no surprise then that Dunst was nominated for a Saturn Award for best performance by a young actor for her portrayal of Judy Shepherd in "Jumanji."
These days, she's as big a star as ever. She recently married her long-time partner Jesse Plemons, who she met while playing his wife in Season 2 of "Fargo," and who was also her co-star in the Oscar award-winning "The Power of the Dog." "Fargo" and "The Power of the Dog" have garnered the actress an Emmy nomination and an Academy Award nomination, respectively.
Fans can also watch her on the 2019 Showtime series, "On Becoming a God in Central Florida," for which she was nominated for a Golden Globe award. She's also been attached to the new Alex Garland film, "Civil War," which isn't a period drama, but instead a sci-fi action film set in near-future America.
Bradley Pierce (Peter Shepherd)
Not only was he young Peter Shepherd in "Jumanji," notoriously growing a prehensile tail after a fateful roll of the dice, but Bradley Pierce also voiced everyone's favorite teacup, Chip, in Disney's "Beauty and the Beast." Beyond that, Pierce had dozens of guest roles in popular TV series during the '90s, such as "Star Trek: Voyager," "Days of our Lives," and "Roseanne." Later, he would star in 1997's "The Borrowers" with John Goodman and Tom Felton (who went on to play Draco Malfoy in the "Harry Potter" franchise).
Nowadays he's focused mainly on voice acting, though he's produced several short films and a TV series, "Andy the Android Dick." His latest acting credit was for the 2020 short film "The Connectionist." Pierce has also found success in the mixology world with his company, Pierce and Luna (co-founded with his partner, Bella Luna), which creates cocktails, features classes, and hosts events.
But no matter what, he's kept in touch with his Hollywood roots and still frequently attends comic cons, answering questions and reminiscing with fans.
Jonathan Hyde (Van Pelt/Sam Parrish)
True "Jumanji" fans are probably already aware that Jonathan Hyde plays both Alan's father, Samuel Parrish, and the unhinged hunter, Van Pelt, in "Jumanji." In retrospect, having Alan's fear of letting down his intimidating father take the form of a vengeful hunter makes a surprising amount of emotional sense for a children's movie.
Audiences should also recognize this great character actor, who was a member of The Royal Shakespeare Company, from 1997's "Titanic," and 1999's "The Mummy." These days, fans are more likely to see him on the stage, acting in 2021's "Hamlet" at the Theatre Royal Windsor alongside Ian McKellen.
However, those looking for Hyde at the movies won't have to wait long, as he's currently attached, alongside Eddie Izzard, to the new "Doctor Jekyll" film, which looks to be a fantastic new take on the famous novella (the movie poster alone is enough to impress us with its gothic mystery vibes). Children might also recognize his voice as Mr. Strickler in the "Trollhunters: Tales of Arcadia" and "Trollhunters: Rise of the Titans."
Bebe Neuwirth (Nora Shepherd)
Nora Shepherd, played by Bebe Neuwirth, has the hard work of raising her niece and nephew after the death of their parents, while also trying to deal with a lion in her bedroom and the flooding of her new house. Eagle-eyed fans will likely have recognized her in the sequel, as Neuwirth is one of the few original actors to reprise her role years later in "Jumanji: The Next Level." If not, though, audiences should recognize this distinctive actress who has been starring in films, acting in classic TV shows, and voicing beloved characters since the '80s.
Neuwirth is also an experienced Broadway star, starring in 1996's "Chicago" — watch her perform "All That Jazz" at the 70th annual Tony Awards. These days, Neuwirth can be found playing Diana Carlisle on Season 1 of "The Flight Attendant," Kaley Cuoco's new HBO drama. More recently, fans can find her on another HBO Max original TV series, "Julia," portraying Avis DeVoto, Julia Child's friend and cookbook collaborator, and voicing Patricia on the animated series "Duncanville."
David Alan Grier (Carl Bentley)
Who could forget the loveable, overwhelmed cop Carl Bentley from "Jumanji"? Hopefully, no one — his hilarious screams have earned him a place in the "Jumanji" hall of fame. Although the main kids and Robin Williams get the lion's share of screentime, David Alan Grier as Carl Bentley steals the show every time he makes an appearance.
This great comedic actor has starred in dozens of TV series over the years — seriously, he's got over 125 acting credits to his name. Viewers might remember him from the 2015 live TV musical revival of "The Wiz" as the Cowardly Lion (he's got some serious musical talent, as shown in this video from the Cadillac Hotel). And those who are in the mood for some light comedy can watch him guest star on the always delightful, "At Home with Amy Sedaris" (2020). However, be on the watch for him in more dramatic roles in the next year, as his two upcoming series, "The Patient" and "The Color Purple," deal with some heavy subject matter.
Patricia Clarkson (Carol Parrish)
Patricia Clarkson has a fairly small role in "Jumanji" as the young Alan Parrish's mother. According to an interview with Dave Karger for the SAG-Aftra Foundation, Clarkson's career in the early '90s had lagged after her success in critically acclaimed films, such as 1987's "The Untouchables." Playing Carol Parrish in 1995 was one of her biggest films from that era.
However, the late '90s would see Clarkson's career take off with roles in "The Green Mile," 2003's low-budget "Pieces of April," (which earned her an Academy Award nomination), and the HBO series "Six Feet Under."
Lately, her dramatic performances have been fantastic. She starred as Adora Crellin in 2018's "Sharp Objects," the HBO mini-series based on Gillian Flynn's novel of the same name, for which Clarkson won a Golden Globe. She plays the exacting, aging Southern Belle so well, in a taut performance of controlling motherhood and brittle expectations. Fans should also look for her in the upcoming film, "She Said," about the #MeToo movement.
James Handy (Exterminator)
James Handy had a small, but important role in "Jumanji." He plays the exterminator called in for some invasive African bats, who also ends up sharing the grisly rumors of Alan Parrish's death. This classic actor has played more than a few detectives, police chiefs, and oddly enough, religious clerics in his time. After his service in the Vietnam War, he established a career as an actor, primarily working in television on "Castle," "Criminal Minds," "Alias," "The West Wing," "X-Files," "CSI: NY," and literally dozens of other popular shows from the past 30 years.
Just a few short years before "Jumanji," James Handy dealt with a creature infestation of a different kind: He played Milton Briggs, the town coroner, in the horror comedy "Arachnophobia." Fans of "X-Men" might recognize him as the doctor in "Logan," however, audiences would have seen him on the big screen most recently as Jimmy the bartender in the 2022 summer blockbuster, "Top Gun: Maverick."
Adam Hann-Byrd (Young Alan Parrish)
Adam Hann-Byrd was a well-regarded child actor when he played the young Alan Parrish in "Jumanji," stretched and contorted as he's sucked into the game. By the time "Jumanji" came out in 1995, he'd already starred as a child prodigy in Jodie Foster's 1991 directorial debut, "Little Man Tate." In fact, "Little Man Tate" was Hann-Byrd's very first role, which saw him beat out hundreds of other, more seasoned actors, and eventually win a Young Artist Award.
Still, Hann-Byrd is probably most recognizable as Alan Parrish from "Jumanji." In an interview with the New York Times, Hann-Byrd explained that he was so excited about the film that he actually took one of the props home as a souvenir: "I ended up taking one of the massive vines that grow on the walls of the mansion. I had to get it back to the States, so we took it through customs, and everyone freaked out, so I had to explain."
These days filmgoers won't see him on the big screen as much; Hann-Byrd does still act in the occasional short film, though it appears he's focused mainly on his writing, working on projects such as "The Morning After." He's also worked in video game development, writing for the "Harry Potter: Hogwarts Mystery" game.
Laura Bell Bundy (Young Sarah Whittle)
Laura Bell Bundy played young Sarah Parrish in "Jumanji," who understandably becomes traumatized after watching her best friend magically pulled into a board game, disappearing without a trace and leaving no one to believe her fantastical story. Laura Bell Bundy should be familiar to audiences, as she's become a popular TV and voice actress, playing Becky in the 2022 spin-off "How I Met Your Father," and in "Call Me Kat" as Nicole.
But what's the best place to find Bell Bundy? On the stage! Laura Bell Bundy originated the Broadway roles of Amber Von Tussle in "Hairspray" and Elle Woods in "Legally Blonde," the role for which she received a best actress Tony nomination in 2007.
She's also a country music singer who released her debut album, "Longing for a Place Already Gone," in 2007 and toured with Rascal Flatts in 2013. Fans can find her on the "Women of Tomorrow" podcast with Shea Carter, which discusses Broadway news, famous women in history, and of course, modern women trying to make a difference.
Gillian Barber (Mrs. Thomas)
Mrs. Thomas is the sweet, slightly gullible real estate agent in "Jumanji," who Judy (Kirsten Dunst) manages to distress with a whopper of a lie and who ultimately ends up getting stung by a giant mosquito. However, in real life, Gillian Barber might just be someone you'd want on your team in the event of an animal attack: Barber's a black belt in Taekwondo. How did she get into that hobby? According to an interview with Movie TV Tech Geeks, "My son was studying the martial arts, and I thought it looked like dance on steroids, so I got involved. It's a bit of a hidden talent, as when you look at me, you wouldn't assume that type of skill. But it's come in handy in other work, too."
This powerhouse of the small screen has acted in some of the best TV series of the past few years: the award-winning "The Man in the High Castle," "Supernatural," the award-winning mini-series, "Maid," and the Emmy-winning Andrew Garfield murder mystery, "Under the Banner of Heaven." Seriously, it's a lot of awards.
Robin Williams (Alan Parrish)
Finally, there's no way to tell the story of "Jumanji" without acknowledging the great Robin Williams. For millions of people around the world, Willam's death was devastating. There have been many tributes to his comedy, his talent, and his kindness. While it's difficult to imagine "Jumanji" without him, Williams originally passed on the film because he wasn't a fan of the script. Director Joe Johnston and a few of the writers stayed up all night reworking the script, after which Williams agreed to the part.
During a New York Times interview with some of the "Jumanji" cast and crew, many remembered his thoughtfulness on set. According to Bradley Pierce, who played Peter Shepherd, Robin Williams sat with him during the three hours of make-up it would take for his monkey transformation, keeping him company. In fact, William's son was a similar age to Pierce so when William's family would visit Vancouver (where "Jumanji" was being filmed), Williams would invite the young actor to join them on family excursions to the zoo or aquarium.
While William went on to become an Oscar-winning actor for his work in "Good Will Hunting," he is also remembered for his beloved family films, such as "Aladdin," "Dead Poets Society," and "Mrs. Doubtfire." In fact, one of his final roles was Teddy Roosevelt in "Night at the Museum: Secret of the Tomb." For those wishing to learn more about the life of this legendary actor, his widow, Susan Schneider Williams, has produced a documentary, "Robin's Wish," that deals with his illness and the final months before his death.
If you or anyone you know is having suicidal thoughts, please call the Suicide and Crisis Lifeline at 988 or the National Suicide Prevention Lifeline​ at​ 1-800-273-TALK (8255).