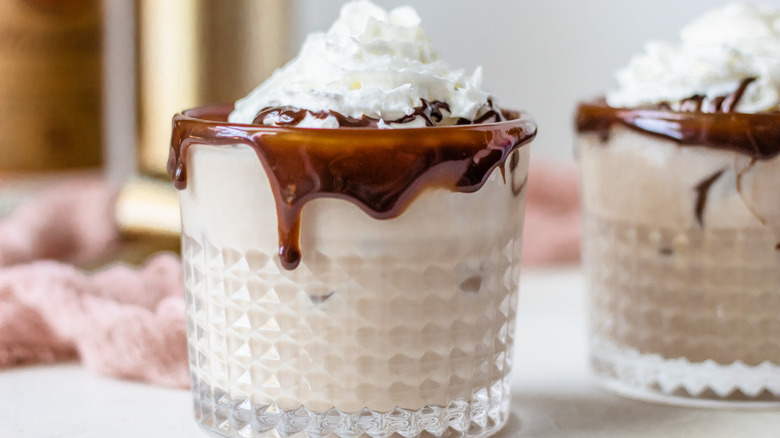 What do you get when you mix chocolate with booze? A decadent mudslide cocktail that will make all of your dreams come true. It's kind of like an adult chocolate milk, and it totally hits the spot in the summer. If you've never had an after-dinner cocktail that contains chocolate, then there's no time like the present to try one. This recipe includes delicious ingredients like chocolate syrup, Bailey's Irish Cream, Kahlúa, and whipped cream. It's great to serve at a dinner party as an adult-friendly dessert. Plain and simple — chocolate makes everything better.
Recipe developer Jaime Shelbert of Wholly Nourished came up with this quick and easy recipe that is definitely worth "cheersing" over. "I love this recipe because it combines my favorites — chocolate, coffee, and cream — the result is a decadent cocktail that is more like a dessert," Shelbert says. "I think this definitely can be classified as a boozy dessert … especially if you add a scoop of vanilla or coffee ice cream. Or you can blend it up with some ice to make it a frozen dessert cocktail."
Gather the ingredients for mudslide cocktails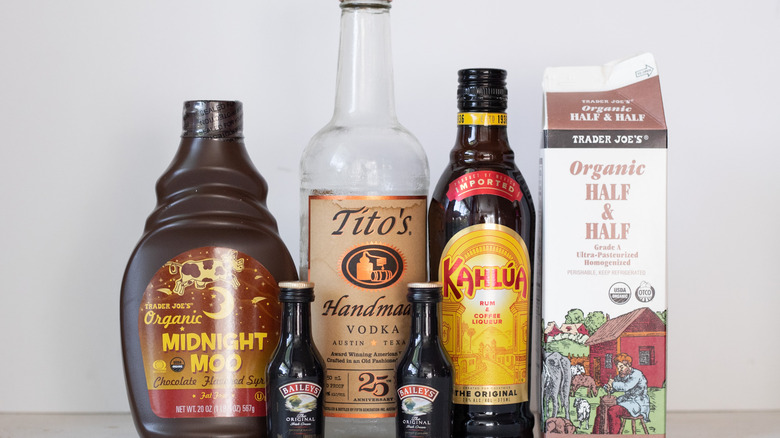 The great thing about this recipe is that it requires just a handful of ingredients. You will need chocolate syrup, ice, half and half or heavy cream, Bailey's Irish Cream, a coffee liqueur (such as Kahlúa), and vodka. If you want to jazz up this cocktail even more, you can use whipped cream and chocolate syrup for the topping.
Once you have these items, you're ready to make this decadent mudslide cocktail.
Rim your glasses with chocolate
If you've ever done a salted rim for a margarita, this is basically the same thing, but with chocolate. Simply pour the chocolate syrup on a small plate and spread it around in an even layer. Grab your serving glasses and dip the rim of each glass in the plate of chocolate to coat. This step gives you a little extra sip of chocolate with each drink you take. "I highly recommend rimming the glasses with chocolate to take it up a notch," Shelbert says.
Add the ingredients to a cocktail shaker
Take out your cocktail shaker and fill it with ice. Next, add the half and half, Irish cream, coffee liqueur, and vodka. It's like a party in a shaker.
Shake the cocktail and fill the glasses
Once you have everything loaded into the shaker, give it a few good shakes to combine the ingredients well. The ice will make this drink nice, cool, and incredibly refreshing.
Add a few cubes of ice to each of your chocolate-rimmed glasses, and pour the shaken cocktail evenly between the glasses. "The taste of this is smooth and creamy with hints of coffee, chocolate, and sweet cream," Shelbert shares.
Serve and enjoy
To make this cocktail even more like a dessert, add whipped cream and an extra drizzle of chocolate on top. "I would serve this as an after-dinner cocktail. It's a sweet ending to a delicious meal," Shelbert says. We agree, it's the perfect way to end a great meal!
2 tablespoons chocolate syrup
3 ounces half and half or heavy cream
3 ounces Bailey's Irish Cream
2 ounces coffee liqueur, such as Kahlúa
2 ounces vodka
ice, for shaking
whipped cream, for topping
chocolate syrup, for topping
Pour the chocolate syrup on a small plate and spread it around.
Dip the rims of two glasses into the chocolate syrup to coat.
Fill a cocktail shaker halfway with ice.
Add the half and half, Irish Cream, coffee liqueur, and vodka.
Place the lid on the shaker and shake to mix.
Fill the chocolate rimmed glasses with ice. Strain the cocktail into the two glasses.
Top with whipped cream and extra chocolate syrup, as desired.