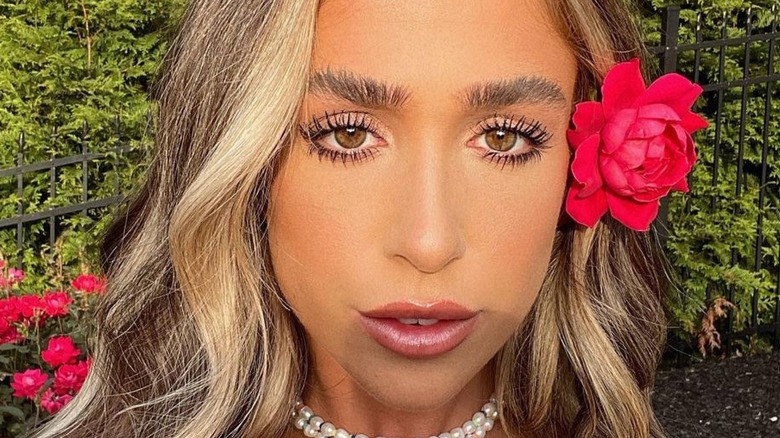 You know for being one of the beautiful daughters of Kim Zolciak-Biermann, but Ariana Biermann is well on her way to making a name of her own. Though the up-and-coming star is still just a teenager, it won't be long before the Atlanta native comes out from behind her mom's reality show shadow. Along with being the child of a "Real Housewives of Atlanta" star, Ariana is already a businesswoman, social media influencer, and well-known TV personality.
Ariana was introduced to us on television when Kim began starring on "The Real Housewives of Atlanta" in November 2008. The blonde bombshell was cast on the hit Bravo show from the very beginning until Season 5 wrapped in April 2013 (via ScreenRant), during which she gave a complete glimpse inside her life at home with Ariana and her older daughter, Brielle Biermann. Kim later returned for her final Season 9 of "RHOA," but by that time, she had already premiered her very own family reality show, "Don't Be Tardy."
"Don't Be Tardy" hit the air in April 2012 and has followed the lives of Kim, her husband, former NFL player Kroy Biermann, as they raise Brielle and Ariana, as well as their own kids together: Kroy Jr., Kash, Kane, and Kaia. As the now-canceled "Don't Be Tardy" remains beloved today, Ariana has become a familiar face on our TV screens. To see Ariana's captivating transformation from TV tot to stunning young woman, keep scrolling.
Ariana Biermann was raised by her strong, single mother as a young girl
Isn't it interesting to think about how some reality stars' kids grow up on TV? While that's nearly the case for Ariana Biermann, who was 7 years old when her then-single mom, Kim Zolciak-Biermann, was cast on "The Real Housewives of Atlanta," she spent the majority of her childhood away from the cameras. Born on October 17, 2001, Ariana was raised in Atlanta, Ga.
While their lives are now perfectly depicted on "Don't Be Tardy," Ariana's childhood wasn't so conventional. As Marathi.TV reported, Kim welcomed Ariana following her split with her first husband, Daniel Toce, whom she said "I do" to in early 2001. Though Daniel claimed there was no way he was Ariana's father, he was later confirmed to be her real dad, and Kim filed for divorce just one month before she gave birth to Ariana.
Kim and Daniel's tumultuous divorce finally ended after two years in 2003, but as CelebSuburb detailed, they were legally involved up until 2019 as a court ruled Daniel pay $1,200 a month in child support until Ariana was 18. Despite the messy split, Kim gave Ariana and Brielle the best upbringing possible — which is something the teenager has acknowledged on several occasions. "Thank u for being the most incredible woman I know, I don't know how you do it!" Ariana penned on Instagram in May 2018. "Ur not only the best mom but also my best friend!"
Ariana Biermann had no trouble adjusting to the spotlight on Bravo
Catapulted into a life of glitz and glamour as a daughter of a "The Real Housewives of Atlanta" star, Ariana Biermann began her journey on TV as a young girl. Kim Zolciak-Biermann appeared on the series for a total of six seasons, and although it was Kim who earned a spot as a Bravo housewife, it wasn't uncommon for Ariana to steal the show.
The then-child was often featured on the series, whether Kim was carting her kids around town in Atlanta or during a confessional. It seems Ariana has pretty fond memories of the experience, as she once shared a clip of herself during an episode of the program. "I think my mom's going to be famous one day … she's talented like me, kind of," Ariana hilariously proclaimed before giving a sly smirk, which she posted via Instagram in February 2015. "Huge throwback," she recalled in the caption, adding a pink heart emoji.
Once Kim parted ways with "RHOA," she kept fans up to date with her busy life on "Don't Be Tardy." Along with her spouse, Kroy Biermann — who adopted Ariana following their 2011 nuptials, per The Sun — they gave viewers a look at what life has been like growing up with their big brood. Similar to all families, though, it isn't always smooth-sailing, and "Don't Be Tardy" featured both the highs and lows of the Biermann clan, including Ariana's journey through teenagehood.
As she aged into her teenage years, Ariana Biermann dealt with body-image trolls
As she starred in her mom's reality series, Ariana Biermann was growing up before everyone's eyes on TV. Unfortunately for celebrities and high-profile figures, one of the (very unnecessary) downsides to being in the public eye is having unwanted naysayers think they can comment on anything — including body image. Ariana was no stranger to bullying when she blossomed into her teenage years.
Kim Zolciak-Biermann once recalled how her daughter would be ridiculed over her weight on social media, telling Entertainment Tonight that Ariana's Instagram posts would be filled with comments like, "You're fat, you've always been fat." As a protective mom, Kim has always been the first one to support her little girl, including the time she gave Ariana a lesson about self-love after the teen struggled to fit into prom dresses on an episode of "Don't Be Tardy" (via Us Weekly).
After the episode aired, Kim came to Ariana's defense during her chat with ET. "People on Instagram, especially, are so f**king rude about it that I have to monitor her page constantly because of the nasty comments," the discouraged mama admitted, adding although "it's a constant battle," she'll never let Ariana forget how beautiful she is. "I always want my girls to love themselves, no matter what size they are," Kim proclaimed.
Ariana Biermann embraced a new fitness journey and lost 30-plus pounds
Instead of letting the hate get her down, Ariana Biermann turned the negative comments into motivation and completely transformed her body. While it's hard not to agree with mom Kim Zolciak-Biermann that her daughter's "beauty shines from, truly, within" no matter what, the TV personality revealed her daughter "lost, like, 30 pounds" in February 2019. "She works out at the gym every day. She's itty-bitty tiny. She's really kind of come into her own," Kim explained to ET.
Since making her health a priority, Ariana hasn't been afraid to flaunt her toned bikini body on Instagram. Sadly, she's had to come to her own defense on several occasions, including the time she called out the "ridiculous and awful" comments when people began claiming she had an eating disorder. In a lengthy Instagram Story post in July 2021 (via People), Ariana looked back on her fitness journey and insisted her transformation didn't happen overnight.
"I was 167 my sophomore year. 145ish the end of my junior. Started really working out, eating healthy, etc. January of 2020. I am now 118 over a year-and-a-half later. I was 125 last summer," she wrote. "Please stop. I do not have an eating disorder. I worked my ass off to get to where I am today. I am not sick. This is ridiculous and awful to say to someone. Stop commenting on people's bodies and worry about yourself."
At 19, Ariana Biermann is so 'proud' of the young woman she is
Looking back on Ariana Biermann's exploration from a young girl to pre-teen to now young woman, plenty has changed for the blonde beauty over the last 19 years. As fans have watched her grow up on both social media and TV, Ariana has been extremely vulnerable in her hardships. Fortunately, the struggles have paved her into the strong and fearless girl he is today.
"This year has been nonetheless chaotic and overwhelming, but I learned more about myself this year [than] ever before. I'm proud of who I've become. I learned who I am, and what truly matters most," Ariana wrote in the caption of an Instagram bikini pic to kick off 2021. "I'm so incredibly happy. Thank you god for another healthy year, thank y'all from the bottom of my heart for your support, kindness, and love. My love is with each and every one of you throughout our most tough year."
As she concluded her post, Ariana said she was looking forward to the "amazing positive things to come," and that she was "excited for what 2021 will bring." Perhaps she could be referencing her work as a businesswoman, as she's a co-founder of the makeup line KAB Cosmetics with her mom and sister. She also debuted a new relationship on Instagram with her boyfriend, model Aaron Scott, in July 2020. Considering Ariana is only 19, her transformation is just getting started!