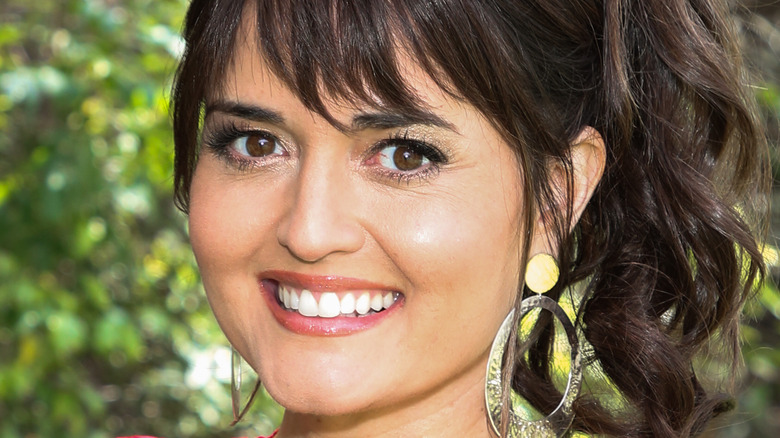 The Hallmark Channel is known for its magical holiday movies, made even more magical with its stellar cast of actors and actresses, who come back each year to spread holiday cheer. While there are many reasons actors leave a network, we finally know why these Hallmark Channel stars left. From diversity issues (per USA Today) to the new holiday network in town, GAC Family (via The Wall Street Journal), many actors have left Hallmark for new opportunities.
Per The Wall Street Journal, nearly 100% of the lead actors that starred in GAC Family movies, which aired during the 2021 holiday season, had previously starred in Hallmark films. The person behind GAC Media is Bill Abbott, former president of Hallmark. He told the outlet that the network isn't "actively going out and poaching from Hallmark," and that he has been approached by Hallmark actors more often than not.
Here are the former Hallmark actors who've left and why.
Hilarie Burton was penalized for speaking out about diversity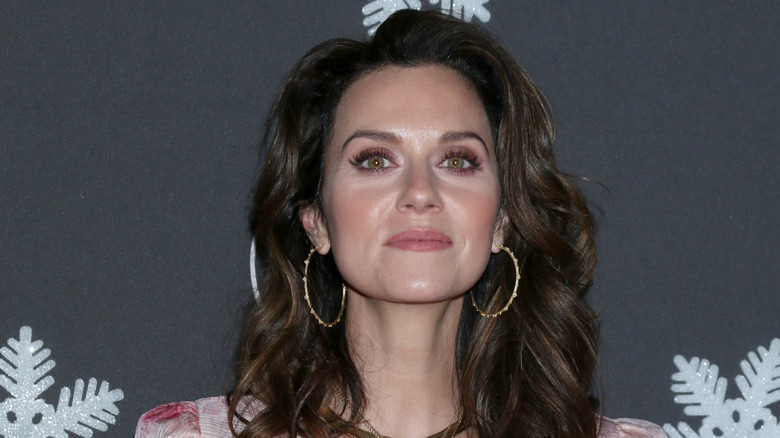 Following her six-year stint on "One Tree Hill," actress Hilarie Burton became one of the many faces of Hallmark, starring in several network movies since 2015, like "Surprised by Love" and "Summer Villa," according to her IMDb page. Burton left Hallmark in 2019 after a reported disagreement about casting.
Burton shared on Twitter in December of 2019 that she was "let go" back in January of that year. "I had insisted on a LGBTQ character, an interracial couple and diverse casting. I was polite, direct and professional," she wrote, adding, "But after the execs gave their notes on the script and NONE of my Requests were honored, I was told 'take it or leave it.'" And she left it, along with her paycheck, even though she was looking forward to the project, she continued in the Twitter post.
After Hallmark, Burton appeared in "The Walking Dead" TV series in 2021 alongside her actor hubby, Jeffrey Dean Morgan. Notably, the year before, in 2020, Hallmark released "Wedding Every Weekend," which featured a same-sex marriage, and "The Christmas House," starring the first same-sex couple on Hallmark.
Lori Loughlin was fired after the college admissions scandal
Actress Lori Loughlin didn't cut ties with Hallmark. Rather, the network cut ties with the star after her involvement in a college admissions scandal back in 2019. Per court records, as reported by NBC News, Loughlin and her husband, Mossimo Giannulli, were found guilty after agreeing "to pay bribes" up to $500,000 to gain their two daughters' admission into the University of Southern California. In the wake of the scandal, NBC News reported that Hallmark fired Loughlin, most famously known for her role of Aunt Becky on "Full House," who went on to serve two months in prison in 2020 after pleading guilty (per NBC News).
For almost a decade, Loughlin had starred in Hallmark network movies like "Northpole: Open for Christmas," Homegrown Christmas," and "When Calls the Heart," a TV movie-turned-series, per her IMDb page. Following her two months in prison, Loughlin returned to TV in the series "When Hope Calls," a spinoff of "When Calls the Heart," which originally aired on Hallmark before moving over to the new network GAC Family, per Variety.
Danica McKellar is moving to another network where she will produce
Danica McKellar became a Hallmark regular after starring in holiday programs and films like "Hallmark's Countdown to Christmas" and "Christmas at Dollywood," per her IMDb. McKellar left the network in late 2021 for Hallmark's rival network, GAC Family. McKellar told the Wall Street Journal she decided to move over to GAC because she liked working with former Hallmark Channel CEO Bill Abbott, who launched GAC Family and GAC Living. "So when he was getting ready to launch this new network, I was thrilled that he reached out to me to sign a multi-picture deal as an actress and executive producer," she told the outlet.
McKellar shared the news with her Instagram followers in a selfie she posted in November 2021. It marked her first day of shooting her first GAC movie, "The Winter Palace," which she starred in and produced. McKellar shared her excitement for the new gig in the post's caption: "…Can't wait to make some more feel-good magic for you all!" Throughout the month of December, she documented her role in "The Winter Palace" on Instagram with behind-the-scenes and sneak peek images.
Trevor Donovan landed a new deal
Trevor Donovan has played a Hallmark leading man countless times since 2017, starring in "Marry Me at Christmas," "Nostalgic Christmas," and "USS Christmas," per his IMDb page. Donovan left the network in late 2021 for Hallmark's rival, GAC Family, and signed a multi-picture deal, Deadline reported. He spoke to Wide Open Country about Hallmark movies and the magic they bring. He noted that the Hallmark Channel was "a place for people to sort of escape and know that they're [watching] this morally uplifting, positive message, feel-good story that's going to have a happy ending."
His last Hallmark movie, "Nantucket Noel," premiered in November 2021. In the same month, he made his GAC Family debut in the holiday film "Jingle Bell Christmas," The Wall Street Journal reported. Donovan had signed on to star in "Nantucket Noel" when he was approached by GAC Family to shoot a Christmas movie, his agent told The Wall Street Journal, and signed a two-year deal to exclusively star only in GAC films. When he finished shooting on Vancouver Island, where filming took place for "Nantucket Noel," the actor flew by seaplane to the GAC set in Toronto for his next holiday gig.
Jen Lilley is excited about her new role
Jen Lilley, a soap star known for her roles in "General Hospital" and "Days of Our Lives," transformed into a Hallmark star, acting in movies like "Snowkissed" and "USS Christmas" (for the latter, she starred alongside actor Trevor Donovan). In late 2021, Lilley made her GAC Family debut in "Royally Wrapped for Christmas." She spoke about her "Royally Wrapped" character with The List, saying, "I just love her heart for others, and I love that she's creative. She comes up with really wonderful marketing concepts, and I love that I get to attend a ball. This is my first royal movie."
Per Deadline, Lilley signed a two-year deal with GAC Family, which includes four original films, in January 2022. "Aside from being an immensely talented and hardworking actor, Jen is a generous and kindhearted person who is a perfect fit for GAC," Bill Abbott, president and CEO of GAC Media, told the outlet.