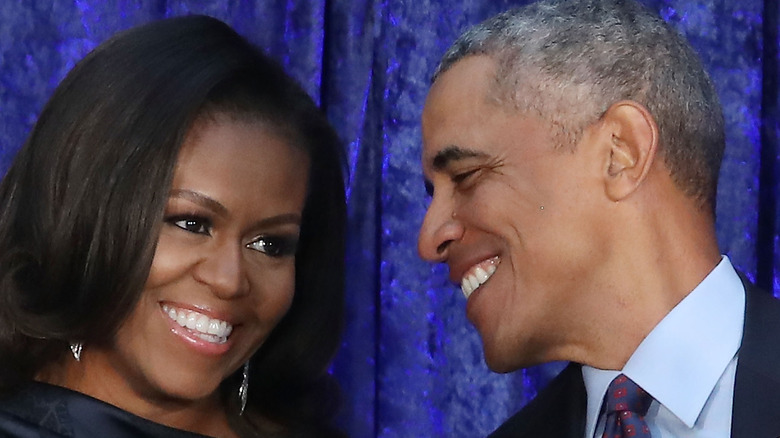 With views of the Atlantic ocean, the Obama's estate on Martha's Vineyard is out of a fairytale. A sprawling compound with perfectly weathered shingles and many floor-to-ceiling windows defines this almost 7,000-square-foot home, per Realtor. Seven bedrooms and 8.5 bathrooms, plus a two-car garage and a barn, makes this truly an island oasis that offers the best of both worlds: privacy coupled with plenty to do. Both in and outside of their island home there's ample opportunities for boating, bicycling, swimming, or taking a walk around the manicured grounds. Certainly, there's no shortage of activities for the millionaires who flock to the shores of Martha's Vineyard.
The former first family picked up their mansion for a sweet $11.75 million, according to Forbes. The home's previous owner is none other than Boston Celtics co-owner Wyc Grousbeck. He first listed the home in August of 2015 at $22.5 million. Over the following four years the home was taken on and off the market and had three price reductions. The asking price had been reduced to $14.85 million when the Obamas purchased it.
Martha's Vineyard has long been on the A-list for presidents, celebrities, CEOs and other VIPs. Indeed, according to The Wall Street Journal, Jacqueline Kennedy Onassis called a compound on the island (known as Red Gate Farm) home with over 300 sprawling acres and oceanfront land.
Barack and Michelle's spectacular home's exterior is truly awe-inspiring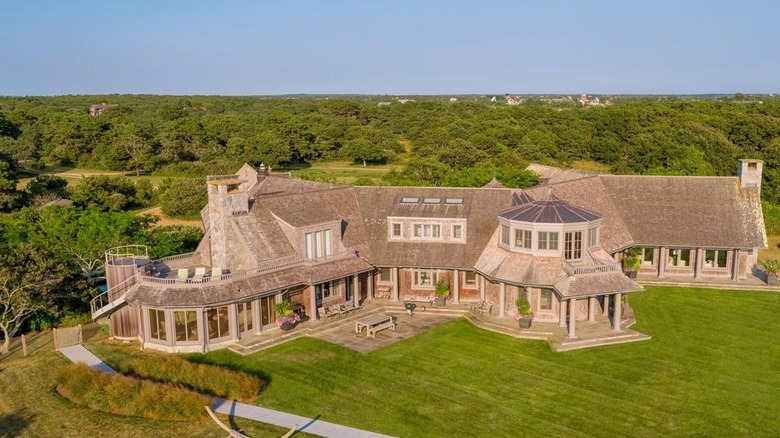 The Obamas have long traveled to the island of Martha's Vineyard for summer vacations. This incredible home is located in Edgartown, Massachusetts. Its style is both warm and elegant, creating a magical place that is simultaneously personal and unique. The estate features plenty of bay windows and upstairs balconies along with decadent windows. There are ornate white columns sprinkled around the abode and sun lights to let in natural light. The outdoor grounds are mostly made of stone bordered by bright green grass.
Martha's Vineyard is made up of six towns including Aquinnah, Chilmark, Edgartown, Oak Bluffs, Vineyard Haven, and West Tisbury. According to Boston.com, the former first family enjoyed golf, biking, and dining out during a 2010 visit to the beautiful island where they met and greeted fans after lunch. In fact, Sasha Obama had a summer job at Nancy's restaurant back in 2016, according to the Boston Herald. Imagine heading to work with six secret service agents by your side only to return from working the cash register to your incredible mansion!
Barack and Michelle's spacious and dreamy pool sanctuary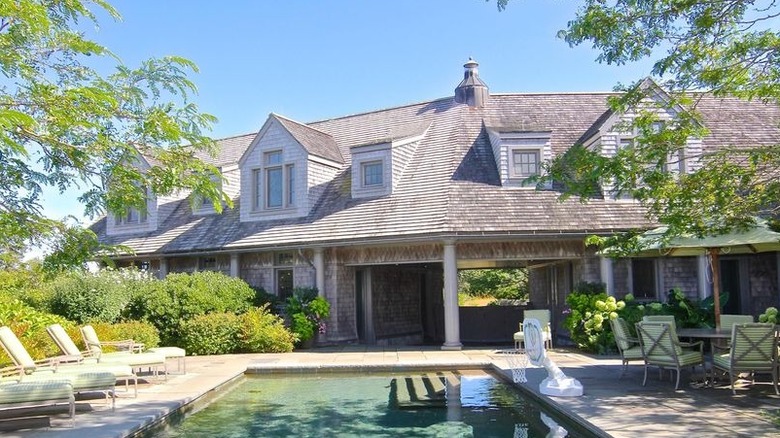 The swimming pool at Barack and Michelle Obamas' Martha's Vineyard estate is absolutely lovely. Surrounded by mature trees and lush foliage, it is an ideal place to unwind and enjoy family time. For a home of almost 7,000 square feet and 29 manicured acres, this is a gem of a pool to have as a focal point for gatherings. The pool is serene and modern with a staircase that leads into the shallow end.
Additionally, the pool even boasts a little basketball hoop on the side, and while we don't know if the Obamas kept the hoop, we do know that the former president is a basketball enthusiast. With a well-rounded and keen athletic family, Barack Obama has been seen shooting hoops various times through his presidency, via Sports Illustrated.
The pool area is designed out of checkered stone with landscaping that includes manicured bushes, potted hydrangeas, and other lovely flowers. It also boasts multiple chaise lounges for relaxation and an afternoon nap. The hot tub, you ask? Yes, the hot tub sits pretty right on the master bedroom's balcony upstairs. And from photos on Pinterest we see Sasha Obama enjoys swimming as does her sister, Malia Obama (via Hollywood Pipeline).
What would the White House chefs think of this chef's kitchen?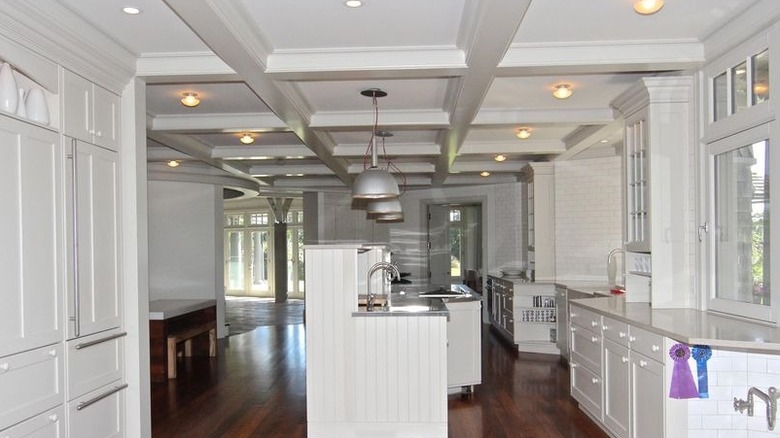 The gourmet kitchen in the Obama's estate is complete with a long island and multiple areas to create the perfect meal. It features a huge kitchen nook and gray countertops. The whole room has gorgeous dark wood floors and is bathed in white tiles and paint that allow a cook full view of their recipe items. The warm environment with coffered ceilings epitomizes a professional quality kitchen with tons of counter space and top-notch appliances.
Additionally, the kitchen boasts a layout that welcomes a productive place for chopping, mixing, or cooking in the prep zone all while being functionally situated next to the refrigerator. White ceramic vases in various sizes sit beautifully above the refrigerator adding some artist charm. There are also enormous silver light fixtures that hang down to offer perfect visuals along with carefully placed recessed lighting to complete the look.
The Obamas must enjoy some of Michelle Obama's recipes from her cookbook, "American Grown" (per Eater). Surely a master cook herself, Mrs. Obama took her Lets Move! Initiative and implemented a proactive way to combat childhood obesity. Therefore, it would come as no surprise that this kitchen will likely be the site of many health-conscious and delicious meals.
Barack and Michelle's dining room invites lively conversation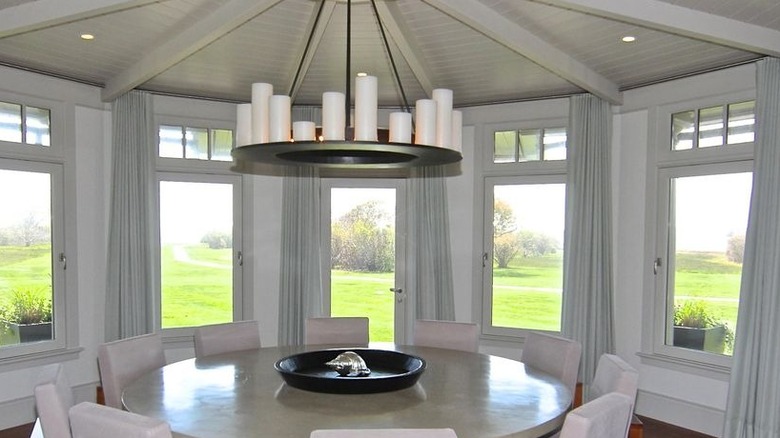 Oh, how we wish we could be a fly on the wall during these dining room conversations at Barack and Michelle Obama's vineyard estate. Imagine what's discussed; from politics to that day's menu items, the topics of conversation must be noteworthy. With 12 elegant white seats, this semi-circle dining room situated on the first floor features a softly-hued circular table that is ideal for gatherings with close family and friends. The large black bowl with a silver seashell accents the table while the crown molding creates a contemporary feel. The windows allow for a view of the perfect grounds including the grass, trees, and ocean in the distance.
Speaking of windows, the white floor-to-ceiling curtains allows for privacy and a romantic feel. And the black circular chandelier is modernly-extravagant with white candles forming a beautiful circle of artificial lights. A patio area awaits right outside the door. But, we're left wondering: What's served up for lunch? Well, according to Today, Michelle Obama shared that Barack Obama can cook three things: chili, omelets, and stir-fry.
Chic and modern designs make this living room perfect for the Obamas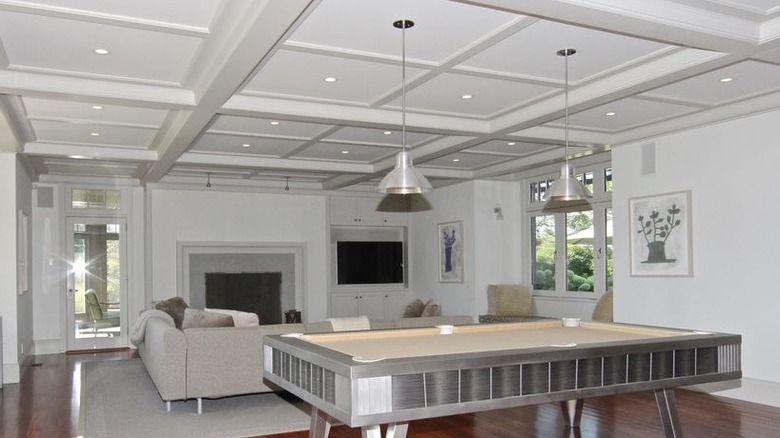 One of the sprawling conversation areas in Barack and Michelle Obama's vineyard estate is this noteworthy living room enhanced with delicately placed recessed lighting, crown moldings, and minimalist design. It's clad with coffered ceilings, a gorgeous stone fireplace, and generously-sized windows to allow plenty of light in. The floors are done in beautiful wood with a massive rug to allow warmth and comfort.
The couch is plush, colored in a beige with handy white throw blankets. According to Homes and Gardens, this grand estate was designed by acclaimed architect Taylor Lombardo Architects in San Francisco — only the best for a family who once called the White House home! And while we don't know if the Obamas kept the pool table, it's surely an ideal way to spend an afternoon with family and friends, especially when there are hanging silver lights illuminating it. Mr. Obama appears to be quite the pool shark, via the Obama White House Archives!
There's a built in patio with a fireplace to warm the cool Martha's Vineyard nights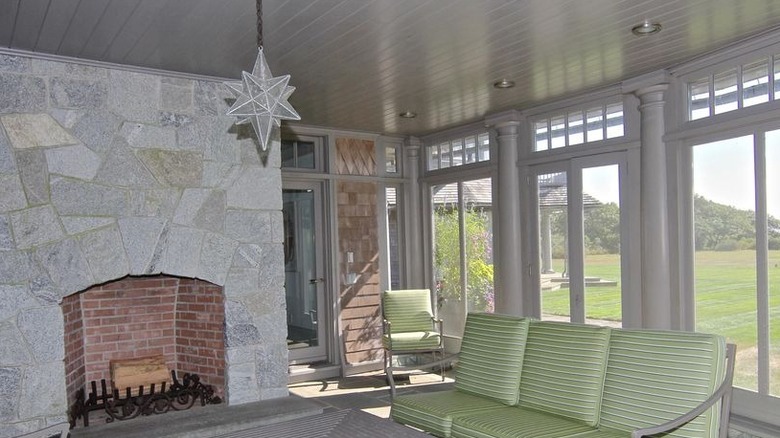 In this spectacular room, we find another option to gather close-knit friends for conversation around the fireplace. This enclosed patio boasts yet another stone fireplace that is floor-to-ceiling gorgeous with traditional brick inlay. It features a black, wrought iron wood holder that adds charm to the fireplace. The floors are checkered stone and there are full length windows with the same lovely columns we see on the exterior of the home. The white star hanging from the ceiling is surely a topic for discussion while the inviting casual furniture makes for a room full of conversation and friendship.
Indeed, the Obamas value their friendships and the conversations that make them strong. According to The Axe Files (via Pop Sugar), Barack Obama shared that he "can't underestimate the degree to which having a life partner who is so grounded and so strong and steady and fundamentally honest helped."
Barack and Michelle's master bedroom is a cozy retreat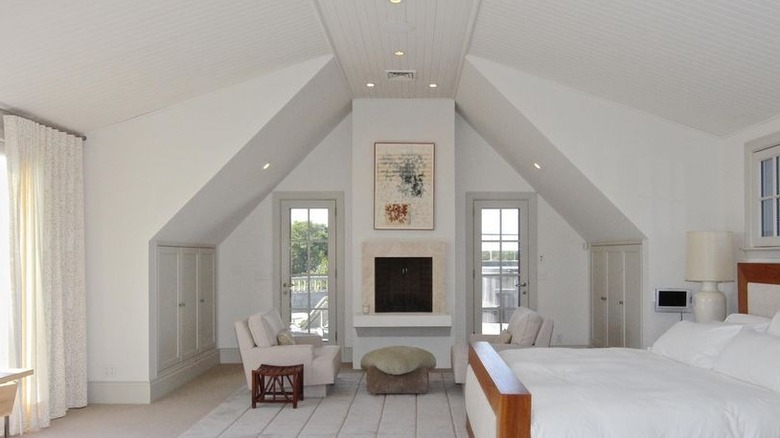 Stone floors with lovely carpet and vaulted ceilings make this white-washed master bedroom with a romantic fireplace an ideal evening's retreat. Off-white baseboards surround the room, offering a contemporary architectural feature. The sitting area in front of the fireplace features two relaxing seats with a beige furry ottoman in the middle. Talk about some serious hygge! This grand room is also sun-drenched with floor-to-ceiling curtains and a private balcony off the room that holds the relaxing hot tub. Of course, the master also features plenty of cabinets for storage.
While he was president, Barack Obama only slept five hours a night, according to The New York Times. But perhaps now he has more time to enjoy some serious shut eye. Fortunately, this spectacular master bedroom allows for total relaxation with soothing colors and stunning views to combat any insomnia. So is our former POTUS sleeping these days? According to 60 Minutes (via The Hill), that's precisely what he had planned after leaving the White House.
Barack and Michelle's estate features a hot tub to soak and let it all go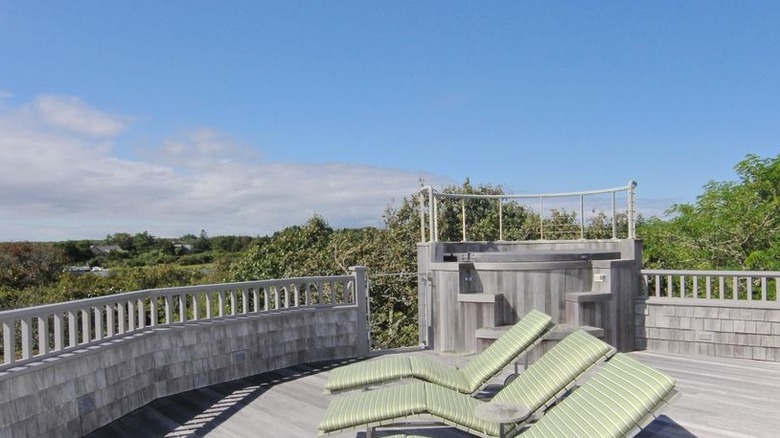 Off the master bedroom's balcony of Michelle and Barack Obama's vineyard estate awaits a circular hot tub that beckons when it's time to let it all go. The hot tub is elevated off the ground so as to still offer views, and was designed to match the gray wood flooring. The exterior boasts dark and light gray panels, while the interior of the hot tub is accessed by climbing up a few steps that allow one to soak the day away. Green chaise lounges adorn the balcony, inviting you for an afternoon to lounge in the sun after a good relaxation session in the hot tub.
The white trim of the balcony adds a crisp aesthetic, and with the trees in the distance this balcony is simply sublime. We're confident our former POTUS has plenty to let go of after a long day, but now he has more time to enjoy with his wife, Michelle. Indeed, Barack's words of affection for his wife are sweet. "[Mrs. Obama] has been more relaxed and more joyful since we left office," he said, via People.
Barack and Michelle's spacious bathroom fit for a king and queen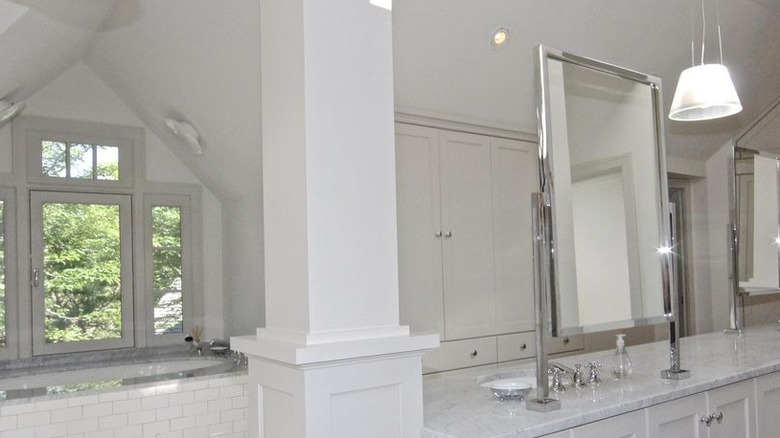 This white bathroom is sleek, clean, and large, offering ample room for bathing and getting spruced up for a night on the town. There's a delightful bathtub to soak in with what appears to be gray marble siding, while windows allow for soothing views of the exterior. After a long day, who wants to leave the tub? Plus there's plenty of smooth gray and white vanity space along with lights dotted on the ceiling throughout the room.
Additionally, this modern bathroom features two large columns that make it regal along with two silver mirrors that stand on the counter. Indeed, it's a designer bathroom that offers just the right combination of comfort and functionality, with all the fixtures done in silver with a modern vibe. Plus, the amount of cabinets and drawers is dreamy!
The Obamas have often discussed the importance of taking time to relax and "hang loose," which they can certainly do in this gorgeous bathroom. And while Mr. Obama will surely always be busier than most people, The Sacramento Bee reported he was enjoying his downtime post-presidency.
The Obamas enjoy a dramatic circular conversation room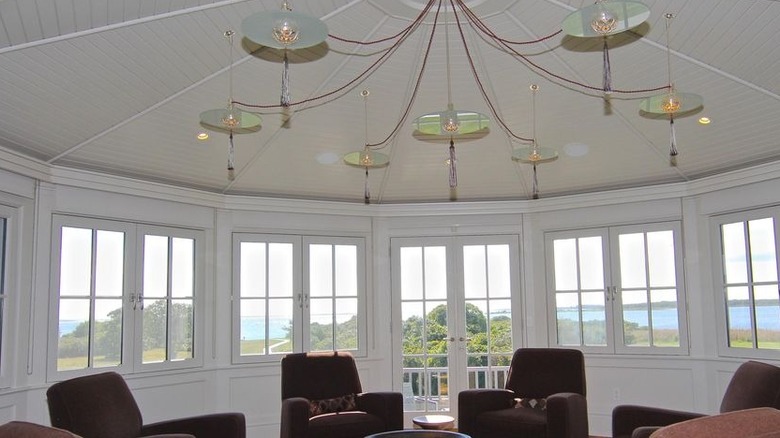 The topic of conversation in this room may never reach our ears, but they're still buzzing with curiosity. Another circular room with tons of natural light, fantastic ocean views, and charming windows, this room is surely a favorite among family and friends at Barack and Michelle Obama's vineyard estate. The windows are opened with silver knobs and there are six cozy brown chairs that one can imagine sinking into for some deep conversation.
Moving on, there's a tan table in the middle with the added accent of a dark round bowl. The vaulted ceilings lend an ambiance of ease while the hanging glass lights combined with an elegant rope give the illusion of a chandelier. This detail truly sets the room's entire feel, as noted by Homes and Gardens. Furthermore, the flooring is in the same lovely wood as the rest of the estate, with a large dark rug to keep it comfortable. Naturally, the room opens up to a wraparound balcony with even more precise views of the impressive surroundings.
Barack and Michelle's vineyard estate has the ocean as a neighbor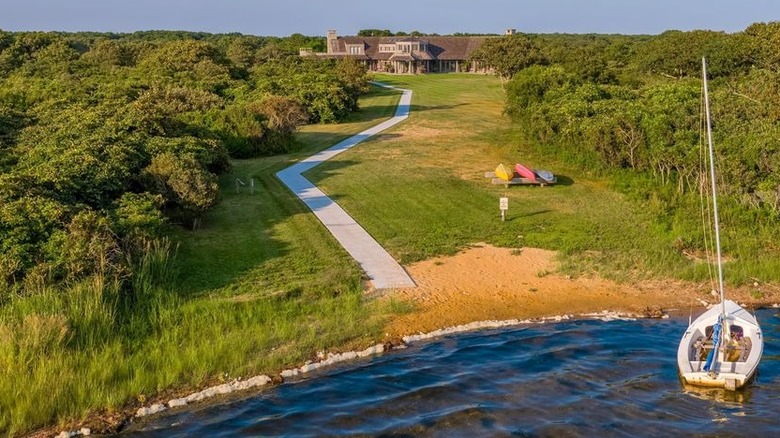 The grounds of Barack and Michelle Obama's massive vineyard estate are impeccable and feature their own water activity dock on its sandy shoreline. From an extra long pathway straight from the dreamy house to the shore, the Atlantic ocean shimmers with an invitation to come and kayak, swim, canoe, or boat in its waters. Indeed, the former POTUS and FLOTUS enjoy water activities, as evidenced by photos of them in the Daily Mail kayaking during a family vacation in Hawaii. And Barack also enjoys paddle boarding, as shown by People.
It appears the Obamas are always on the go enjoying everything available to them — and why wouldn't they? Martha's Vineyard offers it all and then some. And should they want to explore the area further, Martha's Vineyard is south of touristy Cape Cod, Massachusetts, another popular summertime destination. A ferry can transport visitors from Cape Cod to Martha's Vineyard, but we're sure the Obamas would rather have some privacy from the crowds these days.