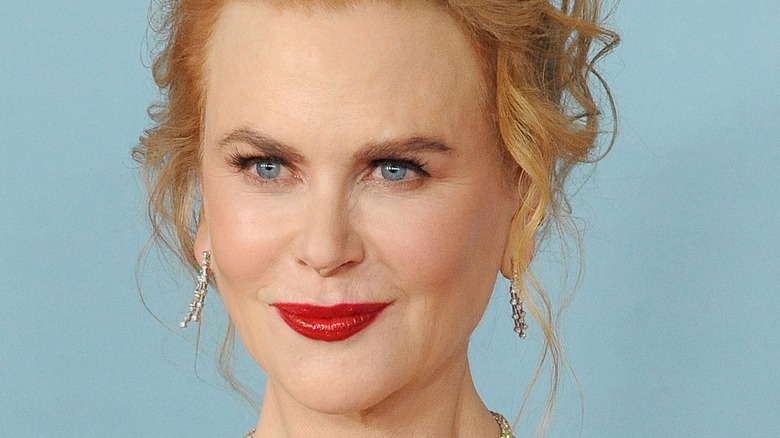 Do you recall the catchy tune, "Gitchie, gitchie, ya-ya, da-da"? Or perhaps the sultry mantra "Voulez-vous coucher avec moi?" Those lyrics from Patti LaBelle's "Lady Marmalade," alongside a myriad of other love songs from iconic artists like Elton John and David Bowie, were made popular once again in Baz Luhrmann's highly acclaimed musical "Moulin Rouge," as per Vogue. We are talking about the melodious drama based in France, following an English poet named Christian who moved to the city of France to find love. He mingles with a group of bohemians who convince him to co-write a play. This leads him to meet and fall in love with cabaret dancer Satine (who is also a courtesan promised to be the lover of an evil duke). Satine falls for Christian as they perform various plays together in the Moulin Rouge nightspot, much to the chagrin of the duke, whose jealousy gets the best of him, causing him to commit murder.
According to Tilt Magazine, "Moulin Rouge" (which loosely translates to "red windmill" in French) was a box office smash. It showcased amazing couture and gave us a heavy dose of Parisian lifestyle and home decor inspiration, which led to the movie snagging two Oscars. From the plushly designed courtesan chambers to the sweetheart arches used within the buildings, this is a journey into a whimsical world of real estate. Keep on reading to discover romantic ways to decorate your living space just like the movie.
Red velvet curtains are a must
A good portion of the "Moulin Rouge" movie takes place in the theater; after all, it is a movie about thespians and cabaret entertainers. When Christian, Toulouse, and the rest of the bohemians sneakily attend a show to try and score a meeting with Satine, they first have to watch her perform. The cabaret star gives an unbelievable performance, with a rich crimson red velvet curtain decorating the background. According to Quickfit Blinds and Curtains, red velvet curtains have been used as a fabric of mystery between performers and their audience for many years since the 1800s.
If you want a home that resembles "Moulin Rouge," you need to pick up a few velvet curtains and hang them up within your space. Feel free to order some online, or better still, go in person to your nearest fabric store, feel the fabric of choice and ensure that it is quality. Once you have the material that works for you, hang it up against your window. Alternatively, to bring an element of the 19th century into your home, add red velvet fabric to your bedroom by draping it around the posters of your bed, just like Satine did in the Elephant Room.
Use task lighting in every area of your home
There is a reason why the chant goes, "lights, camera, action!" Everywhere you turn in the theater, you come across tons of spotlights and fixtures that offer a range of task lighting. In the movie, from the stage to the jumbo "Moulin Rouge" signage, everything is illuminated by glowing lights, adding further excitement to the show.
Ergo Direct defines task lighting as lighting used in specific, concentrated areas, often helping you do a certain task. You can typically find it in places like a reading nook or beside your favorite couch where you journal. You can also find it in the kitchen above your island, above countertops, or on your nightstand next to your bed. It's not to be confused with ambient or mood lighting, both of which cover large areas and are used to enhance the atmosphere. Instead, you can think of task lighting as a spotlight — it beams down in a particular spot.
Adopt a red and gold color palette
According to Painter 1, the people of ancient Asia had a strong affinity for red and gold color combinations. They used these hues to showcase status and wealth, and as we head over to Satine's bedroom, we see that she also chose these royal hues in the Elephant Room, where she tries to seduce the wealthy duke. Red colors the walls and appears in rich velvet wallpaper and curtains, and gold accents, columns, and doors add luster. If you have always wanted to use a daring color combination in your bedroom, this is your sign to go for it.
Before you embark on your bedroom transformation, MagicBricks encourages you to choose your shades wisely. Red is already a loud hue, and if you combine it with an undiluted sharp gold, the room may look too overpowering. Instead, swap your sharp gold for a matte, muted shade that will complement the red without fighting for dominance. When it comes to the execution, consider using a red and gold patterned wallpaper instead of painting your walls. If you use a peel and stick version, it will not only save you time and energy, but it will be easier to swap if you decide to change your style.
Add multiple rugs in your abode
We already know that Satine's bedroom was an eclectic paradise boasting opulence and grandeur courtesy of the color scheme, so it is only fitting that the accessories in the room matched the room's level of luxury. You can particularly see this in the rugs she used to differentiate areas of the room, which were antique and rich. (As a high-class courtesan, Satine was, after all, entertaining some of the wealthiest men in town, so the room needed to echo the royal house accessories these elite men were used to.)
Some of her rugs boasted distinct patterns, and they appeared to be made from the finest material, meaning they did not come cheap. Further proof lies in the fact that "Moulin Rouge" was set in the 19th century, and this is the same period in which Persian carpets became hugely sought after, as per Rug Gallery. Europeans were going gaga for vividly colored versions gorgeously constructed by highly skilled artists. If you are leaning towards using rugs in your red room, just know that you do not necessarily need red ones. One unique decor trick is introducing a blue or green rug that will contrast against the crimson color scheme (via MagicBricks).
Integrate as many tufted accessories as possible
When recreating the "Moulin Rouge" decor, purchasing a tufted Chesterfield sofa will put you in good stead. A version known as the Chesterfield lounge sofa or the Chester chaise lounge is the exact version we see in Satine's room, and it is also one of the most popular quilted furniture styles on the market. These uniquely shaped quilted sofas play a significant role in the retro decor aesthetic while also creating a comfortable seating area, as per SLF24.
Not only did these chaise lounges add a chic vibe to living areas in the 19th century, but it is also having something of a comeback today in modern homes. If you are just like Satine and like to be extra in your decor choices, you can take it a step further and implement the tufted look all over your room. For example, you can have tufted pillows on your bed or sofas, a tufted ottoman, or even a tufted headboard in luxurious materials such as suede, velvet, or leather.
There is no such thing as too many throw pillows
Are we sure about this? Well, technically, the answer is yes and no. Yes, you can go crazy with the number of throw pillows in your home, especially if you aim to have a maximalist, opulent aesthetic. But you also have to draw the line somewhere — especially if you have so many pillows that you can't sit on your couch or bed comfortably, as per Rapport Furniture. Sofas were made for sitting, so who wants a couch filled with so many throw pillows you cannot even sit on it?
Sultry throw pillows which match Satine's room aesthetic include velvet or silk throw pillows. Because these are luxurious materials, they will complement the sultry elements of your "Moulin Rouge" inspired room. If you want to add character to your space, why not opt for a conversation-starting throw pillow with a bold design, such as this Peacock version from Wayfair?
Add a few vintage art pieces into your abode
Happy Beds states adding artwork to your space is a great way to showcase your personality. You must be proactive when picking the art in your home. This means incorporating potential art pieces in your vision board as you start planning the room's aesthetic instead of adding art as an afterthought once the space is finished.
Consider the painting that hangs above Satine's couch. There are three major things that this art piece brings to the table: It serves as a focal point in the red and gold bedroom, it creates a statement and a message about Satine's personality, and it rounds up the room's interior design. Are you stuck on what kind of artwork to showcase? Don't be! Art can literally be anything: wall paintings, sculptures, framed posters, or DIY sketches that you place in frames. Art could be a vase collection arranged within a shelf or even a collection of images hung as collages on the wall.
Make your vanity a center spot in your abode
The cabaret dancers were all showpeople prepped and primed to the highest order, so we can imagine that vanities were a major deal in this 19th-century-based musical. When Satine was getting ready for her important rendezvous with the duke, we watched her utilize a vanity. It had a really large mirror hung onto the wall above what appears to be a wooden oak table. It was decorated with beaded fringe, flowers, and photographs to give it a personalized touch.
If you are in need of a new vanity, you'll be pleased to know that you can still find some vintage Victorian vanities online. However, the well-preserved ones have higher price tags, so be diligent in checking consistently so you can score a deal. Or, if you're good with sandpaper and stain, you can try flipping a vanity in rough shape back into its former glory.
Take tasseled accessories very seriously
From her throw pillows to the stringed gold curtains, we see that Satine's room was decorated with many tasseled accessories. According to Softstar Shoes, tassels have been around for a great number of years and have been utilized in different continents for different purposes. Specifically, they were used in Africa with the Egyptians, Asia, and Europe. Nevertheless, they have always added a royal and luxurious touch.
The royal blue tasseled pillow, which is found in Satine's room, is a showstopper. For those in need of a more modern version, The Saffron Souk offers a monochromatic version handmade by Moroccan artisans. Tassels can also decorate curtains, pillow cases, ottomans, and the corners of a duvet. But they aren't just found on textiles — you can also catch them adorning chandeliers, much like this navy and brass tassel chandelier from Wayfair. You can add them literally everywhere and can go as bold or subtle as you like.
Add glossy curved steps to your home
Now that you are well into your journey to decorate your home like the movie "Moulin Rouge," we might as well discuss the glossy steps. The theater stage in the film had circular, glossy steps, which added pizazz to the cabaret performances as the entertainers pranced up and down the feature. If you want to bring the theater to your home, consider painting your stairs a glossy silver or add metallic-hued rugs.
According to Stair Rods Direct, to paint over wooden stairs, you first need to sand the boards using 60 grit sandpaper, then vacuum the leftover debris. Next, you want to choose paint specially formulated for floors, as they will be able better to withstand the day-to-day foot traffic than standard wall paint. You want to avoid satin or semi-gloss finishes, as those can cause people to slip, making the stairs dangerous.
Play with ornate, cast metal designs
Ornate metal details were very popular in "Moulin Rouge" and were especially found in the Elephant Room. These gold, intricate designs decorated the walls and entry arches of the room, adding a heavy dose of glamour. According to MetalTek, cast metal decor originated in China in 200 B.C. It boomed in popularity nearly 1,000 years later when Catholic churches began to use cast metal for art and decor in their opulent cathedrals. It has since taken on a romantic, luxurious quality, making one think of Medieval castles or French villas.
Today, you can pull inspiration from the cast work seen in the Elephant Room by adding some metal work into your own space. Try adding a cast iron mirror with swirly vines, or go subtler by putting a gilded metal picture frame on a bookshelf or mantle. You can also try hanging a cast iron pendant with similar vine patterns in a hallway or dining room — the options are endless!
Say 'no' to less than flamboyant crockery
Once the duke meets Satine for the first time, she's laid out a spread for him with chromatic plates, cutlery, and plate covers, all gleaming in the light. If you channel the movie "Moulin Rouge" into your home, you must take your crockery collection seriously. In fact, you should consider your crockery collection as a home investment, as per LuxDeco.
When building your collection, first take into account your lifestyle. If you are not really one for hosting dinner parties, or you do not usually have guests over, it is best to focus mainly on your everyday serving ware, which is your fine china. Fancier dishes that come across as more decorative could include porcelain dishes or certain types of stoneware dishes. However, sometimes these dishes cannot be used in the microwave or placed in the dishwasher, so check their warning labels before buying them. Ideally, if you plan to host guests, you may choose to buy your everyday fine china for daily use and have your decorative set for special occasions.
Add heart shaped arches within your rooms
Satine's room boasts a massive heart-shaped arch. According to Tile Wizards, arches are officially back and hotter than ever in the world of interior decor. If you don't want to make structural changes to your house, you can add metal heart arches to your backyard. You can either place it on a walkway or set it in a corner, creating a vignette. It is practical, can be transferred from one spot to the next, and is much cheaper to implement than having a full-blown room renovation to insert arches.
Nature lovers who like to invest in landscaping can also create heart-shaped shrub arches. All you need to do is enlist a good horticulturist to reshape your shrubs in the shape of a heart, and voila! You could further decorate these shrubs with strings of lighting to elevate your outdoor area and transform it into a magical garden.