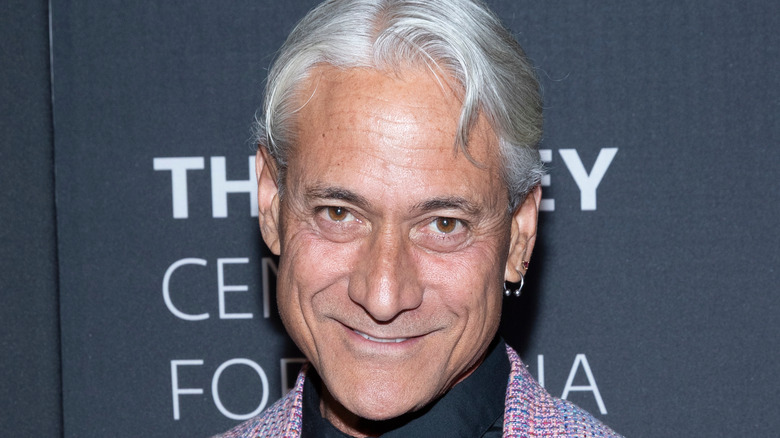 Former professional diver Greg Louganis is a five-time Olympic medalist. He made history at the 1982 World Aquatic Championships when he became the first diver ever to get all scores of 10 from the judging panel. He was only 22 years old then when he set that historic milestone. The 1980s were the height of his run and Louganis was one of the best divers in the world during that period. But his aquatic career started a few years before that.
At the 1976 Montreal Olympics (Team USA), Louganis made his first appearance at the international tournament. He was only 16 then, and he completed his Olympic debut by leaving with his first and only silver medal. Louganis would later pick up four more — all gold — in both the 1984 and 1988 Olympic Games. But his 1988 Olympic run was one for the books. At the event, which was held in Seoul, South Korea, Louganis injured himself. It was during a preliminary competition when he hit his head on the diving board before landing into the pool. The scene shocked the world but incredibly, after getting medical treatment, Louganis returned to reclaim top title. But his life to this amazing victory had several challenges that could have led him to a different path in life.
Louganis' full name is Gregory Efthimios Louganis. He was born on January 29, 1960 in San Diego, California (via Britannica). Both of his biological parents were teens, who were only 15 years old when he came into the world (ESPN).
Louganis is diagnosed with dyslexia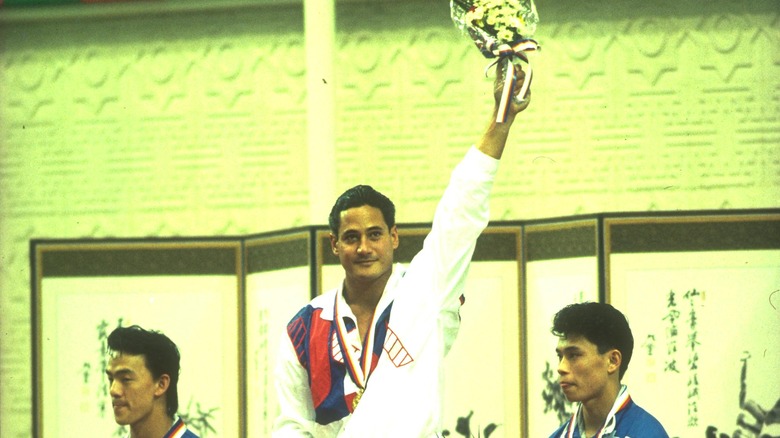 The young parents decided to give him up for adoption when he was nine months old. He was adopted by Peter and Frances Louganis, and despite the likelihood of them being better off to care for a child, life with his new family wasn't exactly swell. He didn't get a loving home, and instead got the opposite. Louganis was facing emotional abuse at home and his parents weren't emotionally available for him during times when he needed their support. It caused the young Louganis to experience doubtfulness and major insecurities. Heightening his mental health struggles, Louganis was also dealing with another health concern.
Although he wouldn't be formally diagnosed with dyslexia until college, says Ability Magazine, Louganis likely showed signs of it during his primary school years. As defined by Mayo Clinic, dyslexia is a learning disability that can cause someone to have difficulty reading.
It caused him to be the target of teasing by his peers, who also chastised him for the school activities he was mostly drawn to, such as gymnastics and acrobatics (ESPN). His race was also a target for unprovoked teasing in school. Louganis, who is of Samoan descent, was ostracized for his racial makeup and being the brown son of white Greek and Scottish-Irish parents (via Reuters). But one of the biggest obstacles in school was his learning ability. He told Ability Magazine that learning about his condition as a college freshman helped him come to the realization that he was not the unintelligent person he once thought he was.
Discovering his new talent, but also drugs
As he told Ability Magazine, "I remember I was actually given 'dyslexia' as a vocabulary word in my freshman English class, and that was when I realized I wasn't all of the things the other students had been calling me: 'stupid,' 'retard,' 'moron.' I wasn't those things. I was dyslexic."
He added that the diagnosis helped him understand the severity of his condition, which then allowed him to determine how to manage his day. "…Ultimately you learn coping skills. I wasn't so severely dyslexic that I couldn't get through my day, it was just a hurdle in terms of the fact that it made reading and writing much more laborious for me," said Louganis.
Despite the drawbacks his home and school life caused, Louganis' participation in his preferred school activities was a nice escape. It helped him learn vital skills and talents. The tumbling that he learned in gymnastics proved to be one of the more standout skills he mastered. He started exploring those same tumbling techniques at his home pool, which caught the eye of his father. As a result, he was signed up to take diving classes when he was 10 (Olympics). This is where the future diving great's story begins.
His battle with substance abuse
Shortly after, Louganis competed in the 1971 Junior Olympics. He earned a perfect 10 score at just 11 years old (ESPN). By then, people saw him as an up-and-coming diver to watch, but he'd face another obstacle in life. The escape that diving provided didn't fully set in for him yet. And while he was still quite young, Louganis found himself experimenting with drugs — he was 12 years old.
Louganis was using several substances to cope with the negative effects of his early childhood. But it started earlier than that. When Louganis was eight years old, he picked up his first cigarette and got into the habit of smoking and drinking alcohol. On the day he turned 13, Louganis sat in a juvenile center as punishment from his parents who learned that he was using, reported The Los Angeles Times in 1986. He had been hiding drugs in his room.
Heightening his negative coping mechanisms, Louganis was also having thoughts of suicide. But his alcohol use continued all through his teen years, something he was able to keep hidden from his parents and mentors. And it during this period of his life he'd achieve his first Olympic medal. While he somehow managed to be discrete about his drinking problem, Louganis was a star in the professional diving world.
If you or anyone you know is having suicidal thoughts, please call the National Suicide Prevention Lifeline​ at​ 1-800-273-TALK (8255)​.
Career setbacks and an almost tragic end
Louganis was named the best diver in the world by 1980 (Olympics). He could've earned a follow-up medal to his first Olympic prize, but the U.S. withdrew from the 1980 Moscow Olympics (via U.S. Department of State). He'd have to wait another four years — until 1984 — to prove that he was the best diver. Fortunately for him, not only was the next Olympic tournament being held in the states, the games were going to be in California, in a city three hours away from his hometown.
At the 1984 Los Angeles Olympics, Louganis took part in the three-meter and 10-meter diving competitions and showed that he was the best diver in the world. He won his first two Olympic gold medals that year (Team USA). By completing this feat, it was the first time in a long time that an Olympian won a double (ESPN). This distinction further spotlighted Louganis for his diving and athletic talents.
In the 1988 Seoul Olympics, Louganis again returned to defend his title, but it was nearly jeopardized. Ahead of the major competition, Louganis hit and cut open his head while attempting a diving move at a preliminary round (posted on YouTube). He suffered a concussion and needed five stitches for the injuries he sustained, but returned to competition 35 minutes later. His bounce back added two more gold medals to his collection, and this set him apart in Olympic history — he had two consecutive diving titles and was the only man to sweep it (says Britannica).
Coming out, and another health diagnosis at the height of stigma
During the 1980's the stigma surrounding AIDS and HIV was at its highest. Unbeknownst to everyone, save his coach and a small group, Louganis was HIV positive (via NBC). He learned of it just months before the Seoul Olympics but knew sharing his diagnosis could end his Olympic dreams. His coach snuck in Louganis's needed daily medication, and he went on to make history. Years later he would come out as gay. And in 1994, he acknowledged his sexuality at the Gay Games in New York, says Out Sports. The following year he sat down with Barbara Walters in an interview and revealed that he was living with AIDS (Associated Press).
He would later admit that he experienced great fear after his accident at the Seoul Olympics — that the blood from his head wound would put others at risk. "I just held my head … I just wanted to hold the blood in,″ he said. Louganis was encouraged to get tested for the disease after his boyfriend revealed his own AIDS diagnosis. Shortly after that, Louganis learned that he had HIV. Even after going to Seoul he felt immense pressure about the reality of it. "Dealing with HIV was really difficult for me because I felt like, 'God, the U.S. Olympic Committee needs to know this … U.S. Diving needs to know this," he told Walters.
Louganis retired from diving after Seoul and became an LGBTQ+ activist who has worked with the Human Right Campaign on LGBTQ+ issues (per Team USA).