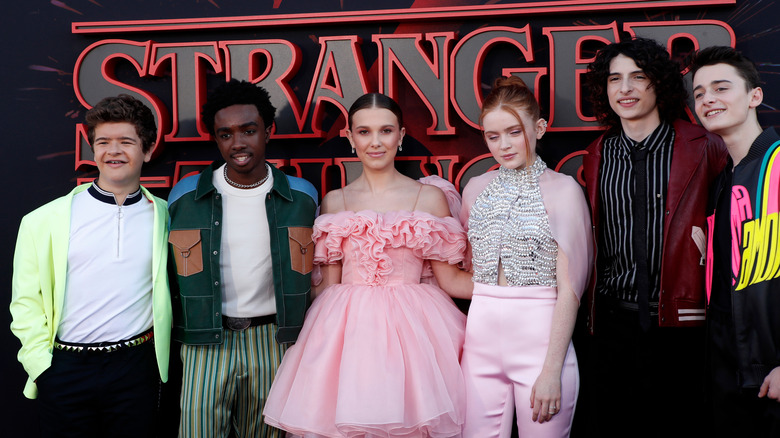 We may receive a commission on purchases made from links.
According to Deadline, "Stranger Things" is a Netflix TV series created by The Duffer brothers with four seasons on the streaming platform. The most recent season garnered a record number of views in less than a month. The beloved drama series takes place in the '80s and documents horrifying occurrences in a town known as Hawkins, beginning when a young boy called Will Byers goes missing. His three best friends, Mike, Dustin, and Lucas, embark on a search to find him, only to discover a mysterious young girl who cannot speak. She has telekinetic powers that she uses to open a portal into a parallel world of dangerous extraordinary creatures known as The Upside Down.
In addition to holding your breath each episode for fear that the kids and community will get sucked into The Upside Down, another unignorable aspect is the '80s lifestyle. The town features loud rock music, crazy hairstyles, and eclectic decor and architecture. Many fans wonder how they can insert the charm of this era into their own homes. Here's all the information you need to decorate your home like "Stranger Things." However, before reading any further, we must warn you that after following these decor tips, you may find yourself stuck in The Upside Down. You may never want to leave.
Install a man-made body of water
The most prominent feature in "Stranger Things" has to be the water body known as the sensory deprivation tank. After all, according to Wired, this is the portal that Eleven (the mysterious girl with powers who Will's three friends found in the woods) immerses herself. She goes into the water to amplify her telekinetic abilities and connect with The Upside Down so she can help Will escape back into the regular world. As pictured above, the version here is an indoor swimming pool in their alma-mater, Hawkins Elementary School.
This summer, we are sure that you are aiming less at a scientific experiment and more toward quality R & R! If you do not have a physical pool but have enough space in your home for an inflatable version, this is your sign to go for it. When life gives you lemons, you can set up this lemon print pool from Amazon for splashing around with family and friends.
Keep Christmas lights up for as long as possible
One of the top moments in the first season of "Stranger Things" was when Will gets trapped in The Upside Down for days. He's finally able to communicate with his mother, Joyce Byers, through an insane amount of multi-colored Christmas lights. She obsessively purchases and hangs up lights as a last-ditch effort to break the barrier to his dimension.
Before purchasing your own Christmas lights, decide where you wish to hang them. According to The Davey Tree Expert Company, outdoor lights get exposed to all weather conditions, so you consider durability. On the other hand, indoor lights experience less harsh conditions. LED lights are the best option for energy efficiency. Opt for these lights in your front yard, backyard, and garden, as they are good at withstanding the elements. A waterproof version like this one from Amazon can wrap around the trees and shrubs in your garden, or you can string them over the perimeter of your fence. To store them tangle-free, wrap your lights around a sizable piece of cardboard in a rectangular shape (via CNET).
Bring blinds back
When Joyce goes to the police to make a missing persons report, viewers see the quintessential '80s cop known as Hopper and his office. Behind his desk is a large window with cream-colored blinds, a feature you consider adding when decorating your home like "Stranger Things."
According to Galaxy Draperies, the 1970s boasted heavy decor like layered curtains and wall-to-wall drapes. However, the 1980s took a turn for a lighter approach to interior decor. For example, lightweight aluminum window blinds became all the rage in the window treatment world. Blinds from Hunter Douglas were used a lot in the '80s due to the growing fear surrounding energy efficiency for US citizens (via Encyclopedia). Since blinds were good insulation against extreme temperatures outside, they became a popular interior design choice. If you had them at the time, you were probably a connoisseur of modern decor. However, the trend slowly faded because it was not durable enough (via Best Life).
Design a mini haven
Now that you're on a journey to decorate your home like "Stranger Things," there's no turning back. The next feat is creating a mini haven, like a secret tent in the basement. This place is a sweet retreat for Mike. He plays make-believe games here, and in the first season, this is where he hides Eleven after discovering her in the woods.
According to BuzzingBubs, creating a DIY version is a walk in the park. You could quickly make a fun DIY version for your kids using chairs, colorful cloth pieces, and loads of pillows. Alternatively, you can purchase a tent like this one from Amazon. Adults also deserve mini havens. Feel free to install a dreamy reading nook for yourself and the whole family to enjoy if you are too grown up for a tent (via Clutter). Or you can insert a multifunctional feature such as the Domino Loft to create an immersive space where you can nap, study, play games, and store your items (via ICOSA Design).
Warm up to wallpaper
From the walls in Hopper's bathroom to the Hawkins Elementary School gym, wallpaper goes to great use in several parts of "Stranger Things." According to HK Interiors, dressing up the home with wallpaper is an evergreen decor technique. It worked in the '80s, and it's still working wonders now. One of the best parts about decorating with wallpaper is how long it lasts. While painted walls usually need touch-ups every two years, wallpaper can last up to 15 years.
There are many different styles, prints, textures, and patterns to choose from depending on the part of the home you wish to decorate and (of course) the budget. If you have some money to spare and want a timeless wallpaper brand, Scalamandré (founded in the 1920s) is the perfect retro company for you. The legendary design house is not the cheapest option, but with iconic bold prints and matching bed frames and cushions, going all out never felt so good.
Place posters on the wall as art
When you hang up art in your home, it expresses who you are as an individual and adds personality to the living space. In Season 2 of "Stranger Things," Billy's home is filled with posters that are technically pieces of art since they add color and character to his room.
The wall decorations include a metallic music band poster and a poster of model Shauna Grant in a bikini, per They Call Us Tallulah. These posters showcase Billy's bad boy rockstar side and that he's a hot-blooded youth who appreciates the female form. Back in the 1980s and even today, you can search the mall and buy posters from stores or kiosks dedicated to different categories that suit anyone's taste, be it musicians, actors, models, abstract designs, or animals (via Like Totally 80s). You can hang up anything in your room as art, as long as you're passionate about it.
Surround yourself with shelves
Shelves played a significant part in the "Stranger Things" home decor. In the 1980s, not everyone had a computer, smartphone, or internet access. According to The Guardian, commercial use of the internet began in 1992. Before that time, we can only assume that students had to find information from books and physical encyclopedias instead of Google. Shelves literally had to be included in almost every home to hold textbooks and dictionaries. In addition to written resources, music libraries also required shelves. Music streaming applications such as Apple or Spotify did not exist. People played music with cassettes and CDs on the stereo and LPs on gramophones at the time (via MakeUseOf).
These days shelves play a role in endless creative decor styles and hold other memorabilia such as picture frames and vase collections with flowers (via The Beauty Revival). You can display your favorite family photos, trip photos, artwork, and small knickknacks to add personality and charm to your home.
Warm up your space with wooden walls and panels
Wood boasts a confident, stoic, and regal charm perfect for use in countless parts of your home. According to European Panel Federation, wooden panels like the ones used on the walls in Hopper's cottage home were a primary part of the home decor materials in the 1800s and the 1900s. Versions of these panels date back to ancient Egyptian times.
To recreate this look without going overboard, you could constrict the use of wooden walls to a specific space. For example, you can easily dedicate one accent wall to wood with floor-to-ceiling panels. This look would be gorgeous for your home's living room and can act as a unique focal point in your home. There are versatile wood panel options that you could choose from with varied prices that could work for any budget (via Houzz). If you want a large-scale '80s retro design, consider inserting a wooden valance in your space instead of curtains (via My Home Matters).
Display DIY sketches and paintings
When Will battles PTSD from the attack on him by the Demogorgon, he draws sketches of the different creatures and scenarios from The Upside Down. The drawings help Hopper and Will's mom better comprehend the place. As pictured above, there are crazy sketches on the floor and mounted wall paintings in his bedroom, most likely achieved by Will pre-The Upside Down attack. This look may be a more relatable aspect for anyone who wishes to decorate their space like "Stranger Things."
According to Lifehack, you don't need to be the next Vincent Van Gogh to create DIY art for your walls. Consider buying a plain canvas and painting streaks of colors ranging from the darkest shade to the lightest shade, or just splashing your canvas with paint. For a fun project to complete with kids, execute a fun-filled finger painting project. All the results from these experiences will offer you aesthetically pleasing and satisfying DIY artwork that inexpensively decorates your walls. Plus, you'll get a confidence boost when you view what you have achieved with your own hands.
Give tiles a go
Give the tiling technique a try in different rooms of your home, and you will not regret it. According to Good Guys Flooring, tiling is an ideal technique for home decor and renovations because it increases the value of a home. It offers a protective barrier to mitigate damage to floors and walls from moisture. Tiles also add a pleasing aesthetic to a room's decor, are easily cleaned without stress, and offer a cooling effect for homes in warm climates.
In "Stranger Things," tiles are on the walls of the Hawkins laboratory and Will's home. If you wish to integrate tiles into your home, consider the styles that appeal to your unique tastes. One of the most popular versions is subway tiles, either the glossy embossed version or subdued matte tiles. As the name suggests, these unique tiles come from the New York City subway system (via Home Light). Marble effect tiles are a great option to make your aesthetic modern and sophisticated.
Leave a few lamps around your abode
If you have extra space on your walls, consider mounting wall lamps like the one above Mike's sister's bed. Wall lamps are an additional illumination source to better spotlight tasks like reading a book before sleeping or when you wake up and want to scan the morning paper. This 1980s lamp from Etsy will bring a similar aesthetic to your abode to help recreate "Stranger Things" decor. Also, if you have space to fill behind your couch, consider adding floor lamps like the one in Will's room, per Philips Hue. This placement will provide with the perfect amount of light for reading and writing.
Other great '80s style lamps you should purchase to match the aesthetic include floral prints, neon lights, and Art Deco lamps (via The 80's Gallery). These lamps often feature rounded shapes or appear as monuments or globes. Either way, they are a great conversation starter. Your friends will probably ask you where you found them.
Accessorize your fridge with magnets
"Stranger Things" never stops with twists and turns. In the third season, Joyce Byers notices that her refrigerator magnets (of which she has a lot of, much like her Christmas lights) keep falling off strangely. This strange event signals that doom from The Upside Down electromagnetic dimension is lurking nearby. According to Little Flying Robots, fridge magnets were discovered by William Zimmerman in the '70s, a decade before the era in which the show takes place. Therefore, it should not be surprising that by the 1980s, most households were going crazy for miniature items, including the Byers.
If you wish to delve into this decorative world, go big or go home! Take inspiration from Joyce's '80s flair and go all out by displaying a vibrant magnet collection with fun colors and designs. To achieve the exact aesthetic, purchasing a set like this Etsy version will give you a fun 1980s theme for as low as $5.
Keep a few candles on display
According to Nerdist, the Dungeons & Dragons game plays a significant role in the entire "Stranger Things" series. As pictured above, candles are a staple of the game night sessions. The flickering flames set the mood during a tense gathering between the D&D enthusiasts of Hawkins. As much as the red candles offer functionality, they are well-thought-out decorative pieces that add character and spookiness to the room.
Historically, these illuminating elements were accessories in religious events and celebrations, dating back over 3,000 years (via Creative Candles). However, candle-making technology took off in the 19th century when molded candle machines allowed them to be mass-produced. If you are a Dungeons & Dragons enthusiast in need of an immersive game night experience for you and your pals, create a mysterious atmosphere with a few well-placed candles. Cantrip Candles sells soy wax candles with scents and themes to suit different stages of the game.
Ensure your bed has a unique headboard
As Max mourns her late brother Billy, who eventually surrendered to the evil Demogorgon, she pulls away from her group of friends. She spends lots of time in her bedroom, giving viewers time to fall in love with her unique orange headboard. A headboard is always a good idea for enhancing your bed in the frame while protecting the wall, per JYSK. Without a headboard, you can leave marks on the wall, and your pillow will move around at night. Plus, a headboard will provide insulation against low and high temperatures.
In addition to tufted cushions and rich wood hues, there are other materials you can use to create a unique headboard for your beloved bed, including bamboo (via HOME DZINE). This material is durable, sustainable, and beautiful. Headboards are not just for your bed. Alternatively, you can hang up your headboard in a creative fashion as functional works of art or a coatrack (via My Home Matters).