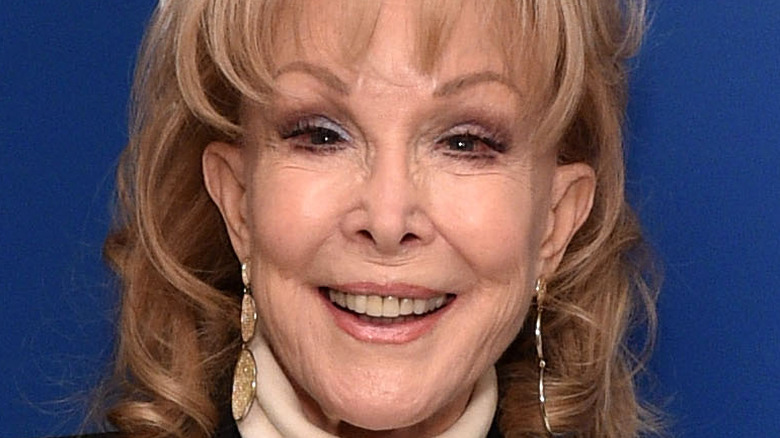 The classic sitcom "I Dream of Jeannie" aired for five seasons, spanning from 1965 until its finale in 1970. Though many of the cast members have died over the last few decades, you might be surprised to learn that the sitcom's star and many others who held roles in the show are still alive and well.
The show's 139 episodes centered around the problems caused by a (mostly) well-intentioned genie named Jeannie who wants nothing more than to please the man who rescued her. "I Dream of Jeannie" introduced TV viewers to many up-and-coming stars, including Larry Hagman, who played the role of Jeannie's "Master" throughout the show's run, years before he achieved further success as "Dallas" antagonist J.R. Ewing.
Often compared to the TV series "Bewitched," whose plotlines followed similar fish-out-of-water stories, "I Dream of Jeannie" was able to hold its own with fans and critics alike. It was nominated for a Primetime Emmy and a Golden Globe in 1967, and it also garnered an additional Golden Globe nomination in 1967 (via IMDb).
Despite Hagman's death in 2012, you'll find plenty of familiar faces from the show that are not only alive but still active in Hollywood.
Barbara Eden
Though Barbara Eden is probably cemented in history as Jeannie, she had a successful career in acting both before and after the role she is probably most known for. Before she was released from the bottle that held her captive, Eden played characters in a wide variety of television shows, including "The Andy Griffith Show," "Burke's Law," and "Rawhide."
After "I Dream of Jeannie" ended its run, Eden co-starred in the series "Harper Valley PTA," playing the same role as Stella Johnson, whom she also played in the film of the same name. Eden's post-"Jeannie" career included dozens of made-for-TV movies, a recurring role on the prime-time show "Dallas," and, most recently, as Mrs. Claus in the 2019 movie "My Adventures with Santa."
Some fans might recall the controversy surrounding Eden's belly button while playing the role she's most known for. She recalled that the incident began when a reporter approached her and remarked that he was surprised that the star had a navel. "I was on the set one day and [a writer] for The Hollywood Reporter walked on the set and right over to me," she told Fox News in 2017. "He said, 'I don't believe you have one.' I said, 'A what?' And he goes, 'A belly button!' And then he poked me in the middle! He started writing about my belly button… The next thing I knew, the 'Laugh-In' wanted to premiere my navel on NBC. I know a lot of women are known for very glamorous body parts, but my navel? Ha!"
In a 2021 interview with The Hollywood Reporter, Eden revealed that though she loved her time as a star, she "doesn't miss a thing." She told the outlet that her first children's book was about to be published. "Jeannie and the Djinn" was published in August 2021, hitting the shelves at retailers nationwide.
Dabney Coleman
Dabney Coleman was a character actor that was already enjoying popularity before he was cast in the roles of Captain Dan Yardley and Lt. George Webb in "I Dream of Jeannie" in 1967. Coleman had made numerous television appearances that included "The Fugitive," "Hazel," "The Outer Limits," and "The Alfred Hitchcock Hour," beginning what was to be a promising career across all genres of television and film.
Coleman's talents have resulted in memorable roles in the films "Cloak and Dagger," "War Games," and "Clifford," and have helped him become a TV legend thanks to the shows "Buffalo Bill" and the Showtime series "Boardwalk Empire." Coleman might be best remembered as the chauvinistic boss in the 1980 film "9 to 5," in which he starred opposite Jane Fonda, Lily Tomlin, and Dolly Parton. He has been successful at voice acting as well, notoriously playing the part of Principal Peter Prickly in the animated series "Recess."
Since 2000, Coleman has shown some signs of slowing down his prolific acting career. But he is still working regularly into his golden years, having regular roles in the shows "The Guardian" and "Courting Alex." Coleman most recently appeared in a 2019 episode of "Yellowstone." Variety reported that Coleman was awarded a star on the Hollywood Walk of Fame in 2014.
Hilary Thompson
Before she retired from acting in 1988, Hilary Thompson enjoyed a busy career acting on dozens of television shows throughout the 1970s and 80s. Following her two-episode appearances on "I Dream of Jeannie" in 1967 and 1968, Thompson began to enjoy a busy 20 years, landing roles in feature films and on many popular shows on the small screen.
Following brief roles in "Bewitched," "The Flying Nun," and "Gunsmoke," the actress secured a regular as Elizabeth Coates in the American Revolutionary drama "The Young Rebels." Throughout the rest of the '70s, Thompson enjoyed a busy time in her career, appearing in popular shows of the era that include "Chico and the Man," "Fantasy Island," Starsky and Hutch," and "Most Wanted." She was even cast in the 1978 horror film "The Fury," directed by the legendary Brian De Palma and starring Kirk Douglas.
As the 1970s drew to a close, Thompson was cast in a co-starring role in the short-lived 1978 TV series "Operation Petticoat." Thompson took fewer roles in the 80s but co-starred in the 1982 film "Nighthawks" with Sylvester Stallone. She also took a role in the 1980s comedy series "Washingto0n."
Thompson's last screen credit was in 1988, in an episode of "ALF." She married for the first and only time in 1989, to screenwriter Alan Ormsby.
Eileen O'Neill
Irish American Eileen O'Neill was a familiar face throughout the 1960s, earning steady work with minor roles in film and playing bit parts on a variety of television shows. Her first screen appearance was in 1961, where she played the role of Blue Waters in the TV western "Guestward Ho!" From there, O'Neill got parts in "The Alfred Hitchcock Hour," "Bewitched," and "Wendy and Me," before being cast as a recurring character in the series "Burke's Law." In that show, O'Neill played Sgt. Gloria Ames in the 33 episodes of its third and final season. She also played the part of Millie Second in two 1966 episodes of the campy ABC series "Batman." Following the close of "Burke's Law," O'Neill found herself playing the part of Corporal Lola Burns in "I Dream of Jeannie."
O'Neil's acting waned as the 1960s came to an end. From the conclusion of her role in "I Dream of Jeannie" in 1967, the actress only chalked up three more screen credits. Her last one was in the 1970 film "Loving," in which she appeared with co-stars George Segal and Eva Marie Saint. Glamour Girls of the Silver Screen reports that O'Neil married real-estate developer and attorney Richard John Barich in 1973. The couple remained married until he died in 1997.
John Beck
John Beck had but one acting credit under his belt when he was cast in the role of Sergeant in a 1965 episode of "I Dream of Jeannie." Since then, Beck has seen his career grow from bit parts on TV shows like "The Mod Squad" and "Mannix" to regular roles in network soaps, including "Dallas," "Santa Barbara," and "Passions."
Beck's voice talents landed him a substantial role in "Spider-Man: The Animated Series" from 1995 to 1997. He voiced the sometimes friend/sometimes foe of Spiderman, Frank Castle, also known as The Punisher. In what might be Beck's ultimate claim to fame, the actor co-starred opposite James Caan in the 1975 film "Rollerball." Beck, a former professional skater, performed many of his own stunts in the film.
Beck continued to act in smaller roles throughout the 1990s and early 2000s before retiring from acting entirely in 2009. His last film role was the part of General McClaren in "Crash Landing" in 2005, and his last on-screen appearance was in the 2009 short "Mesmerize Me."
Karen Sharpe
Karen Sharpe had already proven herself as a commodity among the bit player circuit in Hollywood long before "I Dream of Jeannie" was ever conceived. Sharpe has a long list of TV credits from the 1950s, ranging from appearances on episodes of "The Abbott and Costello Show" to "The Pepsi-Cola Playhouse." Sharpe was no stranger to the big screen, either. She appeared in the noir films, "Mexican Manhunt" and "Strange Fascination."
Sharpe's biggest role was co-starring in the Aaron Spelling-produced TV western "Johnny Ringo" from 1959 to 1960. The actress played the role of Melissa Stone in "I Dream of Jeannie" in 1965.
Sharpe married the storied Hollywood producer Stanley Kramer in 1966 and retired from acting shortly thereafter. Following Kramer's death in 2001, Sharpe took over the duties of his company, International Films. She also runs the Stanley Kramer Library.
Sharpe made headlines in 2022 in a People magazine article in which she accused her co-star, Jerry Lewis, of sexual misconduct when the two were working on the 1964 comedy "The Disorderly Orderly."