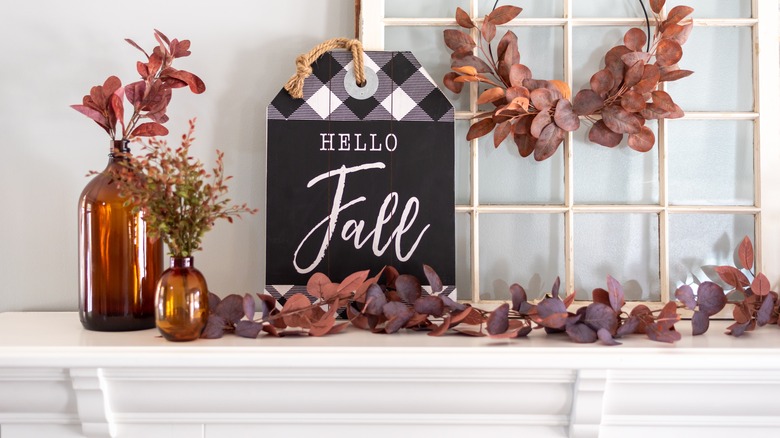 After the dog days of summer, a crisp breeze begins to blow through the air, bringing a season of changes. As the temperatures drop, your mood sways and the ideas for swapping out the interior decor for pieces that fit the upcoming fall season begin to manifest. Make changes here and there throughout your home and update the interior decorations to reflect the natural transition happening just outside your front door.
Not all decor is for display year-round. As the season changes, your decor elements should, too. "A year is a long time, and you don't want to always look at the same things," interior designer Amanda Nisbet told The New York Times. When it comes to seasonal changes in your interior, they need not be grand. You can restyle a room's accents and accessories to fit the time of year. Swap out, update, put away for another time, or add to the rugs, pillows, throws, flowers, and linens in your home for a fresh fall feel at home. Keep reading as you explore the ways to changeover your house from summer to fall.
Swap pillows and coverings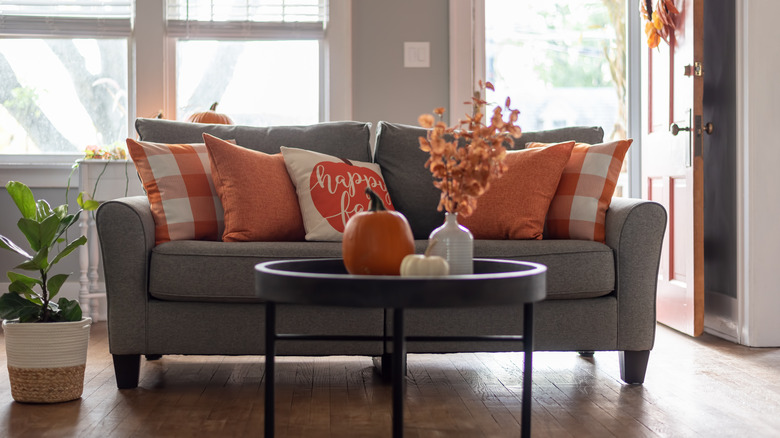 Whether on the sofa, solo on a chair, or propped on a bed, decorating with throw pillows is one of the simplest ways to refresh your home. Updating these plush accessories with new coverings or cushions will help bring the fall season to life inside. "Don't view throw pillows as an afterthought," HomeGoods style expert and interior designer, Jenny Reimold told The Zoe Report. "They're perfect for adding color, pattern, and texture to any space and are an easy way to test out new styles in your home. Pillows are a stylish and affordable way to add personality to a space."
Cozy and comfortable is the vibe, so check it by decorating with pillows in tones and patterns that reflect the season and yourself. Create the season's best pillow display by arranging a variety of sizes, designs, and fall colors together. If all your existing pillows are a solid color, find ones with striped or plaid patterns in complementary hues, or add pillows with textural details to help break up the plainness. Mix and match similar tones or create a one-color display like the arrangement of orange plaid and solid pillows on the sofa in the image above. Use cushion covers (only) to cover existing pillows for a budget-friendly way to get a whole new look.
Add cozy throws and natural textures
Fall weather typically means a drop in outdoor temperatures. The crisp cool air creates a need for thicker, warmer blankets indoors. Get your home ready for fall by layering blankets on the sofas, accent chairs, and baskets for a cozy feel in every room. "When it comes to my designs, the fabrics and textures are just as important as the color palette," Amy Kartheiser of Amy Kartheiser Design told Elle Decor. "Because I like to keep the color palette soft in neutral spaces, I love adding plenty of texture by including a variety of fabrics that add depth to the overall design."
Transition your home from summer to fall without vibrant pops of color by creating a soft change with textured throws. Furry fabrics and ultra plush ones like sherpa are great for adding instant warmth to any room minus the need for color. Woven throws in shades of cream, white, or taupe are perfect for welcoming the new time of year. The absence of color in these designs, combined with texture and thick layers, elevates the space and creates a more welcoming environment. Wrap yourself up in an even cozier space by decorating with blankets crafted of wool, cashmere, or fleece, as these materials are some of the warmest fabrics on cold nights.
Bring warm layers to bed
Just as blankets add depth to a sofa or chair, they can have the same effect in the bedroom draped across the foot of the bed. Changeover the bedroom from summer to fall by adding throw blankets to your bedding and swapping out the duvet cover. "Fall is all about fabrics; bouclé, fake furs, and other heavy linens," Brigette Romane of Romanek Design Studio, told MyDomaine. "While everyone is at home, they want to feel cozy, safe, and warm. These fall textures have stood the test of time, and quite successfully walked that line between old-fashioned and stylish for many years."
Thicker bedding layers warm you up on cold nights through the morning, and the ultra plushness visually appears homey. Create your perfect place to nestle any time of day with thick, warm layers for the upcoming season. Layer a bed with waffle blankets in neutral colors like taupe or gray, and add subtle plaid quilts in September. Chunky throws made from merino wool dramatically mellow a home for fall. Reuse these same comforting layers for future fall seasons as warm layers never go out of style.
Embrace festive decor in neutral tones
What colors do you imagine when you think about transitioning your interior decor from the summer to the fall season? Red? Orange? Yellow? Yes, these classic colors are favorites for both times of the year, but in moderation. As summer fades into fall, the colors do, too. Shades become deeper during the cooler months. "Because fall colors lean towards traditional, offset them with cooler undertones to keep the room looking fresh and modern," designer Regan Billingsley told Forbes. "It also helps if you balance traditional furniture with more contemporary pieces such as lamps and accent tables."
Balance fall tones by incorporating festive decor in neutral colors. Add to what you already have in the room without sacrificing your style to suit the season. While there is a time for orange pumpkins, consider pumpkins and gourds in shades of brown, green, or white for bowls and shelf decor instead. This element is seasonally appropriate but neutral, making it easier to mix into an interior. Felt pumpkins make an ideal substitution for the real thing and are often in buffalo check patterns or solid colors. Add depth and dimension to the aesthetic by coupling these accent pieces with seasonal greenery ideas you can find below.
Spice things up with seasonal greenery, flowers, and fruits
Use this opportunity to mix summer and fall colors by decorating with seasonal greenery throughout the home, from the living room to the entryway. "Bring in live plants, fresh flowers, or bowls of fruit," interior designer Vance Burke told Real Simple. "They all help set a mood, add scent, and convey a sense of the season." You can bring the season to life on tables and counters throughout the home if you decorate with nature.
The great thing about flowers and fruit is that there's one for every season. Prepare your home for fall by decorating with a fresh bundle of the season's best blooms. Fall flowers like sunflowers provide liveliness and color when bundled in vases indoors. You can consider more earthy combinations such as pine and eucalyptus branches to display around the home. Use the greenery as a natural base for a centerpiece or seasonal decor display — they last forever, too! In the kitchen, setting out a basket or bowl of apples, peaches, and plums on the kitchen counter helps bring the sense of the season throughout the entire house.
Pay attention to your table linens
One of the priorities of decorating a home should be decor that functions for your day-to-day lifestyle. For example, every family member probably uses the dining table at some point in the day. Assuming you use the table you're decorating for breakfast, lunch, and dinner, the decor should be suitable for daily use. Something that gets a lot of use doesn't have to look bare or boring. Dress up the table with linens for a festive fall setup.
As per Studio McGee, table linens are not just for those formal occasions, and you should start your tablescape with one. Drape a gingham, plaid, or checkered tablecloth over the dining table, or use a runner with lace trim that runs from end to end. If you can't decide on either one, use both. When decorating your table, layer the linens. Using multiple linens to build a tablescape increases visual texture and makes for a more dynamic presentation. The contrast of dark tablecloths with lighter runners will add depth to the design and overall fall aesthetic at home.
Change out the rugs
Redesign a room for fall without a complete renovation but rather an inspiration. "When the leaves start falling off the trees, it's the perfect time to gather color inspiration from Mother Nature," interior designer Corine Maggio told Forbes. "Take note of the specific hues and tones and bring them indoors for a cozy and earthy feel." The fall lineup of colors is enticing to incorporate into an interior as the combinations of reds, oranges, yellows, browns, and greens (sometimes) not only transition a space but shift the mood in the room.
Incorporate these colors on the floor. Opt to decorate using these same tones by finding area rugs with rich autumn shades. Decorating below the visual field is a great way to introduce color, elevate furniture, and create structure in a room. Update the area rug in the living room, den, or bedroom with low-pile and flat woven rugs in shades that mimic the natural hues outside your window. The room size will determine how dark or light your area rug should be. Smaller spaces will benefit more from lighter materials as dark shades will appear to enclose the area and vice versa. Area rugs are typically large and provide a great way to create change, temporarily, in a room. It just takes one piece of decor to get a new look for the season.
Work in plaid patterns
There is a plaid print for every season. Really, there is. Convert your home from summer to fall by introducing some plaid patterns in new colors and designs throughout your home. Decorating with a plaid design is one of the most pattern-friendly ways to update your home seasonally. "Plaid immediately adds an air of sophistication," interior designer Cheryl Luckett told The Washington Post. Don't be afraid to mix plaid patterns into your decor. You may be surprised by the range of diversity in the design. It can go with anything!
Plaid patterns are versatile and can be an accent or statement element depending on how and where it goes in an interior. You can find a plaid print that matches your interior preferences, simple or complex. As the season's interior decorator, you can choose from gingham, tartan, madras, tattersall, or check in all sorts of hues (via Treasurie). Plaid printed pillows, blankets, tablecloths, and rugs can all be updated for the season from the bedroom to the living room.
Freshen the air
A great way to get the entire interior ready for the fall season is by changing what's in the air. Not what you see, but what you smell. What scent does your house have? Studies show that aromas are crucial for our daily experiences and can work as physical and physiological therapy, per the National Library of Medicine. The home is where you spend most of your time, so the scent should be something you enjoy and coordinate with the season.
"With so many of us working, eating, studying and relaxing at home these days, who wouldn't want to take advantage of the power of scent?" Tiffany Brooks, the host of HGTV's 50k Three Ways, told Today. What scents fill the air during fall? Candles, incense, wax melts, diffusers, and wall scents with sweet cinnamon, vanilla, nutmeg, and pumpkin aromas. Wrap yourself in an embrace of autumn smells for the ultimate cozy nest to unwind during the fall season.
Incorporate shelf decor with matte finishes
Decorating shelves in a home is more than just setting down something old or new. Decorative shelving is the base for your personality to peek through. What you choose to show guests should reflect fond memories or interests. Rearranging and seasonally changing shelf decor can impact the appearance of a room and instantly refresh the look. Shelf decor shifts a space as pieces move around and are added or taken away. Refresh the shelves in your home for the fall season with decor representing the days ahead. Some change of scenery can be a good thing.
"Matte finishes, especially in darker colors can give your space an entirely different feel without having to renovate the whole room," designer Peyton Lambton told HGTV. Out with the shiny and in with matte. The fall months are less cheery and more drab but in the best ways, so let the decor reflect the season. Decorate with black vases or planters in matte finishes and combine with marble bookends or ceramic bowls. You can also create color coordinated bookstacks with complementary shades that nod to the season.
Make subtle changes to outdoor decor
You don't want to neglect the outside of your home when decorating for the fall season. You can spruce up the entryway or backyard lanai with subtle festive decor to transition from summer to fall in just a few updates. While it may be tempting to cover the steps or path to the front door with pumpkins, don't do it just yet, as it's not time for the full fall effect. Opt to keep the transition outdoors subtle in anticipation for the months ahead.
Add seasonal blooms to planters for a fresh and lovely appearance. Mums, wildflowers, and chrysanthemums are beautiful flowers perfect for transitioning your entryway from summer to fall. "Choose the yellow, orange, red or even purple colorway and plant in a large pot," Rainey Richardson of Rainey Richardson Interiors told CNN. "With little care, these plants should last through the fall season and make your porch inviting." Other notable changes worth making for the fall season include swapping out the door mat outside. Choose one with your favorite fall welcome greeting or art and layer it on top of a checkered, plaid, or plain throw rug.
Balance the color palette
Evolve the warm color palette of summer and harvest similar shades for a full fall effect in your home as the seasons change. Summer and fall have many colors that overlap — queue red, orange, yellow — making the transition into new decorative elements relatively simple as long as you vary the shades. However, don't change your whole base color scheme for the season. Instead, add to it with complementary fall colors in shades that blend with your existing interior.
"I think anything with a more earthy and neutral tone is perfect to set the stage for fall," designer Amanda Evans told PureWow. "Sandstone is great for adding a more warm and cozy feel to the home, but is also great all year-round. A radiant autumn orange or Amberglow also creates warmth and blends well with other neutral tones like gray and sand tones." Don't feel pressured to incorporate bright pops of traditional tones of reds and oranges if those colors don't pair well with your interior. Incorporate the same colors in muted shades with neutrals to balance the scheme.
Decorate the fireplace mantel
You can transition your interiors for the upcoming colder nights by cozying up the atmosphere of the fireplace, both above and around it. Fireplaces are often focal points in a room, especially during the fall and winter months. Shift the decor from summer to fall and decorate around the fireplace with wooden logs, whether you plan to use them or not, and thicker blankets draped in baskets just in case someone catches a chill. Fire up the fireplace and make it the focal point of the season, on and off.
If possible, add decor above the fireplace, too. Consider adding new fall mantel accessories like potted wheat grass as seen at Target. Swap out fresh flowers, sunny blooms, or eucalyptus leaves with some floral arrangements that are dried out — not lifeless and withering but beautifully dehydrated. Pampas grass, dried flowers, and leaves make for ideal fall bouquets. Not everything is lush in the fall, so the interior shouldn't be quite so alive either.
Update the wreaths on doors
One of the best ways to transition your home from summer to fall is by adding a wreath or changing the existing one on the door to something more appropriate for the season. Decorate your doors, inside and out, with festive wreaths composed of dried greenery like this tansy wreath from Williams Sonoma for the perfect fall touch — no tabletop or mantel required. Seasonal fall flowers bundled with wheat grass or pampas are ideal door decor.
Just like bread, decor can get stale. Changing decorative elements with the seasons will refresh the aesthetic to fit the naturally occurring seasons. Make the inside feel like the outside. Say goodbye to the summer nights and redecorate your home for the fall season by rebalancing the color palette, adding dried floral arrangements, updating the table linens, and incorporating festive neutral decor. Changeover your interior from summer to fall with these interior styling inspirations.