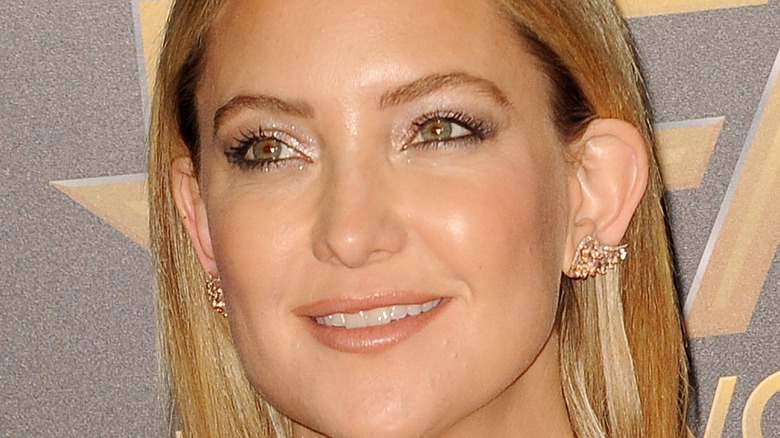 Kate Hudson is a powerhouse. The Golden Globe-winning actor and serial entrepreneur behind King St. Vodka, InBloom nutritional powders, and the subscription activewear brand Fabletics seems to handle everything with ease. Juggling multiple businesses and being a mom to her three children Ryder, Bingham, and Rani keeps her active all day long. She even manages to fit in bike rides, Pilates, and some pretty intense strength training with her coach, as well as carve out quality time with her fiance Danny Fujikawa, a musician, record label owner, and dad to Rani (via Vanity Fair).
But despite her on-the-go lifestyle, the Los Angeles native known for her roles in "Almost Famous" and "How To Lose a Guy in 10 Days" shared with People that she still had a really tough time losing postpartum pounds after her daughter was born. After a frustrating start, Kate worked off the stubborn pounds, but only after giving herself the time and space to make sustainable changes.
So what did the Hollywood star do to finally break through the wall? Read on, and let's get into it.
Losing the weight after baby #3 took a year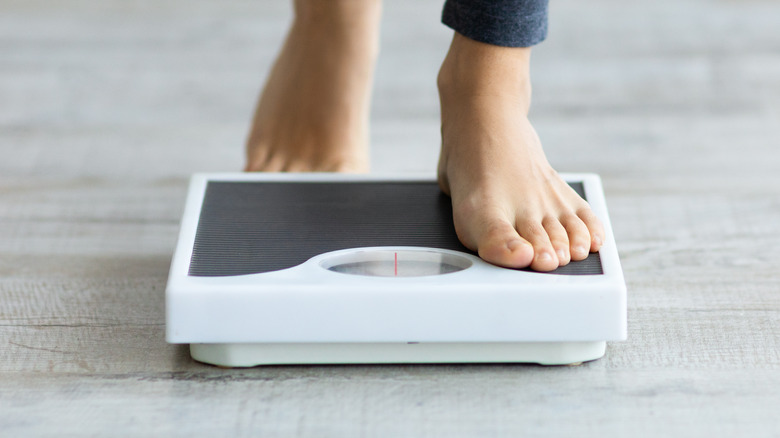 With Kate Hudson's first two pregnancies, she was accustomed to a fairly quick return to her svelte form. But after her daughter, Rani, was born, Kate told People it was a challenge to shed the final 25 pounds. It took a full year to get back to her goal weight despite gaining less and already having a healthy relationship with food. So the actor took a different tactic this time around, and one of the new things she tried was joining a weight loss program. Through WW (formerly known as Weight Watchers), Kate started using the brand's PersonalPoints plan to give her an extra boost in making wise choices for her meals. She also became one of WW's global ambassadors.
Taking a year to lose baby weight seemed like a long time to Kate, but it's actually a common timeframe for most women to do it, says the Mayo Clinic. Wellness has always been a part of her lifestyle, so she tackled the challenge in the right way. The experts at the Mayo Clinic concur that one of the healthiest and most important things to do is return to healthy eating habits. This means portion control and getting more vegetables, lean protein, fruits, and whole grains onto your plate.
She prefers healthy plant-packed meals
Kate gets a lot of her protein from plant-based sources, preferring organic and sustainable choices for her meals several days a week. So her selections put a major focus on salads, tofu, veggies, fruits, nuts, and nutritious smoothies, according to EatingWell. Sounds pretty basic, but certainly not boring! Her go-to meals include delicious dishes like lentil tacos, gluten-free pasta with veggies, steamed fish, butternut squash soup, and vegetable stir-fry (per Life & Style).
A 2021 review in the journal Foods confirms that following a mostly veggie-focused meal plan as Kate does has many benefits. Not only does this style of eating help manage weight, but it also leads to better health by lowering cholesterol and triglyceride levels and improving glycemic control.
Why are the results of plant-based nutrition so dramatic? The Cleveland Clinic explains that when you do it the right way, getting nutrition from plants removes most processed foods from your diet, and it's naturally cholesterol-free and low in saturated fat. So the upshot is it leaves you with wholesome nutrition that "virtually eliminates foods that can lead to poor health outcomes."
Multiple small meals a day keep the actor fueled up
The Fabletics co-founder and fitness fanatic typically eats five small (and mostly plant-based) meals a day, per Women's Health. Every morning, she likes to start with a glass of fresh celery juice to jumpstart her digestion, then late morning for breakfast she'll go for a protein shake, a bowl of oatmeal, or maybe some soft-boiled or scrambled eggs. Her lunch and dinner are also high in protein and typically fairly vegetarian, but the mom of three does enjoy grilled steak, chicken, and fish when the mood strikes.
Opting for a variety of smaller meals instead of two or three large ones is a great way to stay energized throughout the day, control your blood sugar, and not feel like you're depriving yourself at all, says the Cleveland Clinic. "Smaller, more frequent meals in your daily eating patterns also can aid in a more efficient metabolism compared to a slower metabolism when meals are skipped."
Kate calls herself a disciplined foodie
Kate has adopted all types of food practices over the years, from veganism to pescatarianism to vegetarianism. However, as fond as the actor is of good food and drink, she knows that she can't be bound by strict diets or too many rules, she told Self. Kate desires a lot of flexibility to pick and choose what she eats.
"I love food so much that I could never live any kind of lifestyle that's not open to anything and everything. If someone said I can't have bread I'd be like 'Wrong, girl!'" she told Today. The self-described "disciplined foodie" is all about sustainable food choices but with a hint of naughty, so she can still indulge in higher calorie fare in moderation when she has a craving.
For the 45 million Americans who go on a diet every year, many will fail because of overly strict rules and narrow food choices, per NPR. It's too easy to return to the old ways if a diet is hard to follow or leaves you with a gnawing belly. Julia Zumpano, a Cleveland Clinic registered dietitian, believes that adding nutritious foods to your food repertoire instead of constantly taking away options will lead to better success rates in keeping weight off. "You won't feel like you're depriving yourself, so you'll be more likely to maintain healthy eating habits."
WW (formerly Weight Watchers) helped keep her on track
As a high-profile person who's always been super active and health conscious, it might be surprising to learn that Kate Hudson struggled to get back into pre-baby shape. "You can still be a very disciplined person, but need that extra support," the Golden Globe winner told People. So soon after her third child was born, Kate enlisted the help of WW (formerly known as Weight Watchers) and swiftly became one of its global ambassadors. As a WW member and representative, she began regularly sharing her experiences with WW's food points program as well as lots of yummy recipes. (Check out the zero-points avocado dish she posted on Instagram!)
The Mayo Clinic agrees that weight loss programs in general, whether it's an app or a series of in-person meetings, provide a lot of good emotional and practical support to their members. The sense of community they create is really helpful for bringing together like-minded people who can also be accountability partners and a source of inspiration to each other.
Nutritional powders fortify her meals
Weight loss isn't just all about calorie deficits. It's also about seeking out the right foods that promote wellness. Incorporating smoothies into a diet is one way to achieve both. And who doesn't love a great-tasting smoothie? Kate Hudson says she sure does, especially when the flavors are chocolatey or rich with berries. So what does this serial entrepreneur do? She partnered with a company to produce her own line of holistic supplement powders under the name InBloom, reveals Food & Beverage Magazine. And now, she's also collaborated with an Australian brand, Bluestone Lane, to feature specialty smoothies blended with InBloom nutrition at its numerous cafes across the U.S.
The InBloom formulations contain a variety of herbs, nutrients, and vitamins in a powder form. "My goal is to make wellness more accessible," she told Shape in an exclusive interview. "I've always believed that [beauty and health] start from how we treat our bodies and what we feed them and how we supplement."
She makes gut health a priority
Kate is a strong believer in probiotics for optimal gut health, so much so that she's recently launched a line of her own nutritional supplements under the InBloom brand. "Probiotics help boost our immunity, which is something almost everyone is trying to do these days," she told W Magazine. Lots of research has also shown the potential of probiotics in weight management and weight loss, especially certain strains of Lactobacillus and Bifidobacterium (though it's still not exactly clear to what extent, according to a 2021 review in the journal Nutrients).
A healthy gut is meant to be teeming with bacteria, fungi, and other microbes, but a balance of these microorganisms is needed in your digestive tract for your body to function smoothly, says the Harvard T.H. Chan School of Public Health. Sometimes your gut can get really out of whack, and you probably already know the signs: excessive burping, gas, heartburn, bloat, constipation, or frequent trips to the bathroom, according to Healthline.
Probiotics can help restore balance in your gut. They're found naturally in foods like yogurt, kefir, and kimchi (via WebMD), and while real foods are the best source, many people still take supplements for an added boost and convenience.
Pilates workouts get her body revved up
Though Kate does many forms of exercise regularly for muscle toning and to burn calories, including yoga and dance, she is an especially die-hard devotee of Pilates. "I like to be able to set new goals to see what I can accomplish, and I love how flexible and strong I feel after a good workout, especially doing Pilates, which never gets easier," the "Almost Famous" star revealed to People. You can see Kate in action in a Pilates session with her trainer in this Instagram post.
Pilates workouts are low-impact and promote strength, flexibility, increased range of motion, and stress relief. The exercise was developed in the early 20th century and used to rehabilitate wounded soldiers after World War I, later becoming widely adopted in the dance community (via the Pilates Foundation). You can do Pilates exercises on a mat or by using a bed-like structure called the Reformer that has a moving carriage and resistance springs, says the Cleveland Clinic. The method has many similarities to yoga, but Pilates is especially attuned to "adaptable solutions when injury or chronic pain impairs movement and performance," says Zoe Bertali, yoga teacher at The Refinery studio in London. "It can have a very restorative effect on lower back pain and poor posture" (via Harper's Bazaar).
Intermittent fasting is Kate's jam
Intermittent fasting is a practice that the busy mom of three swears by. She says this type of regular fasting fills her with energy because it gives her system a rest. "Anywhere from 14 to 16 hours is usually the break I give my body. I usually eat [my first meal] around 11 or 12, and before then I'll just have water and I'll have my black coffee and then I'll drink a celery juice," the actor told the Wall Street Journal.
There are many ways to do intermittent fasting, and what Kate follows is called daily time-restricted fasting, which typically means you stop eating after dinner — except for water, tea or other zero-calorie drinks — and then resume normal eating the next day. Other approaches include alternate-day fasting and 5:2 fasting, explains the Mayo Clinic.
The benefits to the practice are many, according to Johns Hopkins Medicine. One study in the New England Journal of Medicine shows that intermittent fasting can have a positive metabolic response that leads to "a longer life, a leaner body, and a sharper mind." However, this method is not safe for everyone, especially those with certain preexisting medical conditions, so it's always advisable to speak with your doctor first.
Protein-packed breakfasts start each day off right
Breakfast is one of Kate Hudson's favorite meals. She told Eat This, Not That! that she doesn't eat immediately upon waking, but prefers instead to ease into a late-morning protein-spiked spread right around noon. Her go-to meals are an egg white scramble with spinach and sausage or a couple of soft-boiled eggs on buttered sourdough toast with avocado (via Harper's Bazaar). When she wants to skip eggs altogether, Kate will go for a warm bowl of hearty oatmeal with almond butter, bananas, blueberries, almonds, and a drizzle of maple syrup. Sounds pretty good!
A randomized controlled trial published in the International Journal of Obesity found that eating eggs for breakfast enhances weight loss. Among its many benefits, the research suggests, is that protein offers a boost to metabolism and reduces hunger (via Healthline). You'll feel fuller longer when you start your day with protein, which in turn will reduce cravings to overeat.
She works out with a personal trainer
Like many celebrities, Kate Hudson regularly books sessions with personal trainers. One of her current coaches is Brian Nguyen, known as the "Dragon Master." With him, the actor works on "technical, strong movements," he told Shape, which incorporate squats, lunges, deadlifts, sprints, sled pushes, and single-leg balance work. "Kate's not afraid of heavy weights — the weight needs to be heavy enough where her integrity does fall and she has to regain that control."
Working with a pro like Nguyen and other fitness professionals has many benefits. For one, they can design a personalized program that targets your own needs. Beyond that, they teach you proper form (which can also prevent injuries), provide motivation, get you to push past your comfort zone, and set weekly goals, explains Verywell Fit. And that's clearly worthwhile stuff. Though all of this expertise will come with a price tag, you'll most certainly reap the rewards. Check out one of Kate's push-sled sessions that she shared on Instagram. Whew! Sign us up!
Home cooking is high on her list
When it comes to home cooking, Kate is no slouch. She says she loves preparing meals for her family. The actor shared with Self that one of her favorite (and simplest) things to make at home is roasted chicken. She has two variations: One is a roasted lemon and thyme chicken in a creamy lemon and nutmeg gravy, while the other is something she calls "Nothing Chicken," which is "so great and so easy" and is just a chicken roasted and dressed with salt and pepper.
As a celebrity rep for the WW (formerly Weight Watchers) brand, we also get regular glimpses of the star preparing WW healthy recipes on social media. One such peek was an Instagram reel she posted showing her cooking up a beautiful butternut squash and mushroom lasagna. In yet another Instagram post, we see Kate in her own kitchen grilling amazing-looking salmon topped with homemade mango salsa, a dish that somehow manages to be zero points on the WW plan!
But Kate will always make room for special treats
When it comes to food cravings, Kate Hudson reportedly has a weakness for gluten-free Hawaiian pizza and a good cocktail, reports EatingWell. "If I want to go out and eat at a restaurant with amazing food, I'll do that," she reveals. "I want to do things that are not necessarily healthy sometimes."
Turns out, Kate's got the right idea. The experts say that when you treat certain foods as taboo to your diet, you'll actually crave them more. However, if you don't make anything off limits, then the desire for it will become less intense and it'll be easier to stick to long-term healthy eating habits. The behavioral response this is based on is called habituation (per Well+Good), and there's a lot of research behind it, including this 2011 study in the American Journal of Clinical Nutrition.
"When you eat what you want to, and the sense of restriction or scarcity has gone away," says Alissa Rumsey, a registered dietitian and nutrition therapist, "you're able to tune into your body and listen and actually decide if you want a certain food or not" (via Well+Good).
Mind-body balance is essential to her health goals
As part of her fitness regimen, the sportswear entrepreneur is, not surprisingly, a long-time devotee of yoga. Currently, she practices Kundalini, which Healthline describes as more spiritual than other types of yoga. The ancient practice, which was introduced to Western countries in the 1960s, blends physical postures with meditation, chanting, singing, and breathwork to achieve physical and emotional well-being. "[It] attunes you to a feeling of love, forgiveness, and compassion," she shared with People.
The mind-body factor may also play a key role in long-term weight loss. According to a review in the Journal for Nurse Practitioners, there's growing evidence that "mind-body strategies" such as mindfulness, meditation, and qi gong (an ancient Chinese practice for optimizing energy within the body) enhance successful weight loss programs.
A mind-body connection is something that definitely plays a central role in Kate's life. She's been practicing many types of yoga for years (hot yoga is also a favorite). She also credits prenatal yoga sessions in her second and third trimesters in her most recent pregnancy as helping her body bond with her daughter prior to her birth, describing the experience as a "spiritual journey" (via People).