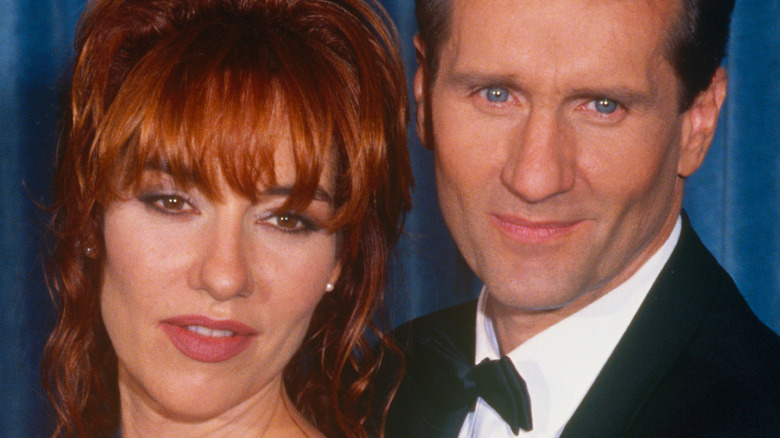 In the late 1980s, audiences sitting in front of the TV on a Sunday night expected to see feel-good family entertainment. Comedy shows were expected to present people who cared about each other and solved their problems at the end of each episode. At the time, series like "The Cosby Show" and "Who's the Boss?" ruled the air, and they did so by following a very safe formula: Characters always had good intentions, audiences were rarely reminded of their real-life problems, and sex was never openly discussed. It was a time when sitcoms were still fairly close in tone to the black and white shows parodied in the movie "Pleasantville" — but everything changed on April 5, 1987.
When the first episode of "Married… with Children" hit the airwaves, it was received with a combination of shock and laughter. The show poked fun at everything from marital relations to bodily functions. It was also refreshingly relatable, depicting a family that could barely afford to buy food or fix their car, and whose members were constantly at odds with each other. This unusual combination proved to be effective, and "Married… with Children" went on to become one of the longest-running sitcoms in history, and also one of the most heavily discussed. Since "Married… with Children" aired its series finale, we've learned a lot about the characters' surprising origins, the cast's internal feuds, and the unexpected impact it had on popular culture around the world.
The show's working title was 'Not the Cosbys'
Just launching in the '80s, Fox was in desperate need of new content in order to compete with the big three network lineups at ABC, CBS, and NBC. Slowly adding new shows to its schedule, Fox needed a major influx of talent to attract the attention of audiences; unfortunately, they couldn't offer much in terms of money. Instead, they attracted people like Ron Leavitt and Michael Moye — who had already worked on shows such as "Diff'rent Strokes" and "Happy Days," respectively — with the promise of creative freedom.
Leavitt and Moye were great family sitcom writers, but there was something that had always bothered them: Most of these shows focused on an idealized version of the American family and ignored reality. The couple featured in "The Cosby Show," the Huxtables, would have never even considered divorce or struggled financially, and every corner of their house was spotless. In other words, it was a family that made the average viewer feel bad about their own situation, if only subconsciously. Seeing a niche they could fill, Leavitt and Moye tried to come up with a show that would have the opposite effect on the audience, choosing the working title "Not the Cosbys" as a way to make their objective clear.
Ed O'Neill's performance was inspired by his uncle
Al Bundy is among the most beloved characters in American television history. His way of expressing both sarcasm and defeat with simple facial expressions and the right tone of voice made him relatable and, ironically, a hero. But the Al Bundy the showrunners saw during casting was very different from the one we know today. Actors auditioning for the role assumed that a man constantly fighting with his family and neighbors while trapped in a dead-end job should probably be angry all the time, and most of them played him as Jackie Gleason's character from "The Honeymooners," a man who was constantly yelling at everyone. Others took a more subtle approach and chose to emulate Jack Nicholson's performance in "The Shining."
Ed O'Neill, however, had other plans. In a 2016 interview for "The Rich Eisen Show," O'Neill explained that his performance during casting drew inspiration from his uncle, a man who had accepted that he was going to live an unfulfilling life of financial struggle. His only coping mechanism was his own brand of self-deprecating humor. On the day he auditioned, the showrunners weren't too excited to see a dramatic actor take on the role. It also didn't help that O'Neill was a big guy with an imposing figure. But according to casting director Marc Hirschfeld, his body language completely changed the moment he crossed the Bundy home's door, looking like a defeated man. Moye recalls his reaction by saying: "As far as I am concerned, he didn't have to say another word. That was Al Bundy."
Katey Sagal completely changed Peggy's look
Early in the creative process, Andrew Susskind, who was Fox's head of comedy development, suggested a potential direction for the show. He invited the showrunners and played recordings of comedians Sam Kinison and Roseanne Barr, known for their loud stand-up routines, ranting about marriage. Then he told them: "Imagine those two married to each other." They embraced the idea but were not able to convince Kinison or Barr to sign up, as they were both trying to launch their movie careers. Nevertheless, the character of Peggy was written as if she were to be played by the emerging female comedian.
Originally, Peggy was supposed to be an extremely lazy person. Someone who wouldn't help around the house or find a job, and spend all day either sitting on the couch watching TV or going shopping. But while everyone pictured Peggy as a person who didn't take care of herself, Katey Sagal had a different interpretation. During the "Married… with Children" cast's 2003 reunion, Sagal explained that for her, Peggy still saw herself as an attractive woman, so instead of going for a disheveled appearance, she chose a wardrobe that would accentuate her figure. The look was completed with a pair of high-heel mules — a decision that would end up giving Peggy her characteristic walk.
At first, Christina Applegate didn't want to be part of the show
Any fans of the "Married… with Children" who manage to get their hands on the original pilot will discover that two of the main stars are notably absent. While Katey Sagal and Ed O'Neill play Peggy and Al, their children Kelly and Bud Bundy were played by Tina Caspary and Hunter Carson. However, the chemistry between the Bundy kids wasn't convincing enough, and the showrunners asked Christina Applegate to try for the part of Kelly.
In an interview with Rich Eisen, Applegate explained that at the time, she was already playing a recurring character in a drama, so when the offer came to try for a role in a comedy series, she wasn't exactly thrilled. Although she was on the fence, she ended up giving the showrunners a chance and watched the pilot with her mother. Both of them found it hilarious and Applegate decided to sign on for the role of Kelly, the character that ended up largely defining the first chapter of her mainstream career. In the long run, she was able to elude typecasting; today, she's known for playing a variety of comedic roles including appearances in films such as "Vacation" and "Anchorman" as well as a variety of post-"Married" television series.
David Faustino tried to start a rap career
In "Married… with Children," failure was hereditary. Al had to live the rest of his life working as a shoe salesman, while Kelly wasn't very smart, and Bud had terrible luck with women. In fact, the different ways in which he sought (and failed) to attract female attention became a recurring joke. Probably the most memorable example of this was when Bud rebranded himself as Grandmaster B, a rapper persona he had created in order to become more popular. Sadly for Bud, even his own family had trouble remembering his new name.
Grandmaster B was intended to be a parody of David Faustino's fascination with hip-hop. But for Faustino, this was more than a hobby. As rapper D'Lil, he released the single "I Told Ya" and ran a series of popular rap battles at a Los Angeles club known as Balistyx, where he got to meet musicians like Xzibit, will.i.am, and Ice Cube. As he explained in an interview with HipHopDX, he would later create his own music label and temporarily relaunch his rap career as Lil' Gweed.
Ed O'Neill and Amanda Bearse didn't get along
One of the show's main attractions was the antagonistic relationship between Al and Marcy, his next-door neighbor. Each character represented the opposite of what the other believed to be true and good. Sadly, the real-life relationship between actors Ed O'Neill and Amanda Bearse wasn't all that different, especially toward the end of the show.
During a Q&A session at the 2018 Raleigh Supercon, Bearse tried to explain the situation by describing how, during the last seasons of the show, she was directing most of the episodes. As a result, she had to offer criticism to her co-stars when the performance wasn't what she was looking for. And for his part, O'Neill has been a bit more open about the relationship.
In an interview for the Archive of American Television, O'Neill mentioned that Bearse didn't invite him to her wedding, because she thought he would find the idea of two women getting married amusing. Even though O'Neill was surprised by the news, he has admitted that Bearse was probably right at the time. He also regrets being unkind to her during a particularly big argument in the make-up room.
'Married… with Children' has been called misogynistic by cast members
"Married… with Children" has always been controversial. It depicted women as either sexual objects or irrationally angry, with not a lot of genuinely redeeming qualities or deeper dimensions. In recent years, some of the cast members have started to more openly criticize the way it presented women.
During an interview with AOL, Katey Sagal called "Married… with Children" a misogynistic show that exploited women. However, she also argued that the sitcom was intended as a parody, expressing her surprise at how many viewers took literally what was supposed to be played for laughs.
Amanda Bearse went a bit further, telling News Corp Australia that she thinks the show was "mean-spirited and misogynistic." However, she still remembers her character fondly and seems to be grateful for being given the opportunity to direct numerous episodes, something that ended up launching her career as a director for TV.
Controversies only made the sitcom more popular
In the '80s, the major networks worked together to ensure that anything aired before 9pm should be family-friendly. Fox, seeking to make a name for itself, didn't follow this rule as strictly as its competitors, which is why on January 15, 1989, a mother watching the "Married… with Children" episode "Her Cups Runneth Over" with her children in Michigan saw, among other things, an old man wearing women's lingerie, a male stripper undressing and dancing in front of Peggy, and a woman removing her bra in front of Al (no nudity was shown, though, as the shot was presented from the back).
The viewer, woman named Terry Rakolta, was shocked and started writing to the sitcom's sponsors, threatening to start a boycott against them if they didn't pull their support. She also provided interviews on TV and contacted publications like the New York Times, which wrote articles that quoted her accusing the advertisers of feeding children sex and violence. Soon after, companies like Johnson & Johnson and Coca-Cola left the show.
Fearing more negative publicity, Fox decided to be more careful with its content. The network started by stopping an episode that included references to sex tapes, but its fears turned out to be baseless — later that year, not only did "Married… with Children" still have plenty of advertisers, but its ratings had increased by 117%. The predominant theory is that people reading or watching the reports about Terry Rakolta's boycott probably felt more curious than appalled, tuned in, and enjoyed the show.
There was an unofficial Crackle reunion
On May 5, 1997, after 11 seasons and 259 episodes, Fox aired the last episode of "Married… with Children." Rising cast salaries and declining ratings drove the decision, but the sitcom was still very popular. Fans would have to wait until 2003 to see more "Married…," which came in the form of a reunion of the full cast. Katey Sagal and Ed O'Neill also appeared together in Season 3, Episode 15 of "8 Simple Rules," and the main cast would get together again for the Fox 25th anniversary in 2012. But there was another, lesser-known reunion made possible by David Faustino.
After the series ended, Katey Sagal, Ed O'Neill, and Christina Applegate went on to have successful careers in TV and film. The same can't be said about Faustino, who struggled for many years to get his own show off the ground or at least land a recurring role on an ongoing series. In 2009, he teamed up with his friend Corin Nemec and produced a short web series called "Star-ving" for the streaming service Crackle, co-starring as an exaggerated version of himself. In Episode 4, David Faustino finds himself reunited with his former co-stars for a reading of "Married… with Children: The Movie," only to discover that his role has been given to Seth Green.
It has surprising connections with 'Friends'
Several decades after it premiered, the influence "Married… with Children" has had on popular culture is undeniable. Without it, there probably wouldn't be shows like "Malcolm in the Middle" or "F Is for Family" that offer riskier but honest takes on American families. It's hard not to see an edgy show and not to think that it was influenced by the Bundys' own brand of sarcastic humor. Surprisingly, though, one of the sitcoms "Married… with Children" has a strong connection with is none other than "Friends."
"Married… with Children" and "Friends" crossed a variety of paths on multiple occasions. Matt LeBlanc, for example, who played Joey on "Friends," also played Vinnie, Kelly's date for a few episodes of Season 5, in an ultimately ill-fated attempt to launch a "Married…" spinoff. Later, the show would make open references to "Friends" in Season 10, Episode 22 titled "Enemies," which was also supposed to serve as the pilot for another spinoff series. Last but not least, Christina Applegate herself went on to play one of Rachel's sisters on "Friends," earning an Emmy nomination for her performance.
There were supposed to be multiple spinoffs
"Married… with Children" was used more than once as the launchpad for potential spinoff series. Of multiple planned shows, only one ended up getting a green light, but it was canceled rather quickly. Two others didn't make it past the pilot. The last one was abandoned after failing to secure the necessary rights.
The only "Married… with Children" spinoff that actually made it to the air was "Top of the Heap," featuring Joseph Bologna a Charlie Verducci, an old friend of Al's who is constantly trying to make his son Vinnie (played by Matt LeBlanc) marry a rich woman. The series was canceled after only seven episodes. It would be reborn in 1992 as "Vinnie & Bobby." This time Charlie wouldn't be present, with Matt LeBlanc's character having to deal with his superficial roommate Bobby (Robert Torti), who would constantly get him into trouble. This spin-off of a spin-off would only last seven episodes.
Despite a disappointing first attempt at a spin-off, "Married… with Children" would film at least two more pilots. In Season 9, the sitcom aired the episode "Radio Free Trumaine" in which Bud Bundy and other students of Trumaine University have to deal with Steve Rhoades, who has become the Dean of the institution. The episode was planned to launch a new spinoff co-starring Keri Russell, who would later become known for the hit series "Felicity," but nothing came of it. The episode titled "Enemies," which revolved around Kelly's acquaintances, was supposed to launch a show of the same name satirizing "Friends," but that series was never greenlit. Finally, in 2014 another spinoff revolving around Bud Bundy was in the works, but it collapsed in development.
Unusual 'Married' merchandise
As often happens with many successful shows, companies were quick to purchase the rights to produce "Married… with Children" merchandise — and continued to do so even years after the show aired its final episode. The toy company Mego, for example, launched a series of action figures based on the show's main cast. Years later, Funko got in on the action, releasing a set of vinyl Pop! figures of each member of the family. But probably the most interesting project of this type was Electric Tiki's, which featured Al, Peggy, and Kelly Bundy reimagined as cartoons.
"Married… with Children" merchandise includes far more than figures, though. Toy company GMP released a die-cast version of the red convertible Mustang the family tries to win in a game show during Season 2, Episode 20, "Just Married… with Children." Galoob sold a trivia-based board game, while books about Al's famous Bundyisms and a cookbook based on Peggy's recipes were also published, together with several comic books by NOW Comics. Those are all colorful enough in their own right, but the most unusual "Married… with Children" merchandise was arguably released in Germany, where fans were able to acquire remixes of the main theme as well as German-dubbed audio plays.
'Married… with Children' was remade around the world
Levitt and Moye took a lot of risks with their approach to the family sitcom, but in the end, it paid off. "Married… with Children" became a widely successful show, with people across the country tuning in every week to watch the Bundys' next adventure. What they may not have expected is that the series would also become a hit around the world, and even lead to the production of several remakes in different languages.
"Married… with Children" was so popular that it spawned remakes in 13 different countries. The premise was particularly successful in Spanish-speaking countries, as viewers can find productions from Chile, Argentina, Colombia, and Spain. There are also versions from Israel, Germany, and Hungary. The only English-language remake, the British "Married for Life," was the least successful, ending its run after only seven episodes.
On the other hand, the Russian remake of "Married… with Children," titled "Happy Together," was a massive hit. After the fall of the Soviet Union, Russian TV tried to remake popular American sitcoms, but it was only when they bought the rights for the scripts and adapted them to local sensibilities that it became a successful trend. The numbers speak for themselves, with "Happy Together" airing an impressive 365 episodes — and 106 of those were original stories, as at one point they simply ran out of American scripts to translate.
A 'Married… with Children' reboot was pitched as an animated series
Even all these years after its cancellation, "Married… with Children" still faces controversy. Apart from portraying women as sexual objects, the show was accused of fat-shaming, racism, and vilifying feminists. It's hard to imagine the show's retrograde humor finding a home at a network these days — any random episode of "Married" is ripe for severe criticism from any number of groups. On the other hand, pretty much every successful franchise in the history of the entertainment industry is ripe for a reboot right now, and "Married… with Children" is no exception; in fact, development on an animated revival of the series was announced in May of 2022.
The project is the result of a long period of development at Sony Pictures, where it's been pitched to different networks and streaming services with the help of "Family Guy" producer Alex Carter (via Deadline) and the core original cast, who've signed deals to reprise their roles. There's been no word regarding how a new version would handle the tone of the original show, but having Carter on the team would seem to suggest that an animated "Married… with Children" would happily continue pushing the limits of what's considered acceptable humor.