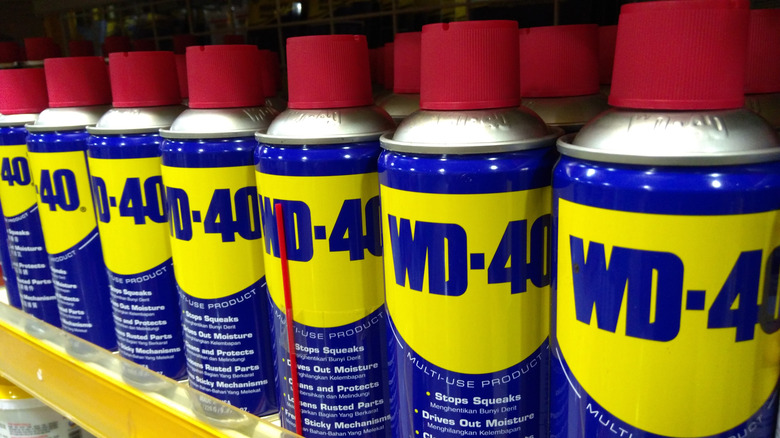 What common household item was a child of the space-age but landed a universal role right here on earth? It's WD-40, a jack-of-all-trades product that's probably just waiting to be called to action in your own home. According to the company's website, WD-40 was the San Diego-based Rocket Chemical Company's 40th attempt at a water displacement product. The name WD-40 reflects just how long it took this special blend of lubricants to reach perfection. Back then, the goal was to protect the Atlas missile from rust and corrosion for the now-defunct Convair aerospace and defense company. Today, Esquire says, WD-40 is still used in space, but it's that iconic blue-and-yellow can here on earth that inspires our creativity.
There are oodles of ways WD can bail one out of a jam. According to WD legend, one man even used it to hide his relationships with two girlfriends by masking their perfume. Add the fact that WD has a secret formula -– yes, the recipe is locked away to keep it hush, hush -– and it's the stuff legends are made of. Here is the untold truth of WD-40.
1. Shhh! WD-40 has a secret
Americans love secrets. McDonald's has a secret sauce, grandma has a secret recipe, and WD-40 Multi-Use Product has a secret formula. Grandma's recipe might leak out, but the WD company website claims no one has come close to divulging its formula with any accuracy. Still, some have tried to unlock the vault of hidden knowledge. According to a 2009 Wired report, their staff went to a lab with a WD-40 can and deciphered ingredients that included mineral oil and alkanes. For the non-science majors out there, alkane, consisting of hydrogen and carbon atoms, takes many forms, with methane being one of the simplest. Why alkanes? Perhaps for their survival grit that stands up to deep freeze and water conditions. It's helpful to have in a water displacement product … if that's what's hidden in the can.
Another website, Broken Secrets, reports it got a hold of the material safety sheet for WD-40 and found Stoddard solvent to be the main ingredient. Strictly a myth, says WD-40's company website, explaining that the mineral spirits that make up 50% of its product are more refined and purified than Stoddard solvent, which is just an umbrella phrase. The company gives us a hint at what's in it: WD-40 is a unique, special blend of lubricants, anti-corrosion agents, and ingredients for removing gunk and repelling water. Short of conducting our own lab test, we just might have to take their word for it.
2. Keeping the WD-40 mystery locked away
It hasn't been easy to protect WD-40's secret formula in this age of data breaches. But according to CNBC, not getting a patent is a major tactic companies use to hide trade secrets. Without a patent, a company can avoid disclosing key factors like its ingredients and manufacturing techniques. WD-40 is one of the top companies listed by CNBC as shunning the patent route. According to The Wall Street Journal, the company is so serious about protecting the formula from potential leaks that it has only been taken out of its high-security vault twice. One of which was for a risky parade through Times Square for the product's 50th birthday, in which the CEO Gary Ridge appeared in with the formula in hand. That's reportedly the closest the secret came to public eyes. "I would love to tell you that formula but then I would have to kill you," Ridge jokingly told the publication. Warning aside, WD-40 does share what is not in its formula, teasing sleuths with its secret (silicone, kerosene, water graphite, and chlorofluorocarbons).
Like the formula, the manufacturing process is also wrapped in secrecy. Ridge explained there are just three sites where WD-40 is mixed: San Diego, Sydney, and London. It's easier to keep the secret contained if only three labs know its ingredients. As for the scent, the fragrance (it's not cologne, but it does have a pleasantly familiar smell) is manufactured and then added afterward (via Esquire).
3. Fans say there are more than 2,000 uses for this versatile product
To find just how many uses WD-40 can accomplish, the company turned to its fans in the year 2000 with the Search for 2,000 Uses Sweepstakes. Tens of thousands responded, and yes, the uses exceeded 2,000. For the car alone, there are myriad ways to keep it running and looking like new. As per The Family Handyman, you can use WD-40 to remove paint smudges, bug-proof the car grille, and prevent door lock freeze-up. The Consumer Tips' laundry list of WD-40 auto hacks includes removing surfboard wax — it could be a problem on the California coast—and cleaning your ride's racing stripe. Who knew?
Of course, WD-40 transcends all parts of life — it cleans baseboards, your shower head, and vinyl floors, among other hacks. One that really stands out is the WD quick fix for chewing gum and dog poo on shoes. There's no stickier problem than bubblegum lodged on the bottom of a shoe unless, of course, it gets into your hair. With WD-40, a crew cut isn't the only option. The same goes for dog accidents on the sidewalk. The can is also aces for unsticking doggie poo, as per the company website.
4. How an aerosol keeps critters in their place
Among the more unusual uses for WD-40 is critter containment. Who wants spiders, wasps, yellow jackets, and other pests invading their home turf? We'd venture to say just about nobody. Well, according to The Family Handyman, a can of WD-40 can keep all these creatures at bay and even derail squirrels from a backyard bird feeder.
For a defense against wasps and yellow jackets, mist under your house eaves with WD-40 to discourage nesting. To ward off spiders and housebound insects, spray windowsills and frames. As for the bird feeder, which tends to be a magnet for ravenous squirrels, make it too slick for their furry legs to scamper up with an application of WD-40. And horror of horrors, if your home is rampant with cockroaches, Reader's Digest suggests spraying them directly with WD-40, as well as their entryways such as door frames and screens.
5. WD-40 rocketed to success from unlikely origins
Out of a small lab in San Diego, California, back in 1953, the Rocket Chemical Company and its staff of three created WD-40 to protect the exterior of the Atlas Missile. They made this product for then-aerospace contractor Convair, according to the company's history. This little band probably never imagined their product would end up in four out of five U.S. households. According to Los Angeles Times, Convair, which was once an aviation giant, has been out of business for at least three decades. In contrast, WD-40 thrived after Norm Larsen experimented with putting it in aerosol cans and sold it on store shelves in 1958. Two years later, the company had doubled in size, and sales amounted to 45 cases a day delivered from the trunks of cars to San Diego area stores.
Sometime later, WD-40 endeavored to find the employees that helped to invent the formula. These employees thought the product worked so well they snuck some home in their lunchboxes for personal use like rust-proofing tools. It was only after noticing that the employees were using the product at home that Larsen thought of commercializing the company's product. The rest was history.
6. WD-40 myths that don't hold water
There is no need to share the credit for that trophy fish you snagged after a day on the lake. Those legends that WD-40 lures fish hold no truth, according to the company's website. WD-40 says the product does not contain mysterious fish oil that is rumored to be more enticing than the average worm. While that blue-and-yellow can is able to protect fishing gear from rust and corrosion, the company disclaims any link to fish-magnet bait.
Yet there definitely is buzz on social media sites for fishers about the power of WD-40 to help catch prize fish. In Game & Fish magazine, a bass tournament champ from South Carolina says he owes his victory (at least in part) to a plastic worm with WD-40. As for the environment, Idaho Fish & Game says that using attractants such as WD-40 or other scents that are nontoxic or don't endanger human or fish health is not banned.
7. WD-40 has a big heart
The name WD-40 has been linked to some big boosts for children's charity with legendary cars and trucks sold over the years at the Barrett-Jackson Classic Car Show & Auction in Arizona, as reported on the company's website. Cars sold in connection with WD-40 have benefited Childhelp, Victory Junction Gang Camp, and SEMA Memorial Scholarship Fund. These auctions, in which WD-40 has often partnered with SEMA Cares, have raised from $75,000 to more than $200,000 per event.
Specialty Equipment Market Association (SEMA) noted how a Mustang sold at 2011 auction for $100,000 raised double that for charity due to generous donations. Several of the rides, including a Ford F-100 and F-350, also represented a collaboration with hot rod designer Chip Foose, star of Velocity's reality TV series "Overhaulin'." As per Barrett-Jackson, a decked-out Challenger that sold in 2012 was a tribute to all the auto professionals who rely on WD-40, which is said to be Foose's first tool. Phoenix-based nonprofit Childhelp serves abused and neglected children, while Victory Junction, in Randolph County, North Carolina, is a life-altering camp for kids with disabilities and chronic illness.
8. WD-40's Hollywood connection
You might be surprised to hear that WD-40 is no stranger on the silver screen. For example, it had a starring role in the 1996 movie "Spy Hard." But after seeing the mishap maven Leslie Nielsen portraying Dick Steele, Agent WD-40, you might be fleeing, not embracing the product. But, says The Seattle Times, Nielsen was known for wacky parody, so we can't take it to heart. Hollywood has thrown WD-40 into the most unlikely of places. As per Reddit, a lunchbox in the children's robot flick "WALL-E" was one of its random appearances. Since the can sits alone in the lunchbox, anyone who knows what WD-40 looks like probably noticed it.
It was also mentioned in Clint Eastwood's "Gran Torino," where Walt Kowalski said, "Take these three items, some WD-40, a vise grip, and a roll of duct tape. Any man worth his salt can fix almost any problem with this stuff alone."
9. Some of the weirdest WD-40 stories known to man
The handy aerosol can has helped people solve a myriad of strange problems. Would you ever think that WD-40 could help with python removal? That was the scrape one bus driver in Asia counted on his WD-40 to solve. According to the company's website, the snake had wrapped itself around the bus's undercarriage. This innovative approach sure beats a mechanic's bill!
Similarly, when police officers needed to oust a naked burglar trapped in an A.C. vent, they solved their problem with WD. We imagine the man was able to slide out and face justice, probably a little red in the face, though. You might not have a snake coiled in the workings of your car, or a burglar stuck in the A.C., but there are many hacks for WD-40 on the household scene. For instance, all manner of things can get stuck — rings, glassware, Legos, and even your fingers with glue. Reader's Digest says WD-40 can help solve all those issues.
10. Die-hard fans can join the club
Like any star, WD-40 has a fan club and a Facebook page to share fan photos. As per Esquire, at least 120,000 fans are already on board, and Facebook reports 300,000-plus followers and more than 280,000 likes. The fan club was established the year after WD-40 rallied tens of thousands to weigh in on its Search for 2000 Uses sweepstakes. As is the case with any fan club, there's an array of official garb to show support — everything from shirts, sweats, and hats. It even has drinkware like the mug that says, "I love the smell of WD-40 in the morning".
Joining the official fan club gives members access to giveaways, tips, benefits, and more, says WD-40 on Facebook. To join the crowd and become an official member, go to fanclub.wd40.com. A blog gives lots of timely advice like how to clear snow using WD-40 and DIY resolutions for 2022, while fans share their own (sometimes stranger-than-fiction) uses. Go, team!
11. Meet the marketing whiz that made WD-40 untouchable
He didn't invent WD-40, but the late John S. Barry had much to do with making it a household name. Live Science describes WD-40 as more popular than an iPod, while others say it tops Coca-Cola. But it took more than a great product to achieve epic success. In fact, The New York Times identified Barry as the marketing mastermind that gave WD-40 the prominence it enjoys today. According to the publication, Barry took WD-40 to the top of its niche market.
In 1969, one of his first moves was naming the company after its only product. He was also known for fiercely guarding its formula. According to Encyclopedia, Barry was the brother-in-law of one of Rocket Chemical Company's three original investors. With the marketing experience he gained at companies like 3M and Avery Label, he made WD-40 untouchable, and by 1969, sales hit the $2 million mark. This was up from more than $1 million in 1968. Giveaways, which included 10,000 goodwill packages sent monthly to Vietnam War soldiers, were a hallmark of his successful campaign.
12. Who really invented WD-40?
That answer depends on who you ask. The company website names Rocket Chemical Company founder Norm Larsen as the guy who experimented with putting WD-40 into aerosol cans, but California historian Iris Engstrand says Norman Lawson, a Chicago engineer, developed the hidden formula. He had a degree in mechanical engineering from the California Institute of Technology and founded his own flying service in 1928, as per Engstrand.
According to The Journal of San Diego History, which this history professor co-edited, Lawson's family says he sold the formula for a $500 bonus. Although he was initially recognized for striking pay dirt on the 40th try, Engstrand says his name became confused over time with that of founder Norman Larsen. Yet other sources, like ThoughtCo., credit the entire team that worked at the fledgling chemical company in San Diego. Founder Larsen himself was an industrial chemist. It's hard to say who gets the credit.
13. WD-40 takes giant steps in the household cleaning field
What's next after developing a blue-and-yellow can that rescues DIYers all over the world? According to its website, WD-40 has garnered enough cleaning companies to be a leader in this arena. From earlier acquisitions like 3-In-One Oil, Solvol Liquid Hand Cleaner, and Lava soap, to more recent add-ons like Global Household Brands, WD-40 has expanded its reach beyond that iconic can.
As per The Wall Street Journal, WD-40 focuses on products that resolve problems, whether it be at home or at work. Global Household Brands in 2001 brought under the fold 2000 Flushes, Carpet Fresh, and X-14 mildew stain remover, while acquiring Heartland Corp in 2002 to add carpet cleaners like Spot Shot. Some of these brands, like Lava soap, born in St. Louis, Missouri, have a long history, just like WD-40. Lava's website says this pumice-power soap has been cleaning hands since 1893.