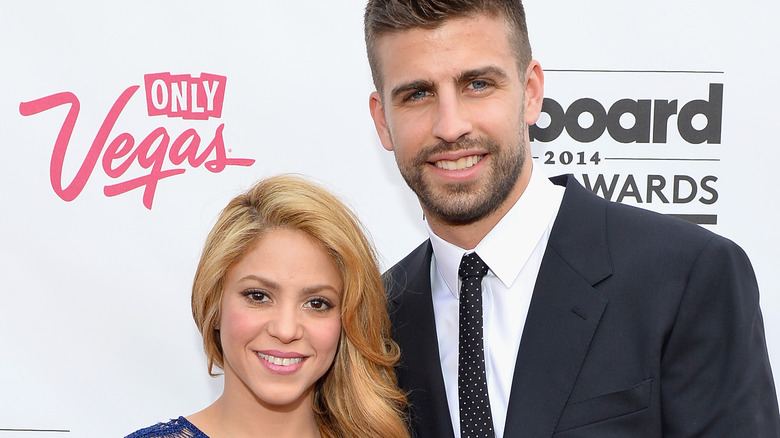 When news broke that Shakira and Gerard Piqué were ending their relationship in June 2022, fans of the singer and Spanish soccer star were stunned. After all, the two had been together for over a decade, and were parents to two young boys — and they seemed like they had everything going in their favor.
The pair didn't release a specific reason for their separation, apart from a terse, official statement delivered via People that said in part, "We ask for privacy at this moment for the well-being of our children, who are our maximum priority."
It was a quiet and confusing end to a relationship that began back in 2010, when Piqué connected with Shakira while they were both in the music video for "Waka Waka (This Time for Africa)" (via CBS News). One thing led to another, and the two were officially a couple by the following year. They quickly added to their family, and occasionally offered glimpses into their life together by way of Instagram and other social media. Let's take a deeper look at the relationship between Shakira and Gerard Piqué.
Shakira and Gerard met in 2010 on the set of a music video
Shakira and her now ex-boyfriend Gerard Piqué first met in 2010 on the set of a music video. They were both involved in the video for "Waka Waka (This Time for Africa)," the official song for the 2010 World Cup (which was hosted in South Africa that year).
During a "60 Minutes" interview 10 years later, Shakira revealed that she actually didn't know who Piqué was at the time because she didn't follow soccer, but she added, "When I saw the video, I was like, 'Hmm, that one's kind of cute. And then someone decided to introduce us."
Despite the fact that Shakira was clueless about his existence, Piqué knew exactly who the future mother of his children was. In 2016, he told TV3 in Spain that he had to come up with a way to approach her, explaining, "It all started when we were together in South Africa and I wrote to her. She was already there because she sang in the opening ceremony, and I asked her what the weather was like."
The couple made a major move onstage in 2011
Shakira and Gerard Piqué were still going strong a year later, though the two had yet to confirm their relationship in a major way. All of that changed in May 2011, when Piqué joined Shakira onstage while the singer was in Barcelona, Spain, as part of her The Sun Comes Out World Tour. Much to the delight of fans and several teammates of her soccer star boyfriend, Shakira offered Piqué and his friends a dance lesson. Most notably, the group attempted to learn to shake their hips a la Shakira (via Daily Mail).
The pair upped the ante when they decided to hug and kiss in front of everyone, confirming what some already suspected: They were definitely in a relationship. The crowd was beyond thrilled to see their favorite singer in love with someone who seemed to be treating her so well.
Later that year, in March, Shakira posted a photo of the couple on Twitter with the caption: "I present to you my sunshine."
Shakira got pregnant with her first child in 2012
Shakira was expecting the couple's first child together in 2012, which she announced in November of that year when she posted a photo on Instagram of herself at nine months pregnant, smiling as she leaned against Gerard Piqué and writing, "Podría estar 9 meses más así! I could have another 9 months like this! Shak."
The pair's son, Milan Piqué Mebarak, was born on January 22, 2013. The couple wrote a message on Shakira's website confirming the birth and also explaining the inspiration for their baby's name: "The name Milan (pronounced MEE-lahn), means dear, loving, and gracious in Slavic; in Ancient Roman, eager and laborious; and in Sanskrit, unification. Just like his father, baby Milan became a member of FC Barcelona at birth" (via People). Earlier in the day, as she was gearing up for the baby's delivery, Shakira had tweeted a message requesting support: "I'd like to ask you all to accompany me in your prayers on this very important day of my life."
Milan weighed in at 6 pounds and 6 ounces and was born in Barcelona, Spain.
The couple had a second child in 2015
Milan Piqué Mebarak was joined by his younger sibling in 2015. After confirming her second pregnancy in a post shared on Facebook in August of 2014, Shakira again returned to her website to announce her second son's birth. She posted a short statement indicating that both she and baby Sasha Piqué Mebarak were healthy and safe: "Yes, we are expecting our second baby!! Thank you all for your well wishes!"
Shakira also shared a photo of her newborn son's foot on Instagram, joking that her second son definitely inherited something from his father. She wrote, "Tengo los pies de papi, parece que hubiese estado jugando futbol toda mi vida / I have Daddy's feet, it looks like I've been playing football my whole life." Like older brother Milan, Sasha was also born in Barcelona, Spain.
Shakira and Piqué also issued a statement explaining the reasoning behind the name choice for their second-born. They wrote that the name Sasha can mean both "warrior" and "defender of mankind" (via The Hollywood Reporter).
Shakira and Gerard Piqué celebrated her Grammy win in 2018
Shakira and Gerard Piqué had a lot to celebrate in 2018, when the singer took home the Grammy for best Latin pop album for "El Dorado." The record was particularly meaningful to the couple, as Shakira chose to document much of their love story in the songs, per E! News. "Some of [the songs] are like pages from my journal," she said. "They're so descriptive and narrative of my own stories … love stories."
In January 2018, Shakira shared a video on Instagram of herself and Piqué jumping on a trampoline and captioned it, "Celebrating the Grammy! / Celebrando el Grammy! Shak." The two were also singing Shakira's song "Me Enamoré," which tells the specific story of how they met and began to fall for each other. As People noted at the time, the two had even more to celebrate that month, as Piqué had just renewed his contract with FC Barcelona and therefore would continue to play for his team through the year 2022.
Shakira supported Gerard when he retired in 2018
In August 2018, Gerard Piqué announced his plans to retire from international football (per BBC). He had first mentioned his upcoming retirement back in 2016, when he had implied that he felt personally attacked by some on the team. The Guardian reported that he explained, "I always give everything I have on the field, but there are people who think it's better if I'm not here." The publication went on to note that some Spanish fans of the Barcelona player didn't seem to appreciate his pro-Catalonia position, often mocking him during games.
Shakira appeared to completely support his decision. She took to Instagram to make it clear that she was on her boyfriend's side, sharing a photo of him from a match and captioning it, "Love, finish a stage that we will always keep in our hearts. One of the happiest moments of my life has also been seeing you win in 2010 with the national team and celebrating champions with Spain!"
The announcement did not impact Piqué's role at FC Barcelona, as he made it clear he would continue to play in his country.
In 2019, Shakira admitted that Gerard Piqué saw the worst of her
As long-term partners, Shakira and Gerard Piqué supported one another through highs as well as lows, and have seen one another at their best and worst. In November 2019, she told The Guardian that Piqué had a front-row seat to the depression that stemmed from a 2017 hemorrhage of one of her vocal cords. The singer explained that the injury was traumatic, and added, "I never thought that my voice would leave me, because it's so inherent to my nature. It was my identity. So when I couldn't sing, that was unbearable. There were times I couldn't even get out of bed — I was so depressed."
Shakira was so devastated by the temporary loss of her singing voice that she also admitted Piqué had to deal with pretty difficult behavior from her. As she put it, she struggled to maintain any positivity. "I was so pessimistic. I was a bitter person to be around. Gerard saw the worst of me" (via The Guardian). Ultimately, the singer regained her voice and returned to the career she loves so much.
In 2020, Shakira explained why she and Gerard Piqué weren't married yet
Despite the fact that Shakira and Gerard Piqué had been together since 2010, in 2020 she admitted to "60 Minutes" that the idea of marrying her boyfriend of a decade was scary to her. In fact, Shakira went on to explain that she didn't want Piqué to see her as his wife, and that she preferred he think of her as his girlfriend instead. As she said, "His lover, his girlfriend. It's like a little forbidden fruit, you know? I wanna keep him on his toes. I want him to think that anything's possible depending on behavior."
Despite the fact that Shakira and Piqué weren't married, the following year it was clear that she certainly thought of him in lifelong terms. While explaining to Cosmopolitan that she worries about her two children all the time, she explained that her worry had carried over to her partner. As she put it, "I torture my poor husband. Well, he's not really my … I don't know what to call him!"
Shakira said she and Gerard Piqué only fought about one thing
While being interviewed for the podcast "Planet Weirdo with Holly H." in 2021, Shakira said that she and Gerard Piqué really only had one major disagreement on an ongoing basis, and that it had to do with being on time (via People). Shakira explained that she and Piqué didn't see eye-to-eye on what constitutes being on time, and admitted that Piqué often had to wait for her. "My poor husband, slash boyfriend, slash baby daddy, whatever you want to call him, he has to wait up for me so long. He's tired of waiting up," she said. "Cause Colombian time is not the same as Catalonian time, Spanish time."
Shakira also chalked her boyfriend's punctuality up to his career as a professional athlete. She noted that because her boyfriend is so used to performing on a controlled schedule, he expected everyone else to do the same, and this sometimes caused problems between them. Shakira said, "[But] the times that we actually fight is because I'm late and he's waiting up."
Rumors of infidelity preceded Gerard Piqué and Shakira's split
In June 2022, fans of Shakira and Gerard Piqué were surprised by the announcement that the couple was separating after 12 years of partnership. They issued a short and pointed statement, saying that "we regret to confirm that we are separating. We ask for privacy at this moment for the well-being of our children, who are our maximum priority. Thank you in advance for your understanding and respect" (via People).
While there was no official reason given for the pair's split, some publications (such as El Periodico) stated there were rumors that Piqué was unfaithful to the singer. People noted that the lyrics to Shakira's song "Te Felecito" appeared to paint a picture of a relationship that had come to an end, and wrote that Shakira sings in part, "For completing you I broke into pieces/They warned me, but I did not pay attention/I realized that yours is false/It was the drop that overflowed the glass/Do not tell me you're sorry, that seems sincere, but I know you well and I know you lie."
Shakira's sister has spoken out about her split from Gerard Piqué
Both Shakira and Gerard Piqué have been pretty quiet about the cause of their breakup, but People en Español did get a statement from Lucy Mebarak, Shakira's sister. Mebarak was asked how her sister is doing, to which she replied, "She's on the mend." She was then asked if Shakira's family expected the relationship between the singer and Piqué to end this way and Mebarak simply replied, "Probably," as reported by Remezcla. Lucy also stated at the time that Shakira was not in Spain, but declined to say exactly where she was.
Lucy also explained that she hadn't seen her sister since the separation was announced, since she does not live in the same country and had been unable the connect. As she put it, "I haven't seen it, I don't live in Spain. I still don't know anything" (via El Mundo).
Lucy isn't the only Mebarak sibling who has been contacted about Shakira and Piqué's separation. One of Shakira's brothers, Tocino Mebarak, was reportedly asked by the Spanish television channel Telecinco about the breakup, to which he replied simply, "How is my sister? She is going through a separation" (via Tuttosport).
Gerard Piqué has reportedly been seen with another woman
Gerard Piqué was reportedly spotted out with another woman only a handful of days after he and Shakira announced the end of their long-term relationship. In late June 2022, the Daily Mail reported that the soccer star was spending part of his time partying with a mystery woman in Stockholm, Sweden. The news broke after another woman shared a photo of Piqué and his unknown companion.
The woman who shared the photo has been identified as restaurant owner Katrin Zytomierska, who blasted Piqué on social media after he apparently refused to take a photo with her son. As she wrote on social media, "Listen to me you loser @3gerardpique. Probably most girls at this party want to xxxx you. I see you and immediately think of my son. I was clear with you. I asked you to say hello to my son. You said 'no.'" Zytomierska went on to ask the soccer pro what made him feel as if he could be rude to a child, writing, "What makes me sad is that fame has got into your head and that is pathetic."
Zytomierska went on to add that she didn't know who the woman in the photograph was. She ultimately made her social media profiles private after the post garnered international attention.
Shakira and Gerard Piqué are fighting a custody battle
At the center of Shakira and Gerard Piqué's separation are their two children, sons Sasha and Milan. It seems that the two are currently locked in a custody battle. In July 2022, Spanish national newspaper Marca reported that the singer had offered her ex-boyfriend a multimillion amount in exchange for full custody of the couple's two sons, but Piqué and his legal team reportedly rejected the offer.
Marca reported that the YouTube show "Chisme No Like" has noted that Shakira plans to move to Miami, Florida with the boys if her ex-boyfriend will allow them to go. According to the outlet, the plan detailed that Piqué would not be financially responsible for the boys and that Shakira would pay for him to fly first-class to visit his sons in Miami five times a year.
Shakira's team was also prepared to allow the boys to spend summers with their father, and she offered to pay 20% of the $2.5 million debt that he has reportedly amassed in Spain. Marca also reported that Piqué's legal team took the steps necessary to prevent Shakira from moving to Miami outright.