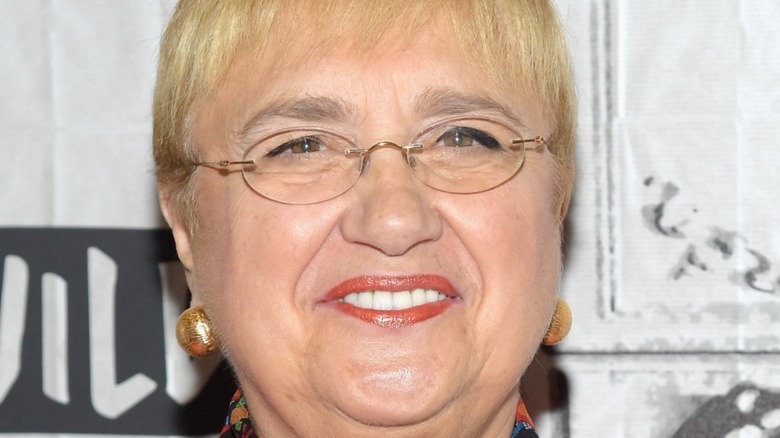 Cooking runs in the Bastianich family, with celebrity chef Lidia Bastianich's two children continuing her legacy in the food industry.
Lidia's older child, Joe Bastianich, is known for his presence on "MasterChef." Conversely, Lidia's daughter, Tanya, is a cookbook author and entrepreneur. Raised in Queens, New York, Bastianich Manuali had early exposure to the food and dining industry, with her mother launching her first restaurant in New York City in 1971 – the same year Tanya was born.
Tanya is a food writer, having co-authored a handful of cookbooks, including "​​Felidia: Recipes from My Flagship Restaurant: A Cookbook," and "Lidia's a Pot, a Pan, and a Bowl: Simple Recipes for Perfect Meals: A Cookbook." She also produces and stars in some of Tavola Productions, which is behind many of her mother's shows, including "Lidia's Kitchen" and "Lidia's Italy," according to IMDb. But, what exactly does the celebrity chef daughter's day-to-day look like?
She's one of her mother's business partners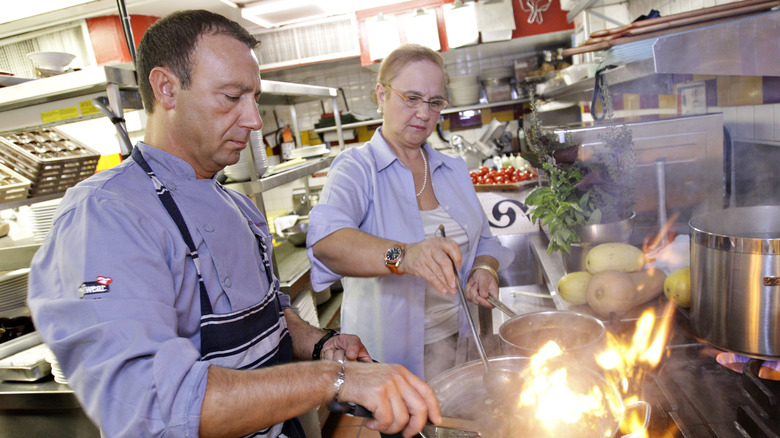 Tanya Bastianich Manuali co-owns two of her mother's restaurants — Lidia's Pittsburgh and Lidia's Kansas City – which are or were all based in New York City, according to Family Business Magazine. Felidia was opened by her mother in 1981, her first restaurant in Manhattan after immigrating to New York from Trieste, Italy in 1956 (via another Family Business Magazine article). Bastianich Manuali also assists with the restaurant's operations, including pitching different projects.
Bastianich Manuali is also involved in lots of her mother's business ventures, with her and her son, Lorenzo, visiting the grand opening of Eataly, Silicon Valley in early June (via Instagram). The restaurant company, of which Bastianich is a partner, was founded by Oscar Farinetti in 2007, with the mission to share education about Italian eating and cooking with the public (via Eataly). Bastianich started her Eataly partnership in 2010 when she and her son Joe assisted in opening the first Eataly location in New York City, and now is an Eataly USA partner (via The New Yorker). Supporting Eataly locations is one example of how Bastianich Manuali gives back to the Bastianich group.
She directly manages a handful projects
As much as Tanya Bastianich Manuali is involved in her mother's brand, she also directly has leadership in a variety of projects. The restaurant owner has been an entrepreneur from an early age, and in 1996 started a travel agency called Esperienze Italiane, which offers tours throughout Italy focused on food and art (via iItaly.org). IN addition Tanya is product manager for Lidia's Flavors of Italy, co-authored some of her mothers books including "Lidia's Italy," and "Lidia Cooks from the Heart of Italy: A Feast of 175 Regional Recipes."
Additionally, she's an advocate for healthy eating and spreads awareness about the topic through her work. With her brother, Joe Bastianich, she published a cookbook called, "Healthy Pasta: The Sexy, Skinny, And Smart Way To Eat Your Favorite Food." The sibling duo told NPR that they launched their cookbook in order to showcase healthy ways to cook pasta, which is one of their mother's specialties.
She has a formal education in Italian culture
Though her mother is a seasoned chef in Italian cuisine, Tanya Bastianich Manuali received a formal education in Renaissance Italian culture and history. According to Alchetron, Bastianich Manuali majored in art history during her undergraduate years at Georgetown University and studied abroad in Florence, Italy her junior year (via Lidia's Italy).
Following her years at Georgetown, she lived in Florence again through her master's program at Syracuse University. She also received her Ph.D. in Renaissance art history from Oxford University, according to Book Reporter. Studying abroad has had a lasting impact on Bastianich Manuali, who lived in Italy for six months after completing her undergraduate degree, according to her mother's book, "My American Dream: A Life of Love, Family, and Food." Subsequently, she also taught art history to students in different parts of Italy for a total of six years (via Lidia's Kansas City). And, on April 28, Bastianich Manuali claims she became an Italian citizen, which she proudly reported on her Facebook account.
Family is everything to her
Lidia Bastianich is a grandmother to a total of five grandchildren. Three of whom are from her son, Joe, and two are Tanya Bastianich Manuali's children. According to, "My American Dream: A Life of Love, Family, and Food," Bastianich Manuali met her husband, Corrado, in 1989, and introduced him to her family during the summer. Her mother detailed in her book that her daughter found him to be a "nuisance" when she invited him to come to outings. But, in the summer of 1994, the young couple became engaged.
Bastianich Manuali has a son, Lorenzo Manuali, who has also made a name for himself in the food space, being a food contributor at Galavante, a travel and lifestyle publication. She also has one daughter, Julia, who went on to Georgetown University after she graduated high school, according to QNS. On her social media platforms, Bastianich Manuali often shares family vacations to Thanksgiving dinners (via Facebook).
She loves trying all NYC has to offer
Though she co-owns many restaurants, Tanya Bastianich Manuali also enjoys eating out. Like her mother, the New York City native is a major foodie. And, there's no better place to be one than in Queens, New York. Douglaston, which is Bastianch Manuali's home base, is part of Queens, which is globally known for its diversity (via Scott's Cheap Flights).
According to Queens Chronicle, Lidia Bastianich loved Queens for being a "melting pot," and enjoys exploring the borough's neighborhoods to find different types of cuisines. Furthermore, her mother's first restaurant was in Forest Hills, with a second to follow in Fresh Meadows (via Family Business Magazine).
To this day, Bastianich Manuali still remains an avid food and restaurant discoverer, with her posting her best finds and old favorites to her Instagram account. Bastianch Manuali's restaurants that she keeps in her rotation include classic Italian spots such as Lupa Osteria Romana, NYC.