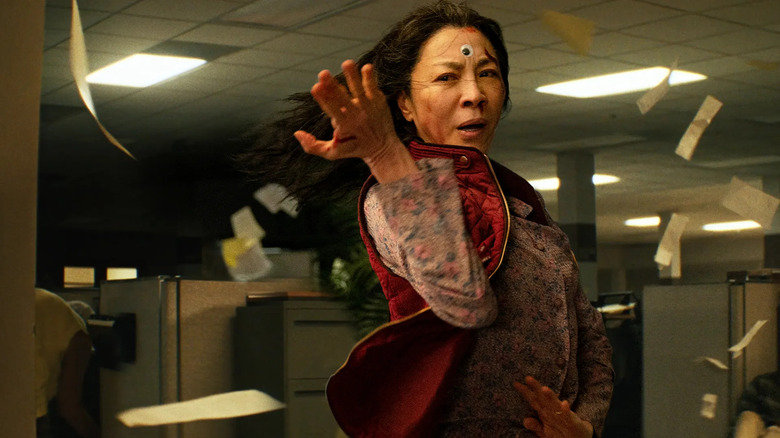 Movies are good.
Sorry. Ahem. We can do better than that. Movies are not only good, movies are enriching, nourishing, rejuvenating, beautiful, weird, funny, exhilarating, terrifying, discombobulating, and any other adjective you care to throw at them. The bad ones melt away. The good ones linger on. Therefore: movies are good.
And 2022 proves that yes, movies are indeed still good. And to make that crystal clear, we're keeping a running tally, presented alphabetically, of the films we loved this year. The Indies. The blockbusters. The stuff you've heard of. The stuff that may not be on your radar. If it's on this list, it has the /Film staff's seal of approval. And we'll be updating it every few weeks. Happy to have you here. And we'll see you later.
After Yang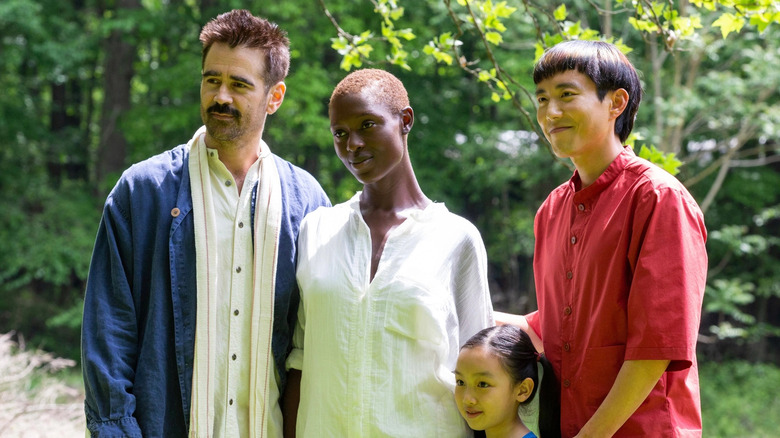 "After Yang," Kogonada's follow-up to his exquisite 2017 film "Columbus" is another minimalist masterpiece. Set in a near future where android helpers are a common staple of families, "After Yang" is a meditative drama that uses its sci-fi premise to ask a key question: what do we really know about each other's inner lives?
Jake (Colin Farrell) and Kyra (Jodie Turner-Smith) purchased a recycled android named Yang (Justin H. Min) as a companion for their adoptive Chinese daughter Mika (Malea Emma Tjandrawidjaja), in an attempt to bring her closer to her ancestral culture. They've owned Yang for several years now, and Mika has grown attached at the hip to the android, who has become a friend, babysitter, and confidante to the young girl while her busy parents attend to their careers. But one day, Yang malfunctions, and Jake sets out to repair it for the sake of his devastated daughter. In the process, he uncovers something incredible about Yang's past.
Despite its minimalist approach and slow, methodical pace, "After Yang" manages to convey so much: the fallacy of the "hollow Asian" trope, the feeling of being an outsider looking in, of being but not belonging. It unravels the internality of a character thought to be long gone in fragments — a memory here, a melody there. But by showing a life in pieces rendered meaningful through the sheer weight of existence, "After Yang" manages to capture the heartache of transracial transhumanism, and make the case that every life is beautiful and worth admiring. After all, isn't that what makes us human? (Hoai-Tran Bui)
Director: Kogonada
Cast: Colin Farrell, Jodie Turner-Smith, Justin H. Min, Haley Lu Richardson
Runtime: 96 minutes
Rating: PG
Rotten Tomatoes Score: 88%
Ambulance
Michael Bay goes Full Bayhem with "Ambulance," a big, loud, incredibly entertaining movie about a team of bank robbers who highjack an ambulance as a getaway vehicle, and then proceed to wreak havoc wherever they go. The crooks are played by Jake Gyllenhaal and Yahya Abdul-Mateen II, who are adoptive brothers with very different temperaments. Abdul-Mateen's character seems like a genuinely good guy, and he needs money to help pay for an operation for his sick wife. Gyllenhaal's character, meanwhile, is a wild and crazy freakshow of a man, always sweating and shouting as if he's ingested all the cocaine in the world.
The ambulance rockets through Los Angeles with a paramedic (Eiza González) and an injured cop on board while law enforcement tries to close in on. Lots and lots of destruction follows, and Bay unleashes dizzying drone footage that swoops everywhere. But the real draw here is Gyllenhaal, who continues to confirm he's really a character actor in a leading man's body. His unhinged, wacky work has to be seen to be believed, and includes moments where he demands everyone stop for a moment so he can listen to his favorite song, "Sailing" by Christopher Cross. "Ambulance" is not going to convert anyone who thinks of Bay as a cinematic antichrist (and Bay has no problem leaning into things by having multiple scenes where characters discuss his previous movies). But if you're up for the goofiness he's selling, you're in for a wild ride. (Chris Evangelista)
Director: Michael Bay
Cast: Jake Gyllenhaal, Yahya Abdul-Mateen II, Eiza Gonzalez
Runtime: 136 minutes
Rating: R
Rotten Tomatoes Score: 69%
The Batman
Every second of director Matt Reeves' new take on the Caped Crusader feels like a filmmaker getting away with something. "The Batman" isn't just terrific for a superhero movie, it's a terrific movie overall — odd, sexy, sinister, exciting, and grimly funny, this three-hour noir about what it means to struggle for moral oxygen in corrupt and suffocating world is a big, bold swing, and a reminder that Batman and Bruce Wayne, when in the right hands, are as thematically malleable and fascinating as any character in pop culture.
Not since "Blade Runner 2049" has a massive, expensive Hollywood blockbuster felt like it escaped the oversight of the people who are generally employed to keep a movie like this from getting made. Robert Pattinson's Dark Knight isn't an idealized hero, but a moody goth nutcase who looks like he hasn't seen the sun in a couple years and has the social skills to match. It's an outstanding performance, one that anchors the movie when he's both in and out of the cowl. And Reeves surrounds him with a murderer's row of support. Zoe Kravitz, Paul Dano, Jeffrey Wright, and Colin Farrell supply performances that feels as weary and lived-in as the crumbling Gotham around them. It's the kind of bench you dream of building a franchise around. And as complete and definitive as "The Batman" feels as a standalone movie, it's the rare franchise-starter that actually feels like it has the dramatic heft to shoulder an entire series of movies that movie fans will actually want to see. (Jacob Hall)
Director: Matt Reeves
Cast: Robert Pattinson, Zoe Kravitz, Paul Dano, Jeffrey Wright
Runtime: 176 minutes
Rating: PG-13
Rotten Tomatoes Score: 85%
Brian and Charles
How could you possibly resist the adorable story of a quirky, reclusive inventor and his makeshift robot with the head of a mannequin and the body of a washing machine? You simply can't. "Brian and Charles" is a delightful story of friendship mixed with a dryly hilarious take on "Frankenstein" tropes with a little "E.T. The Extra-Terrestrial" and "The Iron Giant" thrown in for good measure.
In the movie from director Jim Archer, adapted from his own short film of the same name, Brian Gittins (David Earl) spends his time creating oddball inventions such as shoes with trawler nets on the back, a belt for holding eggs, and a flying cuckoo clock that he attempts to launch on a bicycle. Shy and socially awkward, he steers clear of most people in his small town, especially some bullying rough-around-the-edges locals. But he lights up after creating Charles, a robot somehow formed from some roadside junk and a washing machine. The two become best friends, inspiring Brian to come out of his shell a bit. However, their friendship is tested when Charles desperately wants to learn more about the world around him, and Brian keeps him from venturing too far away from their countryside home.
What follows is a wonderful, hilarious and charming adventure where Brian and Charles learn a lot about what it really means to be friends and even more about themselves. It's simple but lovely and will undoubtedly be a crowdpleaser when it hits theaters on June 17, 2022. Check out our review from the 2022 Sundance Film Festival right here. (Ethan Anderton)
Director: Him Archer
Cast: David Earl, Chris Hayward
Runtime: 90 minutes
Rating: N/A
Rotten Tomatoes Score: 86%
Cha Cha Real Smooth
Writer/director/producer/star Cooper Raiff made a splash on the indie scene with his 2020 debut feature "Sh*thouse," and his latest movie, the delightful and ultra-charming "Cha Cha Real Smooth," proves he's not a one-hit wonder. Raiff plays an aimless college grad who stumbles into a career as a DJ/party starter at bar/bat mitzvahs, and the movie centers on his budding relationship with a beguiling woman (Dakota Johnson) who has a teenage daughter (Vanessa Burghardt) on the autism spectrum. Raiff's character strikes up a genuine friendship with both of them individually, and much of the drama hinges on whether his friendship with Johnson's character will evolve into something more romantic. Sparks undeniably fly between the two of them (and the actors have sizzling chemistry on screen), but are these characters at the right place in their lives for a connection like this?
Once all of the pieces are on the board, the patterns of the narrative may become familiar to those with a passing knowledge of independent movies in the 21st century, but this movie is elevated by Raiff's inherent charisma, Johnson's magnetic performance, and the movie's willingness to use melancholy to great effect. The romantic comedy has experienced its fair share of ups, downs, near-deaths, and resurgences over the past thirty years, and "Cha Cha Real Smooth" is a fantastic example of how there's still plenty of life left in the genre when mesmerizing performers are given great material to work with. The film will arrive in select theaters and on Apple TV+ on June 17, 2022. (Ben Pearson)
Director: Cooper Raiff
Cast: Dakota Johnson, Cooper Raiff, Vanessa Burghardy, Leslie Mann
Runtime: 107 minutes
Rating: R
Rotten Tomatoes Score: 91%
Chip 'n Dale: Rescue Rangers
After all the insufferable live-action CGI hybrid movies we've gotten based on classic cartoons, from "Alvin and the Chipmunks" to "Tom & Jerry," it's totally understandable if you initially rolled your eyes at the new Disney+ movie based on "Chip 'n Dale: Rescue Rangers." But we're here to tell you that this is one of the best movies of the year and it's a worthy successor to the innovative live-action animation hybrid "Who Framed Roger Rabbit."
With a self-aware sense of humor and a cavalcade of cartoon cameos and references, "Chip 'n Dale: Rescue Rangers" is a witty Hollywood satire that lovingly sends up the animation industry, from two-dimensional Saturday morning cartoons to not-quite-lifelike computer generated imagery and even more in-between. Fueled by a mystery that threatens the cartoon characters of Hollywood, "Chip 'n Dale" finds John Mulaney and Andy Samberg as the estranged crime-fighting TV duo who are forced to become real-life heroes instead of just chipmunks acting for the small screen. Family friendly and endlessly rewatchable thanks to the dozens of Easter eggs sprinkled throughout, this is one of the biggest surprises of 2022, and it's easily one of the best original movies to come out of Disney+ since the streaming service launched. We're keeping our fingers crossed for a sequel. (Ethan Anderton)
Director: Akiva Schaffer
Cast: John Mulaney, Andy Samberg, Will Arnett, Eric Bana
Runtime: 97 minutes
Rating: PG
Rotten Tomatoes Score: 81%
Crimes of the Future
Surgery is the new sex in David Cronenberg's dark, twisted, funny return to filmmaking. Set in a future where everything is rotting and human beings have begun to evolve in strange new ways, "Crimes of the Future" follows a team of performance artists (Viggo Mortensen and Léa Seydoux) who get mixed up in a strange, ever-changing plot involving a child that eats plastic, a public autopsy, a series of murders, and Kristen Stewart acting like a weird little goblin.
In this world, pain doesn't exist anymore, which allows people to do all sorts of horrifying things to their flesh. This all sounds gruesome, and it frequently is. And yet, "Crimes of the Future" is also both darkly funny and oddly hopeful. Cronenberg milks the performance art world for plenty of laughs, and Stewart's weird, jittery performance is downright hilarious. And then there's the film's (admittedly muddled) message — that in the face of unstoppable horrors, humanity must either succumb or begin to evolve into something different. Change can be scary, but it's also necessary sometimes. (Chris Evangelista)
Director: David Cronenberg
Cast: Viggo Mortensen, Léa Seydoux, Kristen Stewart
Runtime: 107 minutes
Rating: R
Rotten Tomatoes Score: 77%
Doctor Strange in the Multiverse of Madness
For its first half, "Doctor Strange in the Multiverse of Madness" serves up the Marvel formula: amusing quips, fun actors saying said quips, and energetic enough action to keep you occupied and entertained. The usual. And then the film takes a hard turn for the unusual, and what could've been just another Marvel movie transforms into a Sam Raimi movie.
20 years after he invented the modern blockbuster with the original "Spider-Man" trilogy, Raimi returns to the superhero stomping grounds by … stomping all over superhero movies. The gleeful, maniacal filmmaker reaches deep into his toolbox and pulls out the skills that he utilized in the "Evil Dead" trilogy, transforming the "Doctor Strange" sequel into a horror show where no one is safe and no camera angle can co un-canted. Once the gloves come off, the film comes to startling life: a chase scene that feels like "Evil Dead 4" actually happened, and it just stars the Scarlet Witch; a bizarre and beautiful duel between powerful magicians where music becomes a literal weapon; a climax that feels like Clark Ashton Smith's greatest heavy metal nightmare. It's a lot!
"Doctor Strange in the Multiverse of Madness" is messy. You can see the seams of the reshoots, of the script that was never quite finished when cameras rolled. But you can also see the energy of a one-of-a-kind filmmaker marching into the Marvel Cinematic Universe and steamrolling your expectations. You thought you knew what you were getting, and boy, you were wrong. (Jacob Hall)
Director: Sam Raimi
Cast: Benedict Cumberbatch, Elizabeth Olsen, Benedict Wong, Xochitl Gomez
Runtime: 126 minutes
Rating: PG-13
Rotten Tomatoes Score: 74%
Elvis
Everything you've heard about Baz Luhrmann's "Elvis" is true. It's chaotic, and overstuffed, and features an abundance of Tom Hanks jumpscares. It's also a wild, funny, sexy blast of entertainment; a wobbly carnival tilt-a-whirl ride disguised as a movie. While Luhrmann does traffic in the traditional musician biopic tropes, he also flips them on their head, rushing through parts of the King's life and career, all seen through the eyes of his ghoulish manager Colonel Tom Parker, played by a delightfully hammy Tom Hanks.
Anyone trying to understand Elvis as a person will probably come away disappointed (for that, I recommend watching the excellent documentary "Elvis Presley: The Searcher"). Instead, Luhrmann seems more interested in Elvis: The Symbol; Elvis: The Entertainer; Elvis: The Sad, Lonely Guy Who Was Ruined By People Around Him. At the center of it all is Austin Butler's incredible, almost scary performance. This is the very definition of a "star-making performance," with Butler not doing a mere Elvis impression but seemingly channeling the man. There's not a single wrong note in Butler's performance: he talks like Elvis, sings like Elvis, and moves like Elvis. Even if you want to discount everything else Lurhmann and company are doing here (and you shouldn't), you can't deny the raw power of Butler's work here. (Chris Evangelista)
Director: Baz Luhrmann
Cast: Austin Butler, Tom Hanks, Olivia DeJonge, Helen Thomson, Richard Roxburgh, Kelvin Harrison Jr., David Wenham, Kodi Smit-McPhee, Luke Bracey
Runtime: 159 minutes
Rating: PG-13
Rotten Tomatoes Score: 78%
Everything Everywhere All at Once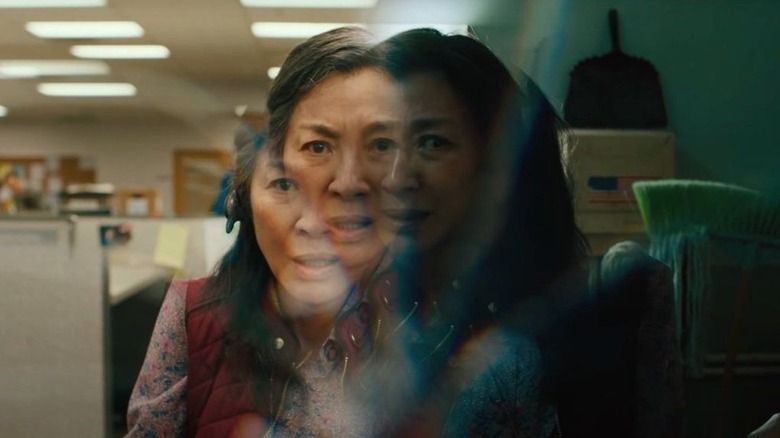 "Everything Everywhere All At Once" is a mind-melting masterpiece. Not just because of everything it throws at the audience in Daniels' jam-packed, maximalist depiction of living in today's nihilistic, anxiety-filled world. But because it's a surprisingly compassionate knife that cuts through the noise.
It doesn't feel like there are enough words to describe what makes "Everything Everywhere All At Once" so incredible, but here is a string of several: It's an absurd, gonzo, sweet, silly, sad sci-fi flick. It's a multiversal adventure that makes the most of Michelle Yeoh's tremendous talents — whiplashing between comedy, to drama, to romance, to the martial arts excellence that we all know and love her for — casting the international superstar as a laundromat owner stressed over her taxes and impending divorce, who must also contend with a destructive omnipotent force that threatens to shatter all of reality. And because she's lived such an abysmally disappointing existence, she's the only one who can save us all.
In a way, "Everything Everywhere All At Once" feels like it's speaking a secret language. A language spoken through absurd hot dog jokes, and pop culture homages to Stephen Chow and Wong kar-wai and Satoshi Kon. We don't understand all of it, but we feel it. We feel the overwhelming state of existing, and we want it all to stop. But stop we can't, and "Everything Everywhere All At Once" reminds us of why we all go on. And if it has to do it with a butt plug joke, then so be it. (Hoai-Tran Bui)
Director: Dan Kwan, Daniel Scheinert
Cast: Michelle Yeoh, Stephanie Hsu, Ke Huy Quan
Runtime: 140 minutes
Rating: R
Rotten Tomatoes Score: 95%
Fire of Love
Sara Dosa's visually stunning documentary "Fire of Love" is an unconventional love story. For decades, Katia and Maurice Krafft were two of the bravest and most well-known scientists in the field of volcanology (the study of volcanoes), and they were both obsessed with learning as much as they could about these natural phenomena — even if that meant donning suits that look like something out of a pulp sci-fi novel in order to get up close with erupting lava. From the 1970s into the 1990s, the scientific power couple shot hundreds of hours of legitimately jaw-dropping footage of themselves standing on the precipice of active volcanoes, documenting how they behaved and helping to establish a foundation for the way we think about how they work.
Tapping into that wealth of archival footage, Dosa and narrator Miranda July weave an almost fairy tale romance about this duo who clearly loved each other deeply, but who also loved studying volcanoes just as much. The movie's greatest success is balancing those two sides of this unusual love triangle; we learn a ton about the personalities of Katia and Maurice, who seem like eccentric characters out of a Wes Anderson movie, and their relationship to each other, but we're also allowed to sit in awe and witness the hypnotically powerful and natural splendor of the footage they were able to capture, and we learn what volcanoes meant to each of them. See this on the biggest screen possible — you won't regret it. "Fire of Love" doesn't have an exact release date yet, but it's expected in theaters sometime this year. (Ben Pearson)
Director: Sara Dosa
Cast: N/A
Runtime: 93 minutes
Rating: PG
Rotten Tomatoes Score: 100%
Good Luck to You, Leo Grande
Everyone loves Emma Thompson, and rightfully so: The two-time Oscar winner is a fantastic writer and mega-talented performer who is equally comfortable portraying shades of whimsy, wistfulness, and joyful glee. "Good Luck to You, Leo Grande," the latest movie from filmmaker Sophie Hyde, gives her arguably her best role yet as Nancy, a repressed widow and retired teacher who has only been with one man her whole life and has never experienced an orgasm. That ends tonight: the nervous and charmingly bumbling Nancy hires a sex worker named Leo Grande in an attempt to have every sexual experience she always wanted, but never achieved with her late husband. Up-and-comer Daryl McCormack lights up the screen as Leo, a smooth, confident guy whose ultra laid-back vibe is the polar opposite to Nancy's understandable jitteriness.
But as the film goes on and the two actually get to know each other, they begin to develop a deeper connection — one that's so personal and intimate, it begins penetrating their layers of defenses and exposing their true selves in more ways than one. Writer Katy Brand sets a majority of the movie in a single hotel room, which, on paper, might make this sound like one of those movies that might be better off as a stage play than a film. Thankfully, Hyde's roving camera gives the film a sense of immersion that would be impossible to capture on stage. A touching, passionate, soulful, and moving exploration of self-love and self-acceptance, "Good Luck to You, Leo Grande" is unquestionably one of best movies of the year, and you can see it starting on June 17, 2022. (Ben Pearson)
Director: Sophie Hyde
Cast: Emma Thompson, Daryl McCormack
Runtime: 97 minutes
Rating: R
Rotten Tomatoes Score: 97%
The House
There's so much junk on Netflix. But there are hidden gems, too. Titles that get next to no promotion from the streaming service. Titles that are doomed to slip through the cracks if you're not actively on the hunt for them. One such title just waiting to be discovered by more audiences is "The House," a spooky little treat featuring stop-motion animation. Three different stories unfold in this anthology, and the only connection is that they all appear to take place in the same mysterious house.
In the first story, which appears to be set sometime in the late 1800s, a family is offered a chance by a famous, mysterious architect to move into a brand new house. They leap at the chance, but as you might've guessed, the house is full of dark, scary secrets that threaten to destroy them all. The second tale is set in the present day, and for unexplained reasons, the characters have now transformed from humans to anthropomorphic rats. One such rat has bought the house and intends to flip it for a profit, but once again, nothing goes accordingly to plan. The final story is set sometime in the future, where a catastrophe (global warming seems the most likely culprit) has sunk most of the world underwater. But the house remains, standing like an island.
Eerie, strange, and even a little beautiful, "The House" got next-to-no-buzz when it dropped in January. But you owe it to yourself to seek it out. (Chris Evangelista)
Director: Emma de Swaef, Marc James Roels, Niki Lindroth von Bahr, Paloma Baeza
Cast: Mia Goth, Matthew Goode, Jarvis Rocker, Helena Bonham Carter
Runtime: 97 minutes
Rating: N/A
Rotten Tomatoes Score: 97%
I Love My Dad
Cringeworthy comedy isn't for everybody, but if you can handle uncomfortably shifting in your seat and truly skincrawling awkwardness, then you will absolutely crack up at this comedy starring Patton Oswalt. "I Love My Dad" finds the stand-up comedian playing Chuck, a deadbeat father who has always had the best intentions but can't help disappointing his son Franklin (played by James Morosini, who also wrote and directed the film inspired by his real life) at every turn. Things have gotten so bad that Franklin attempted suicide, and he's only just now starting to feel normal after a stint in a mental hospital where he learned to finally set healthy boundaries with his perpetually maddening father.
That might sound pretty dark for a comedy, but the humor comes when Chuck starts to catfish his son online as an effort to maintain contact with him after being blocked on social media. Pretending to be an attractive young girl, Chuck creates a dreamy romance for Franklin that escalates into a despicable lie that only gets worse and worse. It's the manner in which this story unfolds that brings the laughs. Though terribly misguided, Chuck is clearly desperate to reconnect with this son, even if it's in the most ill-advised way possible. Patton Oswalt has never been better, and this movie will have you laughing and wincing simultaneously over and over again. After premiering at SXSW earlier this year, "I Love My Dad" is slated to hit theaters on August 5, 2022, followed by a VOD release on August 12. (Ethan Anderton)
Director: James Morosini
Cast: Patton Oswalt, Bill Stertz, Sean O'Grady
Runtime: 90 minutes
Rating: N/A
Rotten Tomatoes Score: 70%
Kimi
Hey, did you know there was a movie this year in which the uber-prolific Steven Soderbergh paid homage to Alfred Hitchcock and Brian De Palma? You may have missed it in the deluge of streaming content, but this particular HBO Max original is absolutely worth checking out. "Kimi" is Soderbergh's riff on movies like "Rear Window" and "Blow Out," and the result is a heart-pumping little thriller that's actually made for adults. There are no post-credits stingers here, no big cameos or connections to other movies. "Kimi" knows exactly what it wants to do, and executes that vision efficiently and effectively.
Zoe Kravitz stars as Angela, who works for a big tech company reviewing the audio that comes in from its Amazon Echo-style device in peoples' homes. When she overhears what she thinks is a murder, she tries to run it up the corporate chain — but the people in power aren't interested in dealing with the issue. In fact, they just might be willing to kill to keep it covered up. For the first half of the film, Soderbergh keeps us inside Angela's apartment. She's agoraphobic, and has not handled the isolation of the pandemic well. (Yes, this movie acknowledges the pandemic, but in a refreshing and not obnoxious way.) But as soon as she ventures beyond her familiar walls, the movie opens up and kicks into another gear, and "Kimi" never lets up after that. A streamlined, simple premise in the hands of a master filmmaker? More like this, please. (Ben Pearson)
Director: Steven Soderbergh
Cast: Zoe Kravitz
Runtime: 89 minutes
Rating: R
Rotten Tomatoes Score: 91%
Marcel the Shell With Shoes On
"Marcel the Shell With Shoes On" is the best live-action movie that Studio Ghibli never made. So it's fitting that indie distributor darling A24 made it, and that it's their first venture into family-friendly filmmaking. Because "Marcel the Shell With Shoes On" is an utter delight.
Based on the short films of the same name created by Dean Fleischer-Camp and Jenny Slate, "Marcel the Shell With Shoes On" stars Slate as the titular sentient shell, who lives in an Airbnb with his grandma. But it wasn't always this way. Once, Marcel was part of a thriving community of shells and pencils and erasers and other sentient tiny objects, including his huge family of boisterous shells. But one stormy night, the man and woman who once lived in this house got into a terrible fight and the man stormed out, taking Marcel's family and friends with him. Now it's just Marcel and his grandma living alone, the woman having abandoned the house and turned it into an Airbnb that brings in all kinds of weird guests. Including Dean Fleischer-Camp's aspiring filmmaker, who meets Marcel and decides to make a documentary on him.
"Marcel the Shell With Shoes On" is sweet and lovely magical realism tale for the millennial age, but it has a sharp edge of melancholy to it, delving into issues of abandonment, lost love, and aging. Through the naïve, wide-eyed perspective of Marcel, the whole world can seem amazing and full of possibility, before it turns scary. But "Marcel the Shell With Shoes On" never loses its shining optimism, even as it reduces you to tears over the antics of a shell with one giant eye and pink shoes. "Marcel the Shell with Shoes On" arrives in theaters on June 24, 2022. (Hoai-Tran Bui)
Director: Dean Fleischer-Camp
Cast: Jenny Slate, Isabella Rossellini, Rosa Salazar
Runtime: 90 minutes
Rating: PG
Rotten Tomatoes Score: 100%
Men
Alex Garland's "Men" is a puzzle. Garland is a filmmaker who seems to relish not spoon-feeding his audience, and you know what? Good for him! We need more directors who are willing to challenge us. Of course, there's a flip-side to that: some folks who watch Garland's latest might get annoyed at how mysterious it all is. There are no easy answers here. No moment where someone stops to explain to the audience just what the hell is going on. There are plenty of clues mixed in with plenty of strange images, and the rest is up to us.
Jessie Buckley plays a recently widowed woman who decides to get away from it all by renting a country house in a small village. It looks peaceful and idyllic, but almost as soon as Buckley's character arrives, things seem off. As she moves about, the strangeness only increases as it becomes clear that every male figure Buckley encounters (save for flashbacks with her husband) is played by Rory Kinnear. Kinnear, who dons a series of wigs, false noses, and more, to play multiple characters, is phenomenal, bringing a distinct air of menace to each of his parts. Every single man Buckley interacts with is slightly off, or even downright threatening. That includes a child, also played by Kinnear (or rather, Kinnear's face digitally added to a younger actor's body, which is just as disturbing as it sounds).
By the time "Men" reaches its gruesome, body-horror-heavy finale, audiences will either love the folk horror insanity Garland is dishing out, or vow to never watch one of his movies again. (Chris Evangelista)
Director: Alex Garland
Cast: Jessie Buckley, Rory Kinnear
Runtime: 100 minutes
Rating: R
Rotten Tomatoes Score: 75%
Navalny
With Russia's authoritarian leader Vladimir Putin waging war on the citizens of Ukraine, Daniel Roher's new documentary "Navalny" feels more vital than ever. The doc follows Alexei Navalny, a charming and handsome orator who became a major player in Russian politics and eventually Putin's chief political rival after openly criticizing the corruption that was happening in his home country. He's amassed a huge social media following, and he knows how to galvanize the younger electorate: As a middle-aged man, he's making viral TikTok videos and regularly meets Russians on their level by directly addressing them on the digital platforms they use on a daily basis. Putin, willing to do anything to retain his grip on power, is so scared of Navalny that he won't even speak his name aloud in press conferences — oh, and there was also that whole thing when Navalny was poisoned using a method frequently utilized by the Kremlin.
After Navalny recovers from the botched assassination attempt, he teams up with a Bulgarian journalist to try to find proof that the Kremlin organized the hit on him, and the movie shifts into a "Bourne"-style spy thriller. The doc gives us access to these stories in a way the headlines never could, tapping into the politician's family members and closest allies and showcasing the footage they captured of these events while they were happening. Unfortunately, things don't end well for the protagonist — but perhaps if this film is more widely seen, it could prompt harsher official responses from global powers than the tepid statements that have been made thus far. (Ben Pearson)
Director: Daniel Roher
Cast: N/A
Runtime: 98 minutes
Rating: R
Rotten Tomatoes Score: 99%
The Northman
It's a testament to Robert Eggers' talent that "The Northman" is his weakest film so far, and yet still completely rocks. While not as brilliant as the one-two punch of "The Witch" and "The Lighthouse," "The Northman" is still a great showcase for Eggers' unique brand of historical storytelling. Here, Eggers draws on the legend of Amleth, which heavily inspired Shakespeare's "Hamlet." As a result, the film often feels like a Viking version of "Hamlet," with a little of "The Lion King" thrown in for good measure.
Alexander Skarsgård and his gigantic traps plays Amleth, a prince who, as a child, flees his kingdom after his father (Ethan Hawke) is murdered by his uncle (Claes Bang). When Amleth grows up, he becomes a hulking killing machine and vows to finally get his revenge. Anya Taylor-Joy plays a witchy woman who helps him along the way, and Nicole Kidman chews plenty of scenery as Amleth's mother.
Full of strange, mystical energy and bursts of brutal violence, "The Northman" probably should've seen a little weirder than it ended up being. Eggers does pepper in plenty of evocative imagery, but this is also his most mainstream, straightforward film to date. (Chris Evangelista)
Director: Robert Eggers
Cast: Alexander Skarsgard, Nicole Kidman, Cales Bang, Anya Taylor-Joy
Runtime: 137 minutes
Rating: R
Rotten Tomatoes Score: 89%
On the Count of Three
A comedy about suicide? It sounds like a difficult topic to spark laughs, but in the Sundance-selected "On the Count of Three," stand-up comedian Jerrod Carmichael somehow finds a delicate balance between the raw, introspective emotions that come from depression and suicidal thoughts and the dark comedy that can come from following two best friends who form a suicide pact to kill each other by the end of the day.
Jerrod Carmichael and Christopher Abbott ("Girls") play the two leads, Val and Kevin. Just a few days ago, Kevin tried to take his own life and is currently being monitored in a hospital. Meanwhile, Val has been paralyzed by the fear of proposing to his girlfriend, and simply can't deal with the mediocrity of a life spent working at a job he hates. Val quits his job, breaks his best friend Kevin out of the hospital, and the two agree to kill each other, but not before living out some answers an age-old question: What would you do if you only had one day left to live?
The result is a hilarious series of misadventures, emotionally stirring conversations, and a story that somehow finds light in pitch black darkness. Carmichael has a bright future ahead of him as a filmmaker and star, and if he can pull of something like this with his directorial debut, then I can't wait to see what else he has up his sleeve. (Ethan Anderton)
Director: Jerrod Carmichael
Cast: Jerrod Carmichael, Christopher Abbott, Tiffany Haddish, J.B. Smoove
Runtime: 86 minutes
Rating: R
Rotten Tomatoes Score: 85%
Resurrection
Rebecca Hall is one of the best actors working today, someone who always delivers — and frequently delivers intense, electrically-charged performances. Hall seems to specialize in playing women who are slowly coming unglued; women who are tormented, or on the verge of a nervous breakdown. That trend continues with "Resurrection," in which Hall plays a no-nonsense single mother who descends into stress and horror when her past comes back to haunt her.
One day, Hall's character Margaret spots a man at a conference. The man, played by Tim Roth, seems harmless at first sight, but Margaret is seized with panic. She starts spotting Roth's character elsewhere, and finally confronts him, begging him to leave her alone. At first, he claims he has no idea what she's talking about. But that facade is dropped quickly, and we learn that Margaret and this man, named David, have a highly disturbing past together. David's very presence is a threat, and Margaret agrees to placate David if he agrees to leave her — and her teenager daughter — alone.
To say more would ruin the shocking surprises "Resurrection" has in store. As the film progresses, things grow more frightening, and Hall's character goes further and further into the deep end, with the entire film building towards a gruesome, nightmarish finale that will linger with you long after the credits have rolled. (Chris Evangelista)
Director: Andrew Semans
Cast: Rebecca Hall, Grace Kaufman, Michael Esper, Tim Roth
Runtime: 103 minutes
Rating: R
Rotten Tomatoes Score: 84%
RRR
"RRR" asks the important question: what if two legendary revolutionaries who were active at the same time in colonial India actually met? Better yet, what if they were best friends? Better yet, what if one betrayed the other in a melodramatic twist of fate that ended in a climactic musical showdown that basically ends in them becoming god-like superheroes? That's "RRR," the incredible, insane, maximalist Indian Telugu-language epic directed by S. S. Rajamouli.
"RRR" tells the (fictionalized) story of Alluri Sitarama Raju (Charan) and Komaram Bheem (Rama Rao), two real-life revolutionaries who, again, probably weren't best friends in real life. But "RRR" imagines that they were, in the most eye-popping, adrenaline-pumping, hyperstylized action flick of the year.
In "RRR," Raju is a police officer working for the British Raj who is tasked with finding and arresting the legendary Bheem, a sort of John Wick-ian figure (except with more tiger punching) who protects the peaceful Gond tribe, after the British governor forcibly takes one of the Gond tribes' young girls as a pet for his wife. But Raju and Bheem, disguising himself as a lowly Muslim mechanic, unknowingly meet for the first time while rescuing a young boy from a train crash and instantly become best friends by virtue of their equivalent manliness (and also through a musical montage straight out of a rom-com). All this time, Raju doesn't know that Bheem is the man he is hunting, and Bheem doesn't know that Raju is actually an undercover cop working to steal weapons away from the British government. It all climaxes in a fiery inferno of betrayal, more tiger punching, motorcycle-throwing, and a viral musical sequence where Raju and Bheem happily outdance a bunch of white people. Take that, imperialism. (Hoai-Tran Bui)
Director: S.S. Rajamouli
Cast: N.T. Rama Rao Jr., Ram Charan, Ajay Devgn, Alia Bhatt
Runtime: 182 minutes
Rating: N/A
Rotten Tomatoes Score: 88%
Sundown
"Sundown" is set almost entirely in bright, tropical locales. On sunny beaches and in vacation spots where people soak up the rays and relax. And yet … it's also one of the most chilling movies of the year. This is definitely a "less is more" movie — as in, the less you know, the more shocked you're going to be as the film slowly reveals what it's all about. As writer-director Michel Franco's film begins, we meet a man (Tim Roth) on vacation in Acapulco with a woman (Charlotte Gainsbourg) and two 20-somethings. Based on how they're acting, our first assumption is that Roth and Gainsbourg's characters are a couple, and the younger characters are their children. But appearances can be deceiving.
An emergency sends Gainsbourg and the kids back home, but Roth's character stays behind. He says he left his passport back at the resort and that he'll catch another plane home. But that's not what happens. Instead, he checks himself into a new place and begins what seems like a never-ending vacation. Is he abandoning his family? Or is something else going on here? Little by little, piece by piece, "Sundown" begins to give us some answers. All of this is frequently punctured by sudden bursts of shocking violence that turn the film completely on its head. We suddenly find ourselves rethinking the entire movie, only to have it happen again and again. This is slow-burn storytelling at its finest, and Roth, who is in nearly every frame but spends a huge chunk of the film saying very little, is fantastic. (Chris Evangelista)
Director: Michel Franco
Cast: Tim Roth, Charlotte Gainsbourg, Iazua Larios
Runtime: 83 minutes
Rating: R
Rotten Tomatoes Score: 75%
Top Gun: Maverick
Tom Cruise finally returns to the role that made him a superstar in "Top Gun: Maverick," a spectacular sequel that, against all odds, actually ends up being worth the three-decade wait between movies. Despite his boundary-pushing personality constantly getting him in trouble, Pete "Maverick" Mitchell is called back into action to train the next generation of fighter pilots, who are faced with an impending mission that could avert nuclear disaster. Maverick's particular set of skills makes him the perfect person to teach the new class, but when he realizes that one of his students is Bradley Bradshaw (Miles Teller), the son of Maverick's beloved and long-dead former partner, things get a lot more complicated. The stage is set for high drama and even higher flying — and you know Maverick isn't gonna be sitting on the sidelines as a teacher when the real mission kicks off.
Even though director Joseph Kosinski doesn't have the same eye for pure style that original filmmaker Tony Scott had (there is significantly less sweat in this movie, and the color palette isn't nearly as creative overall), he's still able to deliver outstanding aerial action that will get your heart pumping and have you holding your breath in the theater. There's also a surprising emotional core to this movie: If you happen to find yourself wiping away tears and asking yourself, "Wait, did a 'Top Gun' movie just make me cry?", you won't be alone. When all is said and done, this just might be the most crowd-pleasing film of the year. (Ben Pearson)
Director: Joseph Kosinski
Cast: Tom Cruise, Miles Teller, Jennifer Connelly, Glen Powell
Runtime: 131 minutes
Rating: PG-13
Rotten Tomatoes Score: 97%
Turning Red
Pixar's "Turning Red" is one of the most accurate cinematic depictions of what it was like to be a hormonal teenage girl, and of feeling so much you just might burst. Directed by Domee Shi (who won an Oscar with her first directorial effort, the lovely Pixar short "Bao"), this coming-of-age fantasy comedy makes the coming-of-age part literal in one of the most vibrant, exciting, and joyous animated films to come out of the animation house in years.
"Turning Red" follows the uber-confident Meilin "Mei" Lee (breakout star Rosalie Chiang), a Chinese-Canadian 13-year-old who does what she wants and says what she wants — except in the presence of her parents. Mei was raised in that classic Asian immigrant second-generation way: to revere and respect her parents' wishes, while living a double life to hide her own burgeoning identity and urges. But the precarious balance she holds between her two lives is shattered by that great beast: puberty. In this case, puberty manifests in the form of a giant red panda that Mei turns into when she experiences a strong emotion.
Like I said in my review, "Turning Red" wears its anime influences on its sleeve and its middle-school shame on its face, bursting at the seams with bright colors and emotions thanks to an elastic animation style that takes its inspiration from anime like Rumiko Takahashi's "Ranma 1/2." But "Turning Red" is more than the sum of its inspirations, delivering a sweet and fresh depiction of the power of friendship, and the pain of intergenerational trauma. (Hoai-Tran Bui)
Director: Domee Shi
Cast: Rosalie Chiang, Sandra Oh, Ava Morse, Hyein Park
Runtime: 100 minutes
Rating: PG
Rotten Tomatoes Score: 94%
The Unbearable Weight of Massive Talent
Nicolas Cage playing Nicolas Cage. That's all you need to know in order to get psyched about "The Unbearable Weight of Massive Talent." All right, so Cage is actually playing an exaggerated, fictional version of himself, including a digitally de-aged, physically manifested inner-monologue who appears from time to time. This version of the Hollywood star is down on his luck at this stage in his career, so he finds himself taking a somewhat embarrassing gig asking him to appear at the birthday party of Javi, a rich superfan. However, the FBI is interested in this fan because he's a dangerous drug cartel kingpin, and they end up recruiting Cage to help them find a girl that Javi seems to have abducted.
What makes this meta comedy from director Tom Gormican work so well is that it manages to be a great buddy action comedy that not only makes impeccable use of Cage's eccentric and eclectic career, but it allows "The Mandalorian" star Pedro Pascal to be his hilarious fanboy counterpart. Watching Cage get caught up in espionage and intrigue has an almost "Last Action Hero" vibe to it, and there are flares of "Tropic Thunder" and "Three Amigos" too. It's wildly entertaining, and it will make you wonder why Cage hasn't been asked to make more comedies. His timing is extraordinary, and he's not afraid to really cut loose, even if it means making fun of himself. There are also plenty of fun references to Nicolas Cage movies, from "Con-Air" to "Captain Corelli's Mandolin." It's an irresistibly good time. (Ethan Anderton)
Director: Tom Gormican
Cast: Nicolas Cage, Pedro Pascal, Tiffany Haddish, Sharon Horgan
Runtime: 107 minutes
Rating: R
Rotten Tomatoes Score: 87%
X
Ti West's "X" isn't just a slasher movie throwback; it feels like a crystallization of every single slasher movie ever made, rolled into a slick, sexy, scary package. West is using a very familiar set-up here: a group of rowdy youngsters head to a remote location and run afoul of the backward locals. But the filmmaker isn't just going through the motions, or playing the hits. He's crafting an incredibly enjoyable horror pic full of gore, laughs, thrills, chills, and plenty of sex.
The story follows a group of filmmakers in 1979 who head to a remote cabin in Texas to film a porno. There's the horny producer (Martin Henderson), his girlfriend who also performs in the film (Mia Goth), the bombshell porn star (Brittany Snow), the leading man (Scott Mescudi), the film nerd cameraman/director (Owen Campbell), and his quiet girlfriend who acts as the sound girl (Jenna Ortega). The shoot goes well — at first. But a homicidal, horny old woman (also played by Goth, buried under unrecognizable makeup) has other plans for the group.
What makes "X" so refreshing is the fact that West isn't burying all his horror under subtext and mystery. He's laying it all out on the table, delivering the type of crowd-pleasing slasher pic we don't see nearly enough these days. (Chris Evangelista)
Director: Ti West
Cast: Mia Goth, Jenna Ortega, Martin Henderson, Brittany Snow, Owen Campbell, Stephen Ure, Scott Mescudi
Runtime: 106 minutes
Rating: R
Rotten Tomatoes Score: 95%