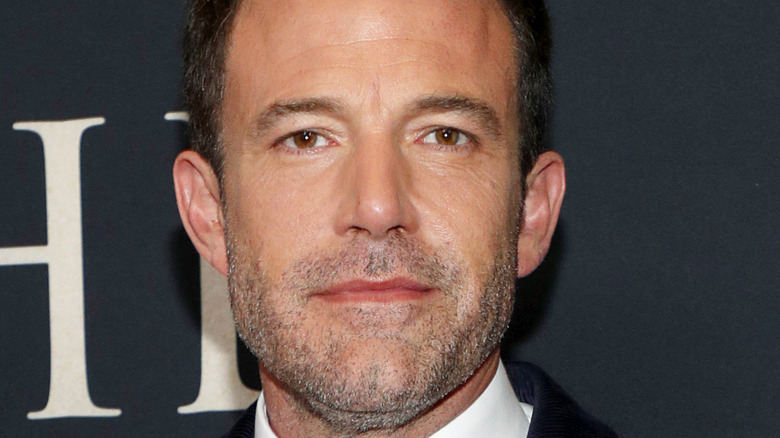 When it comes to Hollywood's leading men, Ben Affleck is a household name. Not only has he appeared in front of the camera for decades, starring in blockbuster movies like "Armageddon," "Pearl Harbor," and "Batman v Superman: Dawn of Justice," but he is also a screenwriter and director (via IMDb). Although Affleck is an acclaimed multi-talented star with two Academy Awards to his name, he might be equally as known for his high-profile personal life, notably his prior relationships with actresses such as Gwyneth Paltrow and Jennifer Garner, as well as his rekindled romance with Jennifer Lopez. In fact, Affleck made news in mid-July 2022 when he and Lopez married in a surprise Las Vegas wedding (via Deadline).
While the world may know the basics about Affleck through headlines, television, and movies, there are some things you probably don't know about Boston's hometown hero. And that's where we come in.
He wasn't born in Massachusetts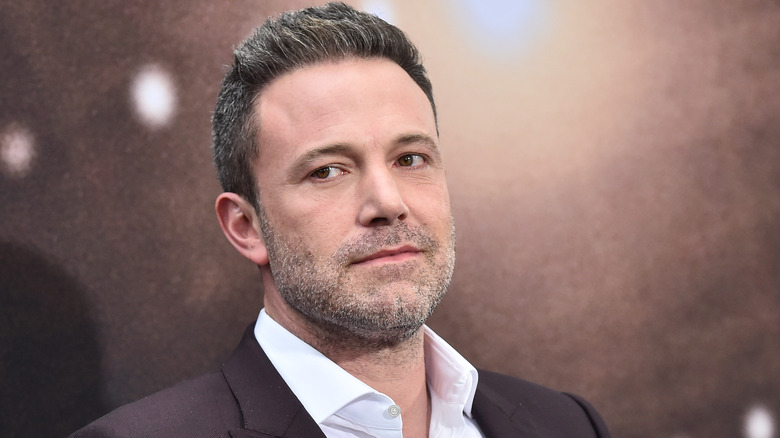 At this point, actor Ben Affleck might be synonymous with the state of Massachusetts. However, he was actually born on the west coast. That's right, Affleck is originally from California — Berkeley, California to be exact (via Britannica).
After spending the first three years of his life in California, Affleck and his family moved to New England. "I grew up in Central Square in Cambridge," the actor told Cinezine. "Went to the public schools there." Growing up, Affleck's father worked as an auto mechanic and a bartender for a time, while his mother taught grade school. He also grew up alongside his brother Casey Affleck, who, like Ben, also became an actor.
Although Ben Affleck left California as a young boy, he did return to his birthplace later in life. As of this writing, the "Gone Girl" actor resides in Los Angeles, according to Hello! Magazine. In April 2022, the Daily Mail reported that Affleck and his then-fiance, actress and singer Jennifer Lopez, were on the hunt for a new home in LA.
The actor's middle name has significant meaning
While the public knows him simply as Ben Affleck, the actor was born Benjamin Geza Affleck-Boldt, according to Britannica. Affleck's name isn't coincidental, either. In fact, his middle name has a specific meaning and sentimental origin story. "My parents named me after a Hungarian friend of theirs named Geza," Affleck reavealed at the 2015 Writers Guild Awards (via Glamour).
Although his name was special, Affleck admitted to being teased for it ("Everyone calls me Ben Gay!"). However, when he complained to his parents, his mother told him a great story about the person he was named after. "She told me that Geza was a friend of hers who died right around the time I was born, who was a Holocaust survivor in Hungary and the most exceptional person she knew," Affleck went on to say in his Writers Guild Awards acceptance speech. "He had left from a train during the Holocaust taking Jews to death camps, and he went back and saved several others returning to break them out."
Ben Affleck grew up politically engaged
Ben Affleck may be busy as an actor, filmmaker, and Hollywood staple, but he's also involved in politics and humanitarian work. Throughout the years, Affleck has not been shy about making his political beliefs known and has even gone on the campaign trail for presidential candidates, including Al Gore (via Salon). He's also fundraised for political issues, such as voting rights and the end to gerrymandering (via The Hill).
While some stars become politically engaged as adults, Affleck has been aware since he was a child, describing himself as a lifelong Democrat. "I grew up in a very strong union household, a politically active household," he told Salon in a 2000 interview. "I believe in a party of inclusiveness. I believe in a party that's going to work for working families, middle-income families and poor families, as opposed to one that cultivates a thinly veiled attempt to favor wealthy campaign contributors and friends." Affleck went on to say gun control and a woman's right to choose were issues he cared about deeply.
He was a child actor
Ben Affleck has been cast as the leading man in a large number of movies — from "Shakespeare in Love" to "Pearl Harbor" to "Gone Girl." His directing doesn't go unnoticed either. "Argo," which he directed and starred in, won an Academy Award for Best Motion Picture of the Year.
While Affleck is now a certified star, this didn't happen overnight. The New Englander has actually been acting since he was a child. Affleck received his first acting credit in 1981's "The Dark End of the Street" and went on to appear on the show "The Voyage of the Mimi" in 1984 (via IMDb). His childhood acting coach David Wheeler described a young Affleck as "very bright and intensely curious" to People.
Even with an acting coach and credits under his belt, Affleck didn't consider himself a child star. "I was a child actor in the sense that I did do a lot of acting as a child but not in the sense that I had a mom that wanted to take me to Hollywood or a family that wanted to make money from me and it became their full-time gig," he told Backstage in 2012. In 2016, he also admitted that his children hadn't seen any of his childhood work, telling Entertainment Tonight, "They are so not interested."
The actor speaks Spanish
Ben Affleck might be the quintessential guy from Boston, but that isn't the only area he's made his rounds. As a child actor, Affleck also worked in Mexico while filming "The Voyage of the Mimi," according to Backstage. Naturally, Affleck picked up the Spanish language while working in Mexico as a child. "I did this little kid's TV series when I was young," he told host Kelly Clarkson on her eponymous show. "[When] I was 13 that season, that year was in Mexico, so I was in Mexico for a year and that's how I picked it [Spanish] up."
Although Affleck told Clarkson that he now speaks Spanish "passively," he has given interviews speaking the language as an adult. Affleck isn't the only Spanish-speaking person in his family, either. Affleck's daughter Violet is also learning the language. "She's always been a very good student and she's been interested in Spanish, and so I'll often help her," Affleck told Clarkson about his daughter. "And now, all of a sudden, she's gotten into the grade where she's, like, in the harder Spanish classes and she's getting better, and she's like right at the point where I think she might be passing me." His brother, actor Casey Affleck, has also flexed his bilingual skills in interviews.
Ben Affleck and Matt Damon grew up together
Ben Affleck and Matt Damon might have made cinematic history together when they co-wrote the Oscar-winning movie "Good Will Hunting," but many people might not know that's not where their relationship began. In fact, the two actors have known each other practically their whole lives and even lived two blocks away from each other as children. "We were basically best friends since I was 10 and he was 8," Damon told Interview Magazine. "My mother is a professor of early childhood development, and she knew Ben's mother — who's a teacher of little kids — and sought her out after we moved back to Cambridge. So I was pretty much forced into hanging out with Ben."
Affleck also credits Damon with helping to provide structure to his acting career. As teenagers, the pair would travel to New York City for auditions. "Matt gave acting a framework, an integration into the social hierarchy at school," Affleck told Parade. "Before Matt, I was by myself," he added. "Acting was a solo activity where I'd just go off and do something, act in a little TV show or something, and no one understood it."
He has personal ties to Harvard University
Growing up in Cambridge, Massachusetts, Ben Affleck naturally has multiple ties to Harvard University — the ivy league university located in the city. Affleck's lifelong friend Matt Damon — who started on the "Good Will Hunting" script that Affleck would go on to co-write — attended the university. Although he didn't graduate, he worked on the future Academy Award-winning screenplay while enrolled. "I left with this document under my arm — this first 40 pages of a screenplay," Damon said at a Harvard University event (via Harvard Magazine).
Additionally, Affleck's mother received her Master's degree from the ivy league school. Affleck's father also worked as a janitor at Harvard for a time, according to The Hollywood Reporter. Although his mother and friend Damon attended Harvard University, Affleck actually studied Middle Eastern Affairs at the University of Vermont and later transferred to Occidental College in Los Angeles.
He's a huge Boston Red Sox fan
As he grew up in the Boston area, Ben Affleck is a superfan of the city's sports team. Perhaps unsurprisingly, Affleck loves the Boston Red Sox. Throughout the years, the "Justice League" actor has been spotted at multiple Red Sox games. Famously, he and his now ex-wife actress Jennifer Garner attended the first game of the 2004 World Series together – a series the Red Sox eventually went on to win for the first time since 1918, according to Vanity Fair. Affleck has also attended baseball games with other stars, including Matt Damon (although he is a Los Angeles Dodgers fan) and Jimmy Kimmel.
Affleck is such a diehard Red Sox fan that it's even interfered with his work. While shooting the movie "Gone Girl," Affleck and director David Fincher got along great. However, they did have one issue. In one scene, Affleck's character Nick Dunne was supposed to wear a New York Yankees baseball hat so he would be incognito. However, Affleck opposed it. "I said, 'David, I love you, I would do anything for you,'" Affleck told the New York Times. "'But I will not wear a Yankees hat. I just can't. I can't wear it because it's going to become a thing, David. I will never hear the end of it. I can't do it.' And I couldn't put it on my head." Affleck and Dune went back and forth until they agreed on Affleck's character wearing a Mets hat.
Ben Affleck plays an active role in directing
While Ben Affleck has played many characters, including Batman, his work behind the scenes should not be overlooked. In fact, both of his Academy Awards are for his work behind the camera — one for his screenwriting work on "Good Will Hunting" and another for "Argo," which he directed (via Variety). In addition to 2012's "Argo," Affleck has directed a number of other films, including "Gone Baby Gone," "The Town," and "Live by Night."
Directing isn't just a passion project for Affleck — it's a job he takes seriously. He's known to take an active role when he's in the director's chair, even when it comes to casting (via Backstage). As an actor himself, he also knows how actors feel and their importance to the movie making process. "Actors don't want to be treated like cattle or like idiots, and actors have a tremendous amount to bring to the table," Affleck told Backstage. "Every actor in the movie is, in effect, writing and directing the movie with you. If you open the door to letting those good ideas in, you're the one who benefits."
He has a unique connection with Charlie Sheen
Ben Affleck may have a family and successful career, but that doesn't mean he hasn't had his share of ups and downs like everyone else. Throughout the years, the actor has been open about his addiction to alcohol. He's even publicly spoken about his father's similar struggles, as well, and how that affected him. "It was difficult," Affleck told The Hollywood Reporter. "When one's parent is an alcoholic, it's hard."
Although the public might know about Affleck and his tumultuous relationship with alcohol, you might not know how this ties him to other actors who've faced similar struggles. One celebrity in particular helped Affleck out during a trying time. According to People, Affleck connected with actor Charlie Sheen in 2001 after admitting to a friend that he wanted to get help. Sheen then helped set up a stay at the rehab center Promises (where Sheen once sought help, as well) and even drove Affleck there later that day. Affleck reportedly paid the good deed forward in 2013 when he visited actress Lindsay Lohan during her rehabilitation stay, according to the RadarOnline.
If you or anyone you know is struggling with addiction issues, help is available. Visit the Substance Abuse and Mental Health Services Administration website or contact SAMHSA's National Helpline at 1-800-662-HELP (4357).
Ben Affleck has made his way into Jennifer Lopez's music
Ben Affleck made waves and headlines when he dated, and proposed to, actress Jennifer Lopez in 2002. While the high-profile relationship ended before the pair made it down the aisle, the two A-list celebrities rekindled their romance in 2021. This time around, however, the couple made it official and got married in a low-key Las Vegas ceremony in July 2022, according to Buzzfeed. "With the best witnesses you could ever imagine, a dress from an old movie and a jacket from Ben's closet, we read our own vows in the little chapel and gave one another the rings we'll wear for the rest of our lives," Lopez revealed in her newsletter (via Buzzfeed).
While Affleck and Lopez previously acted together in the films "Gigli" and "Jersey Girl," Affleck has also appeared in Lopez's music. In addition to an notorious appearance in the video to Lopez's hit "Jenny from the Block," the singer also dedicated a song aptly titled "Dear Ben" to Affleck. In the 2002 song, Lopez gushes "I write this song to let you know that you will always be to me. My lust, my love, my man, my child, my friend, and my king."