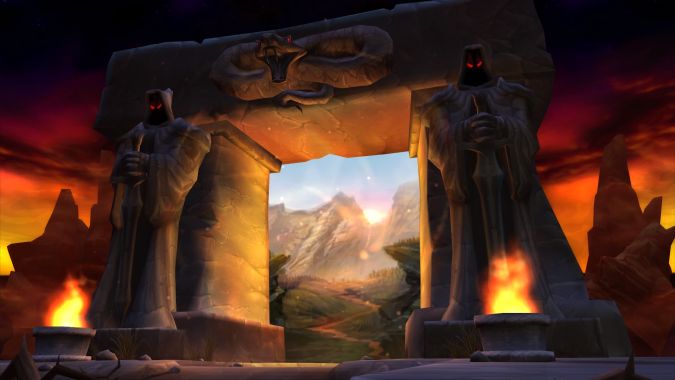 To this day, when I hear the original theme that plays behind the World of Warcraft login screen — you know the one — I am immediately drawn back to December of 2004, when I would log on to my Human Warrior Marketh (later deleted and rerolled as my Human Warrior Scythos because I didn't like the name Marketh anymore) and run around the Wetlands trying to get to the boat to Kalimdor. The music is suffused with the memories of playing — of spending nights in Menethil Harbor talking to my future wife, of the first time I set foot into Molten Core, of killing Ragnaros and getting the Eye of Sulfuron, of main-tanking Nefarian for my guild.
There was a lot of time spent playing that game, and the music is almost a leitmotif of the experience — it sharpened and distilled emotion into a heightened awareness of what the game was trying to present and made zones feel unique and alive. The music changing as I flew from Astranaar to Gadgetzan, the way it shifted as the Hippogryph flew into Ferelas and then Thousand Needs — these are memories literally encoded in notes.
So many games have had a compelling soundtrack, and often in different ways. Doom, especially the 2016 reboot, has that utterly driving beat that feels like murdering demons ought to. Cyberpunk 2077 uses music to not just give you a sense of the world and the situations you find yourself in — music like V's Theme or The Rebel Path are fantastic at that — but it also uses songs as storytelling, like the various songs that appear as music played on the radio for you to listen to, a radio that doesn't even actually exist outside of the game. This is a game where your character can turn on the radio while driving and listen to songs like With Her or Reaktion and get a real, tangible sense of what day to day life is like, what the music the people of Night City listen to is.
So what about you? Do you find yourself still able to hum the theme to Super Mario Brothers? Does the theme from Ocarina of Time still transport you back to the first time you played it? Did you wonder what all the fuss was about and then started singing along with The Song of the Dragonborn before you knew it? Does Ezio's Theme always make you sit up and take notice?