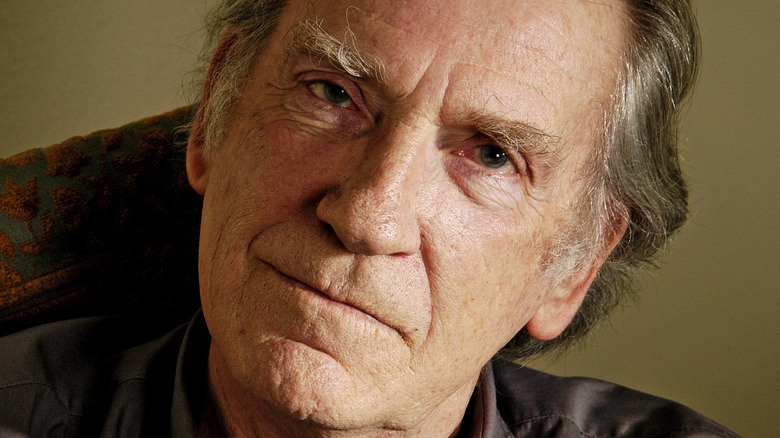 He was never a household name in Hollywood, but the chances are you've seen the late David Warner in action. Warner was a versatile character actor, one constantly in demand during a five-decade career filled with memorable movie roles. The imposing Brit was usually tasked with playing a heavy and often wasn't the first choice for a role, but it mattered little to him. "I don't have the ego problems of a major star," he once told the Argus Leader. "When people don't recognize my face or name, well, it's fine with me. After all, there are more important things than being an actor, but it's all I can do."
His honest outlook allowed him to disappear into his work, churning out one cunning, conniving, or comical character after another. Warner had over 200 credits to his name by the time he died at the age of 80 in 2022. To honor this gifted character actor's legacy, we're ranking his most memorable performances ever.
14. Eli Levitt – Wild Palms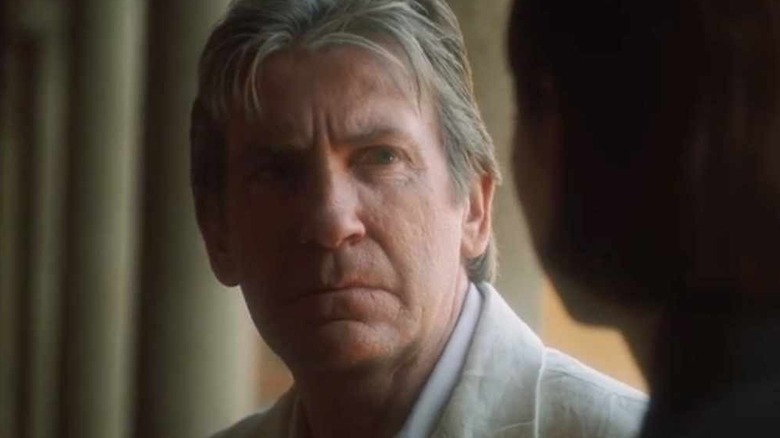 The 1993 miniseries "Wild Palms" is a mind-bending visual feast executive produced by Oliver Stone and Bruce Wagner, whose comic strip the series is based on. It's set in the then-near future of 2007 and pits two factions against one another. The controlling Fathers battle the underground Friends, clashing over differing political and religious beliefs. David Warner plays Friends founder Eli Levitt, a former professor turned terrorist and political prisoner.
Bouncing off a diverse and excellent cast that includes Angie Dickinson, Dana Delany, Jim Belushi, Kim Cattrall, and Robert Loggia, Warner brings a snarky charm to proceedings, and a voice of reason within all the insanity. The Detroit Free Press called his performance a "knockout," and we agree with that assessment — Warner steals the show here. He delivers perhaps the best line of the entire series when asked if he has the flu. In his patented tone, he replies: "Small case of mood poisoning. Must be something I hate."
13. Thomas Eckhardt – Twin Peaks
David Lynch's "Twin Peaks" was a sensation in its first short-but-sweet season, but after it answered the question of who murdered Laura Palmer midway through Season 2, other mysteries were needed to fill the void and keep the show going. The dirty dealings of Josie Packard (Joan Chen) — who may have been responsible for her husband's death at the request of his business partner (and her lover) Thomas Eckhardt — became one such enigma.
Thomas Eckhardt appeared in only three episodes, but David Warner made the most of his screen time, bringing an air of mystery and arrogance to the character. Warner knew nothing of the series or its twisty storylines when he signed on, once telling AV Club: "I just went in blind and did my best." With lines like "One does not kill for art or money, they are commodities easily lost and just as easily gained," Eckhardt shows his deviousness, but his dark past catches up with him and leads to dire consequences. Even though he isn't in the series finale, his presence is felt in a most explosive way.
12. Reinhard Heydrich – Holocaust
1978's "Holocaust" made quite the emotional impact on both sides of the Atlantic. It contains a number of historical inaccuracies (The New York Times called it "a work of semi‐fact and semi‐fiction"), but this dramatic miniseries went down well at the Emmys. David Warner — the son of a Russian Jewish-born nursing home proprietor — plays the real-life Nazi officer Reinhard Heydrich, one of the architects of the Holocaust. Warner later admitted that he was apprehensive about playing such a reviled man.
"I didn't want to do it when I was asked to play Heydrich, because he was a real person, responsible for awful things and it really pained [me] doing it," the actor said in 2018 (via Forward). "I didn't want to play it, then I realized that if I didn't play it somebody else would, and whatever discomfort I might feel playing him is nothing [compared] to the discomfort in history for all his victims." Warner earned his first Emmy nomination for his stellar work in "Holocaust." The miniseries was nominated for 15 Emmys, winning an impressive eight in total, including outstanding limited series. Warner would tackle the role of Heydrich for a second time in the 1986 TV movie "Hitler's SS: Portrait in Evil," which didn't go down quite as well with critics.
11. Senator Pomponius Falco – Masada
Three years after his Emmy nominated turn in "Holocaust," David Warner delved into another dark chapter in Jewish history with the ABC miniseries "Masada." Masada was a mountaintop citadel where a small band of Jews engaged in a standoff with the Roman army. Warner plays Senator Pomponius Falco, a thorn in the side of his fellow Roman General Cornelius Flavius Silva. Silva is portrayed by Peter O'Toole, and while he was the marquee name on the project, Warner more than holds his own. The Hartford Courant was among the outlets that praised Warner's performance, calling it "a first-rate acting job."
Coming so soon after "Holocaust," the role took an emotional toll on Warner. He told the Argus Leader that be became "really depressed" playing a notorious Nazi, adding: "I became very depressed, too, when I was making 'Masada.'" In the end, the critically acclaimed miniseries earned 13 Emmy nominations, including Warner's second. This time, he was successful: He walked away with the statuette for outstanding supporting actor in a limited series or special.
10. Bob Cratchit – A Christmas Carol
Charles Dickens' classic holiday tale "A Christmas Carol" has seen many screen adaptations, including takes by Mickey Mouse, the Muppets, and even Bill Murray. One adaptation stars George C. Scott as famous miser Ebenezer Scrooge and David Warner as his humble hearted employee Bob Cratchit. The New York Times praised Warner's work in the 1984 TV movie (which was also released in British theaters) as "played with the most reasonable sympathy."
While he was initially tapped to play Marley's ghost, Warner lobbied to play Cratchit. He relished this rare opportunity to play against his usual type casting, telling the Los Angeles Times: "I don't like playing villains. Playing Cratchit, a sympathetic character and a family man, is a wonderful change from some of the roles such as Heydrich and Falco that I've been getting lately." While Warner noted that many previous screen versions of Cratchit were played as "meek and servile," he wanted his character to be "as strong as possible."
Warner not only enjoyed working opposite his co-star George C. Scott, but playing with him, too. The two actors engaged in many games of Trivial Pursuit in the Oscar winner's trailer, Warner told Red Carpet News TV.
9. Morgan Delt – Morgan: A Suitable Case for Treatment
The 1960s were a swinging time. People were letting their hair down and loosening up, just like David Warner as the title character in the 1966 film "Morgan: A Suitable Case for Treatment." Morgan is a Marxist writer who embarks on an adventure after his prim and proper wife Leonie (Vanessa Redgrave in one of her first movie roles) asks for a divorce. The New York Times was full of praise for the Brit, calling him "terrifying and droll, crafty and pathetic. He is a beatnik with a broken heart."
The film is very much of a certain place and time. It had a big impact on the American youth of the mid-60s, and it certainly caused many people to take notice of Warner's acting abilities for the first time. "I've marveled at this following the picture has in your country," Warner told New Jersey's The Herald-News. "That is a phenomena that has not been duplicated anywhere else."
Warner became so associated with the role of Morgan that he got "typed as a crazy loony" thereafter, he said during a 1984 interview with the Bennington Banner. In 2001, he rued the fact that he hadn't been able to do more comedy. "It's what I have always wanted to do," he told The Daily Telegraph. "I started off with it — 'Morgan' was a tragicomedy — but then I got slotted into the heavy stuff."
8. Spicer Lovejoy – Titanic
David Warner has a history with the ill-fated cruise ship the Titanic. He played a real-life survivor of the sinking in the 1979 TV movie "S.O.S. Titanic," and the ship was also featured in "Time Bandits," though Warner wasn't on the Titanic in that film, just hovering over it. He was definitely on board for James Cameron's box office smash "Titanic," playing the quiet and calculated manservant of Billy Zane's snooty industrialist Caledon Hockley.
Warner told Red Carpet News TV that it "was not an easy film to make" but he was "very lucky" to have been a part of such a huge picture — the film won 11 of the 14 Oscars it was nominated for. "You never know when you're making a film how it's going to turn out but it did seem to deliver the goods to the public, and it did what it set out to do," Warner said. "It was great to be part of it." His co-star Billy Zane paid tribute to Warner after his passing, calling him "the dearest of fellows [and] the finest of actors" in an Instagram post. "This man was indeed a prince in every way," Zane wrote. "But it's a king we set to rest. May angels sing thee to it my friend."
7. Keith Jennings – The Omen
While it's perhaps not quite as famous as 1973's "The Exorcist," 1976's "The Omen" is just as scary and still holds up to this day. It follows American diplomat Robert Thorn (Gregory Peck), who, without the knowledge of his wife (Lee Remick), replaces their deceased newborn son with the child of a mother who just passed away giving birth. Of course, the new child — who they name Damian — turns out to be the antichrist.
David Warner enters the film as photographer Keith Jennings, whose photos reveal hidden evils and push Thorn to dig deeper into the mysterious origins of Damien's birth. When they get a little too close to the truth, Warner gets decapitated by a flying sheet of glass in one of cinema's all-time greatest exits. "That was one of the easier scenes to do," Warner told The Herald-News. "It required no effort on my part at all." The actor went on to say that he loved working opposite Gregory Peck on the horror classic. "It was an experience I cherish," he said.
6. Henry Niles – Straw Dogs
David Warner had the honor of working with the great director Sam Peckinpah on three films: The Western epic "The Ballad of Cable Hogue," the Nazi drama "Cross of Iron," and the controversial "Straw Dogs." Out of those three films, Warner's turn as town simpleton Henry Niles in "Straw Dogs" stands out as his most memorable.
The role of Niles is a pivotal side story to the main plot. His attraction to a young girl enrages the townspeople and he's quickly ostracized, much like newcomer and outsider David Sumner (Dustin Hoffman). Because of Sumner's plight with his wife and the shifty locals, he sympathizes with Niles, and later defends him from an angry mob. In the end, they drive away together, leaving the town behind. According to Warner, Peckinpah asked him and Hoffman to improvise the ending. They came up with the perfect exchange, with Warner saying, "I don't know my way home," and Hoffman answering, "It's okay, I don't either."
Warner was almost dropped from the film because — as he explained to AV Club — he broke his feet in an accident, which made it hard to insure him for the shoot. Peckinpah stepped up and promised to cover him for the production. He hobbled his way through the film, but his name is nowhere to be found in the credits, as there was an issue over his billing between his agent and the producers of the film.
5. Evil Genius – Time Bandits
Terry Gilliam has created some of the most wonderful, whimsical, and bewildering films of the last 50 years, but in his own opinion, "Time Bandits" was the "most important" of the lot. "It opened the doors to 'Brazil' and everything that followed," he told The Guardian. "What I love the most is it's full of interesting ideas, exciting enough for adults, and intelligent enough for children." It's the story of a kid and six dwarves who use a special map to travel through time and find treasure. There is a dastardly villain hovering over them who wants the map for himself: the suitably named Evil Genius.
Gilliam initially wanted to cast Jonathan Pryce in the role, but a production class made that impossible. In the end, he settled on David Warner, who he admired for his work in "Morgan: A Suitable Case for Treatment." The imaginative filmmaker told Famous Monsters magazine that Evil Genius "becomes ridiculous because of David's intensity, and his focus is just wonderful because he's not playing it for laughs. And yet, you laugh, because we all can see he's mad and he's surrounded himself with such pathetic helpers." Warner found it "delightful" to work with an "extraordinary filmmaker" like Gilliam, despite the film being a chore to shoot. "It was tough, because of the costume," he told AV Club. "It was a very, very heavy costume."
4. Ra's al Ghul – Batman: The Animated Series
The best-known version of the Batman villain Ra's al Ghul features in 2005's "Batman Begins," where the League of Shadows' head honcho is played by the cool and collected Liam Neeson. However, those who grew up in the 1990s also associate the character with David Warner, who voiced Ra's al Ghul in five episodes of "Batman: The Animated Series." Warner wasn't the first choice for Ra's al Ghul. Voice director Andrea Romano admitted to Bleeding Cool that she wanted Christopher Lee for the role, but they could never make it work with his schedule. The opportunity fell to Warner, who knocked it out of the park. "David Warner was stunning, just really terrific, so I was glad to have David," Romano said. We have to agree: There's nothing quite like hearing David Warner utter the word "detective."
Warner would reprise the deranged yet dignified role of Ra's al Ghul for an episode of 1999's "Superman: The Animated Series," and he did the same the following year for "Batman Beyond." The actor discussed the fact that fans are fond of his version of Ra's al Ghul during an interview with AV Club. "I find a lot of people mention that one," he said before admitting that he's never actually seen himself as Ra's al Ghul. "I don't watch cartoons, and I don't have a cartoon channel on my television. I love doing them, but I've not seen them. That's the problem! But I'm very glad that there are a lot of fans of them, and I certainly respect that."
3. Chancellor Gorkon/Gul Madred – Star Trek
The "Star Trek" franchise has blazed through many frontiers and crossed over into numerous generations. David Warner was along for the voyage, playing three different characters. In the William Shatner-directed 1989 film "Star Trek V: The Final Frontier," he made little impact as disillusioned diplomat St. John Talbot. "Unfortunately, a lot of my stuff was cut out of that particular one, but that's the way it is," he told AV Club. "So I was totally surprised when they wanted me to be in 'Star Trek VI' as another species! Having played a human in 'V,' suddenly they wanted me to be a Klingon."
The Klingon he's referring to is the ill-fated Chancellor Gorkon, who Warner played in 1991's "Star Trek VI: The Undiscovered Country." He revealed his love for the character during an interview with StarTrek.com. "What the attraction of this was that he was the bridge between Klingons," the actor explained. "He wasn't the evil master Klingon; he was actually trying to make peace. Just his name, Gorkon, and the beard; he was a cross between Gorbachev and Lincoln."
He later reunited with his old friend Patrick Stewart on "The Next Generation," interrogating Captain Picard in the two beloved "Chain of Command" episodes. Warner was a last-minute fill-in for the part of Cardassian Gul Madred and barely had time to learn his lines. "I got the makeup on, read the lines, and hoped for the best," he told StarTrek.com. "And it turned out to be a classic episode. Isn't that nice?"
2. Ed Dillinger/Sark/Master Control Program – TRON
David Warner played multiple roles in Disney's 1982 revolutionary computer game fantasy film "TRON." His "Masada" castmate Peter O'Toole was the first pick for the trio of antagonists, but O'Toole was more interested in playing the protagonist, which did not compute.
Warner brought three levels of wickedness to "TRON" as cunning senior executive of ENCOM Ed Dillinger, the all powerful computer Master Control Program, and Commander Sark, his digital proxy. Conceived during the dawn of computer graphics, "TRON" was painstakingly made. The film "is a kind of marriage between actors and the technical artists," Warner told The Morning Call. "It was just different rather than difficult. It was a challenge." At the time of filming, computers and video games were still a bit beyond Warner, who admitted to The Morning Call that he "can't play the video games. I've tried, and I can get a couple of zaps, but I'm really no good at it."
Warner was signed up for a sequel that Disney had announced even before the release of "TRON," but it never came to fruition. A long awaited follow-up did arrive in 2010 with "TRON: Legacy," but without Warner's involvement. A third "TRON" movie was in the works, with Warner's return as Dillinger even teased in an Easter Egg on the DVD, but it too never saw the light of day.
1. Dr. John Leslie Stevenson/Jack the Ripper – Time After Time
David Warner steals the show in the 1979 cult classic "Time After Time," turning in a career-best performance as the notorious serial killer Jack the Ripper. Warner enters the picture as surgeon Dr. John Leslie Stevenson. Before he can be caught for his murderous alter ego's crimes, he borrows H.G. Wells' (Malcolm McDowell) time machine and gets groovy in '70s San Francisco. H.G. Wells then makes his own time leap to try and catch the Ripper. He expects the future to be a utopia, but it's the Ripper who feels more at home in the violent modern age. "The world has caught up with me and surpassed me," he proclaims. "90 years ago I was a freak. Today, I'm an amateur."
The chemistry between old friends McDowell and Warner is magic, but this pairing almost never happened. Warner Bros. execs were pushing to cast Mick Jagger as the Ripper, but director Nicholas Meyer pushed back against the idea. Warner got the nod instead, and he was thrilled. "It's a good part," the actor told the St. Louis Post-Dispatch at the time. "I'm a heavy, and yet the film is such a fantasy that I'm not really heavy." As far as McDowell is concerned, Warner was meant to play this part. "[He] was absolutely brilliant and nobody could've been better than him," McDowell said (via It Came From…).