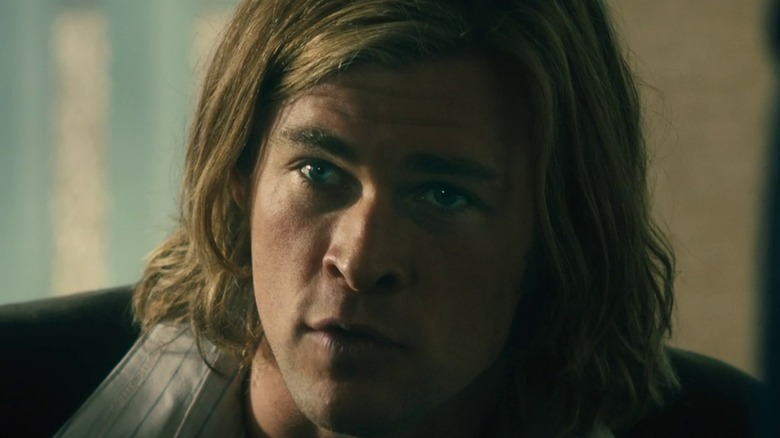 Rocky Balboa. Jake LaMotta. Rudy Ruettiger. Bull Durham. These aren't just some of the characters in famous characters in sports movies; they're among the most beloved icons in film history. Whether they're inspirational true stories, hilarious comedies, or riveting documentaries, sports films are always destined to find an audience.
2022 is an exciting year for sports movie fans. The highly anticipated sequel "Creed III," Taika Waititi's comedic soccer film "Next Goal Wins," and Adam Sandler's latest dramatic project "Hustle" are just a few of the exciting releases slated to come out this year. If any of these films manage to fall into the awards conversation, it certainly will not come without precedent. "Rocky," "Chariots of Fire," and "Million Dollar Baby" all walked home with the Academy Award for best picture.
Unfortunately, not every great sports movie got the attention that those classics received. Here are some underrated sports movies that you really need to see.
Days of Thunder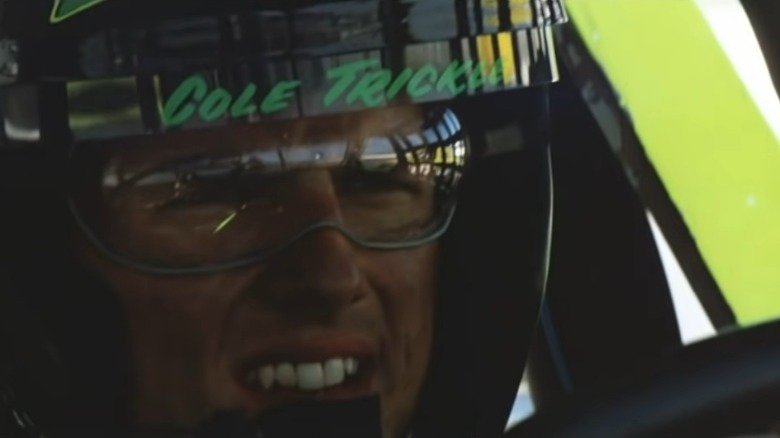 Tony Scott helped launch Tom Cruise's career with the 1986 action hit "Top Gun." Scott and Cruise tried to replicate their success in 1990, with the racing drama "Days of Thunder." "Days of Thunder" is gleefully melodramatic. Cruise' character, Cole Trickle, is just as charming as Maverick.
Trickle has been a rising star, but he has his sights set on a title shot. Trickle approaches the retired car architect Henry Hogge (Robert Duvall), and asks him to build a new vehicle. Hogge reluctantly agrees to join Trickle's crew. Although Trickle is at the height of his career, he's met with some stiff competition. The current Winston Cup Champion, Rowdy Burns (Michael Rooker), is willing to use every dirty trick in the book to maintain his title. Trickle and Hogge develop a bitter rivalry. However, they find common ground after they are both wounded in a devastating accident on the track.
"Days of Thunder" gives Trickle a compelling reason to win the race, other than the personal glory. After he's injured, Trickle falls in love with the neurosurgeon Dr. Claire Lewicki (Nicole Kidman). Scott does a great job at treating the romantic subplot seriously. Although the film is very over-the-top, Cruise and Kidmans' chemistry feels realistic. Even their most melodramatic exchanges are charmingly sincere.
The Basketball Diaries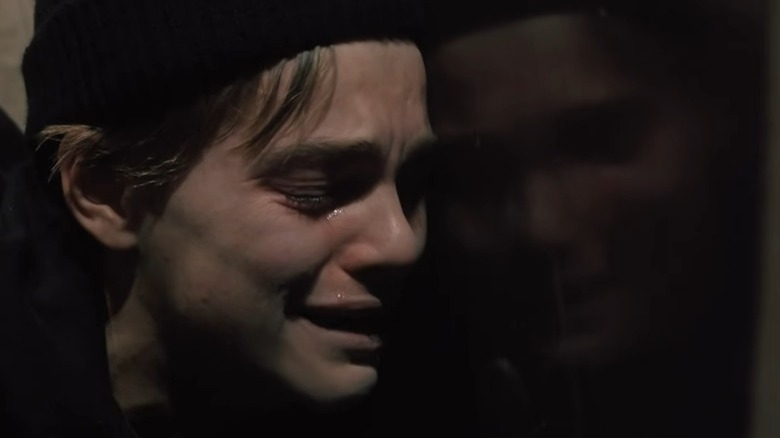 Leonardo DiCaprio is one of the best actors of his generation, but not all of his films are given the credit that they deserve. The 1995 coming-of-age drama "The Basketball Diaries" is one of the darkest films that DiCaprio has ever starred in. The heartbreaking film follows a high school basketball star, who becomes addicted to illegal substances. Even though it was earlier within his career, DiCaprio gives a very mature performance. "The Basketball Diaries" is very respectful of real victims. It does not try to sensationalize drug use or withdrawal.
DiCaprio plays Jim Carroll, a New York City teenager hoping to make it into the NBA. The film was based on Carroll's memoir of the same name. Carroll is a good kid, but he's no stranger to mischief and misbehavior. Carroll engages in small-time crimes with his friend, Mickey (Mark Wahlberg). Mickey and his friends make fun of Carroll for keeping a private diary. They encourage him to be even more rowdy and violent.
"The Basketball Diaries" shows the challenges that young athletes have to endure. Carroll becomes overwhelmed with the lofty expectations that people have for him. He doesn't know how to cope with the stress, and struggles to tell his mother (Lorraine Bracco) what he is going through. "The Basketball Diaries" is not an easy film to watch, but the ending is very powerful. Carroll channels his pain into art and writes a poem about his experiences with addiction.
Dream Horse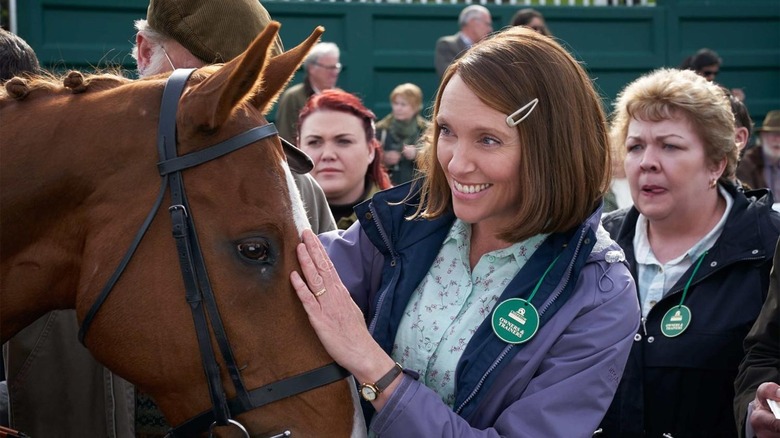 The delightful British racing dramedy "Dream Horse" explores the amazing true story of Dream Alliance, a horse raised by a small community in Wales. Dream Alliance was considered to be an underdog, but raced in the Welsh Grand National, and took home the first place trophy. The film centers on the quirky group of local Welsh citizens who worked together to raise Dream Alliance.
Toni Collette stars as Jan Vokes, a bartender with no experience in horse racing. Jan and her husband, Brian (Owen Teale), are struggling financially. However, Jan decides to take a risk, and adopts a young horse. Brian hasn't felt engaged in anything for many years, and Jan thinks the young horse will give them both something to feel invested in. Jan enlists the help of her community to raise the money needed to train the horse for an official competition. The group agrees to name their future champion "Dream Alliance," in honor of their unity.
Among Dream Alliance's advocates is Howard Davies (Damian Lewis), a man who is skeptical that the young horse could actually win. Davies is struggling to find himself, and has refused himself the possibility of hope. However, he forms a friendship with Jan. Davies begins to become emotionally invested in seeing Dream Alliance succeed. The community's dedication is rewarded.
Chuck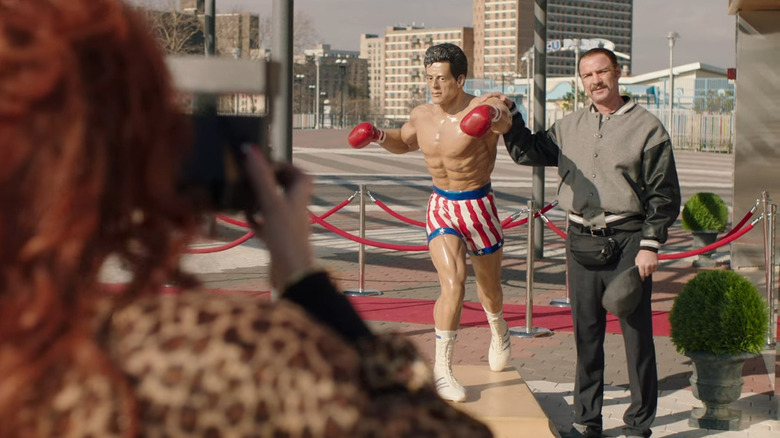 The 1976 film "Rocky" is a quintessential underdog story about a down-on-his-luck hero, who trains to face off against a heavyweight champ. "Rocky" was actually inspired by the real story of the New Jersey boxer Chuck Wepner.
The biographical film "Chuck" explores Wepner's real life. It wasn't quite the same as the way it was depicted in the Sylvester Stallone film. In fact, the critical and financial success of "Rocky" is something that Wepner had to deal with during his career. Like Rocky, Wepner is an underdog boxer, who only fights in local competitions. However, he is given the chance to face off against the most prominent boxer in the world: Muhammad Ali (Pooch Hall).
Liev Schreiber gives a phenomenal performance as Wepner; unlike Rocky, Wepner is sometimes an unlikeable character. He isn't always faithful to his wife, and sometimes takes his success for granted. Wepner grows irritated that despite the success of the "Rocky" films, he is still struggling to make ends meet. He vies for a role in 1979's "Rocky II" after meeting with the real Stallone (Morgan Spector), but fails to get a part. He is forced to become more humble.
Southpaw
Jake Gyllenhaal is one of the best actors working today — one of the rare actors that can elevate a film, even if the script isn't completely original. "Southpaw" tells a fairly generic story; it follows a disgruntled boxer, who is forced to fight his way to the top after a shocking loss. While it's not the most original premise, "Southpaw" is elevated by Gyllenhaal's intense physical commitment and emotional performance. It also benefits from the intense direction from the underrated filmmaker Antonie Fuqua, who shoots the boxing sequences in a way that makes the viewer feel like they are in the ring.
"Southpaw" follows the rising Light Heavyweight boxer Billy Hope (Gyllenhaal), who deals with anger management issues. Billy's wife, Maureen (Rachel McAdams), helps to keep him grounded. After an intense match, Billy gets into a brawl with another boxer. During the chaos, Maureen is shockingly killed. Billy is heartbroken. His situation gets even worse: A court ruling determines that Billy is not a suitable father for his young daughter, Leila (Oona Laurence).
Billy is forced to begin healing physically and emotionally. He asks for help from the veteran trainer Tick Wills (Forest Whitaker). As he trains to get back in the ring, Billy tries to reconnect with Leila, who has grown distant after their time apart. Billy is forced to deal with his anger, and become a more responsible father.
Borg vs. McEnroe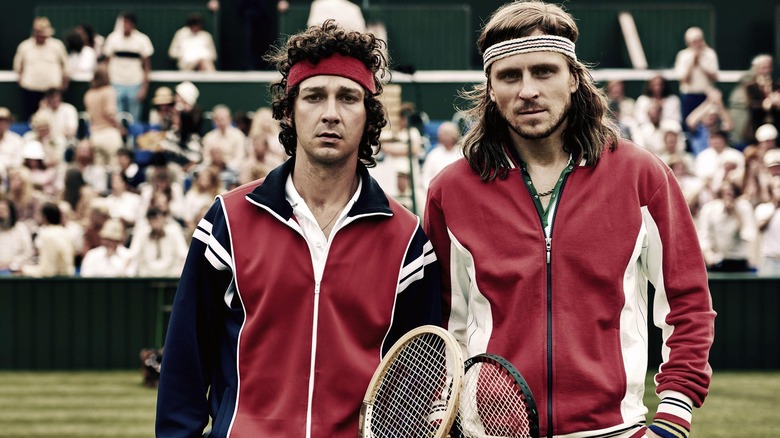 There's nothing more exciting in a sports movie than a great rivalry. The 2018 biographical film "Borg vs. McEnroe" follows the iconic tennis rivalry between the Swedish champion Björn Borg (Sverrir Gudnason) and the incendiary American star John McEnroe (Shia Labeouf). Borg and McEnroe played against each other many times in the 1970s and 1980s. Their match in the 1980 Wimbledon Championship was one of the most historic moments in the history of the sport.
The film shows how both Borg and McEnroe began to make a name for themselves throughout the 1970s. Borg is renowned for his professionalism and determination; he rarely shows any emotion on the court, and his competitors fear his steely nature. Gudnason shows his vulnerability. Borg doubts his own success, and struggles to connect emotionally with other people.
McEnroe is the polar opposite. He is incredibly volatile, and often breaks into angry tirades while he is on the court. McEnroe is so committed to perfecting his craft that he doesn't know how to handle being a media icon. Although he initially views Borg as his enemy, they eventually become friends. Neither man has ever found someone else who understands their passion for tennis.
All the Right Moves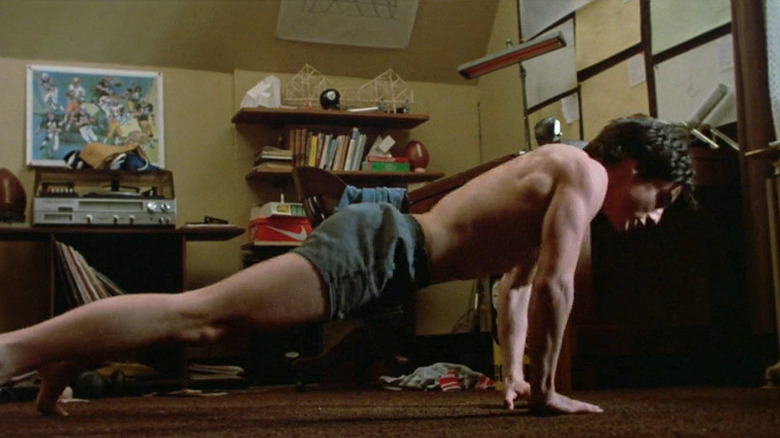 Sports are often a bonding experience for young people, so it is no surprise that there are many coming-of-age films about high school athletes. 1983's "All the Right Movies" was a critical film for one of the biggest movie stars in the world: Tom Cruise. Before he became one of the most popular leading man of his generation, Cruise delivered an amazing performance in this underrated sports classic. He showed all the charisma and dramatic intensity that would make him beloved by audiences for generations.
"All the Right Moves" follows running back Stefan Djordjevic (Cruise) during his senior year of high school. Despite his success on the field, Stefan receives average grades and is worried about his future. Stefan comes from a poor Serbian American family, and fears that he will be destined to stay in his Western Pennsylvania hometown forever. Stefan's brother, Greg (Gary Graham), works at a steel mill. Stefan can't imagine having to work in a factory for the rest of his life and dreams of becoming an engineer. Without the money to afford tuition, Stefan's only chance to go to college is getting a scholarship. Cruise gives a relatable performance. He shows the pressures that Stefan endures, and how the pivotal relationships in his life give him inspiration.
The Way Back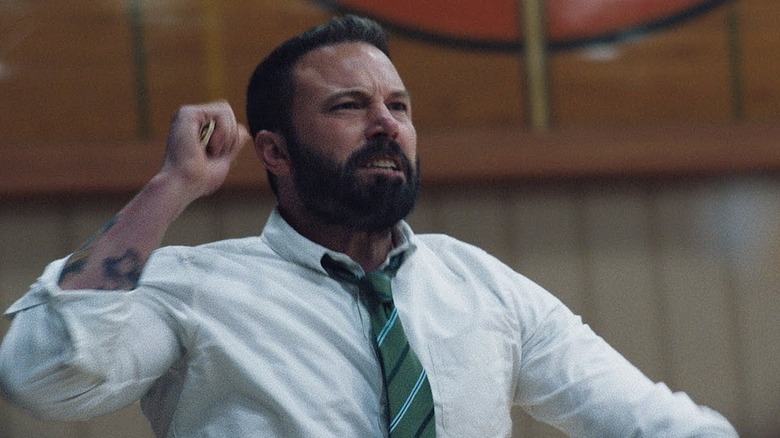 Ben Affleck was dealing with personal issues while he was filming "The Way Back." Affleck had struggled with alcoholism and depression. He worked alongside the film's director, Gavin O'Connor, to create a story that paralleled his real life. As a result, Affleck gave one of the best performances of his entire career. He played the heartbreaking character of Jack Cunningham, a former basketball star who goes through similar experiences with drinking and loneliness.
Jack was one of the top players on his Catholic high school's basketball team. However, Jack's father never gave him the support that he needed. Instead of loving him unconditionally, Jack's father only gave his son respect if he was successful on the court. Although Jack was able to escape from his father and find love, his marriage ends in tragedy. Jack and his wife, Angela (Janina Gavanka) are separated after the death of their child. Jack now spends most of his days drinking alone.
However, Jack gets a surprising opportunity after he receives a call from his former high school teacher, Father Edward Devine (John Aylward). Devine informs Jack that the school's previous basketball coach had suffered from a heart attack. He asks Jack to step in and coach the team. Although he is reluctant to return to the sport, Jack agrees to help his old mentor. The school's team has had very little success, but Jack teaches them to work together.
The Program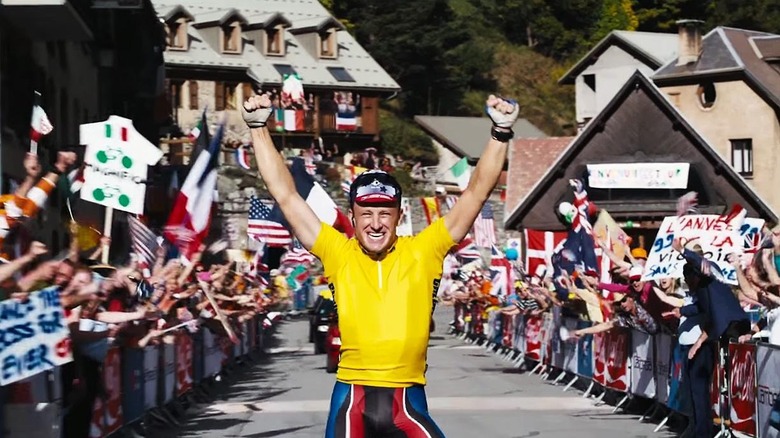 The Lance Armstrong doping scandal was one of the most shocking sports news stories of the past several decades. The underrated 2018 biographical film "The Program" explored the scandal from the perspective of David Walsh, the British journalist from "The Sunday Times" that broke the story. "The Program" is based on Walsh's novel, "Seven Deadly Sins: My Pursuit of Lance Armstrong." It explores how Armstrong rose to prominence.
Chris O'Dowd gives an understated performance as Walsh. While he's impressed by Armstrong's skill, he starts to have doubts about his quick rise to success. Walsh is skeptical that Armstrong could endure the intense physical rigors of the sport after undergoing cancer treatment. He begins investigating Armstrong, but faces blowback from the racing industry. Armstrong has become a media sensation and has generated more interest in the Tour de France competition than ever before.
The film also explores how Armstrong was able to hide his secret behind his inspirational success story. Ben Foster delivers a nuanced performance as Armstrong. He shows that whenever Armstrong appears in front of the cameras, he adopts a charismatic persona.
Bleed for This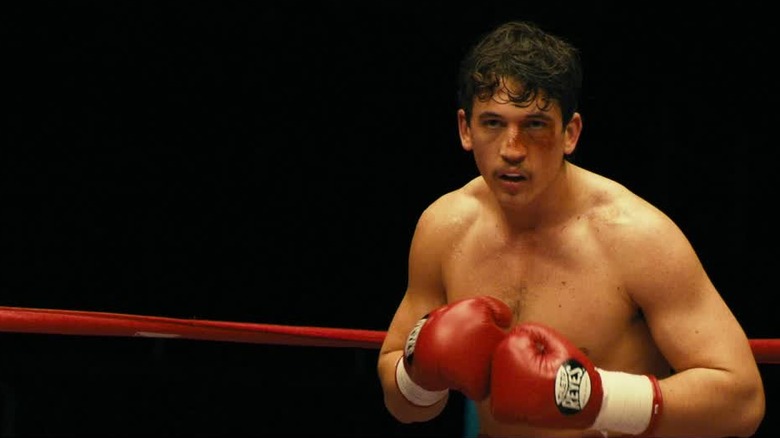 Due to the success of "Rocky," inspirational boxing films are wildly popular. There's definitely a formula to these films, so they require a charismatic lead performance to make them unique. Miles Teller gave one of the best performances of his career in the 2016 biographical film "Bleed for This." Teller stars as the lightweight boxing champion Vinny Pazienza, who was also known as "Vinny The Pazmanian Devil." After suffering a serious spinal injury in November 1988, Vinny was told that he would never be able to fight again.
Vinny had become a media sensation because of his wild behavior during the matches. He often taunts his opponents. After challenging the boxer Roberto Durán, Vinny gets into a serious car accident. He suffers a serious spinal injury, and is forced to wear a neck brace. Vinny is told that he may never be able to walk again and is heartbroken that there is no possibility that he will ever be able to get back in the ring.
Teller does a great job at showing Vinny's soul-searching. He has never considered doing anything except fighting. He works tirelessly to retrain his body. Vinny also forms a close relationship with his coach, Kevin Rooney (Aaron Eckhart). While he had been dismissive of Rooney's advice before the accident, Vinny comes to consider Rooney as both a mentor and friend.
High Flying Bird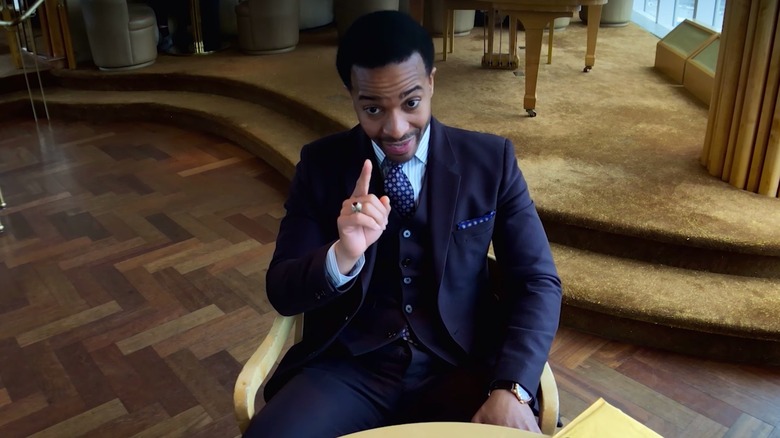 Steven Soderbergh is a filmmaker who can capture the nuances of complex industries. Soderbergh was one of the earliest filmmakers to embrace streaming services, and has experimented by shooting several films on an iPhone. "High Flying Bird" is set within the world of basketball, but it's really a film about how streaming changes the dynamic between NBA players, fans, owners, and sponsors. Perhaps releasing it on Netflix was Soderbergh's way of solidifying the film's themes.
"High Flying Bird" follows the hard-working sports agent Ray Burke (Andre Holland), who is struggling financially in the aftermath of an NBA lockout. Burke's boss, David Starr (Zachary Quinto), tells him that the company is being forced to lay off many longtime employees. Ray knows that the only way to save his career is to find a way to get fans interested in the company's players, even when there aren't any games being played.
A tense argument between two basketball players, Erick Scott (Melvin Gregg) and Jamero Umber (Jeryl Prescott), goes viral. Ray comes up with an idea. He plans to livestream a one-on-one match between Erick and Jamero directly to streaming services, like Netflix, YouTube, and Snapchat. This would allow fans who have been deprived of new content something to get excited about. Ray and his assistant, Sam (Zazie Beetz), begin negotiating with the players. Their efforts end up undermining the entire infrastructure of the NBA.
Battle of the Sexes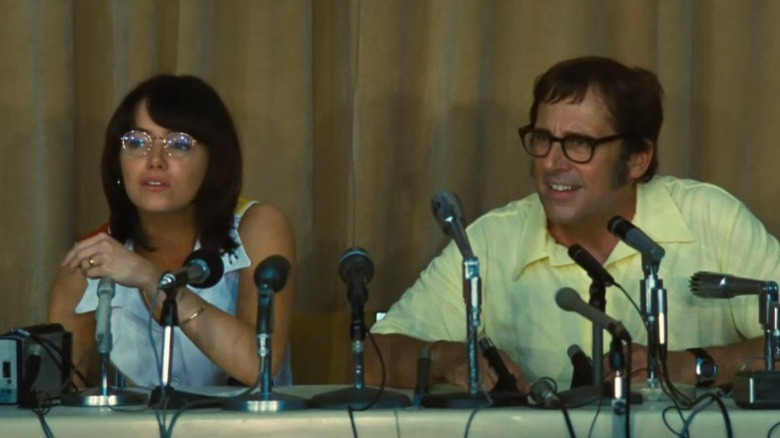 The iconic 1973 tennis match between Billie Jean King and Bobby Riggs was a pivotal moment in the feminist movement. Briggs was an eccentric public figure, and bragged that a woman could never defeat him. King accepted his challenge. She agreed to play Briggs, in a match heralded as the "Battle of the Sexes."
The 2017 film "Battle of the Sexes" explores the media circus that surrounded the match. It explains why Briggs and King chose to participate. Steve Carrell and Emma Stone star as Briggs and King, respectively. Although Briggs frequently made crude and offensive remarks on television, "Battle of the Sexes" does not present him as a bad guy. Briggs is at the end of his career, and has struggled to reconnect with his family. The only way for him to make a name for himself is to say shocking things in front of the cameras, even if he doesn't believe them.
However, the match is even more important for King. Stone shows that King becomes overwhelmed by the responsibilities that she is saddled with. She realizes that she's no longer just fighting for herself, but for all women in sports. She knows that regardless of the results of the match, she won't be completely accepted for who she is — King is in a same-sex relationship with her hairdresser, Marilyn Barnett (Andrea Riseborough).
Hands of Stone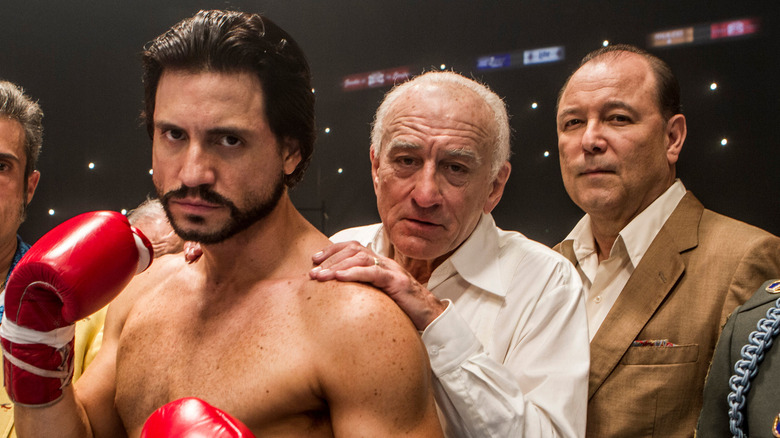 If audiences are already familiar with an athlete's story, then a biographical film may feel like a retread of events that they have already seen. However, the best sports biopics are able to provide more insights on the athlete's personality. The 2016 film "Hands of Stone" explores the dramatic rise and fall of the notorious Panamanian boxer Roberto Durán (Edgar Ramirez).
Duran was raised in poverty in his home country of Panama. After training in a smaller boxing club, Duran's skills spark the interest of the legendary American boxing coach Ray Arcel (Robert De Niro). Arcel had been retired since 1953, but he recognizes how unique of a talent Duran is. He helps Duran rise through the ranks of the professional boxing leagues in the 1970s and 1980s. Duran falls in love with a young student, Felicidad Iglesias (Ana de Armas), and they are married.
However, Duran's string of success comes to a grinding halt after he challenges Sugar Ray Leonard (Usher) to a match. Duran makes homophobic remarks about Leonard in public. He seems to take pleasure in embarrassing his opponent. Although Leonard loses their first fight, he calls for an immediate rematch. Leonard defeats Duran by knockout. Ramirez shows that Duran's anger towards Leonard isn't because he is homophobic, but because he has come to distrust Americans. Duran feels helpless in the aftermath of the American construction of the Panama Canal. He thinks that his home country is being taken advantage of.
Race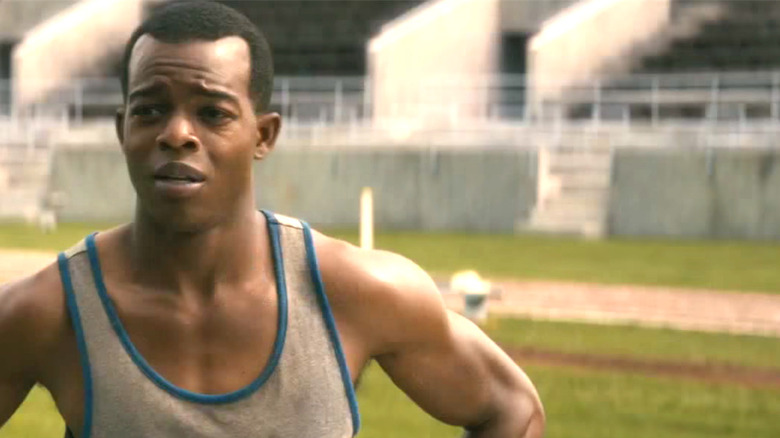 The legendary track and field champion Jesse Owens didn't just change the course of sports history; he stood up to fascism in front of a worldwide audience. Owen won a record-breaking four gold medals at the 1936 Olympic Games, beating athletes from fascist Germany. His amazing victory was a powerful moment for Americans, who stood in defiance of the growing Nazi movement. Tragically, Owens wasn't celebrated for the American hero that he was. African-American were treated as second-class citizens, star athletes or not. Owens wasn't even able to attend all the celebrations held in his honor.
The 2016 biographical film "Race" explores Owens' training, and the events that led up to his incredible performance at the Olympics. Stephen James gives a sensitive performance as the legendary athlete. Owens deals with many challenges during his training at The Ohio State University. He struggles to provide for his girlfriend, Ruth Solomon (Shanice Banton), and is forced to work long shifts at a gas station. His coach, Larry Snyder (Jason Sudekis), is initially upset that Owens keeps showing up late to team practices. Upon realizing the pressures that Owens is dealing with, Snyder makes it a personal goal to see Owens succeed. It was a rare dramatic turn for Sudekis. Although he's best known for his comedic work in "Ted Lasso" and the "Horrible Bosses" films, he treats the sensitive subject material of "Race" with respect.
Eddie the Eagle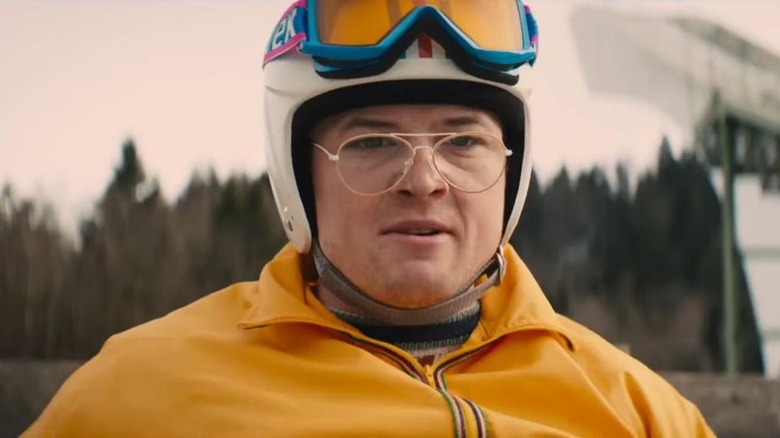 Everyone loves a great underdog narrative. The 2016 British biographical film "Eddie the Eagle" explores of one of the most unusual success stories in modern Olympics history. In the 1980s, Great Britain did not have an official Olympic ski jumping team, and had not competed in the sport since 1928. The young athlete Michael Edwards (Taron Egerton) decides to revitalize the team. He wants to represent his country in the 1988 Winter Olympics in Calgary, Alberta.
Edwards had dreamed about becoming an Olympic athlete for his entire life. As a child, Edwards' classmates teased him for his poor athletic abilities. Even though he tried out for every sport that he could think of, Edwards always seemed to fail. Edwards realizes that even if he never gets the chance to go to the Summer Games, he could still compete at the Winter Games. The British Olympics officials reject his application for the skiing team, so Edwards decides to find a sport that the country does not usually participate in.
After qualifying for the ski jumping team, Edwards begins training under the former American ski jumper Bronson Peary (Hugh Jackman). Bronson had competed in many ski jumping competitions as a younger man. Bronson isn't looking to be a coach, but he is charmed by Edwards' positivity and commitment. He designs an unusual training regime, and helps Edward prepare physically and emotionally for the Olympics.
Concussion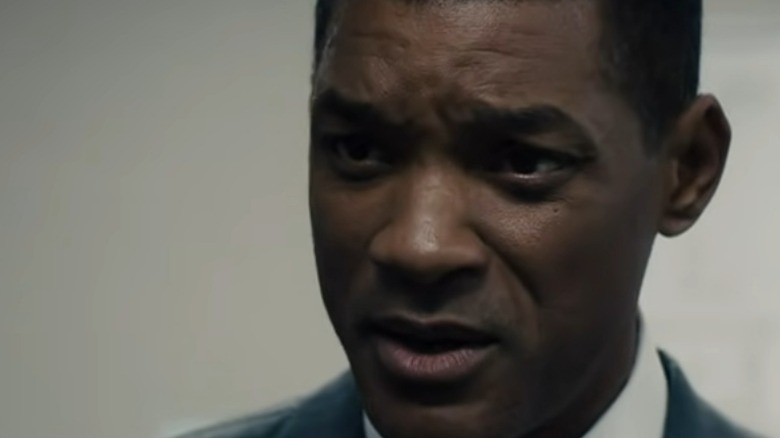 As painful as it is for some sports fans to admit, the games that they love watching don't come without sacrifices by the athletes. While there is an expected danger in many sports, particularly football, there is never a reason that a player should feel like their life is in danger for the sake of entertainment. Unfortunately, the National Football League has not done enough to address the traumatic brain injuries that many NFL stars suffered during the careers.
The 2015 film "Concussion" follows an investigation by the forensic pathologist Dr. Bennet Omalu (Will Smith) into the injuries of NFL players. He discovers that many players experienced similar symptoms, but were not given proper medical treatment. As Omalu attempts to speak out, the NFL does its best to silence his research. It's a grim examination of what happens when a corporation values advertising dollars over safety. Smith delivers one of his strongest performances ever, and masters the Nigerian accent.
McFarland, USA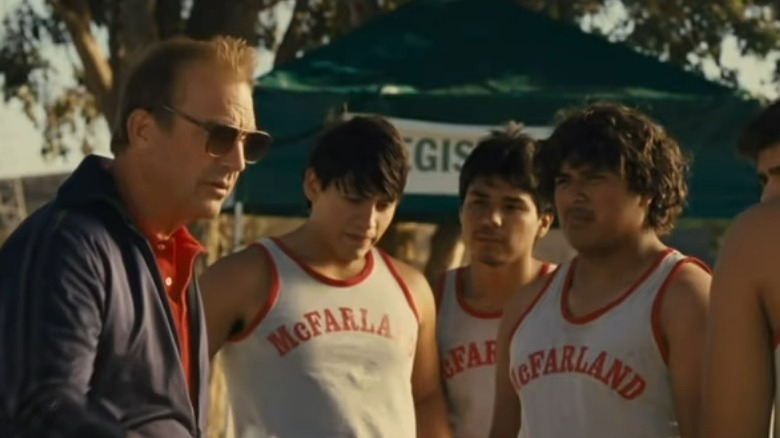 Kevin Costner was the star of many of the most popular sports films of the 1980s and 1990s, including "Bull Durham," "Field of Dreams," "Tin Cup," and "For the Love of the Game." It was heartwarming to see him return to the genre in 2015, with the inspirational biographical film "McFarland, USA." This time, Costner got to play a veteran coach, who mentors a group of younger athletes during a critical competition.
"McFarland, USA" is based on the amazing true story of the 1987 McFarland High School cross country team. The film follows the former football coach Jim White (Costner), who was fired after accidentally injuring a player. White is forced to take a job as the cross country coach in McFarland, a school with a majority Latino population. White empathizes with his students; they are forced to work grueling day jobs both before and after attending practice. He recognizes their determination, and vows to see them succeed.
Rush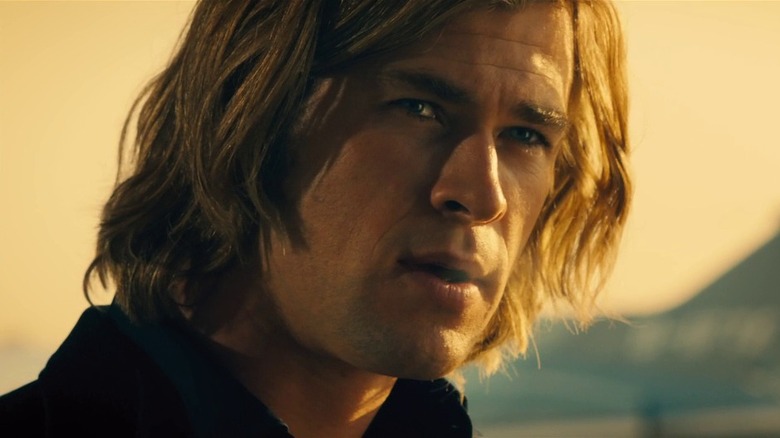 Any film that focuses on a critical rivalry must do its best to make both lead characters compelling. Instead of telling a traditional "hero versus villain" story, these films force the audience to choose between two empathetic characters. The 2013 biographical drama "Rush" explores the infamous rivalry between Formula 1 racers James Hunt (Chris Hemsworth) and Niki Lauda (Daniel Bruhl).
Hunt and Lauda are nothing alike. Hunt is a confident, charismatic partygoer, and relishes his victories. Hemsworth shows that beneath Hunt's eccentric persona, he is always pushing himself to take more risks. However, Lauda is more reserved. He struggles to connect to other people emotionally. He even fears opening up to his wife, Marlene (Alexandra Maria Lara). The two racers develop a mutual respect for each other over time. They both realize that there may not be anyone else that understands their unrelenting desire to win.
Draft Day
Making a film about the National Football League draft doesn't seem as exciting as telling a story about the games themselves. How do you make an engaging film about a series of deals, backroom conversations, and contract negotiations? Surprisingly, Ivan Reitman's 2014 film "Draft Day" is an exciting exploration of the strategy that goes into making a perfect football team.
The film follows Sonny Weaver Jr. (Kevin Costner), the fictional general manager of the Cleveland Browns. Weaver Jr. is looking for a shot at redemption. He had recently received blowback after he fired his father, a legendary coach. Weaver Sr. passed away only shortly after his son let him go. This creates tensions between Weaver Jr. and Anthony Molina (Frank Langella), the owner of the Cleveland Browns. Facing an uphill battle to improve his team's standings, Weaver makes a bold plan to win back his first-round picks for the next two years.
12 Mighty Orphans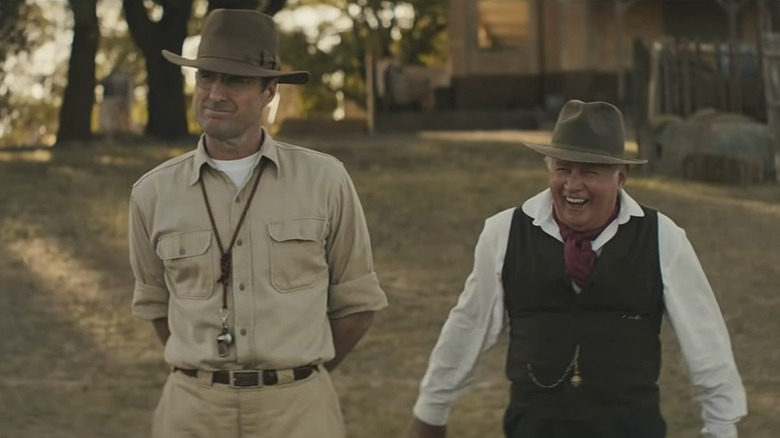 The best underdog sports movies are the ones that show how a team's success can benefit an entire community. The 2021 film "12 Mighty Orphans" explores how the coach Rusty Russell (Luke Wilson) guided a Fort Worth school of orphans to a football championship in the 1930s. Russell's athletes were emotionally malnourished, and suffered during the heights of the Great Depression. Their success offered a glimmer of hope to a small community that was in search of inspiration.
Prior to becoming a coach, Russell had served as a soldier in World War I. He suffered from post traumatic stress disorder, and had difficulty expressing his feelings. However, Russell is charmed by the upbeat attitude of his players. Their positivity and hard work warms his spirits. Russell encourages the boys to trust each other. He knows that even if they don't have families, the team can create a sense of community.
Hot Rod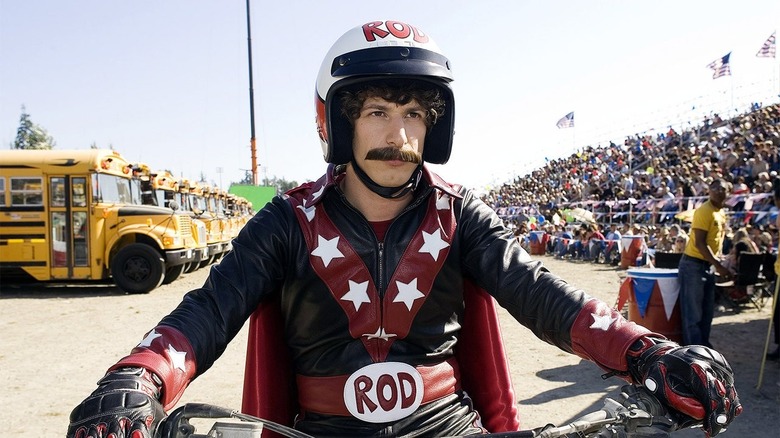 Underdog stories don't have to be inspired by history, and that's certainly not the case with "Hot Rod." The film was created by the "Lonely Island" sketch comedy group. It retains the same sense of surreal humor that had made their early short films so hilarious. "Hot Rod" is a great parody of the cliches within sports films. However, it has just the right amount of sincerity to justify the wacky humor. Although "Hot Rod" made little impact when it was first released, it subsequently attracted a cult following.
Andy Samberg stars as Rod Kimble, an aspiring stunt performer. Rod is under the impression that his dead father was a legendary stunt motorcyclist, and wants to live up to his legacy. However, Rod also seeks the approval of his stepfather, Frank (Ian McShane). Frank seems to take pleasure in coming up with the cruelest ways to insult his stepson. In order to both honor his father and impress his stepfather, Rod decides to perform a charity stunt, in which he will jump over 15 school buses.