The Hallmark Channel practically has a monopoly on the holiday season — that's pretty much a universal truth at this point. The Hallmark Channel has become must-watch television! As soon as the leaves start to turn in the fall, the network starts to tease viewers about what's to come each Christmas. Every year, the channel releases more and more original Christmas movies. In 2019 alone, they released 40 new films for the holiday season. But, of course, not all of Hallmark Channel's projects are Christmas-related.
Suffice it to say, the actors who make Hallmark Channel movies so incredible are practically TV royalty. And, as avid Hallmark viewers know, certain actors appear in one (or more) movies every year. These actors know their way around a Hallmark movie set, but they also probably look pretty familiar. The thing is, most Hallmark Channel actors were pretty famous before appearing on the channel's films, and you might be surprised to see how many once appeared in blockbuster hits or teen dramas.
Hallmark Channel's Jessica Lowndes probably looks pretty familiar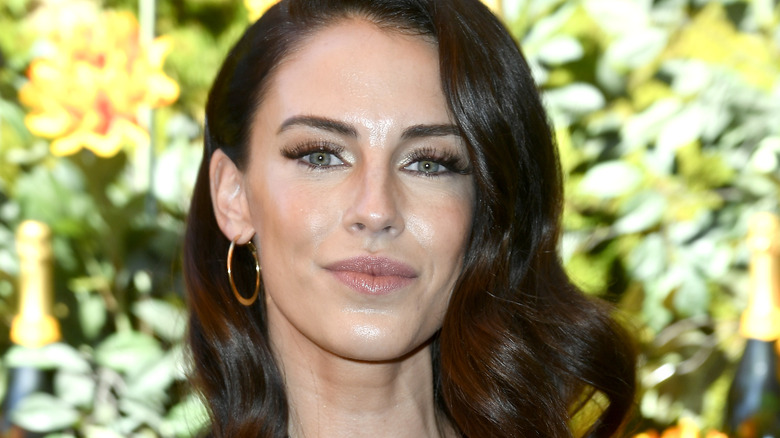 Hallmark Channel fans may see Jessica Lowndes as a familiar face. The star is most well-known for her role as Adrianna Tate-Duncan in the hit teen drama "90210." Additionally, Lowndes appeared in "Greek," another young adult show focused on the highs and lows of Greek life at college. Lowndes has also had a go at a singing career, as the actress has quite a lovely voice. Now, though, Lowndes is perfectly happy on the Hallmark Channel.
"I love filming Christmas movies," she told Hallmark's "Home and Family." "There's nothing like it. You can't not smile when you're watching these films." Though Lowndes has played many roles over the years of her acting career, her Hallmark Channel movies, such as "Christmas at Pemberley Manor" and "A December Bride," showcase all the joy of the holiday season in a way only Lowndes (and Hallmark) can pull off.
Chad Michael Murray used to be a teen drama heartthrob
Perhaps one of the more surprising actors who has appeared on the Hallmark Channel is Chad Michael Murray. After all, it doesn't seem all that long ago that Murray was a teenage heartthrob, starring in teen-focused projects like "Gilmore Girls," "One Tree Hill," "A Cinderella Story," and "Freaky Friday." In fact, Murray also later appeared on the teen drama "Riverdale," proving once and for all that he truly is the reigning king of teenage dramas.
However, Murray began to take his talents to the Hallmark Channel in 2018, starring in "The Wise Men", according to Entertainment Weekly. Then, in 2019, Murray, who'd notably starred in "Agent Carter" in 2015, came back to the Hallmark Channel to star in "Write Before Christmas," alongside one of his former "One Tree Hill" castmates, Torrey DeVitto. Though fans may be surprised to see Murray in Hallmark Channel movies like "The Beach House," there's no denying the fact that the talented actor has found his niche.
Jodie Sweetin feels 'at home' on set
Fans of "Full House" will certainly recognize Jodie Sweetin. Sweetin starred alongside Candace Cameron Bure and the Olsen twins as Stephanie Tanner in the hit sitcom, which aired from 1987 to 1995. "Full House" was definitely a big part of Sweetin's life, and, as she explained in her memoir, "Unsweetined," she struggled with addiction after the show ended (via Today). However, Sweetin is now sober, and she's continued acting.
"I never feel more at home than I do when I'm on set," she told "Today." "I always loved it and I still love it." However, Sweetin has admitted that acting isn't always easy. "This is a business where you have to be willing to give everything," she continued. Still, acting has definitely been a huge part of Sweetin's life, and the Hallmark Channel has often been a place for her to call home, as she's starred in the likes of "Entertaining Christmas" and "Merry & Bright."
Andrew Walker said the Hallmark Channel doesn't 'hire fools'
Whether or not you're a big fan of Hallmark Channel movies, you've probably seen Andrew Walker in something. The actor has been appearing in movies and television shows since 1994. Walker has appeared in popular shows like "Sabrina, the Teenage Witch," "Reba," and "The Big Bang Theory." Still, as impressive as Walker's resume is, he's spent a lot of his time working with the Hallmark Channel, starring in the likes of "A Bride for Christmas," "The Perfect Catch," and "My Secret Valentine."
In an interview with "My Devotional Thoughts," Walker explained why he loved working on the Hallmark Channel so much. "You know, with Hallmark, I've been pretty fortunate," he said. "But that's the thing with Hallmark. … Hallmark is very discriminating about who they hire, and they just don't hire fools or jerks. And it always seems to work out. They always try to hire people as much as possible who are compatible with each other."
Walker is at home on the Hallmark Channel, and, for that, his fans are very thankful.
Candace Cameron Bure is the Hallmark Channel's 'Queen of Christmas' for a reason
If you turn on the Hallmark Channel on any given day after Halloween, chances are you'll spot Candace Cameron Bure. There's a reason the actor is known as the "Queen of Christmas," and it isn't just because Bure is full of Christmas spirit. Bure has starred in a Hallmark Channel Christmas movie every year since 2013, and we don't see things changing anytime soon. She's also done other projects for the network like the "Aurora Teagarden Mysteries" movies — one of many Hallmark Channel movies that are worth your time.
However, Bure had a career long before her first Hallmark Channel Christmas movie debut. Bure has been acting since she was a child, appearing in the television show "St. Elsewhere" as Megan White. Then, of course, Bure landed her long-running stint as part of the cast of "Full House," which is still Bure's most well-known gig.
Of course, Bure has had plenty of other roles, but it seems the actor feels most at home in a Hallmark Christmas movie. In an interview with Good Housekeeping in 2019, Bure explained that the payoff for a Hallmark Christmas movie was incredible. "After a movie comes out, especially last year's 'A Shoe Addict's Christmas,' I get story after story after story from fans about how these feel-good stories inspire them into action," she said.
Cameron Mathison said a Hallmark movie 'saved [his] life'
If there is one man who totally and completely embodies the Hallmark Channel, it's Cameron Mathison. Mathison is best known for his role as Ryan Lavery on the soap opera "All My Children," on which he starred from 1998 to 2011. However, in 2013, Mathison took his talents to the Hallmark Channel, acting as host of the network's talk show "Home & Family." In addition to that, Mathison has starred in a number of Hallmark Channel originals, including the "Murder, She Baked" movie series.
As many Hallmark movies as Mathison has appeared in, though, "The Christmas Club" definitely seems to be special to him. The film is all about "following the signs and really paying attention and being mindful," Mathison told Entertainment Tonight. "I came off this movie [thinking], 'I'm not going to ignore this anymore,'" he said. "That's what inspired me to go get a doctor's recommendation to get an MRI." Mathison was diagnosed with kidney cancer and has since had surgery and is cancer-free, but he says he owes it all to the Hallmark movie. "It saved my life," Cameron explained. "See? These Hallmark Christmas movies are more powerful than you know." He's not wrong.
Hallmark Channel actor Lacey Chabert is 'Christmas obsessed'
For many people, Lacey Chabert will forever be Gretchen Wieners from "Mean Girls." The movie and Chabert's role in it was (and still is) iconic. To this day, there is a literal "Mean Girls Day" when quotes from the movie are used even more than usual. Of course, Chabert has moved on from her "Mean Girls" days, and even the most devoted Hallmark fan might be surprised to know that Chabert has developed quite a hefty resume. The actress has lent her voice to a number of projects such as "The Wild Thornberrys," "Family Guy," and more. She's also starred in a number of Hallmark movies like "Crossword Mysteries: Proposing Murder" and "Love, Romance, & Chocolate."
Still, Chabert truly enjoys working on Hallmark Channel Christmas movies especially, like "Pride, Prejudice and Mistletoe." In an interview with Yahoo! Lifestyle, the former "Party of Five" star explained, "I genuinely love Christmas and anyone who knows me knows that I'm pretty Christmas obsessed." She continued, "I like to draw it out as long as possible, so it makes sense that I would enjoy making these movies." No matter what part she's playing Chabert definitely has a love for Hallmark Channel, and especially Hallmark Channel Christmas movies. Really, who could blame her?
Hallmark Channel actor Jordan Bridges is a made-for-TV regular
As far as Hallmark Channel actors are concerned, Jordan Bridges is certainly one of the more low-key actors for the network. However, that isn't to say that Bridges isn't a successful actor. In fact, the opposite is true, as Bridges has actually been starring in made-for-TV movies since he was 5 years old, when he appeared in the movie "The Kid From Nowhere." That movie was directed by his dad, Beau Bridges, according to the Hallmark Channel.
As he got older, Bridges continued to act and has been in such projects as "Drive Me Crazy," "Charmed," and "Dawson's Creek," among many others. When Bridges started appearing on the Hallmark Channel, it was a picture-perfect fit. His first Hallmark Channel Christmas movie was the classic "Holiday Engagement." Since then, Bridges has become a regular for the network, and he definitely seems to enjoy working for the channel making heartwarming films like "Christmas at Holly Lodge."
Danica McKeller has a degree in mathematics
Danica McKeller is practically Hallmark Channel royalty, and that's for good reason. The actress, who's starred in popular television shows like "How I Met Your Mother" and "The West Wing," has appeared in multiple Hallmark Channel movies, though, of course, McKeller's most notable role was as Winnie Cooper in "The Wonder Years." But McKeller is more than an actress, as she graduated summa cum laude from UCLA with a degree in mathematics, according to CNBC, and she's authored several books geared to getting young girls interested in math.
But overall, McKeller loves getting to work with Hallmark Channel. In an interview with CNBC, McKeller explained why she was drawn to the network. "We need a break," she said. "We need to reconnect with core values and remember connection with family, and the importance of that, and the holidays are a great time for that and Hallmark is a great place for that." McKeller is definitely a multi-talented woman, and her roles in Hallmark Channel projects like "Coming Home for Christmas" and "Wedding Bells" are just part of what makes her so incredible.
Alexa PenaVega is living her best life as a Hallmark Channel actor
It's no secret that the Hallmark Channel is full of former child stars, and Alexa PenaVega is no exception. PenaVega is perhaps most well-known as Carmen Cortez from "Spy Kids," but the actor has also starred in plenty of other projects like "Sleepover," and she has even competed on "Dancing With the Stars" alongside her husband, Carlos PenaVega (via ABC News).
"Dancing With the Stars" wasn't the last time PenaVega got to work with her husband. In fact, the pair have starred in more than one Hallmark Channel movie together, including the "Picture Perfect Mysteries" series and 2016's "Love At Sea." Speaking to TV Insider about how lucky she felt to get to work with her husband, PenaVega explained, "I love working with my husband." She continued, "We really know what each other's limits are and we can be way more playful. I think that there's something to be said that's really special about getting to work with your spouse."
It's safe to say that PenaVega enjoys working with Hallmark Channel, and she will probably continue putting out original movies alongside her hubby.
Hallmark Channel actor Sam Page is one busy man
Fans of Freeform's "The Bold Type" will recognize Sam Page as the handsome and charming Richard Hunter. Page has also appeared in "House of Cards," "Mad Men," and "Gossip Girl." Page has definitely had a whirlwind of a career, but that hasn't stopped him from appearing in quite a few Hallmark Channel movies, including "Royal New Year's Eve" and "All Things Valentine," where he also has some pull.
In fact, the movie "The Perfect Christmas Present" was presented to Page before it was brought up to Hallmark Channel. In an interview with TV Goodness, Page explained how he was able to turn the film into a Hallmark Channel classic. "I thought it was a really charming script," he said. "I suggested [they] give Hallmark first shot at purchasing this because it's really up their alley. [I told them], 'I've had really good experiences with them. I think this is the right place for it to end up,' and sure enough, it did."
As such a busy man, it's incredible how Page has managed to accomplish so much, but he makes it look easy.
Alicia Witt has starred in some dark projects
Alicia Witt is a super familiar face and not just among Hallmark Channel fans. The actress has appeared in plenty of successful television shows, which is partly why she loves her time with the Hallmark Channel so much — especially when she gets to shoot a Christmas movie. Witt has worked on some pretty intense shows, such as "The Walking Dead," "Nashville," and "Friday Night Lights." Because of that, being in a Hallmark Channel movie like "A Very Merry Mix-Up" and "I'm Not Ready for Christmas" is almost like a form of stress-relief for Witt.
"It's fun to come out with a movie where every day you have a happy ending and it's a sweet love story [or] family story," she told Glamour. "I just spent the last week in winter clothes and people I really enjoy working with and Christmas lights everywhere and snow and gingerbread cookies and vegan eggnog. There's very little heaviness on my psyche right now." Witt isn't lacking in the talent department, and her work on the Hallmark channel is what warm and fuzzy thoughts are made of.
Jesse Metcalfe was a TV bad boy before his Hallmark Channel days
Many people will recognize Jesse Metcalfe as the attractive young gardener from "Desperate Housewives." Of course, Metcalfe has had plenty more roles since then, including when he played yet another hot bad boy in "John Tucker Must Die." But starting in 2015, Metcalfe has been acting in Hallmark Channel original movies like "Christmas Next Door" and "Christmas Under the Stars," and he's found a home there. Notably, Metcalfe also appeared in "Chesapeake Shores," one of Hallmark Channel's successful shows. And it doesn't seem like Metcalfe has any intention of slowing down any time soon.
"I've been on quite a journey, to say the least," Metcalfe told Entertainment Tonight in a 2018 interview. "I've worked consistently for the last 20 years; not many people can say that. But of course, I want more. I feel like I've really only scratched the surface in the last 20 years of what I can do." For Metcalfe, that means producing or directing. In 2020, he worked as a producer for the movie "Cover Me" and the Hallmark series "Martha's Vineyard Mysteries."
Ashley Williams hopes to work with her famous sister in future Hallmark Channel movies
Another hugely successful Hallmark Channel actress, Ashley Williams, has definitely been in plenty of films on the network, such as "Northern Lights of Christmas" and "Christmas in Evergreen." On top of that, Williams is likely recognizable from her role as Victoria on the hit series "How I Met Your Mother." However, Williams definitely seems to be happy on the Hallmark Channel, and who could blame her?
In 2018, Williams shared her plans to one day work on film on the Hallmark Channel with her sister Kimberly Williams Paisley (Brad Paisley's wife), as she'd told International Business Times that they were working on developing two made-for-TV Christmas movies together. "It's just so funny that we haven't yet [made a Hallmark movie together] and it's strange, but I bet once we start, we won't be able to stop," Paisley told the publication. Fortunately, the sisters were able to make that dream a reality. In 2021, the two starred together in two Hallmark holiday movies: "Sister Swap: A Hometown Holiday" and "Sister Swap: Christmas in the City."
The Williams sisters have a strong bond, as Williams told Country Living that her sister inspired her to become a doula, something she has accomplished on top of having two children.