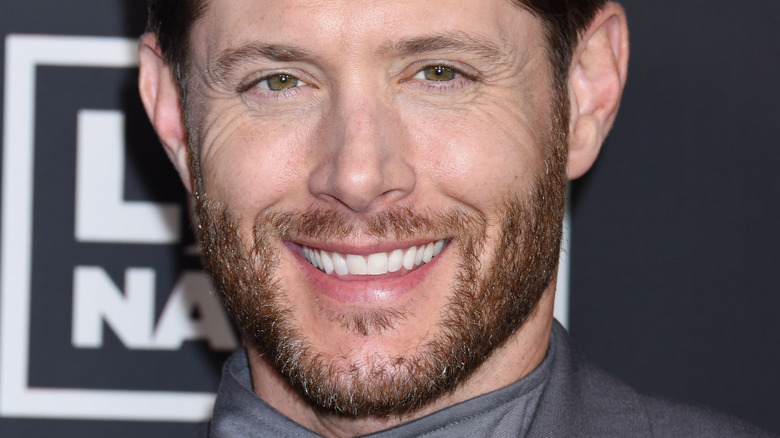 Jensen Ackles is one of those actors people love no matter what they see him in. He's naturally charming and incredibly talented, which is why he's been stealing away fans' attention for over 25 years. Ackles has starred in several hit television series, so there are plenty of fans who adore the man, whether they first met him in "Days of Our Lives," "Dark Angel," "Supernatural," or any of the movies, video games, or television series he's been in over the years.
Ackles has been working since he graduated high school, and he's managed to spread his talents across a few platforms. In addition to acting, he's provided his voice to several video games and animated characters. Additionally, he's got his own production company, spent time as a model, and co-owns a brewery. The man has his finger in many pies, which has helped him build up a rather sizable mound of cash.
Ackles' ability to dominate in anything he does pretty much guarantees he will never go hungry, and there's a good chance he won't be hurting for work anytime soon. His massive following all but guarantees he will continue working and building his fortune. As his various acquisitions, purchases, and property mature, he stands to rake in a lot of cash. While he isn't the highest-paid actor working on television, he's acquired a great deal of money, which Celebrity Net Worth estimates to be around $14 million.
He started working in entertainment at an early age
Jensen Ackles was born in Dallas, Texas, and he continues to show pride in his Texas heritage to this day. He had a relatively normal upbringing, though his father, Alan Ackles, worked as an actor throughout his childhood. Alan's credits include series like "Dallas" and "Walker, Texas Ranger," but later in life, he managed to work alongside his son in two episodes of "Supernatural" as Detective Pike, and he provided the voice for a newscaster.
Jensen described his upbringing in an interview with SFX when asked about his portrayal of Soldier Boy on "The Boys." He described a childhood filled with toxic masculinity, saying, "It's just what we were taught. You stand up, you dust it off, and you be a man about it, not really knowing the implications that might have on a person. That's just how I was taught and how my dad was taught." He used those experiences to craft his character in "The Boys."
Jensen's family life was relatively normal, and his family was of modest means. He began working as a model for department stores at an early age, so he started padding his net worth far earlier than most. Still, it's unlikely he earned much during this time, and there's no data indicating his salary from modeling. Like most kids, he didn't hit it big as a child and had to wait to get some acting work before he started making the big bucks, though this would take some time.
He was in several prominent series before Supernatural
As soon as he graduated from high school, Jensen Ackles packed up and moved to Los Angeles to pursue a career in acting, and he was successful quickly. Most fans of Ackles likely discovered him through "Supernatural," but that's not the only credit on the man's IMDb. Before landing that role, he scored numerous parts in television series, including a recurring role on "Mr. Rhodes." That led him to the world of soap operas because as soon as he left that series, he landed the role of Eric Brady on "Days of Our Lives."
Ackles appeared on the series for three years, showing up in nearly 450 episodes. Ironically, he often made fun of soaps when he was a kid, according to Texas Monthly. It's unclear how much he was paid for his three-year contract, but there are estimates. According to Live About, Ackles likely made somewhere between $700 to $1,500 per episode. A conservative estimate of his time on the show estimates he pocketed $313,600 playing Eric Brady.
After leaving "Days," Ackles nabbed a recurring role on "Dark Angel" for season two, playing Ben/X5-493 and Alec McDowell/X5-494. He also played C.J. Braxton on "Dawson's Creek" and Jason Teague throughout season four of "Smallville." His salaries from these appearances are unknown, but Backstage estimates suggest he could have earned between $301,840 and $482,944 between 2001 and 2005. Of course, these are estimates, so he could have made significantly more or less.
He spent 15 years of his life playing Dean Winchester
Jensen Ackles landed his career-defining role of Dean Winchester in 2005, and he'd play the character on "Supernatural" until 2020. That's a long time for any actor to play the same character, but Ackles loved it. Initially, he was asked to read for the role of Sam Winchester, but Dean caught his eye. It's a good thing, too, because playing Dean kept Ackles busy for 15 years, which amounted to a lot of money coming into his bank account.
There's not a lot of information regarding Ackles' salary on "Supernatural" other than a single number: $175,000. That's how much he was paid per episode, according to a 2016 article from Variety. While that isn't an unusual amount for a series lead on a major series, it's unlikely he earned that much in the beginning. Ackles' salary in the last four seasons of "Supernatural" was probably $175,000 per episode, but that amount was likely the result of numerous contracts and salary negotiations.
If the number is accurate from beginning to end, that would mean Ackles' entire salary from playing Dean Winchester for 15 seasons amounts to $57,225,000. While not entirely out of the realm of possibility, it's doubtful he pocketed that much money from the show. He likely made $175,000 for seasons 12 through 15, totaling $15,050,000 for 86 episodes, but earlier seasons undoubtedly brought him less money for most of the show's run.
He hit the ground running when Supernatural ended
"Supernatural" was undoubtedly a big part of Jensen Ackles' life for nearly two decades, so he'd be forgiven for taking some time off when it ended. That's somewhat what he did, but not in the way you might expect. Instead of jumping in front of the camera on a new series, Ackles opted to lend his voice to one of the most famous characters in popular culture: Batman.
Yes, Jensen Ackles has played Batman, but only in animated form, though he put the costume on in 2019 as a bit of a tease to his fans. It's one of many characters he's played for Warner Bros., and he even auditioned to play Clark Kent on "Smallville." While that didn't work out, he got to play the Caped Crusader in 2021's "Batman: The Long Halloween." The film was divided into two parts, and while his salary hasn't been published, he was likely paid more than he earned voicing the lead in "Batman: Under the Red Hood."
Another important role Ackles landed after leaving "Smallville" was Soldier Boy on the third season of "The Boys." He played the character's toxic masculinity to perfection and was a major standout in the season. He was also set to play U.S. Marshal Wood Helm in "Rust" alongside Alec Baldwin, but the film was suspended following the fatal on-set shooting death of cinematographer Halyna Hutchins. The Hollywood Reporter interviewed producer Anjul Nigam, who said the film would be completed.
He's tried his hand at directing
Jensen Ackles' reported salary for "Supernatural" is documented all over the Internet, while his co-star, Jared Padalecki, was paid a different amount. According to Celebrity Net Worth, Padalecki earned $125,000 per episode, putting him $50,000 behind Ackles. At first glance, this doesn't make any sense, as both actors played a lead role in the series and should have been compensated the same.
While contract negotiations sometimes lead to a pay gap between stars, that's not what happened with "Supernatural." According to The Things, the difference in salaries is likely due to Ackles' secondary role in the series as a director. Between 2010 and 2019, Ackles directed six episodes, and he would have had to be compensated for that work in addition to his regular salary.
It's possible Ackles' salary from 2016-2020 reflected his directing work, but this has never been confirmed. Unfortunately, this is all speculation, and there hasn't been any confirmation regarding the stars' salaries or a possible pay gap. Incidentally, Ackles also directed the episode" No Such Thing as Fair Play" for season two of "Walker." The series stars Jared Padalecki as the titular lead, so Ackles and Padalecki's working relationship continued years after "Supernatural" ended.
He's married to a Supernatural co-star
Jensen and Daneel Ackles (previously Harris, née Graul) met while working in Hollywood, but they didn't get together immediately. Daneel was dating someone else at the time, while Jensen was dating one starlet after another. Then, in 2007, the two starred in "Ten Inch Hero," which is one of Jensen's favorite projects because he fell in love with Daneel during the shoot. They began dating in secret during this time, as they both prefer to keep their private lives away from the paparazzi.
After a few years of dating, the couple got engaged, and six months later, they were married. They welcomed their daughter J.J. (Justice Jay) three years later, but the couple wasn't done with one child. Three years after J.J. was born, she was joined by twins, a boy, Zeppelin Bram, and a girl, Arrow Rhodes. While the family does prefer privacy, the Ackles often post pictures of what appears to be a happy family.
Daneel has been actively working in Hollywood since 1999, so she's built a career of her own. According to Variety, she landed a recurring role on "Supernatural," beginning in the 13th season, but she's probably best known for her work on "One Life to Live" and "One Tree Hill." Like her husband, she's accumulated a sizable net worth over the years. According to Popular Networth, Daneel Ackles has acquired around $3 million since beginning her acting career. Combining both actors' net worth puts the family savings at around $17 million.
He's got his own production company
Like many successful actors, Jensen Ackles has formed a production studio. Unlike most actors who do this, he created the company with his wife, Daneel, with the partnership of a major studio. According to Variety, the company, Chaos Machine Productions, launched with a hefty multi-year contract with Warner Bros. Television Group. When the deal was done, Ackles released a statement: "Warner Bros. has been my home for the better part of two decades … Danneel and I are thrilled for the opportunity to continue to grow as artists and now as a producer under the mentorship and guidance of Peter Roth and the whole WBTV team."
The most significant development of the deal is the "Supernatural" prequel series, "The Winchesters." According to Deadline, the series was developed in part by Ackles and has him and Daneel on as executive producers through their company. Ackles is also set to narrate the series, which will see a return of Daneel in the role of Sister Jo/Annael. "The Winchesters" focuses on the "family business," with the focus shifted a generation to John and Mary Winchester.
Unfortunately, there's no financial data available regarding how much money Chaos Machine Productions pulls in for the Ackles family. Jensen posted a video in early 2021 explaining the company and what's on the horizon, including five projects that were in the works.
He doesn't endorse much of anything
It's not unusual for a celebrity of Jensen Ackles' stature to take on numerous endorsement contracts to help beef up their income. Whether they become a spokesperson for a brand or show up in commercials, you can usually expect a celeb to pop up somewhere endorsing something. Ackles is one of the exceptions to that rule, as it's incredibly rare for him to endorse anything in a commercial or post online.
There's not a single TV spot out there of Jensen Ackles hocking anything for sale. It's not something he's interested in doing, and given his sizable net worth, it's not something he needs to do. That said, he has appeared in numerous PSAs that support causes he's interested in, including safe driving. Ackles partnered with the Texas Department of Transportation in 2018 to promote a law against distracted driving in the state.
Ackles and Jared Padalecki appeared in a similar commercial in 2013 against texting and driving, so it's important to him. Still, the man doesn't endorse much outside of a good movie or television series he enjoys. In one tweet, the actor praised "The Houses October Built 2" by saying, "I will rarely ever endorse anything." Still, according to Celebrity Net Worth, Ackles appeared in TV commercials for Walmart, Nabisco, and RadioShack when he was a kid. It's unlikely he built up much of a fortune with that work, so endorsements don't make up a large chunk of his net worth.
He sings and writes music
While it doesn't get much attention due to his acting career, Jensen Ackles is a talented singer. According to Entertainment Weekly, Ackles joined forces with Steve Carlson in 2018 to form Radio Company. The duo had been writing and performing music together for 15 years before making it official. Radio Company released its first studio album in November 2019. The album, "Radio Company Vol 1," consists of ten original songs co-written by the pair.
The single, "Sounds of Someday," ties in to the album and was released the previous month during an episode of "Supernatural." The album spent a couple of weeks on the Billboard Heatseekers Albums' #1 slot while simultaneously reaching 315,000 streams. While Ackles' fans may not know Carlson, he's been a big part of Ackles' life for over 15 years. The two lived together in Los Angeles at the beginning of Ackles' career, and before long, they wrote music together. Their music inspired the title of the 2014 documentary "Different Town," which was written and co-directed by Carlson.
The duo continued working after their debut album, and in 2021, "Radio Company Vol 2" was released with two accompanying singles. Ackles doesn't limit his singing to studio albums; he's performed in front of cheering crowds for years. In fact, he's performed alongside his "Supernatural" co-stars on stage in front of his fans.
He co-owns the Family Business Beer Company in Texas
Acting, singing, producing, and directing aren't enough to keep Jensen Ackles busy, so he's diversified his interests. In 2017, he and his wife opened the Family Business Beer Company. The brewery is west of Austin in Dripping Springs, Texas. The Ackles co-own the brewery with Daneel's parents, Ed and Debby, and Gino Graul, who is Jensen's brother-in-law and the general manager. The brewery is open to the public, serves food and beer at the taphouse, and you can often find "Baby" out front (the car from "Supernatural").
That's not the only connection to the show — the brewery's name is a nod to "Supernatural's" slogan: "Saving people, hunting things, and the family business." While it's unclear how much the Ackles and Grauls spent building the 15-acre brewery, some figures are available. The Richest estimates the cost to be $1.25 million in July 2017, though it's unclear where the number came from or if that was the total cost or Ackles' share.
Regardless of what he spent, the brewery must be doing well because there are plans for a second location. The brewery was already working on expanding in October 2018 when it released a statement regarding a new location. The new spot was going to be at the St. Elmo Public Market in south Austin, but Eater Austin revealed in 2021 that the plan had changed. The brewery will still open a second location in Austin, though the details haven't been revealed as of mid-2022.
He's got a decent real estate portfolio
Jensen Ackles has been actively working in Hollywood since the late 1990s and has lived in many different places throughout his career. Granted, he probably wouldn't call all of them "home," but there are a few he's invested a great deal of his time and money in. His first place in California's Studio City was a modest starter home, which he purchased for $645,000 in 2003 and sold a decade later for $700,000 (via Trulia Luxe Living).
Ackles also owned a home in Brentwood measuring 3,554 square feet, which he purchased in 2009 for $2.435 million. According to South Florida Sun-Sentinel, he sold it in 2013 for $3 million, pocketing over half a million in profit. Jensen and Daneel owned a home in Malibu, which they purchased in 2012 for $4.8 million. They sold that 5,940 square foot property in 2015 for $6.5 million, taking in $1.7 million in profit. The couple then set their sights on the Lone Star State.
In 2014, the Ackles family purchased a 7,500-square-foot home in Austin, Texas, which they opened for a tour with Architectural Digest in 2018. The property sits on the Colorado River and wasn't for sale when it caught the couple's eyes, and they negotiated with the owner and bought what appears to be their dream home. The purchase price isn't available to the public, but Zillow's Zestimate in July 2022 valued the property at $10,451,200.
He donates a lot of time and money to charitable causes
Jensen Ackles has made a lot of money throughout his career, but he hasn't hoarded it all in a vault like Scrooge McDuck. Like many celebrities with more money than they know what to do with, Ackles has donated a lot to charities. He also gives his time to support numerous causes he's passionate about, including the many PSAs he's done for distracted driver awareness programs.
The family established the Baby Ackles Gift campaign with Fundly, asking fans to donate money to Hats Off For Cancer. They did this when their daughter was born, asking for donations in lieu of gifts. They kept it going on Jensen's birthday and again on Daneel's. Those campaigns have ended, but Ackles' support didn't stop. He's supported several charities over the years, including the Alzheimer's Association, the American Cancer Society, and Operation Smile, which provides free reconstructive surgery to children born with facial deformities.
While it's known what charities Ackles supports, there's no information concerning the amount of money he's personally donated. Still, the Ackles family actively supports charities and launches fundraisers. In 2018, the couple partnered with SoulCycle to support Random Acts and Out Youth via a workout party. Also in 2018, he partnered with his pals from "Supernatural" for the "Bad Idea Tour," which supported Random Acts' Endure 4 Kindness via the running of the Seattle Marathon. That venture raised more than a quarter million for the cause, and it's one of many examples of Jensen Ackles' charitable nature.