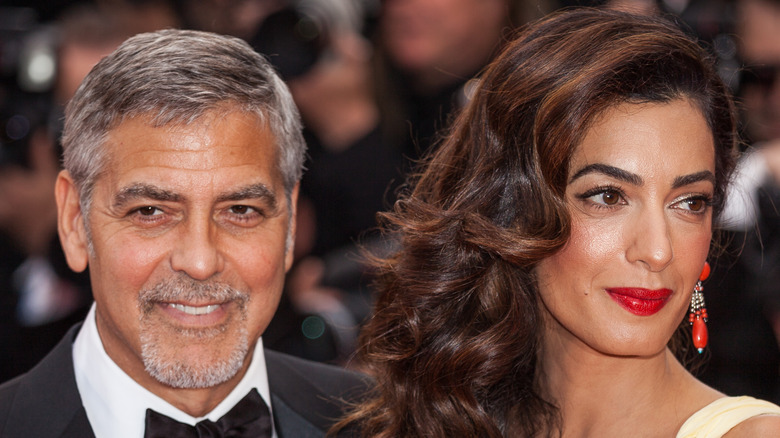 George Clooney was once regarded as the ultimate bachelor (per The Atlantic). Today, he's the ultimate family man. It took Amal Alamuddin to make the change in Clooney's life. The two were first introduced by a mutual friend at a fundraiser in September 2013 (per Elle). The next year proved to be a transformative one for the actor and the barrister. By September 2014, they were making their public debut as an engaged couple at the Celebrity Fight Night charity event in Tuscany. They married in Italy just weeks later.
Clooney revealed in an appearance on Marc Maron's podcast that, one year into their marriage, he and his wife came to the decision they wanted to have children. They had a conversation while visiting a friend who had a child and determined they should share some of the good fortune of their lives with others. The actor shared, "I have to say, it was very emotional, because I really was convinced that wasn't my lot in life and was comfortable with that."
Of course, George and Amal Clooney would go on to welcome twins Ella and Alexander. And as parents, the Clooneys have balanced their desire to gush over their kids with their desire for them to lead private lives. That's left many fans curious about what's going on with George and Amal Clooney's twins.
George and Amal Clooney welcomed twins in June 2017
Julie Chen was the first to confirm the news that George and Amal Clooney were expecting, during an episode of "The Talk" (per Entertainment Tonight). There was tabloid speculation that Amal was pregnant, but Chen was first to note that they would be welcoming twins in June 2017.
The Clooneys welcomed Ella and Alexander Clooney on June 6, 2017 (per The Guardian). In the months after, George would start to reveal little snippets of his thoughts on life now that he was a father.
One of the first came in a cover story for The Hollywood Reporter, where he shot down rumors that they used fertility drugs to conceive twins. Many assumed that to be the case because the couple was having multiple children at what's considered an advanced age for pregnancy. Not only did George confirm the twins were conceived naturally, but he shared that they weren't planning on having twins and found out together at a sonogram appointment.
Ella and Alexander's unique personalities started to shine through early on
With two dynamic parents like George and Amal Clooney, there's an understandable curiosity about what their kids are like. The Clooneys opt to keep their children's lives out of the spotlight. They do, however, share stories from their experiences as parents.
The twins were nearly 2 years old when George revealed to "Today" that the twins were already little jokesters. "They're happy kids. They laugh a lot. They do pranks already," he told Savannah Guthrie. "They put peanut butter on their shoes, so that it looks like poo-poo on their shoes and stuff. They think that's funny."
As they've gotten older, Ella and Alexander are growing into their individual interests and identities. "Alexander loves to laugh and Ella's very serious, always making sure everybody plays by the rules," he shared in a December 2021 interview with The Guardian. "They really are born with their personalities!"
George and Amal prioritize being hands-on parents
In December 2021, George Clooney also made it known that he and wife Amal only have a single part-time nanny for twins Ella and Alexander. He explained that he and Amal have opted to prioritize hands-on parenting. "We don't [have multiple nannies], because it's so important to Amal [to be involved]. We have a nanny four days a week and the rest of the time it's just us," he told The Guardian. "And during lockdown it was just us — for a full year! I felt like my mother in 1964, doing dishes and six loads of laundry a day."
Clooney's comments didn't land well with everyone. There was backlash following the interview as many readers pointed out that most parents were responsible for their own children without help before the pandemic and that it's only gotten harder since. Many argued that the comments showed a degree of privilege and unawareness (per The Independent). Still, regardless of how people felt about what he said, it's clear he and Amal take good care of their kids.
The twins have forced their parents to slow down a little
George and Amal Clooney were both known for following busy schedules and giving a lot of their time to various causes. These days, however, the couple is more conscious of what they give time to. For example, while they continue to work with organizations aimed at a variety of causes, they no longer travel to dangerous corners of the world for their activism. "We decided to be much more responsible, to avoid danger," the actor told Paris Match. "I will no longer go to South Sudan and the Congo, Amal will no longer go to Iraq and she will avoid places where she knows she is not welcome."
Additionally, the couple agreed upon dedicating more time toward family and less toward work, because they are fortunate enough to not need to work at the level they do. "It doesn't mean she's going to stop taking the cases that she wants, it just means she's not going to take six," he explained on comedian Marc Maron's podcast, "WTF with Marc Maron." "And I'm not going to do four jobs a year, I'm going to do one. We're going to spend time with our kids and we're gonna travel again."
George and Amal Clooney's twins have already surpassed their parents with one impressive skill
George and Amal Clooney live around the world — in the United States, Italy, and the U.K. (per The Express), so there's no arguing that twins Ella and Alexander are growing up with a very unique way of life.
Fortunately for them, their situation has put them ahead of their parents when it comes to one important and impressive skill. "We did a really dumb thing which is we — they speak fluent Italian," George revealed on "Jimmy Kimmel Live!" in December 2020. "I mean, fluent Italian at 3, but I don't speak Italian. My wife doesn't speak Italian. … We've armed them with a language."
The skill will certainly be useful if the family decides to make Italy their home base. George and Amal Clooney's twins also have dual British and American nationality, so they could settle down in either country one day (per The Hollywood Reporter).
George Clooney asked the tabloids to let the twins grow up safely
Though George and Amal Clooney have been generous with the details of the children's lives, some people feel entitled to more. To that end, George has spoken out on a number of occasions about the invasion of his children's privacy.
One incident occurred when a French magazine published grainy paparazzi shots of Amal and the twins when they were just seven weeks old, taken from a tree outside their home. "Make no mistake the photographers, the agency and the magazine will be prosecuted to the full extent of the law." George said in a statement obtained, as reported by CNN. "The safety of our children demands it."
"We cannot protect our children if any publication puts their faces on their cover," Clooney explained in 2021 (per the Los Angeles Times). "We have never sold a picture of our kids, we are not on social media and never post pictures because to do so would put their lives in jeopardy. Not paranoid jeopardy but real world issues, with real world consequences." Clooney was referring to the fact that Amal's career puts the children in a certain degree of danger. As a human rights lawyer working with marginalized groups, she's spoken out against a number of dangerous figures and organizations in the past (per the Daily Mail). The idea that someone could target their children as retribution is a real one the couple live with daily, so their twins' safety and security is their No. 1 concern.