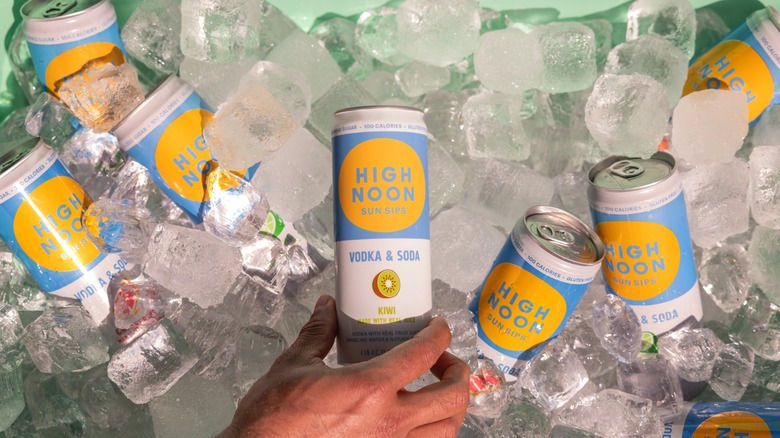 White Claw may have kicked off the massive craze for canned seltzers, but High Noon has carved out its own unique space in the seltzer market. High Noon's line of canned cocktails features real vodka and real fruit juice, 4.5% ABV, and is a light (and gluten-free) alternative to beer. In recent years, spiked seltzers and ready-to-drink canned cocktails have transformed the way people enjoy a drink. Now we can enjoy a margarita or a vodka soda by simply opening a can — a marvel of modern convenience.
Unlike many other hard seltzer brands, High Noon is made with vodka. It's sold in individual cases and variety packs in tons of flavors. There are staples like black cherry, grapefruit, mango, lime, and lemon that are popular flavors for many seltzer brands. High Noon also likes to mix things up with more innovative fruity flavors such as peach, pineapple, watermelon, passionfruit, kiwi, and guava (via High Noon).
The brand is extremely recognizable in the alcohol space even though it was launched only a few years ago, in 2019. There are plenty of distinct aspects of the brand that have led to its success. We decided to dive into everything that makes High Noon tick and why it continues to succeed in the crowded canned cocktail/hard seltzer market.
The brand initially set out to sell vodka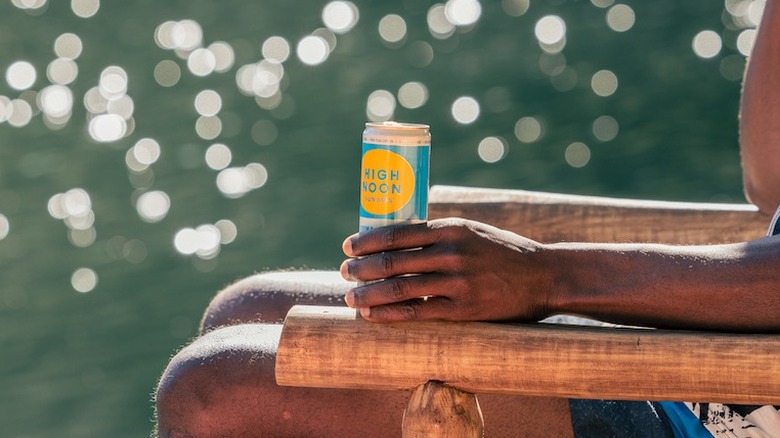 It's hard to imagine High Noon being known for anything other than spiked seltzers, but it wasn't the company's initial plan for the brand. High Noon's parent company E. & J. Gallo Winery initially wanted High Noon to be sold as 80-proof vodka. The high-ABV spirit was tested a year before High Noon cans launched in the marketplace. E. & J. Gallo first thought the vodka would be an offshoot of the company's popular vodka brand New Amsterdam.
However, E. & J. Gallo noticed the rising popularity of hard seltzer and realized it could quickly enter the market by tweaking its idea for a spirit and putting it into cans. "We had this perfect little gem called High Noon Vodka that was being used for the wrong thing," Britt West, the vice president and general manager of spirits for E. & J. Gallo Winery, told Wine Enthusiast. There was a misconception among customers that most canned seltzers contained real vodka even though most were made with fermented cane sugar or brewed malt. "If people think they are drinking vodka, give them vodka," West added. The vodka used in High Noon cans is distilled five times and created from Midwest corn from high-quality producers in the region (via High Noon Spirits).
High Noon was created by a seasoned liquor company
As previously mentioned, High Noon is a product of E. & J. Gallo Winery. The company has been around since 1933, but it might not be familiar to everyone. However, the spirits that E. & J. Gallo crafts and/or distributes are household names for barflies. E. & J. Gallo's portfolio includes spirit brands like New Amsterdam vodka/gin, Familia Camarena tequila, RumHaven, Diplomático Rum, and many more. In the wine sector, some of its notable lines include André, Maison No. 9, Dark Horse, Carlo Rossi, Barefoot, and more.
High Noon is the long-standing winery/spirit brand's first and only foray into the canned liquor sector. The canned vodka seltzers were launched in 2019 (via Wine Business). To get an idea of E. & J. Gallo's span of reach, Forbes reports that the company makes $5 billion in gross revenue, making it one of America's Top 100 largest private companies as of 2021. E. & J. Gallo Winery is headquartered in Modesto, California, but the products from the brand can be seen in bars and stores across the U.S. and well beyond.
High Noon's recipe stands out from the pack
High Noon's use of real vodka wasn't just a convenience for the company that had the 80-proof liquor on its hands already. It also set it apart from its spiked seltzer competitors. Although many people think that hard seltzers are made with hard liquor, most spiked seltzers like White Claw and Truly use alcohol brewed from malt or sugar in their cans.
Not only is it using real vodka, but High Noon also uses real juice, which Drizly's head of consumer insights Liza Paquette says is a major marketing draw to health-conscious customers (via BevAlc Insights). This also differentiates it from many of its competitors, as most hard seltzers are flavored with extracts and natural flavorings rather than juice. Additionally, it was one of the first cans to be described as both a hard seltzer and a ready-to-drink (RTD) canned cocktail, almost creating a distinct category in the middle all on its own. High Noon charges a bit more than malt liquor-based beverages, but Paquette says that consumers are willing to pay extra for a drink that includes high-quality and easily recognized ingredients on its label. Also, thanks to no added sugar, it's a light option that is easy to drink all night long without feeling sick or overly full.
The canned seltzers were popular from the start
Since its debut in 2019, High Noon has seen rapid success that is hard for most new businesses to fathom. The first year that they were sold to the public, the company expected to approach the launch as a test run. Instead, they were a massive hit that sold 600,000 cases that year and demand only kept rising. They quickly expanded to all 50 states during their first couple of years and the popularity of High Noons continued to soar (via Wine Enthusiast)
In 2020, when supply chain issues related to the pandemic were impacting virtually all facets of business, High Noon had to fly in aluminum cans to keep up with demand. The following summer of 2021, High Noon's business was up 316% from the previous year. Online booze retailer Drizly also acknowledged High Noon's rapid rise, particularly between 2020 and 2021. Drizly collected the Top 20 selling ready-to-drink canned cocktails during that time span, and High Noon variety packs and single-flavor cases took up seven spots total on the list (via BevAlc Insights). The RTD market has undoubtedly expanded, giving High Noon an army of competition that it didn't have to deal with in those early years. However, the drink has become as popular as your typical domestic beer, so it will likely remain a popular staple despite new brands of canned cocktails entering the refrigerator.
High Noon gained a massive following through social media
Part of High Noon's success is its visibility, so marketing is clearly important to the brand. It's common to see High Noon signs in liquor store windows or High Noon bright yellow umbrellas shading tables at bar patios. One of the biggest marketing pushes came in May 2020 when High Noon and Barstool Sports created a partnership. The partnership's announcement also brought about two new flavors, lime and peach. In the subsequent years, the two companies have gone on to expand their mutually-beneficial partnership (via PR Newswire). For example, High Noon is a sponsor of "The Dozen: Trivia Competition" show for Barstool, a weekly online trivia show.
The crossover between Barstool and High Noon even has its own fandom dubbed Nooners, which has a Twitter account with more than 10,000 followers. Barstool Sports also has an extensive merchandise and apparel line for Nooners, which features hats, t-shirts, beach gear, party gear, and more that celebrates the fandom. Outside of the partnership with Barstool, High Noon has a massive following all on its own, with more than 60,000 followers on Instagram.
High Noon embraces the virtual happy hour
High Noon hit its stride in popularity during the COVID-19 pandemic, so it had to get creative with ways to promote the brand that didn't include gathering at bars or parties. One innovation it made and continues to keep active is its branded backgrounds for video calls. High Noon is all about the virtual happy hour and decided to put its own spin on it with this creative marketing schtick. There are several backgrounds featuring the beverage, even a few moving video backgrounds that drop your image right onto a beach or into a pool with a frosty can of High Noon by your side.
Additionally, the brand got creative with its social media branding during the pandemic, opting for advertisements that promoted staying at home and enjoying High Noon in wide open spaces. Throughout 2020, High Noon's Instagram page was full of memes about staying home, spending time with loved ones on video chat, and being ready for the strange year to be over by the time 2021 rolled around.
The brand is always introducing new flavors
High Noon is always expanding its list of available flavors so that its customers don't get bored. For 2022, the brand introduced two new innovative flavors — guava and kiwi. The flavors are included in the limited edition High Noon Pool Pack alongside lime and peach, two of the brand's most popular flavors that have been around since 2020 (via Seltzer Nation). The kiwi flavor combines the tart, puckery essence of kiwi with an added sweetness to make it go down easy. The tropical vibes are strong in the guava can which is a warm pink color and oozing with notes of sweet and sour guava fruit.
High Noon also has introduced successful one-off flavors like lemon and pineapple, both of which offer a sweet and sour refreshment that is designed for drinking when the sun is shining. It seems like it's only a matter of time before the RTD brand has a flavor that is inspired by every fruit in the produce department of the grocery store.
High Noon is tough to compete with
High Noon wouldn't be so popular if the product didn't stand up to the hype. Thankfully, the taste really is the stand-out aspect of these cans. The real juice is always a winner regardless of the flavor. Additionally, the brand adds just the right amount of juice to make it full of flavor without being overly sweet. Unlike other hard seltzers that only have a hint of flavor, High Noon does its own thing. The Tasting Panel conducted a blind taste test and High Noon was the unanimous pick for the best-tasting hard seltzer in every flavor. Specifically, the grapefruit and watermelon flavors were major favorites. "There was no competition. High Noon possesses clarity and authenticity of flavor," Iris Rowlee, a professional beverage director who was on the panel said.
High Noon's rise dramatically shifted the seltzer market in general. Between 2020 and 2021, High Noon was the fastest-growing seltzer brand, rising to over 10% of the market. White Claw saw a steep decrease in its market share at the time, though it still dominates the seltzer space overall, capturing 45% of total sales (via BackBar). It's safe to say that High Noon is almost as familiar to the public as a mainstream beer brand like Budweiser or Corona, and it remains popular even after all of the initial hype has worn off.
High Noon's pool party attitude expands into apparel
Along with the Pool Party Pack, High Noon teamed up with Tropical Bros. apparel for a summer-inspired merch line that fans of the RTD must get their hands on. The line includes a Hawaiian shirt, swim trunks, and a one-piece swimsuit all in bright blue and adorned with the High Noon logo and relevant doodles. The apparel was directly inspired by the brand's 2022 Pool Party Pack release to reinforce the vibe High Noon hopes to radiate. If High Noon isn't your favorite drink, Tropical Bros. also sells Natural Light beer-themed apparel that still totally channels the easy, breezy summer attitude of the newer collaboration.
Each item of clothing from the High Noon x Tropical Bros. drop sells individually for about $50 and it's the ultimate way to show off your love for High Noons at every beach day, pool party, and other warm-weather even this summer and beyond. It's worth jumping on the bandwagon fast if you absolutely need a High Noon-branded bathing suit — this collaboration may only be available while supplies last (via PR Newswire).
High Noon is a super light alcohol option
Even though High Noon contains real vodka, it can be a misconception that one can will have you feeling the same level of tipsy that a regular vodka soda will. In fact, High Noon is actually a great low-alcohol option to keep you refreshed without giving you a hangover the next day (well, depending on how many cans you crush). High Noon only contains 4.5% ABV, which is much lower than your typical vodka soda or craft beer. Cutwater is another popular RTD canned cocktail brand, and the majority of its vodka-based offerings are 7% ABV or above (via Cutwater Spirits). Mixed drinks make it a bit more difficult to track the ABV as it depends on the type of liquor used and the volume of the glass. Rethinking Drinking estimates that your standard vodka tonic contains about 13.3% ABV per 6 fluid ounces.
Each can of High Noon only has 100 calories and about 2 carbs each, so it's a bit lighter on your waistline than beer. It's also a gluten-free option for people avoiding gluten but not looking to sip on wine or a mixed drink at the party. An 8 oz. vodka and lemon-lime soda contains about 125 calories, 15 grams of carbs, and 14 grams of sugar (via My Fitness Pal). It's clear that High Noon's lime flavor is the slightly more heath-conscious option, especially if you plan on enjoying more than one drink.
The most popular flavor might surprise you
Every High Noon fan has their favorite flavor. Here at Mashed, we have (somehow) narrowed down our three all-time favorite flavors to pineapple, peach, and grapefruit. Black cherry is one of those flavors every canned seltzer brand seems to have available at some point or another, even though the High Noon version wasn't even near the top of our list when ranking High Noon flavors from worst to best. Despite our feelings, black cherry is actually High Noon's best-selling flavor at major U.S.-based liquor retailer ABC Fine Wine & Spirits.
High Noon seems to laugh at itself for the polarizing black cherry flavor, posting a meme about black cherry on Instagram to create discourse among the brand's loyal customers. It's reported that black cherry is the most popular flavor of hard seltzers in general as of June 2021 and has been for three years (via The Spirit Business). Aside from black cherry, mango and lime are also two popular picks for hard seltzer drinkers. High Noon is clearly looking to diversify its offerings thanks to all the new flavor drops. It could only be a matter of time before black cherry is a forgotten relic, and everyone goes all-in for a trendier flavor of the moment.