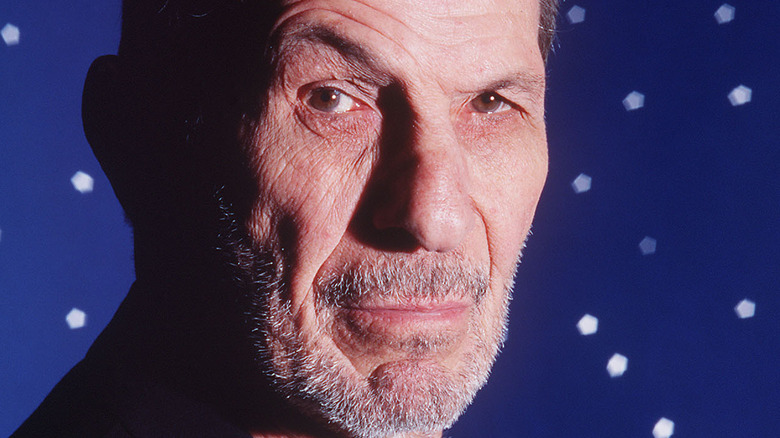 Generally speaking, "Never meet your heroes" is probably good advice to follow. It's easy to conflate a person with the character they play in a show or movie and graft onto that person all of their character's best attributes. But for Leonard Nimoy, who played Spock on the original "Star Trek," the man engendered even more real-life love from those around him than his character did from the general public. In "Star Trek II: The Wrath of Khan," William Shatner's Captain Kirk declared Spock "the most human" out of all the souls he'd met, and by all accounts, this was no exaggeration even of Nimoy himself.
During Nimoy's tenure on "Star Trek," he became almost indistinguishable from Spock and wrote about this in 1975's "I Am Not Spock." That's not to say he despised the character, but rather he disliked being typecast. As The Guardian describes, Nimoy came to not only accept Spock but also embrace him to the point where he wrote 1995's counter-book, "I Am Spock." And indeed, in retrospect, it's easy to see that Spock became beloved not because of his often-cited logic or half-human status but because of the warmth and compassion — perhaps ironic for a Vulcan — imbued into him by Nimoy himself.
Nimoy's death in 2015 provoked a massive outpouring of love and admiration, as cited by article after article on sites like CNET, NPR, and Today. And at the time, Nimoy himself had wisdom to impart on par with Spock's own.
The soul of a poet
To understand the words that Leonard Nimoy spoke at the end of his life, we've got to know his entire life. Leonard Simon Nimoy was born in 1931 in Boston to Jewish-Ukrainian immigrants, as the R. Michaelson Galleries states. His artistic tendencies were on display from a young age, and by age 8, he'd appeared in his first production, "Hansel and Gretel." From then all the way through adulthood, barring a two-year hiatus in the military, Nimoy pursued his dream of acting. By 18, he'd moved to Los Angeles; by 20, he'd landed his first lead role in "Kid Monk Baroni," and from there, he played in a variety of shows, films, and theater productions. "Star Trek" was his break-out role.
Nimoy's interests weren't only restricted to acting, however. He was a photographer whose work is still being auctioned (via Artnet). He was also a musician and spoken-word artist who released songs and narrative performances from 1967 to 2000 (per Discogs). Among these were works related to his Jewish heritage, such as "The Mysterious Golem" (1982) and "Jewish Stories from the Old World to the New" (1998). Most prominently, though, Nimoy was a writer and poet. Hello Poetry has samples of his works, which are quite touching and sensitive, such as "If Love Can Be." Nimoy also created the signature Vulcan neck-pinch because it was a less "archaic" alternative to violence, as he explains in an interview on YouTube.
Rescued from darkness
Leonard Nimoy was married twice in his life, first to Sandra Zober from 1954 to 1987 and then to Susan Bay from 1989 to the time of his death in 2015. Nimoy's divorce from Zober came at an especially hard time in his life, as the Orlando Sentinel describes. His father died that same year, and his mother six months later. He also felt guilty about leaving his marriage, no matter that it had deteriorated. As ABC News describes, following his divorce, he hit a low point where he was drinking and "getting high all the time." Unfortunately, this would go on to negatively impact his relationship with his son, director Adam Nimoy.
Like others who suffer, Nimoy passed through this difficult period and into happiness. Regarding his marriage to Susan Bay, People quotes him saying that he had "never met a woman like her, never had he loved anyone so dearly and passionately, that she'd saved his life and lifted him from darkness and unhappiness in ways he never thought possible." Bay was present when Nimoy died in 2015, as was his daughter, Julie Nimoy. At the time, as Heavy describes, Nimoy was in tremendous pain from chronic obstructive pulmonary disease (COPD) caused by 30-plus years of smoking. He eventually said that it was "time to go" and asked nurses to euthanize him. In the days leading up to this request, he asked to have one-on-one, private conversations with each family member.
The best he had to offer
Adam Nimoy grew up estranged from his father, ironically due in part to Leonard Nimoy's success. Leonard was the son of immigrants he felt he could never please, as the Orlando Sentinel cites. He was extremely frugal with money, and his success never really changed his living habits. Adam, on the other hand, grew up loose and free in Los Angeles (via Fatherly). This, plus Leonard 's aforementioned difficult period following his divorce, meant that he and Adam took a long time to reconcile. And yet, Adam went into film himself, even down to directing episodes of "Star Trek: The Next Generation" and the documentary about his father, "For the Love of Spock" (via IMDb). As Heavy quotes, Leonard told his son that he wanted him to "give the best that he had to offer."
Leonard 's relationship with his daughter Julie was more congenial. On Father's Day, 2021, Julie said on Twitter, "To the first man in my life, my forever rock. Thinking about you today, as I do everyday. I'll always cherish and remember the wonderful times we shared together. Happy Father's Day! Your loving daughter." On Heavy, Julie states that her father was "happy" and "felt complete" before he died. He took her hands and said, "Julie I love you. I'm very proud of you. I just want you to be able to let me go now. It's time for me, I can't do this any more."
Return to the stars
While we don't know if Leonard Nimoy gave any parting words to specific friends, Reuters recounts what those closest to him said after his death. Many of these words read like eulogies or even epigrams — short, memorable, pithy poems — of the kind that Nimoy would have appreciated.
Nimoy's fellow "Star Trek" cast members had kind, heart-warming-and-broken things to say. George Takei, aka Lieutenant Sulu, said, "Today, the world lost a great man, and I lost a great friend. We return you now to the stars, Leonard. You taught us to 'Live Long And Prosper,' and you indeed did, friend. I shall miss you in so many, many ways." Nichelle Nichols, aka Lieutenant Uhura, said, "He was a true force of strength and his character was that of a champion. … His vision and heart are bigger than the universe." William Shatner, aka Captain Kirk, said, "I loved him like a brother. We will all miss his humor, his talent and his capacity to love."
Others in Nimoy's sphere, including those in the space-and-aeronautics industry, spoke up about Nimoy's death as well. Zachary Quinto, who plays a younger Spock in the newer "Star Trek" movies, said, "My heart is broken. I love you profoundly my dear friend. And I will miss you everyday. May flights of angels sing thee to thy rest." Space Foundation Chief Executive Officer Elliot Pulham said, "Leonard Nimoy created a positive role model who inspired untold numbers of viewers to learn more about the universe."
Live long and prosper
For the rest of us, Leonard Nimoy took to Twitter in his final days to deliver wise advice, saying, "A life is like a garden. Perfect moments can be had, but not preserved, except in memory. LLAP [Live Long and Prosper]." Toward the end of his life, Nimoy doubtlessly peered at his own perfect moments before passing on.
At this point, it bears remembering that Nimoy not only gave us the Vulcan neck pinch but also the famous "V"-like hand sign for the Vulcan phrase, "Live Long and Prosper." For this, Nimoy looked back to his Jewish roots and childhood. The Washington Post describes an interview that Nimoy did about the hand sign with the National Yiddish Book Center, where he says that the "V" gesture is a symbol of the Hebrew letter "shin." "Shin" is the first letter in words like "Shaddai" (one of God's names), "Shalom" (hello, goodbye, peace), and "Shekinah," "the feminine aspect of God … created to live among humans."
When Nimoy was a child at the synagogue, he saw rabbis making the "Live Long and Prosper" gesture at a ritual used to invoke Shekinah. Come Nimoy's "Star Trek" years, he pitched the idea to the show's director as a way for Vulcans to shake hands, bow, salute, what-have-you. As an article on ResearchGate cites, "Live Long and Prosper" is also a version of the Hebrew blessing, "Shalom aleichem." To this, we say: Mr. Nimoy, you did indeed live long and prosper.