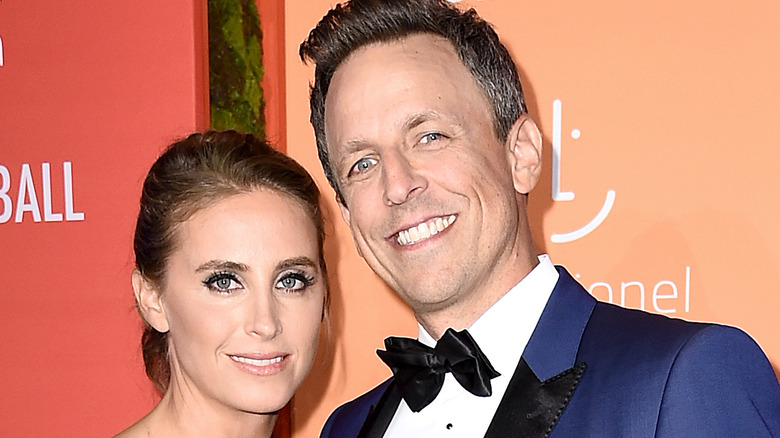 Correction 8/2/22: An earlier version of this article misstated where Hannah Bagshawe attended high school. She attended a boarding school for girls, not Eton College.
We're pretty sure everyone's heard of the "celebrities dating a fan" (aka "normal person") trope. You know, you go to a concert or you see them at your favorite cafe, you catch their eye, and next thing you know you're in a whirlwind relationship? It's what most fan fiction prides itself on.
While some of us are still living in a fantasy that Harry Styles will see us in a crowd and fall in love, there are some people out there that are living our dream. Not exactly with Harry Styles, but with other, equally sought-after celebs.
The truth is, there are many celebrities who've dated and even married normies like us. You may be surprised to find out which A-listers have found love outside of Hollywood and married "regular people" — from personal assistants to hairstylists, from lawyers to realtors.
Kevin Jonas married a hairstylist he met in the Bahamas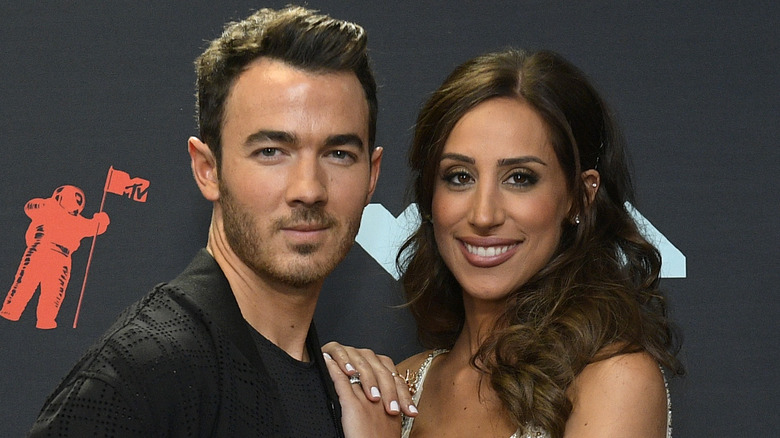 The Jonas Brothers took the world by storm in the mid-aughts, but apparently not everyone knew who they were — at least not in May 2007. Danielle Jonas (née Deleasa) met the oldest Jonas brother, Kevin, while in the Bahamas. The two were both on vacation with their respective families, which is pretty cute (via Parade). Danielle was a hairdresser at the time and Kevin and his brothers were in the early stages of fame.
Danielle revealed to People that she was unaware of Kevin's fame when they met. "I didn't know who the Jonas Brothers were," she explained. Kevin knew he liked Danielle from the moment he saw her and worked hard to prove he wanted something long-term. It looks like those efforts paid off because the two got engaged in 2009, married later that year, and have since welcomed two children, daughters Alena Ros and Valentina Angelina (via Harper's Bazaar).
Ariana Grande married her realtor
Ariana Grande's had an interesting dating life. Most notably, she was in a relationship with Pete Davidson, which ended just as quickly as it started. So when Grande debuted her new relationship with real estate agent Dalton Gomez it came as quite a shock.
The two met in 2020 when Gomez was helping Grande find her new L.A. home (via Popsugar). Seeing that they met finding a home in the starting stages of a pandemic, they decided to quarantine with one another — a bold move, but it turned out for the best (via Seventeen). Their relationship was made official when Gomez stepped into the limelight and was featured in Grande's music video for "Stuck With U" with Justin Bieber. Now, how cute is that?
Out of the blue in late December 2020, Grande posted a pic of her giant engagement ring, letting the world know she and Gomez were the real deal (via KSBY). Then, in May 2021, she announced her marriage to Gomez in much the same way — by posting photos on Instagram with the simple caption "5.15.21." The two had a private wedding in her home. Turns out that the house is truly the foundation of their relationship.
Seth Meyers met his wife, an attorney, at a wedding
Seth Meyers is a comedy genius best known for his time as host on Weekend Update for the sketch comedy show "Saturday Night Live." The iconic show would eventually play a small role in how he'd meet his future wife, human rights attorney Alexi Ashe. Ashe and Meyers didn't meet on set, but without "SNL," they may never have met.
Alongside her sister Ariel, who worked in the set department for "Saturday Night Live," Ashe attended the wedding of former "SNL" actor Chris Kattan, according to Parade. Meyers also attended this wedding and when he laid his eyes on Ashe, he knew he'd found the one. When YourTango asked if it was a love-at-first-sight situation, Meyers confirmed, "Yes it was." He continued, saying, "I had a sense that she was the closest I'd ever met to someone who I could see myself with. Pretty much right away. We're not jealous in the slightest, like, not jealous at all.
Jordan Fisher met his wife at camp
Now Jordan Fisher and his wife Ellie Woods have a ridiculously cute relationship timeline. Let's travel back in time when the two met at a theatre camp in Alabama at the ripe age of 13; however, their relationship wouldn't move past being just friends for quite some time (via People).
In a 2017 interview with J-14 Fisher explained, "It took us a long time for all of a sudden, like a year and a half ago we were kind of like 'Let's see what this could be.'" And that's exactly what they did. Fisher further revealed he was working on mega-musical "Hamilton" so he asked Woods to fly out to New York City so they could go on a few dates and the rest was history.
The two went on to get married in November 2020 at the happiest place on Earth: Disney World's Magic Kingdom (via People). The couple welcomed their firstborn, Riley William Fisher, in June 2022, just in time for Father's Day.
Ed Sheeran has known his wife since they were just 11 years old
Ed Sheeran and Cherry Seaborn have quite the history. The two have known each other since they were 11 years old, which is a ridiculously long time if you think about it (via Brides). They later attended the same high school and Sheeran admitted that he had a crush on Cherry back then. The childhood friends reunited years later. "One of our best friends worked on my tour, so when we came to New York, where she was living at the time, we hung out and reconnected," the singer-songwriter told Us Weekly.
Next thing you know, Sheeran was writing songs about his relationship with Cherry. "'Perfect' was the first song that I wrote for the album, It was inspired by Cherry," he revealed. The grade school sweethearts tied the knot in a private ceremony in January 2019 (via Hello Magazine).
Reese Witherspoon married a talent agent she met at a party
Reese Witherspoon's husband Jim Toth proves that not all superheroes wear capes. The talent agent and the "Legally Blonde" actress met at a party where Toth would come to Witherspoon's rescue. How? Well, he got a belligerent man to leave the actor alone. "It happened out of the blue," Witherspoon recalled (via Elle). "This really drunk guy was hitting on me, making such an idiot of himself, yelling at me." She continued, saying, "Jim came over and said, `Please excuse my friend. He's just broken up with someone.'" Let's face it, we all want a guy like Jim.
After Toth discreetly saved Witherspoon from his friend, the pair began dating in 2010 and were married the following year, according to Country Living. In a 2021 Instagram post, Witherspoon acknowledged the couple's 10th wedding anniversary. "Looking back, I can't believe it has gone so quickly!" she wrote. "I guess that's how it goes with 3 kids, Big LOVE, lots of laughing, non-stop travel, so many dogs, and fun adventures… figuring out this crazy world together."
George Clooney met his wife at his own house
In our personal opinion, this might be the most iconic celeb-normie marriage of all time. So it should be no surprise that their love story is also iconic.
The "Batman & Robin" actor (remember that batsuit?) met Amal Clooney (née Alamuddin) at his own home in 2013. As the actor recalled to David Letterman, his agent told him, "I met this woman, who's coming to your house, who you're going to marry." That probably sounded unbelievable at the time, but look how things played out.
George found himself falling head over heels. "I was sort of swept off my feet. We got engaged after a few months and got married within the first year that we met. It surprised me more than anybody else in the world and everybody else was surprised," he revealed on the "SmartLess" podcast (via Good Housekeeping). George and Amal Clooney are definitely proof that you just know when it's right, regardless of how long you've been together.
Matt Damon married a woman he met at a bar
Matt Damon's love story is perhaps one that could happen to any of us — that's because he met his wife Luciana Barroso at a bar. This truly might be the most generic way to meet someone, but it also has to be rare that you'd end up marrying someone you met at a bar.
Barroso was bartending when she met Damon back in 2003. After being approached incessantly by fans, Damon decided to hide behind the bar. And that's when Barroso put him to work. "I said: 'you know, if you're going to be back here, you can't just be standing there!' He had trained as a bartender for a film years before, so he started making drinks," she said in an interview with Vogue Australia.
They hit it off almost instantly, feeling a strong connection with each other. The two went on to get engaged in September 2005 and then married that December (via Parade). The moral of the story: The next time you go to the bar, know that there's a possible chance you might meet "the one."
Gal Gadot met her husband at a party in the desert
If you're ever been invited to a retreat with a friend, you'll know it's always somewhere in nature and, well, low-key pretty weird. While it may be your natural instinct to say "no," Gal Gadot said "yes!" And it's a good thing she went, because that's where she met her future husband, Yaron Varsano. "We met through mutual friends at this very strange party in the Israeli desert," the actor told Glamour. "It was all about yoga, chakras, and eating healthy." See? We told you it's always something weird in nature.
The "Wonder Woman" star and the real estate developer crossed paths at this party in 2006 and started dating shortly thereafter. By the second date, Varsano made sure that Gadot knew his intentions. "He told me on our second date he was serious and wasn't going to wait more than two years to ask me to marry him. Fast forward two years, he proposed. We were married in 2008." Gadot told Glamour. There's nothing better than a man who knows what he wants!
Jesse Tyler Ferguson married his husband after they met at the gym
Jesse Tyler Ferguson's "Modern Family" character Mitch met his partner at a charades party, but he met his real-life partner Justin Mikita in a gym locker room. "Fully clothed," Ferguson made sure to clarify to Variety. Mikita stopped Ferguson to talk to him about playing Mitch. "I was taken by how handsome he was and how sweet. I started asking questions about him, and I think he was sort of thrown off by that and ran away from me," the actor told the publication. At the time, Mikita was in a relationship. They stayed in contact online, and 10 months later, they were both at the gym at the same and, this time, Mikita was single.
They started dating in 2010 and were engaged by 2012. In 2013, just a couple of years after New York passed the Marriage Equality Act, the pair tied the knot in Manhattan (via E! News). While they were dating, they lobbied for the legalization of same-sex marriage in the U.S. All and all, they're quite the revolutionary couple.
Eddie Redmayne met his wife when they were in high school
Eddie Redmayne and his wife Hannah Bagshawe should be the blueprint for every friends-to-lovers story written from here on out. Redmayne and his wife met at a charity fashion show when they were attending neighboring boarding schools (via The Sun). When Bagshawe and her friends were putting on a charity fashion show, Redmayne caught her eye. However, this would only lead to the two being friends for a long time. That friendship enabled them to build a strong connection. "It's wonderful having a shared history and friends, even though we didn't get together for 15 years," he told Time Out magazine (via Brides).
Redmayne and Bagshawe didn't officially begin dating until 2012, getting married soon after in 2014. The couple has since welcomed two children. Redmayne gushed to Baby magazine, "Marriage is the most wonderful achievement of them all for me because that has given me this platform to be a dad — the best dad I can be" (via Brides).
Lisa Kudrow married an advertising executive while on Friends
If you say your favorite "Friends" character is anyone other than Phoebe, we're sorry but you're wrong. Lisa Kudrow's character was one of the last of the group to get hitched, with her wedding happening in the final season. Kudrow, however, got married to Michel Stern after the first season wrapped.
The actor met the French advertising executive in the '80s, but Stern was involved with Kudrow's roommate at the time … so that's awkward (via Bustle). It wasn't until six years later — long after Stern and Kudrow's roommate broke up — that the pair would start dating. They got married in 1995 and welcomed one son, Julian, three years later. As Bustle explained, her pregnancy led to "Friends" writers come up with the surrogate storyline. "In reality, she was carrying her own little one (and not three like in the show)," the publication explained.
Patrick Dempsey married his hairstylist
Let's just put out there: any woman who manages to snag Dr. McDreamy should consider herself lucky. So the fact that it was a normie like us means we should be practically worshipping the ground she walks on. The "Grey's Anatomy" actor, Patrick Dempsey, met his wife Jillian Fink in 1994 when he went to her salon to get a haircut (via The Sun). "I was shocked, but at the same time I was happy because he was so cute," she revealed (via People). At the time, though, Fink was already in a relationship.
When Dempsey found out that Fink was single some three years later, he reached out immediately. In 1999, the two got married. In 2015, though, things started to get rocky and Fink filed for divorce due to irreconcilable differences (via Popsugar). She ended up calling off the divorce in 2016, and Dempsey accredits that to leaving "Grey's."
"You can only do one thing at a time and do it well," Dempsey told E! News, admitting that once he left the show he was able to prioritize his marriage and the couple remained together.
Christian Bale met his wife when she was working as a personal assistant
Christian Bale is well known for being an incredibly private person so it seems fitting that he'd marry a private person like Sibi Blažić. While Blažić is a former model, the couple met back when she was working a "normal" job. She was a personal assistant to one of Bale's long-time friends, Winona Ryder (via Popsugar). They fell for each other pretty quickly and eloped in Las Vegas in 2000.
It was Blažić who made Bale rethink his ideologies on marriage. "Everyone was divorced in my family so I didn't have very healthy ideas about marriage," Bale told the Sydney Morning Herald (via Elite Daily). "Then I met Sibi and suddenly it seemed a fantastic idea." Even though they like to keep things between themselves, Bale is no stranger to gushing about his love for his wife. As he said in a past acceptance speech, "I truly believe you can't celebrate something like this without having your partner with you. She's had to be married to so many different characters over our marriage. I know that it would be impossible to do it without her. She's such a good, strong woman. I owe everything to her" (via Elite Daily).
Natalie Portman married her choreographer
On-set romances are not uncommon in Hollywood, but Natalie Portman's love story is a bit different than that of other actors. Rather than falling in love with a co-star, she fell in love with Benjamin Millepied, who served as the choreographer for her 2010 film "Black Swan" (via Brides).
They went from dance partners to lovers when they met in 2009. How could you not find this adorable? Dance is definitely an intimate act, and it's beautiful that it's what brought them together. Portman went on to win an Oscar for her performance in "Black Swan" and even gave her then-future hubby a shoutout. "Benjamin Millepied, who choreographed the film and has now given me the most important role in my life," she said as she was pregnant with their first child at the time (via Us Weekly). The two would go on to get married the following year and have been living happily ever since.