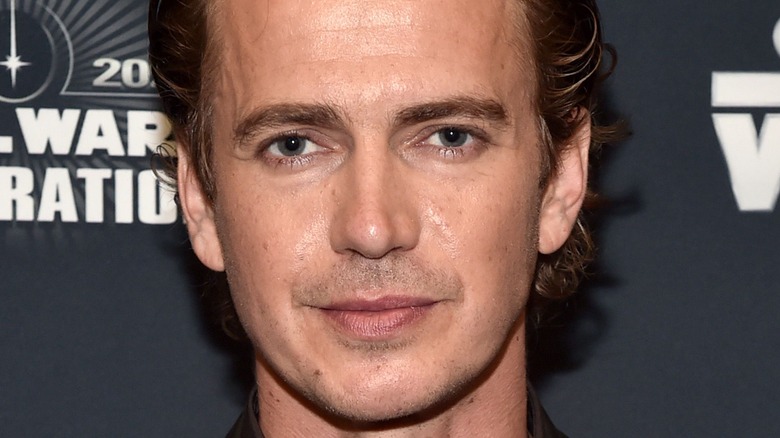 Seemingly overnight, Hayden Christensen became a Hollywood star. He's taken on a score of indie gigs, commercial work, and television appearances, but he's best known for playing a younger version of Darth Vader in the "Star Wars" franchise. Christensen beat out A-listers like Leonardo DiCaprio for the role; before he knew it, he was a household name. "I was less than a year out of high school, and I found myself on this big movie production with George Lucas and Ewan McGregor and Natalie Portman and all these incredibly talented people," he told The Guardian in 2022.
Christensen hasn't always had the easiest time with being a celebrity, and as far as he's concerned, movie stardom isn't the end all be all. "I've always loved acting," he said in The Guardian. "I've always loved the film-making process, too. I've just had other interests and other things that I wanted to explore as well."
Despite the on-again, off-again nature of his career, Christensen has managed to rack up quite a net worth over the years — ahem, somewhere in the $12 million range, per Celebrity Net Worth. Perhaps unsurprisingly, the star's approach to money is almost as unique as his approach to fame.
Hayden Christensen felt guilty after his Star Wars success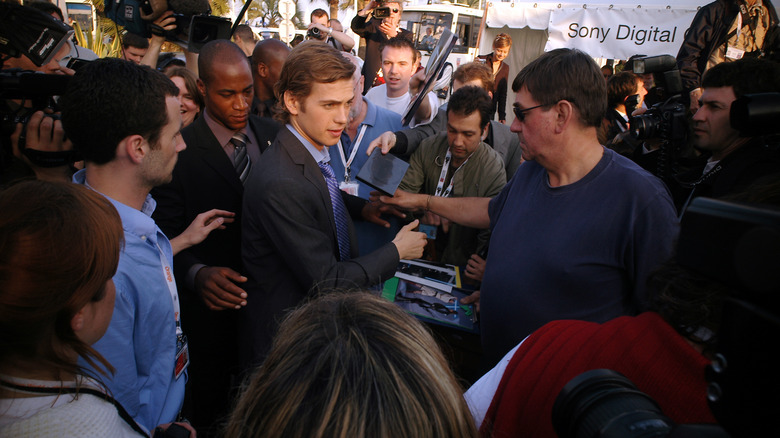 Joining the mega hit "Star Wars" prequel trilogy brought Hayden Christensen a sudden surge of monetary and professional success, but it wasn't necessarily a total breeze. Going from up-and-coming actor to a star of one of the biggest franchises on the planet in the blink of an eye is a lot to take on, to say the least. "Usually people have a more gradual ascent into that world and mine was very abrupt," he told The Guardian in 2022. "For a period I would avoid going to the convenience store just because it was a little overwhelming."
On top of that, he had to come to terms with his imposter syndrome. "I guess I felt like I had this great thing in 'Star Wars' that provided all these opportunities and gave me a career, but it all kind of felt a little too handed to me," Christensen said, per Los Angeles Times. "I didn't want to go through life feeling like I was just riding a wave."
Christensen eventually got over those complicated feelings and these days just feels grateful for the opportunity to appear in such a historic franchise. What's more, he gets a kick out of being a part of the legacy. Regarding attending fan conventions, he told The Guardian, "And getting to see young kids dressed up as Anakin and make a connection with them. For me, it has a lot of value, and I hope it's mutual."
Hayden Christensen invests in property
One of Hayden Christensen's first major investments after making it big in Hollywood? A luxurious piece of property in Southern California, of course. Christensen and his former fiancée, actor Rachel Bilson, purchased a four-bedroom home in Sherman Oaks in 2012 for $2.7 million, per The Dirt.
After scooping up the home, Christen and Bilson completely overhauled the abode to match their needs and aesthetic. "Entertaining was a major factor in the design of the room," interior designer Kishani Perera told Lonny of the home, which contained a mix of bohemian and modern appointments. "They wanted to comfortably host lots of friends and family, and the sofa achieves that without the need for much more additional seating."
The couple lived in the estate for roughly five years before offloading it for more than $1 million profit in 2017, per The Dirt. Amicably co-parenting but fully separated at the time, Christensen began spending more time in Canada, while Bilson made another hefty purchase in LA for a cool $3.25 million, per Architectural Digest.
Hayden Christensen had a lengthy legal battle
Hayden Christensen found himself in the midst of a lawsuit after he alleged the USA Network swiped his show idea. Back in 2010, Hayden and his brother, Tove Christensen, filed suit against USA over the show "Royal Pains" for breaking an implied contract. "Royal Pains," a fictional show about a private doctor working in the Hamptons, was a hit, but the brothers claimed that the premise was actually lifted from an idea they'd been shopping around. Their concept was slightly different from what ended up on USA: Hayden and Tove came up with an idea for a show about a concierge doctor working in Malibu, not the Hamptons, per The Hollywood Reporter.
That's where things get complicated. Tove and Hayden created a treatment for the concept, which was passed along to an executive at USA who met with them to discuss purchasing the show. However, no deal was ever made and it wasn't until roughly four years later that the USA premiered "Royal Pains."
A judge dismissed the original case, but upon appeal, the brothers brought it back to court before ultimately reaching a settlement. Each side agreed to cover their own legal fees, which were likely not insignificant, per The Hollywood Reporter. "Royal Pains," meanwhile, played for eight seasons. If, as the Christensens seem to believe, the USA Network actually did rip them off, that eight-season run could have meant a massive paycheck had things worked out differently.
Hayden Christensen almost didn't return to Star Wars
Hayden Christensen's role in "Star Wars" is by far his most profitable job to date. So, one might assume he did not have too difficult of a decision to make when he was asked to reprise the role for the Disney+ miniseries "Obi-Wan Kenobi." Christensen is one of only a handful of actors who've ever embodied the iconic role of Darth Vader and yet the reprisal (and fat paycheck) almost went to someone else.
There was concern that Christensen might not come back for the miniseries because the role of Darth Vader had gone to another actor in 2016's "Rogue One." Kathleen Kennedy, the president of Lucas Films, confirmed to Entertainment Weekly that Christensen wasn't offered the role because the stunts were too physically demanding.
However, the real reason Christensen almost missed out on the 2022 role was because Darth Vader was almost excluded from the series entirely. "The debate around whether we should do that or not carried on for quite some time," Kennedy told the outlet. "Everybody within our creative team has strong opinions, and all of our fans have strong opinions." When the team finally settled on a Vader story, it was a no-brainer to give the role to Christensen, who was more than happy to take it. "When I got the call, I was instantly elated," he told The Guardian in 2022. "I was just so excited to get to come back after all these years."
Hayden Christensen cashed in on brand deals
Like most actors, Hayden Christensen doesn't earn a living solely from his film and television appearances. Long before "Star Wars," Christensen was scoring work as a commercial actor and model. He was spotted by an agent when he was still in elementary school and thus began a lucrative commercial career, per The New York Times Magazine. Of course, at the time, Christensen wasn't concerned with the paycheck. "I did a few commercials. Growing up it was a means to get a day off of school, and more money than you could earn with a paper route," he told the Los Angeles Times in 2008. The time off was nice, but Christensen tried to hide his work from his friends. "The kids I was hanging out with weren't really the theater crowd," he said. Of course, Christensen eventually was all over the silver screen, making it impossible to escape the attention.
After the success of "Star Wars," he became pickier about the roles he took, largely turning away from big budget projects in favor of artistic narrative driven work. Now, there's not a lot of money in indie film, so while Christensen used his "Star Wars" fame to take on passion projects, he also used it to cash in on modeling jobs with luxury brands like Louis Vuitton and Lacoste, per Celebrity Net Worth. That brief stint in fashion, coupled with his love of farming inspired Christensen to spearhead his own workwear collection with RW&CO, per License Global.
Hayden Christensen bought a farm
After a meteoric rise to fame, Hayden Christensen took a step back from the limelight and cultivated a passion for farming. Christensen reportedly bought his Ontario farm in his mid-twenties without knowing much about farming at all. Despite a lack of expertise, when it came to price, Christensen was enticed by the overall better deal in Canada. "It's very much a departure for me. I was looking at places in New York City and I could either get a couple of thousand square feet or a couple of hundred acres and having a bit more land appealed to me," he told the Toronto Star in 2008. "It's my sanctuary." He went on to say he made a concerted effort to be thrifty about repairs, jumping headfirst into the DIY game. "I've fixed up an old farmhouse that was on the property," the actor added.
Christensen became so wrapped up in country life that he began to drift away from the glitz and glam of Hollywood. "It wasn't like a conscious decision," he told The Guardian in 2022. "I found myself really enjoying my time at my farm, and it became a tough place to want to leave."
Hayden Christensen started a business
Just because Hayden Christensen moved to a farm in Ontario, it doesn't mean that his heart has ever been that far from Hollywood. He'd be the first to tell you that farming has always been a hobby for him, he's always had a keen interest in filmmaking — but not necessarily films that turn a profit. After making it big as Darth Vader, Hayden and his brother Tove Christensen founded their very own production company focusing on compelling, small-budget films — or as Hayden told The New York Times Magazine in 2002, "small in scope, character-driven pieces." The first film they produced was "Shattered Glass," a drama about a conflicted journalist which was well received by critics, per Los Angeles Times.
Years later, Tove and Hayden launched another company, Glacier Films, with a similar result in mind, though this time they had major backing from Russian financiers, per Variety. Though more money was flowing in, the brothers opted to stick with their passion for low-budget cinema. Upon its founding in 2013, Glacier planned to produce six films with a budget of less than $10 million, and an additional five for less than $1.5 million.
Hayden Christensen isn't all about the blockbusters
By his own account, Hayden Christensen is a workaholic. "I think I work harder than anybody else my age," Christensen told The New York Times Magazine in 2002. "Not to sound conceited, but I just don't meet anybody in the industry that I work with who is so devoted to always being in that mind-set of character." Add in his hefty net worth and you'd think Christensen is driven by the dollar — but not the case. It seems like Christensen's priorities lie elsewhere.
After purchasing a Canadian farm, Christensen realized that he'd built up enough financial stability to pursue passion projects like agriculture and learning to fly. Additionally, Christensen found himself comfortable enough to only do films that excited him — not necessarily the most lucrative ones. "I don't really think about my career because the idea of a career is not something I can put a lot of thought into," he told the Toronto Star. "I do the work that appeals to me and I pass on films that would probably benefit my career."
Oh, about those carefully chosen films. So far, in Christensen's career, the box office revenue from "Star Wars" accounts for roughly 80% of his total box office revenue, per Forbes. Translation: Christensen is no stranger to the flop game.
Hayden Christensen wants some normalcy for his kid
"Star Wars" star Hayden Christensen and fellow actor Rachel Bilson share a daughter named Briar Rose (yes, they're big Disney fans), and though both are well-off and successful, the exes try to keep their kid away from the spotlight and give her as normal a life as possible. That can be easier said than done. On a 2021 episode of the "Betches Moms" podcast, Bilson shared that Briar Rose knows her parents are working actors, and has even said she'd like to get into acting. However, Bilson and Christensen aren't interested in turning their kid into a child star. "I think to keep a lot of that as long as possible away from her is, I would say, is our choice, our top choice," Bilson said. She also joked that she wouldn't let Briar Rose watch "The O.C." until she was in her 30s.
In 2022, Christensen had his biggest career move in years when he signed on to play Darth Vader again in a new Disney+ show, but as he told Jimmy Fallon, Briar Rose still hasn't watched the prequels. Speaking to The Guardian that May, he conceded, "I feel like I'm probably dragging my feet a little bit at this point, because all of her friends have seen the movies. And, of course, she's aware of my involvement in them." To loosely paraphrase a Sith Lord, it appears as though it's becoming more and more useless to resist showing his kid his "Star Wars" movies.