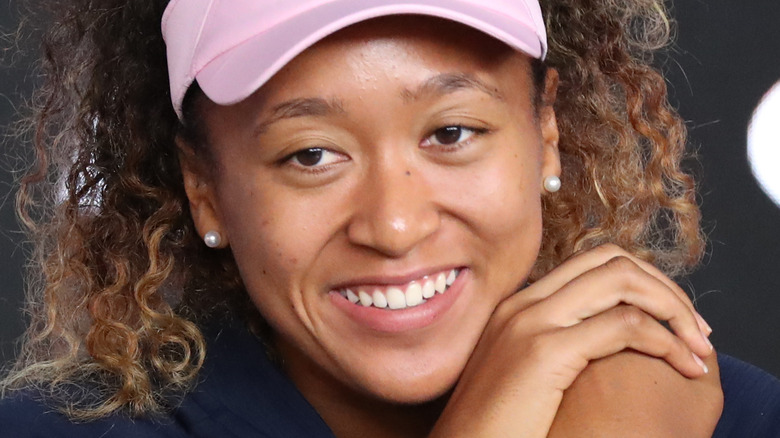 Correction 8/2/22: An earlier version of this article stated that Naomi Osaka launched her own fashion label. She has been a part of two collaborations — Levi's x Naomi Osaka and ADEAM x Naomi Osaka — but does not have her own fashion label.
Naomi Osaka is one of the biggest names in tennis, with an impressive record that rivals those of powerhouse champions Venus and Serena Williams. She's close with both Williams sisters, especially Serena, but Osaka has found a way to truly carve out her own unique path in the sport.
Many were surprised when Osaka renounced her U.S. citizenship to play for Japan at the 2020 Olympic Games in Tokyo, but the move was one that she always planned for and that made the most sense. Osaka is well-known and celebrated in both countries, though she's been open about her multi-cultural background (she is Haitian and Japanese by birth and was raised predominantly in the United States) and feeling as though she doesn't quite belong anywhere (per The Times).
While she's most known for her prodigious skill in the sport of tennis, Osaka is a powerhouse off the court, too. She works as a fashion designer, even running her own label. Osaka has also inspired a manga character, and has been in a happy and healthy relationship for at least three years. Here's a look at what you might not know about Naomi Osaka.
Naomi Osaka speaks three languages
As many fans of the tennis star know, Naomi Osaka was born in Japan but moved to the United States when she was three years old. Her mother is Japanese and her father is Haitian, and as a result Osaka can speak three languages: English, Japanese, and Haitian Creole. However, she is the first to admit that she's not completely fluent in all three, and is especially shy about speaking Japanese in public.
While speaking to Tennishead, Osaka explained that part of her hesitation is due to her own sense of perfectionism. She said, "I understand everything, it's just the speaking part. I don't feel comfortable speaking to people I don't know," before explaining that wanting to be perfect at speaking the language has inadvertently resulted in her not speaking it at all. These days, Osaka uses interviews with the Japanese media to practice. While she tends to reply in English to questions asked in Japanese, perhaps one day she will take the plunge and speak the language in full.
She loves playing video games
While it might be easy to assume a tennis player as good as Naomi Osaka must spend almost all of her time living and breathing the sport, Osaka has plenty of interests outside of the game. In fact, one of her biggest interests is video games. In 2018, she told GQ that her favorite at the time was the first-person shooter game Overwatch, which she and her sister Mari play frequently.
Osaka also told the game that she gravitates toward playing characters that are more defensive, such as those she refers to as "tanks" that can help out their teammates by absorbing the bullets others shoot at them. As she explains to GQ, unlike her skill on the tennis court, she's not that great at offensively going after others in the game. Osaka says, "Like, I'm not that great at attacking. My aim is not that amazing, so I'd just rather be a shield or something."
The athlete has collaborated with major brands
Naomi Osaka has other off-the-court interests besides video games. In fact, she used to design clothes when she was only a kid, and eventually partnered with brands ADEAM and Levi's as an adult.
Her capsule collection for ADEAM debuted in late 2020, with Osaka telling Vogue that she incorporated modern Japanese stylings into the collection because she hoped to design something that was reflective of her own style. She said, "It's both feminine and something that I would personally wear … I really felt like this represented me and my style both on and off the court."
Osaka later spoke with Vogue again, saying that her tennis tournaments were a big part of the reason why she fell into design in the first place. As she explained, she and her sister used to pass the long car rides to tournaments by drawing in the back seat. Actually, Osaka would often end up copying her older sister's designs, which she admits became a sort of dynamic between the two of them. As she put it, "I just looked at her drawing and thought, 'Oh, that looks really fun,' so I started to copy her — which I guess is what I did in tennis as well."
Naomi Osaka gave up her U.S. citizenship for tennis
As someone who was born in Japan but raised in the United States, Naomi Osaka always knew she would eventually have to face a choice: Did she want to be an American citizen or a Japanese citizen? In 2019, Osaka made the call and renounced her United States citizenship. As explained by the Washington Post, Osaka made the move so she could represent the country of her birth in the 2020 Olympic Games, which were hosted in Tokyo.
Osaka had to make the choice because Japan only allows dual citizenship up to the age of 22. She told local news NHK in Japan that having the opportunity to represent the country she was born in was a powerful moment for her. As she put it, "It is a special feeling to aim for the Olympics as a representative of Japan. I think that playing with the pride of the country will make me feel more emotional" (via Insider).
However, Osaka's mother told the Wall Street Journal in the year ahead of the decision that the choice was always going to be Japan. As she put it, "Quite simply, Naomi and her sister Mari have always felt Japanese, so that was our only rationale."
The tennis star has inspired a manga character
Naomi Osaka's cultural reach extends beyond tennis. In November 2020, she shared a photo of the manga character that was directly inspired by her. The character debuted in Nakayoshi magazine a month later. Osaka explained on Twitter that her sister Mari worked closely with the development of the character, writing, "Growing up reading manga/watching anime was something that bonded me and my sister immensely so this is really exciting for both of us."
The magazine, which is widely considered one of the best manga magazines in Japan, released the story "Unrivalled Naomi Tenkaichi" in late December 2020 (per the BBC). Having a biracial manga character illustrated and celebrated is a pretty big deal for the medium, as professor Roland Kelts told the BBC. After pointing out Osaka's ancestral lineage of Japanese and Haitian, he added that featuring a female character, "especially one so accomplished and universally admired, is a major leap forward in manga cultural awareness and representation."
Naomi Osaka is a strong advocate for mental health
In May 2021, Naomi Osaka made headlines when she pulled out of the French Open to protect her mental health. Many were stunned by the move, particularly as Osaka was ranked as the 2nd best player in the world and a heavy favorite to win the tournament (per "Good Morning America"). Osaka opened up about the decision on Instagram, revealing that she has battled depression since 2018, and noted that she never anticipated being in the position to pull out of a tournament but that she believed the decision was the right one for her in that moment.
Osaka also emphasized that she was not hiding behind mental health or using it as an excuse, but that she wanted to be honest and transparent about her struggle. As she added on Instagram, "I never wanted to be a distraction and I accept that my timing was not ideal and my message could have been clearer. More importantly I would never trivialize mental health or use the term lightly."
Once she was ready to make her way back to international competition, Osaka was also okay with speaking more about what happened. She told "Good Morning America" that the decision to take a break gave her "time to reset myself."
She is part owner of a soccer team
In January 2021, Naomi Osaka invested in a National Women's Soccer League's team: the North Carolina Courage. Osaka took to Twitter to explain why she decided to become a part owner of the team, sharing that women who invested in her own career helped her reach heights in the sport that might otherwise have been impossible. She wrote, "Throughout my career I've always received so much love from my fellow female athletes so that's why I am proud to share that I am now [an] owner of @TheNCCourage."
The team was likewise thrilled to have Osaka on board. Stephen Malik, the founder of the soccer club, toasted Osaka to ESPN, commenting that he believed the young tennis champion would provide insight into aspects of sports that go beyond the field, adding, "I cannot think of anyone better to help us as we continue to make a difference in our community and inspire the next generation of women."
Naomi Osaka's dad coached her
Like Venus and Serena Williams before her, Naomi Osaka was coached in tennis by her father, Leonard Francois. In fact, Francis has been open about being directly inspired by Richard Williams, explaining to the New York Times that he made the decision to get both Naomi and her sister Mari Osaka into the sport of tennis after seeing Venus and Serena playing in 1999. As he told the paper, "The blueprint was already there, I just had to follow it."
Naomi has also referenced her father's coaching style, telling the New York Times that she and Mari played outside on clay courts like the Williams sisters, and that she felt a special kinship to Serena Williams because they were both the younger sister. As she put it, it might have been impossible for her to succeed without the presence of her older sister on the court with her. Naomi said, "I think maybe [Serena and I] both have this really big sister connection."
In another parallel to the story of Venus and Serena Williams, Naomi Osaka and her sister Mari Osaka eventually started homeschooling so they could keep up with their rigorous tennis training, just like the Williams sisters had. Naomi's family moved from Japan to Fort Lauderdale, Florida, to train in the sport, and it turns out the Williams family also moved to Florida to train (per Heavy).
She and her sister are very close
Naomi Osaka has been open about how important her family is to her, and she and her older sister Mari Osaka are exceptionally close. As Naomi told Nike in 2021, her sister Mari is probably the biggest reason she's been as successful in the sport of tennis as she has. In fact, Naomi also credits Mari with being her "driving force." She explained, "When I was little, Mari would beat me every day, and I feel like that shaped my competitiveness a lot. It just made me really want to win all my matches."
Mari has also spoken about her younger sister, telling the shoe brand that she's been surprised by how frequently Naomi will take charge of situations that could overwhelm her. As she put it, "I always see her as my little sister, but she's actually this businesswoman" (via Nike).
Naomi Osaka took a break from tennis in 2021
In 2021, Naomi Osaka decided to put herself and her mental health first and stepped back from the sport of tennis. Osaka made the surprising announcement after losing a match to Leylah Fernandez. While speaking at a press conference after the setback, she explained that winning a tennis match no longer made her happy. Osaka said, "I feel like I'm kind of at this point where I'm trying to figure out what I want to do, and I honestly don't know when I'm going to play my next tennis match" (via Olympics.com).
When she did come back to the sport, Osaka made a return in a major when she made the decision to take part in the torch ceremony for the Tokyo Olympic Games, lighting the cauldron in July 2021. Osaka was actually the final person in the torch relay, having the honor of officially kicking off the international competition.
Naomi Osaka has been in a relationship for years
Naomi Osaka's personal life is also thriving. She has been in a relationship with the rapper Cordae for a few years, with the rapper making his boyfriend debut at one of her tennis matches in 2019. Osaka has been open about the fact that she's not completely sure her boyfriend understands the rules of the game, but a GQ interview with the pair notes that Cordae is an enthusiastic fan no matter what, "hollering in the stands every time she wins a point."
That's pretty sweet for a guy who openly admits to not knowing much about the game before he met Osaka. As Cordae told G of tennis, "It's not my sport. If you asked me about tennis, before being immersed in it because of Naomi, I could only give you Venus and Serena Williams, you know?"
They have made their relationship work despite the intense nature of each of their careers; Cordae says that Osaka comes on tour with him for a few weeks at a time around her training schedule, and in March 2021 Osaka shared on Instagram that her boyfriend "dropped everything" so he could quarantine and join her at the US Open (via People).