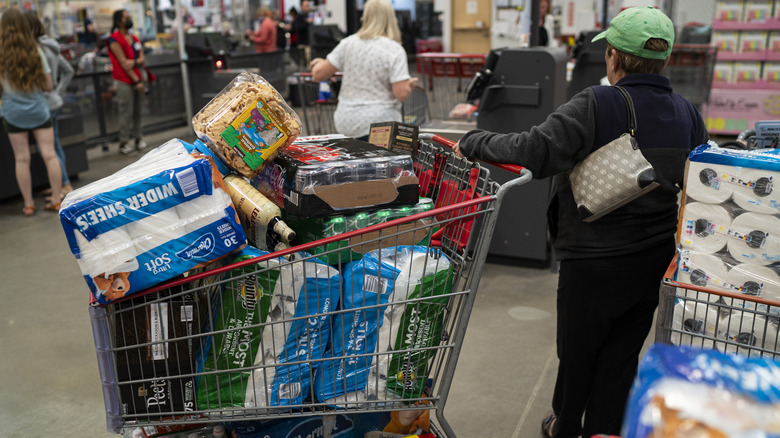 Costco and Sam's Club warehouse models have long been changing the game for bargain shoppers searching for great deals on everything from food and household items to tires and eyeglasses. Like most grocery chains, both stores have created their own brands, allowing them to sell common products at even lower prices. And much like many store brands, Member's Mark and Kirkland each have some products that are better received by customers than others.
Costco's Kirkland Signature products have gained a bit of a cult following. Many of the items are actually name brands in disguise, while others offer a low-cost alternative so shoppers can stock up on pantry staples and household items. In the age of inflation, shoppers keen to score a deal are increasingly turning to warehouse stores, and Costco is a prime choice. Whether you're a brand new cardholder or a long-time fan, keep reading to learn the best and worst Kirkland products to pick up or avoid on your next Costco run.
Best: Kirkland Signature Balsamic Vinegar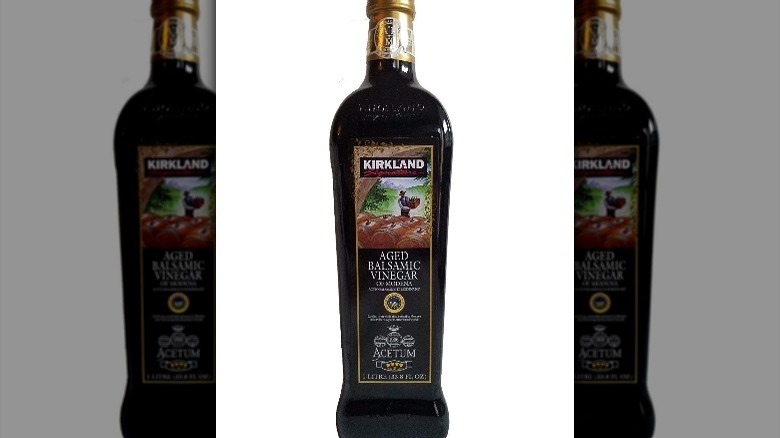 A splash of balsamic vinegar can top off a perfect Caprese salad, add flavor to a veggie bowl, and even enhance fruit dishes. Not to mention, it's also a healthy addition to your favorite meals. Balsamic vinegar has been shown to help lower cholesterol, aid in digestion, improve blood circulation, and boost your skin's appearance (via Healthline). It's also a great diabetic-friendly salad dressing and condiment.
But depending on how picky you are about brands, a bottle can pack a punch to your wallet. In fact, the most expensive bottle you can find in the States will set you back $95 for 100ml (via CNBC). Enter Costco's Kirkland Signature balsamic vinegar. This popular box store find is just under $20 for a 1L bottle. Even if you don't find yourself reaching for balsamic vinegar frequently, with a shelf life of three to five years (per Old Town Oil), this is a great investment you should have stocked in your kitchen pantry.
Best: Kirkland Ultra Clean Premium Laundry Detergent
Costco shoppers keen to score a deal already know about this unguarded secret. Kirkland's Ultra Clean Premium Laundry Detergent (as well as the brand's other detergents) has been tested against major industry leaders like Tide and Persil, proving itself to be an affordable contender (via Consumer Reports). While it doesn't offer the same stain-fighting power against blood or grass stains, it did stand out when it came to washing clothes in hard water.
Kirkland's Signature Ultra Clean Free & Clear has also earned a very good rating for its ability to eliminate dirt, not to mention it is an excellent and affordable hypoallergenic option. This makes it a great choice for washing baby clothes or for anyone with sensitive skin. Kirkland's laundry detergents are sometimes as little as half the cost of a similar amount by competitors (via Prudent Reviews). If you already have a Costco membership and aren't fighting particularly tough stains that have set in, this is a must-buy.
Best: Kirkland Signature Rotisserie Chicken
Few Kirkland products have gained internet fame quite like the rotisserie chicken. Whether you're a Costco member or not, anyone in the loop has heard about the famously inexpensive birds. These whole rotisserie-cooked chickens are just $4.99 at all times — no coupons or sales required. Apart from being a killer deal, the Kirkland Signature rotisserie chicken makes for a great weekday meal, snack, or entree.
Don't mistake the cheap price to mean it is a cheap meal; the low cost is due to the company's loss leader strategy. As Snopes reports, Costco chooses to lose money on each rotisserie chicken purchase because it brings in customers who find other things to buy during their visit. Since 2019, Costco has sourced chickens from its own feed mill, hatchery, and plant in Nebraska. There, the company contracts nearby farmers to raise more than 100 million birds which are necessary to stock the store's shelves with a constant supply (via Vox).
Best: Kirkland Signature Extra Virgin Olive Oil
Much like the brand's balsamic vinegar, Kirkland Signature extra virgin olive oil makes it easy to stock up on a pantry staple at a fraction of the price. Coming in at just $17.99 for a 2L bottle, this oil is a fraction of the price competitors are listing.
Regardless of cost, there are a few aspects that experts recommend you look for in a bottle of olive oil. First, only buy extra-virgin olive oil, which tends to be of higher quality with a more complex flavor (via Food & Wine). You'll also want to check for a harvest date and use-by date to ensure freshness. Finally, pick a bottle that is opaque or made with dark glass to avoid light from passing through, which can impact the olive oil's flavor and aroma.
Kirkland Signature extra virgin olive oil checks off all of the items on this list. The Strategist even named it the best olive oil to buy in bulk, and many chefs seem to agree with the statement.
Best: Kirkland Organic Maple Syrup
Looking for a sweet topping for your favorite breakfast foods? Before you reach for a bottle of syrup, ask yourself what it really contains. Unless you've purchased one that's specifically labeled pure maple syrup, it's likely more sugar than natural syrup (via All Recipes). Unfortunately, the price tag on most bottles of pure maple syrup may cause you to reach for a sugary pancake syrup alternative instead.
But if you have a Costco membership, head to your nearest store for an affordable option that is far better than those packed with high fructose corn syrup. Kirkland Signature's organic maple syrup is 100% Grade A amber and certified organic by the USDA. And at just $14.49 for a 1L bottle, it's a fraction of the price of comparable brands. Epicurious named it the "Best Runner-Up" in a search for the best maple syrup. Not only is this inexpensive syrup great for topping pancakes and waffles, but it can also be used to add natural sweetness to other dishes, like desserts or proteins.
Best: Kirkland Signature Frozen Berries
Much like gas, real estate, and airline tickets, the price of frozen berries is on the rise. The frozen fruit industry has seen a sharp increase in sales in recent years, topping close to $7 billion in 2021 (via Index Box). If you're looking for your fruity fix but feeling the sting of inflation, Costco may have the answer.
The Kirkland Signature brand offers a variety of frozen fruit options. One of its most popular options is the three berry blend. This 4-pound mixed bag includes strawberries, blueberries, and blackberries (via Costco). Throw them into your favorite smoothie mix, a bowl of yogurt, or eat them on their own for a cool summer treat.
While some fruits contain more nutrients when eaten fresh in their prime, most are frozen quickly and contain the same benefits (via WebMd). If you're tired of tossing fresh fruit because you can't get to it before it goes bad, grab a bag or two of frozen fruit on your next Costco run.
Best: Kirkland Liquors
Some Kirkland products are a good buy because they allow you to stock up on pantry staples at a lower price point. Other Costco products go beyond simply saving money and wind up garnering a cult-like following. Think the famously cheap rotisserie chickens are the only item bringing curious first-time Costco shoppers into their local warehouse? Think again.
Another stand-out Costco product is its store-brand liquor. Not all of the booze hits the mark, but the bottles that do are popular for mixing or drinking straight and will help you stock your bar without the sky-high price tags of comparable name brands. According to buyers, some of Kirkland's best liquors are American vodka, blended scotch whiskey, blended Canadian whiskey, XO Cognac, and Irish cream liqueur.
These liquors are rumored to be more than just copycats of more popular brands; it's believed that some are even produced by the same distilleries and producers. For instance, Kirkland Signature small batch bourbon is rumored to be produced by George Dickel (via Thrillist).
Best: Kirkland Plastic Food Wrap
From wrapping leftovers to protecting picnic food from flies, plastic wrap is a kitchen pantry staple you no doubt already have on hand. A regular box of plastic wrap by Glad will set you back around $4 for 300 square feet (via Walmart). Meanwhile, buying Walmart's store brand product will save you about $0.50 for the same size box. If you rarely find yourself reaching for plastic wrap, either of these boxes will do the trick.
However, if the small format is frequently on your shopping list, you might want to buy your plastic wrap from Costco next time. Costco's Kirkland Signature plastic food wrap costs $22 for a box (via Costco). When you consider that each box contains a whopping 3,000 feet of wrap, you'll quickly see why this is one of Kirkland's most popular household products. Plus, the wrap is both BPA and phthalate free and safe to use in the microwave.
Best: Kirkland Cashews
Cashews are a quick mess-free snack that comes with tons of health benefits (via Healthline). They're rich in minerals like magnesium and zinc, packed with antioxidants, and can improve blood cholesterol levels and ultimately support healthy heart functioning.
Unfortunately, like most nuts cashews can cost a pretty penny. A 30-ounce tub of Target-brand Good & Gather cashews will set you back $16.99, while at Whole Foods, a 24-ounce bag of store-brand cashews is $14.79. But head to Costco, and you'll undoubtedly get more bang for your buck.
A 40-ounce container of Kirkland Signature whole fancy cashews is just $18.99. You won't run out of ways to savor the salty nuts: Use them to make your own trail mix, top a smoothie bowl, or nosh on them solo. No matter how you choose to eat cashews, you'll spend less and have more to enjoy when you buy from Costco.
Best: Kirkland Gas
Costco's great deals don't end at the door. If your local store features a gas station, you might want to consider filling your tank after you're finished loading up your trunk. The first Costco gas station opened in 1995, and today, many stores have their own pumps on-site. These stations offer Kirkland Signature-branded gasoline, and in some locations, you can fill up with diesel as well.
Not only is Costco's gas often several cents cheaper than other stations in the immediate area, but the fuel also has a Top Tier rating (via Query Sprout). This means that it goes beyond the minimum standards of additives mandated by the U.S. government. Costco is able to slash prices at the pump because you must have a membership to fill up. If you're already paying the annual fee, take advantage of this added perk to save at the pump too.
Worst: Kirkland Batteries
Many Kirkland products are carbon copies of name-brand items because they're actually made in the same factories. But this doesn't necessarily mean that the Kirkland version will always be of the same caliber as its competitors. Take Kirkland Signature batteries for instance — they are actually produced by Duracell (via RV and Playa).
Despite being made by the familiar brand, Kirkland Signature batteries have been plagued with reports of poor performance and even leaks. However, when it comes to the duration of their charge, Kirkland batteries are more or less on-par with Duracell, according to a study by Consumer Reports.
Costco's own branded batteries were once a popular buy among shoppers. But following a recent price hike, a pack of 48 Kirkland Signature alkaline AAA Plus batteries costs $18.99. By contrast, a pack of 40 Duracell Coppertop alkaline AAA batteries from Costco goes for $18.99. Given the reports of leakage with the former, it's worth spending the same amount for slightly fewer batteries.
Worst: Kirkland Signature Bath Tissue
Much like batteries, you wouldn't be alone in assuming that Kirkland toilet paper is a budget-friendly buy. Although it has earned average scores for durability and softness, it won't necessarily save you money compared to popular toilet paper brands you can find in every other box store (via Good Housekeeping).
A 36-roll pack of Kirkland Signature ultra soft bath tissue will cost you $31.99. Scott brand, by comparison, has been named the best budget toilet paper (per Insider) and costs about $26.99 for the same number of rolls (via Target). Plus, Scott advertises that its toilet tissue is lint-free and features 1,000 sheets per roll, compared to the Costco brand which counts 425 sheets.
If you tend to reach for more expensive brands like Charmin or Quilted Northern, you will save some cash by switching to Kirkland. However, other budget brands like Scott will help you save even more and can be found at most supermarkets and box stores.
Worst: Kirkland Spices
Walking through the towering aisles of Costco, it's easy to get caught up in the urge to stock up on low-cost items that you frequently use. But even if you love cooking, spices aren't a pantry staple you'll want to grab from a warehouse store.
While there's nothing inherently wrong with Kirkland spices, the oversized containers they come in mean that most shoppers will be unable to use them up before they begin to lose flavor and potency. Many shoppers don't realize that spices have a relatively short shelf life, and ground spices such as garlic powder and cinnamon only last two to three years (via Healthline).
While a 16.6-ounce shaker of Kirkland Signature granulated California garlic will just cost you $7.29, if that's more than you're likely to use in 2 years, you're better off passing up on this buy. At Target, a 2.1-ounce shaker of Good & Gather organic ground garlic powder will set you back $4.29. Sure it's a bit more expensive, but the money you save by buying in bulk will end up in the garbage if you don't use the spice on a regular basis.
Worst: Kirkland Diapers
New parents are faced with a seemingly endless number of choices to make for their little ones, including selecting a diaper brand. Will it be disposable or reusable? Organic? A name brand like Huggies and Pampers or a more affordable store brand? With families spending around $1,000 in the first year on diapers their babies wear 24/7 (per American Academy of Pediatrics), it isn't an easy decision to make.
Savvy parents looking for a deal on diapers will no doubt notice Kirkland's big box. But while these diapers advertise high performance for their price, they're around 30% less absorbent than popular competitor Huggies (via Early Motherhood Guide). While they are free from fragrances, lotions, and chlorine, some shoppers complain that Costco isn't forthcoming regarding which phthalates are in its diapers (via Which Diapers are the Best?).
Kirkland diapers are cheaper than some of the big brands at $0.20 to $0.30 per unit, but they aren't necessarily the best budget option. In comparison, Target's Up & Up brand diapers drop as low as just $0.13 per diaper.
Worst: Kirkland Coffee
Those eager to get their morning caffeine fix without shelling out $5 or more on a daily Starbucks run will no doubt see Costco's Kirkland Signature ground coffee as a great deal. A 3-pound can of 100% Colombian sets you back $19.99 (via Costco), and a 2.5-pound bag of Kirkland Signature medium roast coffee is just $14.99. Meanwhile, a bag of ground coffee from Starbucks — arguably the best store-bought coffee brand you can get — will cost you $9.99 for less than a pound (via Target).
The issue here isn't the cost savings. Instead, it's the flavor of the coffee by the time you reach the end of the bag. Unless you're brewing multiple pots of coffee a day, odds are that your grounds will be less than fresh long before you reach the bottom of the bag. This isn't to say that they'll make you sick, but you'll notice your coffee lacks the flavor it once had. If you're looking to save money, opt for budget-friendly brands like Folgers that offer smaller containers.
Worst: Kirkland Milk
Often, budget brands use unconventional packaging to help shoppers save money. Take cereal for instance; while the popular name brands house it in convenient boxes, budget brands opt for bags. Though they might be tougher to use and store, eliminating extra packaging helps to keep costs in check.
Kirkland Signature took the same approach with its milk. The square jugs you'll find in the cooler at your local Costco are designed to be easier to pack and ship. This allows Costco to load more into its transport vehicles, saving time, money, and fuel costs and passing the savings on to shoppers (via The New York Times). But Costco shoppers have a lot to say about the square jugs that are both difficult to pour and easy to spill. While you might save a few bucks on your milk fix, ask yourself whether the savings are worth the waste of milk and time spent cleaning up spills.
Worst: Kirkland Dishwasher Detergent Pods
Some Kirkland Signature products are more divisive among shoppers than others. The brand's dishwasher detergent pods are one such item. While some shoppers tout them as a low-cost way to do the dishes, others have major issues with the product. The milder complaints note that the pods don't actually clean the dishes well and leave a funky, fake-lemon, chemical scent. The worst reviews say that the pods don't dissolve properly and leave a residue, which can damage your dishwasher over time.
If you're already using Kirkland Signature dishwasher detergent pods and have also noticed that they aren't dissolving properly, there are a few ways to check whether the pods or your machine are to blame. For example, a blocked dispenser door, low water temperature, or a faulty spray arm could be causing the issue rather than your pods (via Paradise Appliance). However, if you rule out any faults with the appliance, it might be time to switch to a more effective product.
Worst: Kirkland Flour
Similar to spices and coffee, Kirkland brand flour bags are one pantry staple that you're better off buying in a smaller size. Unless you're a baking aficionado, most of us keep flour tucked away in the pantry and only pull it out to make the occasional baked good. But keep it tucked away too long and it could actually expire. Flour's shelf life is between three and eight months depending on the type and how it is stored (via Healthline).
Unlike coffee or spices which lose their flavor as they pass their expiration date, letting your flour go bad will lead to a musty smell and a sour taste. If flour isn't stored in an airtight container or happens to be exposed to moisture, it can develop mold which could be dangerous if consumed. Unless you're a regular baker and fly through small bags of flour, leave that 25-pound bag of flour at the store.
Worst: Kirkland Facial Tissues
Unlike toilet paper, facial tissues are a bathroom staple that tends to vary by less than a dollar between popular name brands and budget bargains. A pack of 12 boxes of Kirkland Signature facial tissues (each containing 84 3-ply tissues) is just $19.49. Meanwhile, 12 boxes of Kleenex brand tissues (3-ply with 65 tissues per box) is $18 (via Walmart).
Although Costco's store brand tissues are slightly cheaper, you might find yourself disappointed by their quality. A Consumer Reports study of the best tissues on the market ranked Kirkland number 10, with several cheaper brands beating it out for quality and softness (via ABC). Interestingly, the same study found that quality 2-ply tissues often ranked higher than tissues with 3-ply.
Another drawback of Kirkland's facial tissues is that there's just one option available. Meanwhile, competitors like Puffs and Kleenex have a variety of lotion or aloe-infused tissues that give your nose some relief from the dryness and itchiness that often accompanies a cold.
Worst: Kirkland Liquor
We already named Kirkland's liquor selection as some of the best store brand products that Costco has to offer. Nonetheless, this doesn't mean that everything in the selection is worth the money. While a number of Kirkland bourbons, scotches, and whiskeys have earned high points from Whisky Advocate, other bottles aren't quite worth the cost savings and are better off skipping.
For example, Kirkland's Signature spiced rum is one product that liquor aficionados avoid. At $20 a bottle, this less than impressive rum isn't the best use of your money, and there are plenty of better budget-friendly options for a similar price (via 20 Something Finance). Similarly, Kirkland Signature silver tequila isn't a bad bargain and sells for less than $20 per bottle (via The Tequila Tourist). All the same, the lack of flavor makes this a better choice for mixing up drinks rather than sipping solo.