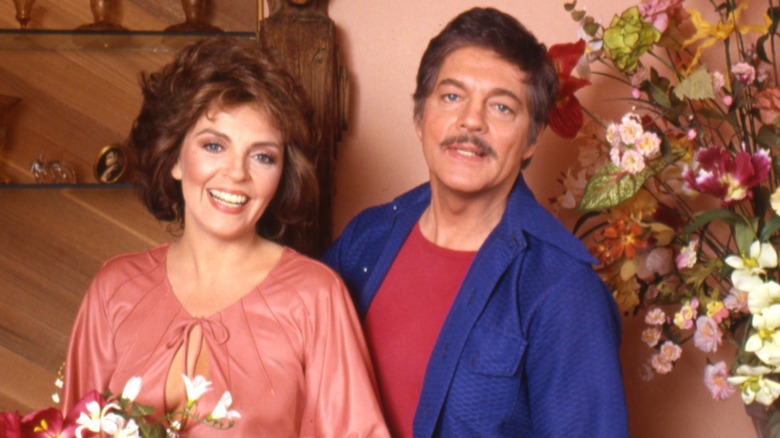 We may receive a commission on purchases made from links.
Over the last 55 years, "Days of Our Lives" has remained an iconic daytime television soap opera on NBC, bringing loads of entertainment to people's homes across the country. It's one of the longest-running series in television history, having aired weekly since November 1965 (via IMDb), and follows the Horton, Brady, Kiriakis, Hernandez, and DiMera families in the fictional Midwestern town of Salem. Throughout each season we've seen love triangles unfold between some of our favorite characters as they grapple with marriage, adultery, a slew of murders, and much more (via Peacock TV).
As the show has been running for quite some time, we've come to know and love these characters over the past five decades. Sadly, several beloved actors have either passed away or retired from the series altogether. However, some of the show's earliest co-stars are still running strong on the program. Keep reading to see what the original cast of "Days of Our Lives" looks like today.
Deidre Hall remains as Days of Our Lives most beloved cast member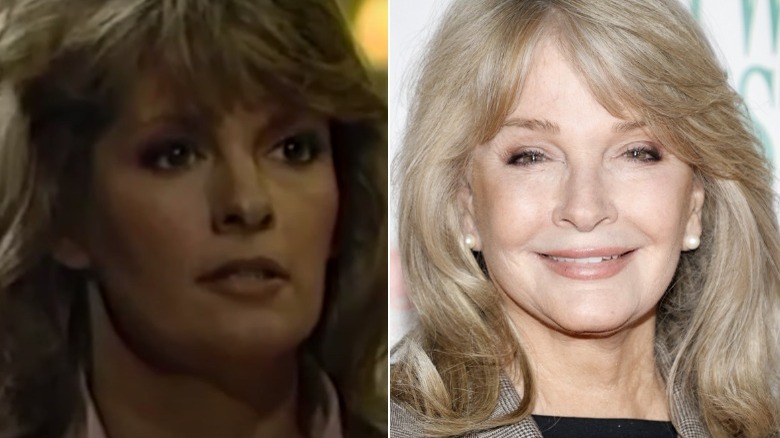 Dr. Marlena Evans on "Days of Our Lives," played by actress Deidre Hall, is one of the most well-known and loved characters on the NBC soap opera. Hall made her debut in 1976 as the psychiatrist in the show's town of Salem. Her character has gone through plenty of trials and tribulations over the last 55 years in every way possible, including being possessed by a demon on multiple occasions (via Soap Central). Since then, she has become a serious fan favorite, amassing a huge fanbase.
Over the course of her career, Hall made appearances in various television shows, including "Woman on the Ledge," "Our House" and "Electra Woman and Dyna Girl." Being the fabulous actress that she is, she's accomplished a lot, even taking home many prestigious awards. According to her official website, Hall was named Best Television Role Model, won the American Women in Radio and Television Award in 1994, and was nominated to receive a star on the Hollywood Walk of Fame in 2016. In addition to her impressive acting resume, the actress has published two books, "Deidre Hall's 'How Does She Do It?' A Beauty Book" and "Deidre Hall's Kitchen Closeup." Hall is also the mother to two babies via surrogate.
Susan Seaforth Hayes has been on Days since 1968
Susan Seaforth Hayes is another long-term "Days of Our Lives" actress who's remained dedicated to the popular television soap opera series. She made her debut in 1968 as Julie Olson, a character she played on and off for over 50 years. According to Soaps In Depth, Hayes has been nominated for five Daytime Emmy Awards and even received the Lifetime Achievement Award in 2018 for the iconic role. Before the show, she appeared in several TV series, including "Death Valley Days," "My Three Sons," "Matlock," and "Perry Mason" (via IMDb).
Undoubtedly, Hayes' time on "Days" gave her an extraordinary, lifelong career, but it's also where she met her true love. Hayes found real-life romance with Bill Hayes, who also played her on-screen character's love interest, Doug Williams (via Soap Hub). The couple has been together since 1974, and in 2005, authored the book, "Like Sands Through The Hourglass" about their love story and lives together working in the entertainment industry.
Suzanne Rogers had a scary hospitalization
If you are a longtime fan of "Days of Our Lives," you're likely familiar with Maggie Horton, the character played by the one and only Suzanne Rogers. In 1973, the actress joined the show alongside other original cast members. Her character was the subject of several bittersweet storylines, including the romance with her husband, Mickey Horton (via Soap Central). Rogers was later awarded Outstanding Supporting Actress in a Daytime Drama Series in 1979, and Best Supporting Actress for a Daytime Drama Series in 2003 for the role, according to IMDb.
Although she played a beloved character in Salem for decades, Rogers faced several challenges in her personal life while filming and was ultimately forced to take time off from the show to recover from a medical crisis. In a 2021 interview with Soaps, the actress revealed the real reason she was absent from "Days." She reflected on the time she once choked on a large pill while putting curlers in her hair, then waking up in the hospital two weeks later. Rogers said she had damaged her red hair in the process and was sent to a rehabilitation center to focus on her recovery. She eventually recovered and (thankfully!) is back performing on the show alongside her co-stars.
Kristian Alfonso is making a return to Salem in the Days spinoff
"Days of Our Lives" is known for its many iconic characters and relationship plots, but one of the most iconic and well-known storylines is between Kristian Alfonso's character, Hope Williams Brady, and her TV husband Bo Brady, played by Peter Reckell. Alfonso debuted on the soap opera in 1983, and later took home a Daytime Emmy award in 2002 for American's Favorite Couple as a result of fans' obsession with the on-screen relationship, according to People.
While she has been on and off the series over several years, Alfonso is officially taking her role back in the spinoff, "Days of Our Lives: Beyond Salem." Although she told the magazine that there's a lot of pressure and expectations to live up to, and that she's nervous to replay Hope, she's most excited about working with her partner in crime again. "I think, probably just the lead-up of it all, I want it to be great," she said. "I put the pressure on myself. I am definitely looking forward to working with Petey." The spinoff is set to include several current and original cast members and will connect past storylines that "Days" fans know and already love.
Drake Hogestyn was laid off from DOOL due to budget cuts
Drake Hogestyn, best known for his role as Roman Brady on "Days of Our Lives," has become a staple cast member on the series. After joining the show in 1986, his character quickly become an icon for his part in one of the biggest television love stories alongside Deidre Hall's Marlena Evans (via Soap Central). However, due to budget cuts in 2008, the series was ultimately forced to lay off our favorite Salem resident. However, NBC eventually brought Hogestyn back and rehired him as John Black after fans' outpouring show of support and love for his original character, according to Soap Hub. When he finally did return, the "DOOL" actor sported an entirely new appearance complete with gray hair, following a scary head injury on set.
Hogestyn's personal life was filled with just as much love. He married his childhood girlfriend, Victoria, and started a family in California. The couple share four children: Ben, Whitney, Alexandra, and Rachael.
Alison Sweeney is part of a new Hallmark trilogy series
Like many other "Days of Our Lives" co-stars, Alison Sweeney is most known for her character, Samantha "Sami" Brady, who gave fans plenty of drama-filled storylines following her debut in 1993. While on the show, she won five Soap Opera Digest awards, as well as a Daytime Emmy for the role (via Deadline). Since then, Sweeney has starred in several television series and Hallmark films, including "Days of Our lives: A Very Salem Christmas," "Hannah Swensen Mysteries," and "The Wedding Veil Unveiled" (via IMDb).
As much as we loved watching her shine as Sami on the soap opera, in a 2014 interview on "The Ellen DeGeneres Show," the actress announced her departure from the series for good. "I'm celebrating my 21st year, and I decided it's going to be my last year on the show," she said. In an exclusive interview with People, Sweeney spoke on how she loves having the opportunity to create movies for other platforms. "I love playing Sami but no, full-time is not the plan for me … I produce and develop content for Hallmark, and for other streaming services. I love getting to do my own projects."
Peter Reckell will make a grand return to Days of Our Lives
Although he's stepped into various TV roles, including "Knots Landing" and "Baywatch" (via IMDb), Peter Reckell is most recognized for his iconic portrayal as Bo Brady in "Days of Our Lives." And if you haven't heard the good news, the actor is set to make a highly anticipated return to Salem in the soap opera's miniseries spinoff, "Days of Our Lives: Beyond Salem" (via Entertainment Weekly). The show, slated to premiere on Peacock in July 2022, will feature plenty of the other "Days" cast members we all know and love, including Kristian Alfonso's Hope Williams Brady, Reckell's on-screen love interest.
Although Reckell has been a part of the series since 1983 (via Soaps) the actor admitted that he feels nervous about making another appearance. In March 2022, he tweeted, "I'm as nervous as anyone. It's been a long time coming!" In the comments, fans welcomed him back with open arms and excitement.
John Aniston finally received the award he deserves
Soap opera legend John Aniston is one of the most popular actors in the entertainment industry. Not only is he the father to "Friends" alumna Jennifer Aniston, but he has also made a huge impact on "Days of Our Lives." Aniston joined the series as Victor Kiriakis in 1985 (via IMDb) and fans have fallen in love with watching his character be a total lady's man, causing plenty of chaos amongst other Salem residents, ever since.
According to Boston Herald, the seasoned actor will receive a Lifetime Achievement Award at the 49th Annual Daytime Emmy Awards for his iconic role in the drama series. The show takes place right before the 37th anniversary of his time on "DOOL" (via Soap Opera Network). Beyond "Days," Aniston has appeared in other television shows and movies, including "Gilmore Girls," "Star Trek: Voyager," "Journeyman," and "Mission: Impossible."
Bryan Dattilo launched his own podcast since Days
Bryan Dattilo made his debut on "Days of Our Lives" in 1993 as Lucas Roberts (via IMDb). The character is known for his close relationship with Allison Sweeney's Sami Brady, as the two went through many challenges together. During the past few decades while on the show, Dattilo explored other television show opportunities, with roles in "Youthful Daze," "CSI: NY," "California Dreams," and "In the Heat of the Night."
According to Soap Opera Digest, the actor launched a podcast in February 2022 centered on paranormal activities, with interests in aliens, abductions, and other space-related topics. The podcast, which can be streamed on multiple platforms, including Spotify, Apple Music, and YouTube, follows a similar pattern to the unfolding scandals on "Days."
After splitting from his first wife, Jessica Denay, in 2001 (via IMDb), with whom he shares a son, Dattilo later married Elizabeth Cameron in July 2011 (via Soaps).
Bill Hayes fell in love with his on-screen love interest
Longtime "Days of Our Lives" fans are likely equal fans of Bill Hayes' character Doug Williams. Hayes debuted on the NBC soap opera in 1970, and is one of the few original actors left to be featured on the show (via IMDb). According to Soap Central, his character owns a restaurant called Doug's Place and loves to entertain people with his singing. The actor has also worked on a number of other projects and television movies, including "Frasier," "Cop Rock," Hooperman," and "The Interns."
Along with a very successful career, Hayes found real-life love on the "Days" set with co-star Susan Seaforth Hayes after divorcing his first wife, Mary Hobbs. In an interview with Soap Opera Digest, Hayes and Susan spoke about their relationship, giving thanks to the show for bringing them together not only professionally, but also in their love lives. "Boy, we have been blessed! We have had health, we've had good times together, we've worked together, we get along. How many couples do not?" Hayes said.
James Reynolds celebrated 40 years on the popular soap opera
James Reynolds is one of the longest-running actors on "Days of Our Lives." He made his show debut in 1981 as Abraham Carver, quickly growing as a fan favorite over the following decades (via Soap Central). Due to his long-term dedication to the series, Reynolds has been nominated for three Daytime Emmys and officially took home the Outstanding Lead Actor in a Drama Series award in 2018 for all of his "Days" achievements (via IMDb).
To celebrate his 40-year run on the show, Reynolds was granted a special anniversary episode dedicated entirely to his character, according to Soaps. In the scene, his character is reunited with his one true love. However, outside of his "Days" career, Reynolds is married to his wife, actress Lissa Layng — with whom he recently celebrated their 36th wedding anniversary — and together they work as artistic directors at the Fremont Centre Theater in South Pasadena (via Soap Opera Digest).
Stephen Nichols is a dad to three kids
For decades, Stephen Nichols' character has been a fan favorite on "Days of Our Lives." Nichols debuted on the NBC soap opera in 1985 and his character, Steve Johnson, is known as Patch for wearing an eye patch after losing his eye in a fight with Peter Reckell's Bo Brady, according to Soap Central. If you are a fan of the show, you know Nichols' character becomes incredibly close with Kayla Brady, played by Mary Beth Evans, and the two fall in love, instantly becoming another one of the series' most iconic couples. Since his debut nearly 40 years ago, Nichols has won three Soap Opera Digest awards between 1986 and 1989: Outstanding Actor in a Supporting Role on a Daytime Serial, Outstanding Lead Actor, and Favorite Supercouple (via IMDb).
Great acting skills aside, the 71-year-old is also a great dad. He and his wife, Lisa (via Soaps), share three now-adult children (via Soaps), whom Nichols never fails to share photos of on social media.
Mary Beth Evans and Stephen Nichols are super close in real life
Last but not least, we have Mary Beth Evans, who graciously took on the character of Kayla Brady on "Days of Our Lives" in 1986 after the role was originally portrayed by Catherine Mary Stuart (via Soap Central). Since her debut, we have watched her character take over Salem and fall in love with Stephen Nichols' Steve Johnson.
As much as we've admired their on-screen romance, the co-stars' friendship in real life is even sweeter. Playing love interests and working together on one series for decades can definitely have that impact on you. For his birthday, Evans posted a tribute to Nichols on Instagram, sending all her love and best wishes. "You are one of the true loves of my life. 35 years of friendship … how lucky are we! Have a great day and remember the best is yet to come," she wrote.
In addition to being an incredible soap actress, Evans appeared in plenty of other television shows and movies, including "The Rookie," "The Bay," "This Just In," and "Criminal Minds." Not to mention, she has taken home an Emmy for Outstanding Lead Actress on a Drama Series for her "Days" role because yes, she is that iconic (via IMDb).