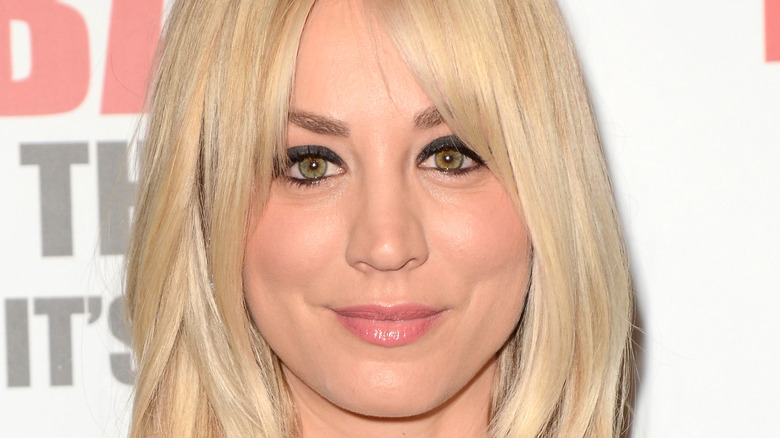 If Hollywood were to crown one actress as queen of TV, Kaley Cuoco would very likely make the short list. This isn't simply because she has provided her talent for a large number of series in recent years, though; the quality of her TV work is right on the money. Cuoco can't seem to miss her mark since the final season of the fan-favorite sitcom "The Big Bang Theory," but that doesn't mean all of her past TV roles have been career highlights.
Kaley Cuoco has been in the entertainment business since she was just a little girl, and her transformation from childhood to CBS's "The Big Bang Theory" is a lengthy one full of both hits and misses. Cuoco is seemingly at a career high with her own production company Yes, Norman Productions landing a deal with Warner Bros. and putting out highly rated programs that frequently star the actress herself. While her contributions to various TV series since her role as Penny on "The Big Bang Theory" have been absolute bangers that showcase award-winning performances, digging into her almost life-long filmography certainly brings up some forgettable and less-than-stellar roles. We've explored her long history with TV, and here are Cuoco's seven best and seven worst TV roles to date.
Worst: Kristin in The Nightmare Room
Before you think we're about to go in hard on "The Nightmare Room," the teen horror anthology series has a lot of good going for it. Each episode stars some of the most notable and nostalgic teen Disney stars from the early 2000s, which can be a treat for millennials revisiting the series. Shia LaBeouf, Brenda Song, and both the Sprouse twins all appear in episodes. For fans of throwbacks and campy horror, the series is pretty much the whole package.
Kaley Cuoco also stars in one of the R.L. Stine-inspired episodes and played the series' own (possibly eviler) version of the Regina George archetype. Cuoco's character Kristin is the school's mean girl who targets the episode's protagonist and basically tries to turn everyone in the school against him.
While there's nothing really wrong with Cuoco's performance or role, her episode's IMDb ratings are painfully average relative to what the series has pulled off and the actress is far more successful in more morally sound characters. As far as Cuoco's roles go, "The Nightmare Room" is far from a stand-out and the rockstar actress was outshined by other stars in the anthology series, earning it a spot on her worst roles list.
Best: Heidi in Curb Your Enthusiasm
After her time on "The Big Bang Theory" ended and in between starring in and producing two fantastic HBO series, Kaley Cuoco made a guest appearance on one of the network's longest running comedy series. Specifically, she's one of several awesome guest stars on "Curb Your Enthusiasm" Season 11. She appeared as David's optometrist who has to put up with his typical antics of pedantic and long-winded gripes about everyday situations and encounters.
The back-and-forth between the two comedic actors is terrific. In an Instagram post, Cuoco gushed about the role, saying being a part of the show was on her bucket list and "ended up being the best experience ever." Appearing opposite Larry David in one of the best seasons of "Curb Your Enthusiasm" certainly earned her some comedy cred, at least where fans of the hit show are concerned.
Worst: Bonnie in Ladies Man
"Ladies Man" was a short-lived sitcom back in the early 2000s about a family full of women and the man living with all of them. It was a comedic show that had a lot of potential from its star-studded cast, with Betty White standing as its obvious shining star. Kaley Cuoco joined the cast in the second and final season, taking over the role of the eldest daughter Bonnie Stiles from actress Shawna Waldron.
Mid-series actor replacements are always a huge risk, and the change almost never goes unnoticed. As far as "Ladies Man" goes, the series didn't have stellar reviews from critics from the start. Rotten Tomatoes has the sitcom at a pretty dismal score, however the series did have some fans in its corner, as the IMDb viewer score is much higher, even though reviews are pretty scattered. Overall, Bonnie is a far cry from one of Cuoco's best roles.
Best: Bridget in 8 Simple Rules
Despite "Ladies Man" being a bit of a dud, Kaley Cuoco went on to another, more successful sitcom shortly after. Cuoco's role as Bridget in "8 Simple Rules" basically put the actress on the map, despite the series only lasting three seasons. The show might have had a longer run if star John Ritter hadn't passed in 2003, changing the series drastically as it wrote in the sitcom legend's death.
The series won a handful of awards and was nominated for a whole lot more. Cuoco herself won the 2003 Teen Choice Award for choice TV breakout star. While Cuoco was a relative newcomer to large roles at the time, "8 Simple Rules" was full of proven talent. Other than John Ritter, the cast of "8 Simple Rules" also included David Spade and TV icon Katey Sagal. "Eight Simple Rules" is second only to "The Big Bang Theory" as Kaley Cuoco's longest held live-action role and was pivotal to her rockstar career in Hollywood. Bridget definitely deserves a place on her career highlights.
Worst: Kirstee in Bratz
Kaley Cuoco has provided her voice to the "Bratz" character Kirstee in a number of shorts, video games, a 2013 TV movie, and a 2005 animated series. Hers was one of two characters that made up the pair of antagonists referred to as the Tweevil Twins. Despite being a part of a wildly successful toy franchise, the "Bratz" animated series had a number of not-so-hot qualities that couldn't be saved by the decent voice acting of the cast.
The animation for "Bratz" was low grade and choppy, more reminiscent of early 2000s PC games than a smooth and watchable animated series. The majority of the series' episode plots were also lacking in originality and frequently centered on familiar tropes. Out of only 23 episodes in Season 1, two are clip shows. Also worth noting is the controversy surrounding the Bratz franchise, with the American Psychological Association speaking out about the dolls — and by extension, the rest of the franchise — for arguably sexualizing young girls.
Cuoco's Kirstee is, however, a pretty solid addition to the series and franchise. The antagonist is quick witted for a children's program, has sass for days, and gets in a few jokes that land. Cuoco was certainly a shining star in the series, but even her contributions can't salvage the series from landing on the "worst" side of her long line of TV credits.
Best: Brandy in Brandy & Mr. Whiskers
Ready for a total blast from the past? There are plenty of Disney Channel original series that are locked away in the vault of childhood. Since you might not quite remember shows you watched as a small child, it's easy to write off vague recollections of "Brandy & Mr. Whiskers" as an old fever dream. However, the animated series about a valley girl dog and hyperactive rabbit who get stranded in the Amazon rainforest after a plane crash is very real, and honestly pretty awesome.
In what is basically her most under-the-radar role ever, Kaley Cuoco pretty flawlessly voiced the lead character Brandy. In fact, the character could even be thought of as a precursor to her role as Penny on "Big Bang Theory" considering their similar personalities. Although "Brandy & Mr. Whiskers" was a short-lived series and just a drop in the bucket of nostalgic shows, fans are demanding the series make its way to Disney+ so they can revisit it. The series is not available anywhere online, though that may change if Disney obliges fans' requests to bring back this awesome, formative role of Kaley Cuoco.
Worst: Pool Water in Young Sheldon
While "The Big Bang Theory" marks a high point of Kaley Cuoco's career, the mammoth of a series' prequel spinoff contains one of the star's worst roles to date. Cuoco made an odd cameo appearance in "Young Sheldon" as the water in a large pool that talks to young Sheldon when he is afraid to jump in the bacteria-infested waters of a gym's pool.
Seeing as "Young Sheldon" takes place almost 20 years before the first season of "The Big Bang Theory," it really makes no sense that Kaley Cuoco's Penny, who Sheldon met for the very first time as an adult, would have anything at all to do with this series. However, it seems as though series co-creator Steve Molaro thought she would be perfect to voice some pool water. "I knew I wanted it to be female and kinda sexy, and I said, 'Well, duh! Kaley is perfect for this,'" Molaro told TVLine, explaining why he chose Cuoco to join the spinoff in this odd way.
There is nothing inherently wrong with Cuoco's performance, and some fans may appreciate the cameo. However, the sheer weirdness of her voice emerging from apparently sentient pool water decades before her own character is a regular part of Sheldon's life combined with how the role was meant to come off "kinda sexy" leaves us scratching our heads in retrospect.
Best: Sasha in Prison Break
Around the time Kaley Cuoco was just getting started on "The Big Bang Theory," she had a two-episode role on the Fox series "Prison Break." The unique series centers on two brothers who work towards their escape from a high-security prison, then follows their lives on the run. Cuoco appeared in the middle of Season 2, which split its focus between all of the escaped convicts and their specific journeys. She played a teenage girl who alongside her boyfriend comes across Haywire, an overall good-natured con who had untreated schizophrenia.
Cuoco's character shows compassion toward Haywire, who ends up killing her abusive father. Although Cuoco's role was tiny and overall insignificant to the overarching plot of "Prison Break," it's well acted and Cuoco was memorable in her role as an alternative teen with a troubled life. It is a type of role we haven't often seen from the actress, and she gets some major points for pulling off such a touching and gentle performance in one of the highest rated seasons of the popular series and opposite a wildcard character like Haywire.
Worst: Misty in Secrets of a Small Town
Once upon a time in Hollywood, there was a little series with a pilot order that starred a number of young actors that would later go on to do some pretty awesome things. A young Kaley Cuoco appears in the series, which nabbed a spot on this "worst roles" list due to the fact that it never got past a pilot episode. "Secrets of a Small Town" starred Leighton Meester, who would later go on to star in "Gossip Girl." Lucy Hale, who later landed the role of Aria in "Pretty Little Liars," gave an interview to Entertainment Tonight (via Hello Giggles) noting that England's own Duchess of Sussex Meghan Markle was also an actress in the pilot of the series.
Despite having the foresight to see something great in a number of its casted actresses, the mysterious series about a small-town murder and disappearance never truly got off the ground. The failed pilot, which never aired, can be found in pockets of the internet, but you'll still have some trouble locating Cuoco in the one episode of "Secrets of a Small Town." Not only is the series one of the actress' worst TV credits, but her role is so tiny that she could be completely missed.
Best: Harley Quinn
You won't have any trouble finding Kaley Cuoco in "Harley Quinn" on HBO Max, as she is front and center as the titular character. The DC series is the second that came from Cuoco's Yes, Norman Productions and centers on a newly single and Joker-free Harley Quinn on her many adventures alongside fellow Batman villain Poison Ivy.
The series is another instance of Cuoco earning some serious acclaim, with a win for best voice actress in an animated series for the 2021 Critics Choice Super Awards. The series — a kindred spirit to rowdy live-action DC endeavors like 2020's "Birds of Prey" and 2021's "The Suicide Squad" – starts off Harley as the sidekick and girlfriend of the Joker and effectively brings out her superb R-rated main character energy before the end of the first episode.
The animated series also has some pretty stellar character development, which is something fans haven't necessarily seen much of in previous versions of Harley Quinn, and the writers have created a Harley that women can revel in more easily. "We wanted to make sure that instead of making it [expletive] material, we made it something that felt like these characters could have a little more depth," series writer and developer Justin Halpern told Rolling Stone. The adult and explicit nature of the series combined with its unique handling of Harley Quinn certainly makes the role one of Cuoco's absolute best. That, and the fact that the series pretty much tops out on Rotten Tomatoes with its ratings.
Worst: Amanda in 10.5
While Kaley Cuoco was busy making a name for herself in the sitcom world with her role in "8 Simple Rules," she also had a role in a TV miniseries akin to a disaster movie. "10.5" presents the familiar end-of-the-world scenario by plotting out a massive earthquake — a 10.5 on the Richter scale — which is a whole point higher than the highest known Earthquake to date.
Although a minority of IMDb reviewers loved "10.5," most reviews of the miniseries are pretty harsh, calling the disaster film rip-off a, well, disaster. The miniseries' tagline of "The day the Earth would not stand still" might be an obvious tribute to the iconic end-of-the-world film "The Day the Earth Stood Still," but it is a pretty charmless homage. More forgiving ratings give "10.5" one redeeming quality — the miniseries is a lot of fun if you just accept it as hilariously bad.
Cuoco appears in both parts of "10.5" in just a mid-sized role, but the miniseries is still a dark mark on her filmography. If you like a good bad movie though, it may still be well worth a watch.
Best: Cassie in The Flight Attendant
Kaley Cuoco went big with her first major role after "The Big Bang Theory," tackling both a producer role and lead actress duty in HBO's "The Flight Attendant." The series, based on the book of the same name by Chris Bohjalian, centers on Cuoco's character, the flight attendant implied in the title. Cassie is a carefree party animal until one day she wakes up beside a dead body and has no memory of the events that transpired the night before. Is she responsible for the death of the person next to her? She has no idea.
"The Flight Attendant" is vastly different from "The Big Bang Theory," and Cuoco has already arguably garnered more praise for the comparatively darker project. Before its third season, "The Flight Attendant" has been nominated for three Emmys, including consecutive outstanding lead actress nominations for Cuoco.
The comedy-drama series is some seriously bold proof that anybody who thought Cuoco's career would be over after "The Big Bang Theory" should have thought harder. In addition to earning Cuoco praise and acclaim, "The Flight Attendant" is plain ol' addictive fun, earning a tight spot on the actress's "best" side of her filmography.
Worst: Billie in Charmed
Not long before the TV world fell in love with her as Penny in "The Big Bang Theory," Kaley Cuoco joined the cast of "Charmed" as Billie Jenkins, a newbie witch that the charmed one Paige, played by Rose McGowan, took under her wing. Billie came into the cult classic in its very last season back in 2005. The long-running series centered on three powerful witch sisters and their fight against the forces of evil. The dynamic shifted in the eighth and final season with the trio looking to live a normal life and the addition of Cuoco's Billie, the new witch on the block searching for her estranged sister Christy.
There still remains a solid fan base for "Charmed," and the series even inspired a reboot. However, late additions to the cast of long-running TV series aren't always embraced by their audience, especially when it comes to mid-'00s WB shows. One writer at Digital Spy even went so far as to refer to as Billie and Christy as the "gruesome twosome." While a role on a series like "Charmed" would have been a pretty awesome gig for a young actress, it is thankfully not what Cuoco is best known for.
Best: Penny in The Big Bang Theory
It'd be tough to have a "Best of Kaley Cuoco" list without "The Big Bang Theory" at or near the very best spot. The CBS series ran for a whopping 12 seasons. Penny makes up a good chunk of Cuoco's career and is her longest-standing role — it is also the role that, according to Cosmopolitan, paid the actress a million dollars per episode at one point.
In the highly comedic sitcom, Kaley Cuoco's Penny lives across from genius physicist Sheldon and his not-quite-as-genius roommate and colleague Leonard. While Cuoco was not originally cast in the series, Penny was created specifically for Cuoco after the pilot, and she appeared in almost every episode after as one of the central characters of the series. She acts as a foil to the brilliant but socially awkward characters and their friend group, and the series just wouldn't be the same without her.
"The Big Bang Theory" was one of the most watched and successful sitcoms during its run, but it's also apparently a show that Cuoco holds dear. "That was so special and will be a part of my heart for the rest of my life. Nothing will ever compare to that," she told the Los Angeles Times, speaking about her once in a lifetime experience on the hit series.