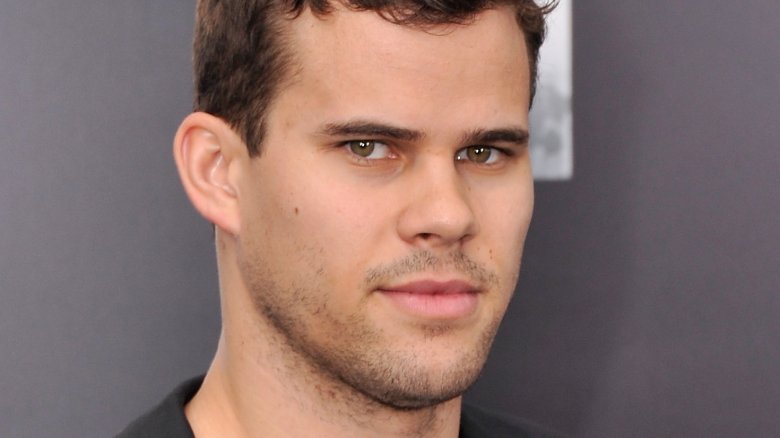 Remember Kris Humphries? It's been a while since most have heard his name. Back in October 2010, Kim Kardashian plucked professional basketball player Kris Humphries off of the New Jersey Nets' bench and made him her new boyfriend du jour, thrusting him into the center of a maniacal tabloid frenzy. A short time later, viewers of "Keeping Up with the Kardashians" watched Humphries' May 2011 proposal in wonderment and with hopes that Kardashian had finally found her happily ever after.
E! delivered when the then-couple's August 2011 fairy-tale wedding was filmed from start to finish for the entire world to see. Following their uber-expensive ceremony, which reportedly had an insane final cost of $10 million, all the couple had to do was drive off into the sunset together. But instead, Kardashian filed for divorce after just 72 days, catapulting the 6-foot, 9-inch hunk right back into the midst of irrelevancy.
One of the last times we heard from Humphries, he was embroiled in a legal battle with his bride-turned-nemesis, insisting their marriage was a fraud … which he failed to prove, BTW. So what has he been up to since being ousted from the paparazzi-magnet Kardashian family?
Here's the real reason you don't hear from Kris Humphries anymore.
Are the Kardashians to blame for his flopped career?
During the time Kim Kardashian sank her pearly white veneers into Kris Humphries, he was playing for the New Jersey Nets professional basketball team. Following their divorce, he bounced around all over the league, playing one season max for a host of teams, including the Boston Celtics, the Atlanta Hawks, the Phoenix Suns, and the Washington Wizards. He was later picked up by the Hawks one last time for the 2016-2017 season. However, before he knew it, Humphries was soon shipped off to the Philadelphia 76ers but was waived after playing in just three of their pre-season games, according to NBA.com.
People have blamed his unstable basketball career on the infamous Kardashian Kurse, because immediately following his disaster of a marriage to the front-runner of the celebrity family, an insider told Hollywood Life, "The Kim drama is affecting [Kris'] career because teams don't want that guaranteed drama to come into the locker room."
Maybe that explains why teams tend to dump the power forward/center so quickly, and it also explains why we don't hear from him anymore. Out of sight, out of mind.
He shunned the KUWTK cameras
Dating and marrying Kim Kardashian meant that Kris Humphries became a prominent fixture on "Keeping Up with the Kardashians." Viewers watched in horror as he was portrayed as the villain — an annoying pest who caused Kardashian's iconic meltdown when he tossed her into the ocean in Bora Bora, resulting in the temporary loss of her $75,000 diamond earring. What a Scrooge!
With their relationship on its last leg and Kardashian's mind made up that she was ready to end their union after just 72 days, Humphries rightfully backed away from the cameras, but Kardashian wasn't going to let him walk away that easily, according to Radar Online. Though she insisted she wasn't happy being married to him — while giving us her iconic ugly cry face that will go down in television history — she reportedly wanted to have one last Skype video chat session with Humphries to apologize to her ex-beau for the way she handled the divorce.
She apparently wanted the "KUWTK" cameras to film it as it all went down, but Humphries allegedly pumped the brakes and derailed her plan. "Kris turned down Kim's offer because he didn't want to appear on any of the Kardashian reality shows ever again. Kim and Kris haven't spoken since the divorce was made final, and there are no plans to do so," an insider told the gossip website.
Eating healthy with Kris
During his short-lived reality TV career, Kris Humphries came across as a prankster who loved to get underneath Kim Kardashian's skin. However, looks (and actions) can be deceiving. What many failed to realize was that he wasn't just some dumb, immature jock. He actually made several business deals before hooking up with his ex-wife, and he has continued to increase his wealth by diving feet first into various investment opportunities following their divorce.
You're probably well aware that he's a franchisee of Five Guys burger joints across multiple states. While profits from the juicy burgers probably pay the bills, the giantesque athlete took a leap of faith in 2018 when he decided to venture into the healthy food business by becoming the very first franchisee of Crisp & Green. "Walking into Crisp & Green for the first time I knew right away it was exactly what Minnesota needed," he told Business Wire.
His net worth might pale in comparison to his ex-wife's fortune, but at least he's making money moves of his own without having to share pieces of his private life with millions of strangers, right?
He's flipping houses and making a killing
After his divorce, Kris Humphries seemingly disappeared from the glitzy Hollywood scene, but he didn't stay far away from Tinseltown for long. Forbes magazine reported in July 2015 that the business-savvy basketball player had plopped down $6.2 million on an super-glamorous Beverly Hills, Calif. home. Those who believed he was setting down roots in the famous zip code so he could creep on his ex-wife were surprised when, just two years later, Humphries turned around and sold the home for $8.25 million! That's a profit of a whole lotta moolah!
Humphries proved to be pretty good at flipping houses after that amazing real estate deal, and he attempted to recreate his monetary success when he listed his Minnesota lake house for $1.65 million in May 2018. Since he originally purchased the pad for $1.55 million 12 years prior, according to Realtor.com, if the home sells, he'll be raking in some extra dough once again.
Make it rain!
Giving back to Minnesota youth
At times, it's difficult to keep up with Kris Humphries, especially since he lives a rather low-key lifestyle. But every now and then, he'll pop back up in the press to disclose how he's been spending his time away from the spotlight, such as the time he gave all the deets on how his charity impacts the community.
Maybe he didn't make a splash on the courts as a professional player, but he used his sports knowledge to give back to kids with his annual basketball camp at the Boys and Girls Club in St. Cloud, Minn. — the same city from which his mom hails.
The camp was held in conjunction with his organization, The Kris Humphries Foundation Basketball Clinic, and taught kids not only how to dribble a basketball, but also how to be "well-rounded" individuals on and off the court (via Minnesota radio station WJON).
Sparking controversy online
Don't feel bad that Kris Humphries went from being married to one of the most popular celebrities to being relegated to a life of obscurity. If you ask him, he's happy that he's away from the Kardashian-Jenner clan. Far, far away, to be exact. Case in point: Following Caitlyn Jenner's tell-all interview with ABC, when she revealed she would be living life as a transgender woman, Humphries tweeted, "Man, I'm glad I got out when I did. #Gottadoyou." Insensitive much?
Like, we get it, he's glad to be disassociated from the fam, but to correlate his happiness with Jenner's bombshell interview in which she discussed her struggles with her gender identity was just plain ol' petty. Unsurprisingly, the Twitterverse let him have it, and he followed up with another tweet to apologize, which read, "I have and always will support Bruce hence #Gottadoyou. Now recognize I was too vague and sincerely apologize for the way this came across." Despite backtracking, he even became a focal point during a scene on Jenner's since-canceled show, "I Am Cait" (via Us Weekly), with Jenner describing the athlete as "Kris … idiot Humphries." Burn.
Even his controversial social media posts didn't keep him in the headlines for long, though. And soon enough, everyone had forgotten about him and his Twitter snafu.
He was sore-ly in jeopardy of losing it all
Just when we thought Kris Humphries would return to the basketball bench from whence he came, he briefly popped back into the news in 2012 when a woman named Kayla Goldberg sued him, claiming he had infected her with genital herpes after an alleged night of unprotected sex. Humphries fired back in 2014, asking the court to dismiss the case because of his accuser's alleged extensive sexual history, TMZ reported. Goldberg reportedly backed his rebuttal and admitted during a deposition that she wasn't really sure that Humphries was the one who infected her.
Even more of the sordid, bumpy details were exposed by Radar Online, including the results of Humphries' herpes and HIV test, which both came back negative. His accuser wasn't willing to back off, though. She allegedly admitted Humphries hadn't infected her with genital herpes. Instead, she accused the athlete of passing her the strain that caused oral cold sores, and she wanted the court to force Humphries to get tested for herpes simplex one.
Basically, the entire case just seemed like a ploy. It was a pretty sucky way for him to get some media attention, but the case eventually slipped from the breaking news headlines, as did Humphries.
He's just a normal guy living a normal life
With the uncertainty of his professional basketball career looming over him, Kris Humphries returned to his normal, everyday life. He spends time with his family during the holidays and sips Five Guys shakes just like the rest of us, though he doesn't have to pay out of pocket for his. He even made a rare public appearance in April 2018 when he popped up at the Coachella music festival with a petite brunette. We hate to admit it, but she looked a lot like his ex-wife, Kim Kardashian. Creepy!
Though he likely towered over most of the festival-goers, the photos of Humphries showed the divorcé moving through the crowd while being all sorts of low-key, having a good time underneath the scorching desert sun with his companion.
At the time of this writing, Humphries has yet to remarry following his highly publicized split from Kardashian, so it was nice to see him giving the dating world another shot. But even if he were to tie the knot with this Coachella gal pal, news of his nuptials would likely fly under the radar, just as his life did following his divorce from the reality TV queen.
He officially retired in 2019
Kris Humphries officially announced his retirement in 2019 on The Player's Tribune, 15 years after he was first drafted to the Utah Jazz. "I hope that true fans of basketball remember me as a grinder, as a guy who transformed into a heck of a rebounder, and as a guy who always tried to put the game in the best light," he wrote.
NBC Sports summarized his career in only a few words, calling Humphries a "rebounding journeyman who spent 13 seasons with the Jazz, Raptors, Mavericks, Nets, Celtics, Wizards, Suns and Hawks." But as he told Men's Health in 2012, the Minnesota native was also a dedicated player with a rigorous schedule, who trained on his off days and kept to a strict diet. "If it were up to me, I wouldn't have a cheat meal," he stated at the time. "I think the way I eat is the foundation of my performance."
Although he left the world of professional sports behind, Humphries had at least made enough money to dry his eyes. According to Celebrity Net Worth, he signed quite a few lucrative contracts over the years, including an $8 million one-year deal to the Nets in 2011 and a $24 million two-year deal in 2012.
His mental health suffered
Kris Humphries went through a rollercoaster of fame in the public eye, and that experience really took a toll on his mental health, as he explained in an emotional essay written for The Player's Tribune after retiring from basketball. Humphries opened up about his childhood and how he wanted to be a basketball player first and foremost, declaring that all he ever wanted was to be known for his sporting achievements. "I just wanted to be remembered as a great athlete," he reflected, confessing that he found being a reality TV star difficult.
"I'll be honest, I dealt with a lot of anxiety, especially in crowds," the basketball star admitted, describing how he struggled with being recognized for his personal life. "There was about a year where I was in a dark place. I didn't want to leave my home." He felt like strangers treated him with hatred or disdain after recognizing his face from all the tabloid attention, which was unavoidable. "You can't go up against that machine," Humphries stated, insisting that he couldn't win. "There's no point. And even if I played that game, I felt like it would be disrespecting the game of basketball." But his family was there for him throughout the upheaval, as his mom explained in a 2011 interview. "It's our faith in God that carries us through all those times," she told ABC News.
He's been opening different restaurant franchises
Kris Humphries hasn't just branched out into real estate and Crisp & Green after leaving pro basketball. As the former NBA player has told his fans on Instagram, he's been opening up franchises all over the place and making sure that his brand deals pay off.
"My family and I were really excited at the prospect of bringing an exciting brand like Dave's Hot Chicken to our home in the Twin Cities area," he told the Business Journal in 2022, explaining of the chicken chain, "[It] checks all the boxes for the kind of restaurant brand we want to be involved with, and has all the potential for massive growth." Humphries added that he was thrilled to introduce the Minneapolis–St. Paul area to Dave's after exploring the brand and trying the food for himself. "We're excited to see what the future holds for the brand in the Twin Cities," he concluded.
Humphries also gushed about the business opportunity on Instagram, telling Minnesota to prepare for a new franchise. He definitely seems to be proud about bringing the chain, which was founded in Los Angeles, back to his hometown — the former basketball star even insisted, "This is the best chicken ever."
He was furious about Kim's gay joke
Kris Humphries made headlines again in 2022 after his ex-wife Kim Kardashian publicly questioned his sexuality. On an episode of her latest reality show, "The Kardashians," she told her friends and family "I love gay weddings," quipping: "I haven't been to one since my second wedding." According to a source close to Humphries, per Radar Online, her ex-husband wasn't happy about the jab. "Kris has moved on," the insider insisted, urging Kardashian to do the same. "He does not understand why Kim continues to think he's gay. It's infuriating."
The source also suggested that Kardashian was bringing up old drama for no reason, stating that "She really should not drag his name through the mud after all of these years." Kim first joked about Humphries possibly being gay in 2011, as the press reported at the time. Sources told Star magazine that Humphries quickly became less interested in Kardashian after their honeymoon, and her sister Khloe suggested that it was because the NBA player could be gay. His team shot down the rumors straight away, however, declaring that the suggestion was absolutely untrue.
Is he ready to reemerge and deliver some payback?
Kanye West, Kris Humphries' ex-wife's latest ex-husband, appeared on Khloe Kardashian's since-canceled talk show, "Kocktails with Khloe" (via Radar Online), and admitted he reached out to Kardashian while she was married to Humphries in an attempt to woo her. "I started sending her pictures of, like, certain basketball players that used to be cool that now they wear their pants all the way up to here," West said. "Like, 'This is your future.'"
An insider told the website that Humphries was ticked off by West's confession, and he was considering clapping back in a major way. Since his divorce, he has reportedly been sitting on a ton of dirt on his ex-wife, as well as some of her family's deep-dark secrets, and he was allegedly ready to spill. "They had a deal to stay quiet about each other, but now he's saying she broke her word by speaking via Kanye so he's entitled to do the same," the source said. Humphries was said to be exploring his legal options "with the goal in mind of doing a full TV sit-down and even a book that would hang Kim Kardashian and her family out to dry." Sounds salacious.
So, who knows, he just might be back in the spotlight sooner than we anticipated!