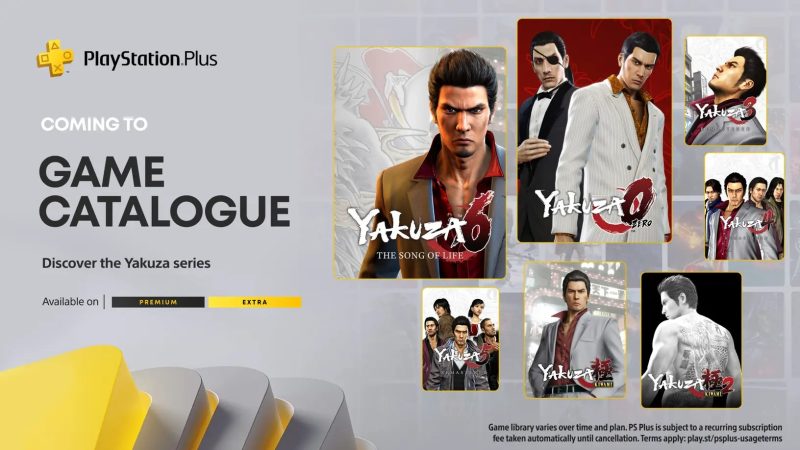 Beginning with this month, and then continuing later on throughout the year, will be practically a Yakuza take over, with eight games in total being added across the catalogs of games for PlayStation Plus Premium and PlayStation Plus Extra subscribers.
The first four games will be coming this August, with Yakuza: Like A Dragon being one of the three games available to all PS Plus subscribers, and Yakuza 0, Yakuza Kiwami, and Yakuza Kiwami 2 being available to PS Plus Extra and PS Plus Premium subscribers.
Later on in the year, Yakuza 3 Remastered, Yakuza 4 Remastered, and Yakuza 5 Remastered will be added to the PS Plus Premium catalog, while Yakuza 6: The Song Of Life will be added to both the PS Plus Extra and PS Plus Premium catalogs.
8 Yakuza games coming to PS+ in 2022

August
– Like A Dragon (all tiers)
– 0, Kiwami and Kiwami 2 (Extra/Premium)

Later this year
– Y3, Y4, Y5 (Premium)
– Y6 (Extra/Premium)https://t.co/HO8gXObHeh pic.twitter.com/O4Tk5q07iZ

— Nibel (@Nibellion) July 27, 2022
This covers the entire Kazuma Kiryu saga, and pretty much lets anyone who has not yet had a chance to play any of these games a chance to play them all.
Hopefully we don't have to wait too long for the other four games to come out. The first four will be available with the rest of the games coming to PS Plus this August, this coming Tuesday.
Source – [PlayStation Blog]