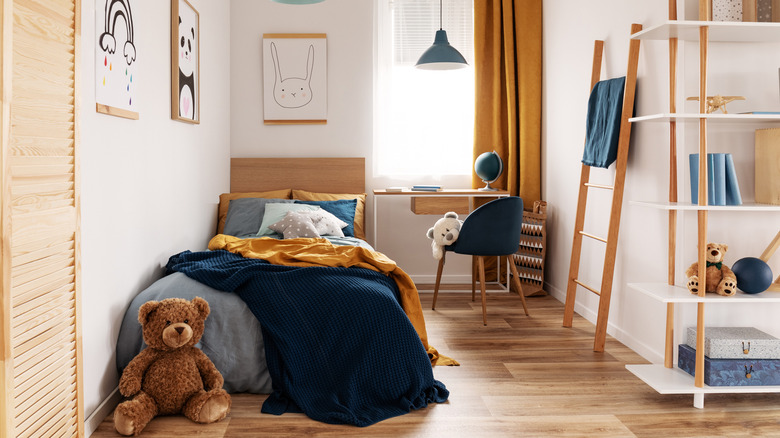 The way your child's bedroom is designed may impact their development more than you might think. Certain design choices create a calming atmosphere, while others will provide extra energy. A messy space may cause a child to feel more stress. And incorporating elements that make them feel safe and secure is extremely important. Adding specific features may even help young children get over their fear of monsters under the bed or in the closet.
Imagine Forest says that a child's room serves a number of different purposes in their development. Their bedroom serves as a place for them to learn, both in play and in completing schoolwork. This room should also be a serene place for them to calm down and feel safe. It should include a comfortable space to sleep and rest. And, their room should encourage them to stretch their thinking and grow. With all of these uses in mind, below are five ways to make your child's room feel more safe and serene.
Add lots of lighting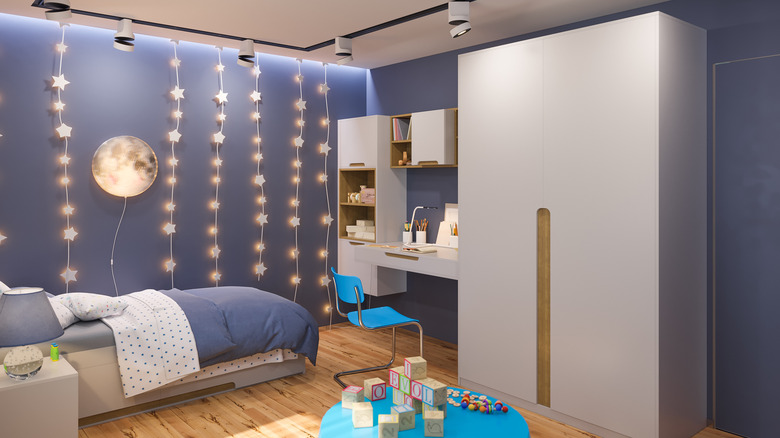 Lighting is important for creating both a safe and peaceful environment, per The Interior Editor. Keeping a child's room well-lit will help them avoid stepping on small toys like legos. However, bright lighting should also have dimming capabilities, so the room can be transformed into a tranquil place to sleep. Crate & Barrel says to focus on adding the right lighting for certain tasks. For instance, bright task lighting may be needed on a desk or in a reading nook, while dim overhead lighting could help your child feel safe. Nightlights should be added to both the bedroom and the bathroom, so your kids can safely use the bathroom at night. A nightlight may also make your child feel safer from monsters. Another important type of light to consider is natural light. Choosing airy curtains and keeping them open during the day is important.
Lamps and nightlights can also be great opportunities to continue a theme or add personality to a space. Not only are they functional, but they can also become a design piece. Decorative shades or nightlights in fun shapes can give the space a more lighthearted atmosphere. Choosing warm or cool light bulbs can also continue a color scheme.
Choose less energetic colors
The paint colors you use in your child's bedroom greatly contribute to the atmosphere of the space. You'll want to focus on choosing less energetic colors so that your child isn't overstimulated and can easily fall asleep. Moshi Kids says that an off-white shade is a safe choice. This is because it's warm but also neutral and it will help your kids stay calm and focused when working on schoolwork. Beiges and grays can create beautiful places to rest. If you want to add some color, try a pastel green, blue, lavender, yellow, or pink shade. While these shades will provide color, they won't feel overwhelming or add lots of energy to a space.
Mansion Global says that nature-inspired tones like sky blue or earthy green are some of the most soothing paint colors. Light grays can also make a space feel especially peaceful. On the other hand, you'll want to avoid using bold colors like citrus orange, bright red, electric hot pink, or vibrant yellow. These will make your child's space feel more energetic and may cause them to have trouble falling asleep.
Use natural elements
Natural elements can also make a child's bedroom feel more serene and safe. Nature-inspired pieces add warmth and an inviting feeling to a space. Ballard Designs points out that natural lighting from a window can give a space an extra natural feel.
Cuckooland provides some fun ways to add nature-inspired décor pieces to your child's bedroom. You could focus on a nature theme in the space, like a safari, jungle, or beach. To make the theme come alive, you could include a fun mural of trees or a mountain range. Wooden elements always make a space look more natural, so adding a wooden bed frame or dresser is always a good idea. You could also add plants, either real or fake. Wicker baskets will bring in a subtle nod to nature. Flower patterns on bedding or wallpaper could also be incorporated into the space. To make the bedroom feel more adventurous, you could add fun elements like slides or ladders.
Make it feel cozy
To make your child's bedroom feel safe and serene, include cozy elements. Of course, this will be mostly done through the bedding. My Sleepy Monkey says that blankets, pillows, and stuffed animals can give a space warmth and a safe feeling. Blankets and stuffed animals can become security items that help your child cope with fears. A teepee in the corner of a room can also give a play area or reading nook an extra comfortable feel.
There are also less obvious ways to make a space feel cozier. Room To Grow points out that a comfy space starts with the mood of the room. This is affected by everything, from lighting to colors and themes. According to My Sleepy Monkey, dim lighting can do a lot to provide relaxation in a space. A mess can take away from cozy vibes, so providing enough storage for toys, clothes, and other items is important. Also, think about how noise could affect your child's bedroom. To dim loud noises, add a rug or carpeted floors. Background noise from a ceiling fan or a noise machine could help your child fall asleep.
Create separate zones
A child's bedroom is used for a number of tasks. HGTV says that this room is used for sleep, play, changing clothes, reading, and schoolwork. Separating these uses into different zones can help your child focus on each specific task. It can also help ensure that each zone is well designed for completing the task. For example, allow the space to be peaceful enough for sleep. To keep messes to a minimum, limit your child's toys and provide enough storage space. If you want your young child to learn how to dress themselves, make all their clothes accessible. Encourage reading with a fun and cozy reading nook. Provide adequate lighting for focusing on schoolwork.
These Three Rooms also recommends creating spaces that can be easily updated in the future. There will come a time when a play area is no longer needed. Or, if your child is young, you may need to add a desk for schoolwork in a few years. When creating these zones, make sure to focus on creating the ideal spaces for your child to learn and grow.