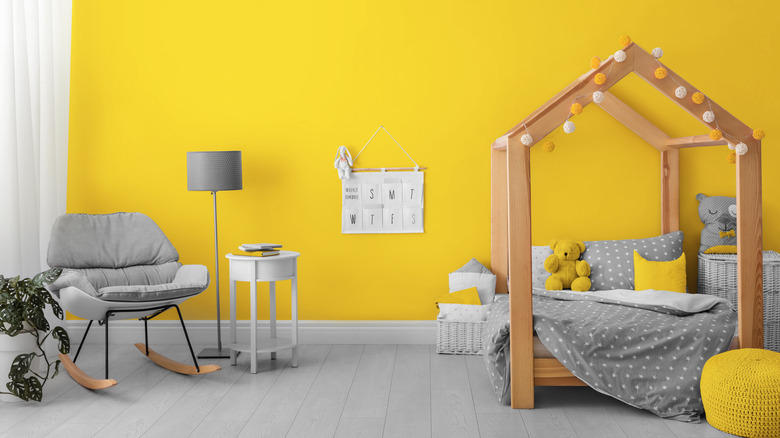 We may receive a commission on purchases made from links.
Are you thinking about decorating (or redecorating) your kid's bedroom? There are plenty of fun ways to create a space for your little one that sparks the imagination. One of the best ways to inspire creativity and create a fun atmosphere is by tying the room together with a theme. According to HGTV, choosing a theme based on a well-loved story or hobby is a great way to get kids excited about spending time in their bedroom. From the great outdoors and outer space, to baseball and "Harry Potter," there are plenty of fun options to choose from.
With that in mind, you'll definitely want to focus on making the most of the space with areas for playtime and crafting, and include storage containers for all their toys and knickknacks, per The Spruce. It's also good to consider how the space will evolve with time, since children are known for going through phases as they grow up. One day they might love Thomas the Tank Engine, while the next, it's all about jungle animals. However, if you stick to neutral furnishings it will be easy to transition the theme. Items like wall art, bedding, and toys can all be easily switched in and out over time. Here we've put together a list of super-cute themes that your little ones are sure to love.
1. Dream up an enchanting magical fairy world
If the fairy realm enchants your child, why not create a magical space for them to play and dream? Fairies are mystical creatures that are usually depicted as dainty, human-like creatures with butterfly wings, according to Google Arts & Culture. They play a role in many legends and stories, where they often live in woodlands and other natural environments. Since fairies are associated with flowers and springtime, a fairy-themed room would ideally bring the outdoors inside and create a magical hideaway for your child.
Look for key pieces like a canopy bed to bring this theme to life. These dreamy beds will instantly add whimsy and magic to any room. You can also transform a regular bed into a canopy with just a few easy steps, per The Spruce. Dressing the bed up with decorative vines, flowing white fabric, and floral decorations are great for incorporating fairy magic. You can also hang twinkle lights around the window, paint fairy creatures on the walls, and display your child's favorite fairytales on a bookshelf to stay true to the theme.
2. Create an action-packed comic book-inspired bedroom
Help your kid start every day as a superhero by designing a comic book-themed room. From the "Amazing Adventures of Spiderman" to "Superman," the classic comic book heroes always fight to see good triumph over evil. With a little Bam! and some Boom!, they usually send those villains packing. According to Reading Eggs, reading comic books is not only entertaining but offers tons of benefits for kids. They have the power to make kids excited about reading, broaden vocabulary, and cover all sorts of topics and genres.
To create a comic book-worthy space for your child, hang up framed retro comic book art and posters on the walls, or cover the walls entirely with a repeating comic book wallpaper print. Pack some extra punch with a life-size drawing of your child's favorite character, like a mural of Wonder Woman (via DigsDigs). And if you really want to make your kid feel like a comic book character, use a cartoon font to write out their name in bold letters and hang it above their bed or over a window.
3. Take inspiration from your furry friends for a pet-themed space
Whether your little one loves the family dog, cat, or goldfish or simply wants a pet, an animal-themed room is sure to brighten their day. According to Parents, pets offer tons of benefits for kids, providing them with comfort, nurturing, and a loyal companion. If you can't have pets in your home because of allergies or other reasons, a pet-themed room is the next best thing!
To set tails wagging, decorate the walls with paw prints, pictures of your child's favorite dog or other animal friends, and create a shelf for displaying your stuffed animal collection. If you fancy a fun DIY project, you can make your own stuffed animals or accessories, like a dog bone or fish toy, per The Spruce Crafts. Additionally, set aside some space in the room for cozy cat naps or create a comfortable window seat. Every pet needs a window with a view!
4. Build a Lego-themed wonderland
Everything about Lego is awesome, an iconic line of plastic building-block toys made of connecting bricks. Whether building a tower, steam train, yellow taxi, or an entire world, the sky's the limit when it comes to Lego. According to The Spruce, Lego sets are such popular gifts because they help children learn better problem-solving techniques and build motor skills. Creating a room inspired by Lego is a sure way to foster creativity and playfulness for both you and your child. (And it just might make you the coolest parent ever.)
To truly embrace this theme, stick to a Lego color palette consisting of classic blues, yellows, reds, and greens. You can make a bed Lego-tastic by attaching painted wooden rectangles to the edges in rotating colors, per Homebnc. Add painted wooden circles to the tops of the rectangles to achieve the Lego look. If you would rather stick to small decor items, Etsy has some great Lego-themed bedding and accessories. And no Lego room is complete without a dedicated table for your child to design new Lego masterpieces!
5. Show off your team spirit with a sports-inspired space
Hit a home run by designing a sports-themed room for your little athlete. Whether your child plays baseball, soccer, football, or ping pong (or is simply a die-hard fan), you can easily transform their room into a sports-lover's paradise. Plus, a sports-themed room is a great way to keep team spirit alive both on and off-season, according to SFGate.
To achieve a baseball theme, start by adding a large mural or picture of a baseball on the wall. Hang up some sports-inspired pictures and vintage posters, or opt for a fun baseball lamp (via Amazon). Add a personal touch by displaying your child's trophies or sports photos. To truly knock the ball out of the park, create a statement baseball bat headboard for the bed. You will need some wooden baseball bats, an electric drill, and a 4 x4 plywood board, per HomeSteady.
6. Dive into a deep-sea adventure
If your child loves the ocean, why not bring the sea straight into their bedroom with a cool nautical theme? Between soothing ocean waves and cute aquatic creatures, there are many ways to draw inspiration from under the sea. A great place to start is decorating with a calming blue and white color palette, per Kids Interiors. For wall decor, set sail with ocean-inspired wallpaper or hang up a few friendly sea creatures like a dolphin or seahorse. If your child is into movies like "Finding Nemo," you can't go wrong with clownfish or Dory-inspired fish decorations.
You can also set the scene for high-sea adventures by hanging up some fish netting or designing a boat-shaped bookcase, per WooHome. Portholes, starfish, anchors, and ropes symbolize the ocean and are easy to make with DIY projects (via YouTube). For bonus points, play the sound of ocean waves on an iPad or other device at night and let your kid sail away to dreamland.
7. Design a cool dinosaur den
If you have a little paleontologist on your hands, why not take a trip back to the Jurassic period? Dinosaurs may have roamed the earth over 65 million years ago, but that doesn't mean you can't fill your child's room with them. According to Motherly, dinosaur decor has been popular with children for generations, perhaps because these creatures are so otherworldly and majestic. Whether your child is obsessed with flying Pterodactyls or the fearsome Tyrannosaurus Rex, there are plenty of amazing ways to turn a bedroom into a sweet dinosaur den.
Forests were a typical habitat for dinosaurs back in the day, so incorporating some leafy greenery on a bed frame or decorating with potted plants is key to achieving a dinosaur theme (via American Museum of Natural History). For finishing touches, add in some framed portraits of different dinosaur species, hang a T. Rex head on the wall, and smooth out dinosaur-patterned sheets on the bed.
8. Cast a spell and enter the wizarding world of 'Harry Potter'
Your home might not be a stone castle from the early Middle Ages, but that shouldn't stop you from designing a magical "Harry Potter"-inspired room for your young witch or wizard. If your kid has raced through all of the "Harry Potter" books and movies and has been counting down the days until they're accepted to Hogwarts, why not give them space to practice their spell work around the house? It just takes a few flicks of the wand to capture the magic of this theme.
According to The Spruce, the Hogwarts dormitories are filled with handsome, curtained four-poster beds and wood flooring. However, you can easily recreate this look with a brown area rug and regal bedding (via Etsy). Depending on your child's favorite Hogwarts house, you can decorate with deep red and golden tones for Gryffindor, yellow and black for Hufflepuff, silver and green for Slytherin, or shades of blue and bronze for Ravenclaw. For extra house points, create a potion shelf to display magical mixtures and spell books, display your child's Quidditch broom on a wall, or incorporate antique lamps to ward off dementors.
9. Blast off into outer space
From shooting stars to the Milky Way galaxy, few things spark the imagination like outer space. Whether your child believes in aliens, can't wait to hop on a rocket ship, or simply loves star-gazing at night, this theme is sure to encourage them to blast off into new and exciting worlds. According to The Spruce, this versatile theme is not only gender neutral but suitable for children of all ages. That means you should be able to keep it around for years as your little explorer grows up.
To capture the spirit of space exploration, create a realistic night sky on the ceiling with glow-in-the-dark stars and planets (via Amazon). You can also draw a constellation mural on a wall, like this stunning DIY example from Jen Loves Kev, or add telescopes and rocket ship-inspired decor around the room. As always, bedding is a great way to make a statement in a room, so look for duvet covers patterned with planets, astronauts, and other celestial objects to really bring the theme to life.
10. Spark your child's sense of adventure with a room inspired by the great outdoors
Why wait for your next family camping trip to enjoy the great outdoors? Bring nature's playground to your kid's room with a camping or outdoor adventure theme. This theme is not only super-cute and fun, but can also help encourage a love for the environment. According to The New York Times, spending time outside in nature has the power to help kids do better in school and foster a healthy respect for the world around them.
To capture the spirit of roughing it in the wild, add playful decorations like a campfire and tent set made from felt (via Amazon). Faux trees, camping lanterns, artwork inspired by the outdoors, and animal-themed pillows will all help bring the outdoors inside, along with postcards or other souvenirs from national parks. To really make the room feel like a campsite, add in a kid's picnic table (via Popular Mechanics). It can function as a crafts table, workspace, or reading area — the sky's the limit!
11. Go wild with a jungle-themed tropical hideaway
You don't have to go on a safari to experience the magic of grasslands or the animals who call it home. You can easily create a wild, jungle-themed room for your child from the comfort of your own home. According to Houzz, this is a popular theme since children tend to be fascinated by animals and love being around them. Playful adventures are sure to be inspired by the vibrant colors, cute animals, and leafy tropical plants decorating the room.
For a room that says "welcome to the jungle," start by decorating with lots of cute stuffed animal friends. Lions, alligators, snakes, and giraffes are all great options. Or you can aim to decorate with your child's favorite animal. You can arrange animals on the bed or brighten up the space with wall stickers. Another great tip is to look for tropical jungle vines and leaves made from paper. These look great either hung on a wall, above a window, or around a headboard, and there are plenty of cute options available on Etsy.
12. Embrace your child's inner bookworm with a library-themed bedroom
If your child loves reading, celebrate by designing a room resembling a cozy library. While we certainly live in an age where we spend lots of time on tablets, laptops, and phones, few things are as relaxing as curling up at the end of a long day with a well-loved book. According to The New York Times, there are plenty of ways you can raise a reader, including making reading at home beautiful and inspiring. A fun, bookish room is the perfect place to start!
To decorate your kid's room with a literary-inspired theme, bookshelves are a must for displaying your young reader's favorite page-turners in style. Whether they love stories about fantasy kingdoms or mysterious creatures, you can keep their collection close at hand. Along with books, you can dress up the shelves with lights, artificial vines, and some cool art. Add in some literary throw pillows, book-themed wallpaper (via Wayfair), and a cozy reading nook, and you're good to go!
13. Become one with the Force by creating a 'Star Wars' room
If you have a young Jedi at home, why not surprise them with a "Star Wars"-inspired room? As one of the highest-grossing film series ever, "Star Wars" movies have been lighting up the big screen for decades, per CNBC. Part of what makes these films so appealing to viewers of all ages is the epic plot, intriguing characters, cool spaceships, and dazzling visual effects. Children especially can't get enough of "Star Wars." If your kid loves lightsabers, Yoda, and everything else about the galaxy far, far away, turn their room into an epic space.
According to Hudson's Vacation Interiors, you should first figure out your child's favorite character and plan the color palette around their design. Alternatively, you can also opt for a light or dark-inspired color theme, depending on which side your kid favors. For example, if they love Darth Vader, decorate the room with black, silver, and red tones. If they prefer good guys like Luke and Han Solo, choose white, light brown, and lime green colors. When it comes to decor, let the Force inspire you. Hang up lightsabers, decorate walls with famous quotes from the series, and add some "Star Wars"-inspired bedding to tie it all together.