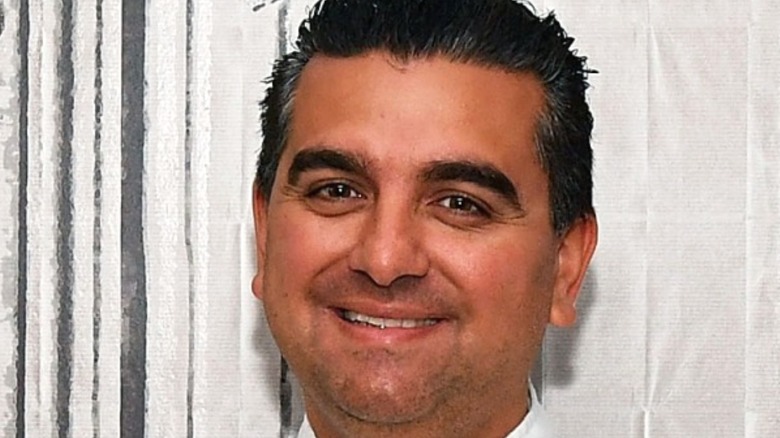 If you're a fan of baking and like to watch television, chances are you've heard of "The Cake Boss," a popular reality TV series that aired on TLC starting in 2009. The show's star, Buddy Valastro, has made a true name for himself and the family's well-known establishment, Carlo's Bakery, through the filming of the show, where he has showcased many elaborate cakes over the years.
While the original Hoboken, New Jersey location gained traction from the series, the show spurred the opening of many more Carlo's locations across the country. Valastro has made it clear time and time again, that his success and fame all began from a long line of family kinship. Before Valastro's father passed when he was a teenager, he promised his family he was going to work hard to create a successful business out of his family's strong culinary history.
In 2017, Valastro lost his mother after a long battle with Lou Gerhig's disease and he needed time and space to mourn her loss. He even closed all Carlo's Bakery locations worldwide on June 27, 2017, as a day of remembrance (per Delish). It's clear that the celebrity baker is a dedicated family man, but that doesn't explain why the popular show was canceled.
Cake Boss on Discovery Family
While there is more to the story of "what really happened with the "Cake Boss" going silent on the TLC network, most of the reasons do involve Valastro's love for his family. The baker needed time after his mother's passing, so he decided to stop filming for nearly two years. Valastro then took some time to focus on his health and eventually showed off a slimmer figure.
The show did make a resurgence in 2019 on TLC's sister network, Discovery Family, and has now surpassed 10 seasons. There is speculation that Valastro wanted to bring "Cake Boss" back to a smaller TV network and make the show more accessible to kids (per reality blurred).
"Cake Boss" has always included the star's family members on screen and he is beginning to consider what the next phase of life looks like for the family business. Valastro has four children and since they are getting older and he is excited to involve them in potentially taking the reigns on the culinary empire he and his family have created over the years.
While "Cake Boss" did disappear from the TLC network, it's not gone altogether. Along with the show moving to a smaller network, Valastro has also started two new shows on the Food Network titled "Buddy vs. Duff" and "Buddy vs. Christmas." The official "Cake Boss" is still active on-screen but has recently taken a bigger interest in his restaurants.
Where is the Cake Boss now?
While Valastro has moved on to other endeavors since the start of "Cake Boss" in 2009, like many successful people, he did undergo a setback or two. In 2020, Valastro injured his hand in a horrific bowling accident, nearly causing him to miss filming season three of one of his newer shows "Buddy vs. Duff," which originally aired around the same time that "Cake Boss" moved to Discovery Family.
Even though he had to undergo five separate reconstructive surgeries, Valastro has since admitted to Rachael Ray that his hand is 95% healed (per Today). Luckily for the star baker, 95% is good enough. Earlier this year, Valastro opened his fourth restaurant business in Las Vegas, The Boss Cafe at the Linq Hotel + Experience, which is a unique spot that offers a full mozzarella bar where guests can choose from a full variety of mozzarella cheeses, different Italian accompaniments, and freshly baked bread.
Adding to his ever-growing brand, in April the TV personality officially opened Buddy's Jersey Eats, which is a fun food truck-style eatery featuring foods Valastro grew up eating in Jersey (via What Now Las Vegas). While still known as the ultimate "Cake Boss," he has proven himself to also be an ultimate restauranteur.
Buddy Valastro expands outside Cake Boss and the U.S.
With his eateries proving to be successful in the states, Valastro hopes his bakery business outside of the U.S. will fare the same. The celebrity chef has had vending machines selling cake slices within the Ottawa region of Canada and he also opened a Carlo's Bakery storefront location in Mississauga, Ontario at the beginning of this year.
Valastro made the Carlo's Bakery dream a reality for those in Ontario, enabling long-time "Cake Boss" lovers the option to choose from a variety of baked goods now served fresh within entry doors. Moreover, the business offers Canadians nationwide shipping and online ordering for pickup at the brick-and-mortar location.
While the Mississaugua store sees success, so does the Brazil location. According to World Stock Market, the celebrity traveled to São Paulo earlier this month to celebrate the bakery's five-year anniversary.
Without a doubt, fans would love more locations across the globe. Four days ago, a post on the Carlo's Bakery São Paulo Instagram page featured a reel of Valastro's time in Brazil and fans made it clear they want to see more storefronts. One user states, "open a store in Rio de Janeiro" while another user demands a location in Columbia. The expert baker has moved well beyond "Cake Boss" and continues expanding his success everywhere he goes.