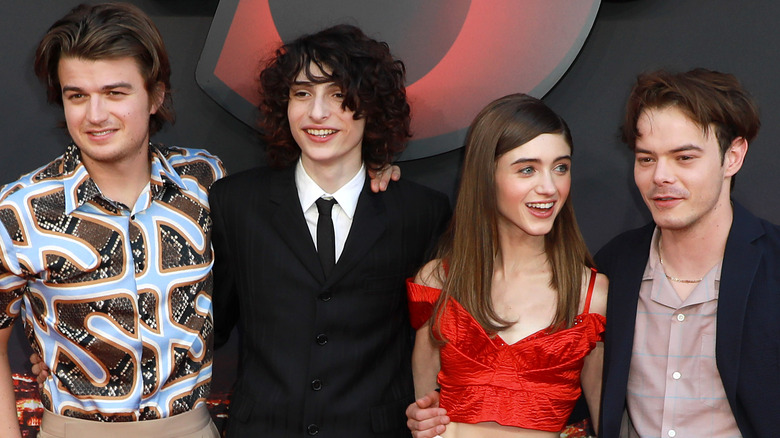 The Netflix original series "Stranger Things" practically blew up overnight when its first season debuted in 2016. While the kids of Hawkins are constantly fighting off monsters, playing DnD, and saving the world time and time again, they somehow still have time for their love lives.
Whether you're rooting for Elle and Mike, Nancy and Steve — or Nancy and Jonathan — Dustin and Suzie, or Max and Lucas (because, let's face it, they're the cutest will they/won't they pair on the show), you're probably just as invested in the relationships as you are with the never-ending action.
While the on-screen couples are iconic, it makes you wonder what their love lives are like off-screen. Well, we're here to tell you that our favorite gang is in some pretty adorable off-screen relationships too. So, let's dive into who's dating who, and which cast members are staying single (we can guarantee you'll be happy about one of Season 4's bachelors).
Season 4 spoilers ahead.
Millie Bobby Brown found love with Bon Jovi's son, Jake Bongiovi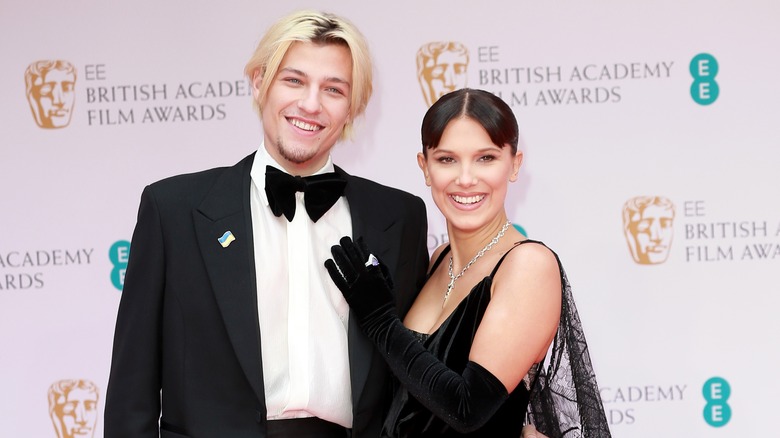 Millie Bobby Brown has become a household name thanks to her portrayal of Eleven, everyone's favorite super-powered queen. The young actress and founder of beauty company Florence by Mills loved up with her boyfriend Jake Bongiovi, the son of Bon Jovi.
The two reportedly met in 2021 through mutual friends, which is a normal way for two celebs to meet (via CapitalFM). When Bongiovi posted a photo of the two of them together on Instagram with the caption "BFF," rumors began to swirl. Months later, Brown later took to Instagram and posted a pic of Bongiovi kissing her on the cheek while on the London Eye. Since then, they've been seen together at red carpets and premieres, and Brown is constantly posting cute couple pics on the 'Gram.
This isn't Brown's first public relationship, though. Back in 2017, she dated singer Jacob Sartorius, breaking up seven months later (via Pop Buzz).
Joe Keery is dating fellow actor Maika Monroe
While it's hard to picture jock-turned-babysitter Steve Harrington (played by Joe Keery) with anyone other than Nancy Wheeler, Joe Keery is dating actress Maika Monroe. The couple at a party in Los Angeles back in 2017 (via GQ). The two made their red carpet debut in October 2017 at the premiere of "Stranger Things 2" (via People). Perhaps their relationship blossomed quickly since they played love interests in the 2018 film "After Everything," which was filmed in 2017.
Though they can often be seen on red carpets or out and about Beverly Hills walking their dog, it's rare to see them post about one another on social media (via Daily Mail). Perhaps this is because they want to keep their relationship private, and in this day and age, who could blame them? Still, we're always happy when we do get to see them, together as they're a really cute couple.
Nancy (Natalia Dyer) and Jonathan (Charlie Heaton) are together IRL
Sometimes developing feelings for a co-star can be inevitable, and for "Stranger Things" on-screen couple Nancy and Jonathan that's exactly what happened. Natalia Dyer (Nancy) and Charlie Heaton (Jonathan) met while auditioning for the first season of "Stranger Things" and show creators, the Duffer Brothers, instantly knew they had magic. "That first audition, we did a chemistry read with [Heaton and] Natalia, and sparks were flying," Matt Duffer told GQ. Although they met in 2015, it wasn't until fall 2017 that the two made things official (via Elle).
Despite being a power couple from one of the most popular Netflix shows, they tend to be pretty private about their relationship. However, they do occasionally mention one another in interviews. When V Man asked Heaton what it's like to have a girlfriend who's also a co-star, Heaton said, "To go home with someone you work with and say, 'I think they hate me…' They'll say, 'No they don't.' You can break the walls down with your partner. Because we work in the same industry and have had similar trajectories, we've gone through it together."
In an interview with Us Weekly, Dyer joked about her boyfriend, saying, "He's alright I guess. He doesn't mess up our scenes too much! No, he's great. He's talented, like everybody in the cast."
Gaten Matarazzo is dating his high-school sweetheart, Lizzy Lu
Of the five core "Stranger Things" kids, Gaten Matarazzo has definitely been in the longest relationship. The actor, who plays the absolutely lovable Dustin, has been with his girlfriend Lizzy Lu since high school (via Us Weekly).
Speaking of high school, Lu took to Instagram to share a picture of the pair all dressed up for Senior Prom with the caption, "I will never think of High School without thinking of you" And, uh, if you don't think that's cute then you may not have a heart. Matarazzo also shared photos of the pair on his Instagram feed. In a series of throwback photos of their Junior Prom, he called Lu "the most beautiful girlfriend ever."
The two have a pretty normal relationship despite Matarazzo's mega-stardom. They love stay-at-home dates, for one thing. Matarazzo told Us Weekly, "We play pool. I have a pool table at my house." In the same interview, the "Stranger Things" star said Lu has the family stamp of approval: "My family loves her, she's great. My brother and my sister get along with her great." To us, it sounds like Matarazzo and Lu are end-game.
Maya Hawke has never officially confirmed her relationship with Spencer Barnett
When Robin (played by Maya Hawke) was introduced in Season 3, she was an immediate favorite. While Robin is still figuring out how to make her feelings known to her love interest Vickie in Season 4, the actor is killing it in the relationship department. As of this writing, Hawke is dating musician Spencer Barnett.
Spencer Barnett is the son of Shaklee Corporation CEO Roger Barnett and former Manhattan district attorney Sloan Barnett, while Maya Hawke is the daughter of Ethan Hawke and Uma Thurman. The couple made their relationship status quite clear after being seen in New York City kissing on Valentine's Day — aka the most romantic day of the year (via Daily Mail). Hawke and Barnett are often seen together on red carpets and out in public, but they do not post about one another on social media. And even though they've been seen together frequently, they've never actually officially confirmed their relationship.
It's not clear if Sadie Sink is in a relationship with Patrick Alwyn
Max Mayfield was by far the stand-out character of Season 4, so we have to start by praising Sadie Sink for the stellar performance. We also should thank her character for giving fans the song of the summer, "Running Up That Hill (A Deal With God)" by Kate Bush.
Her character certainly has great chemistry with Lucas Sinclair (played by Caleb McLaughlin), especially in the fourth season of "Stranger Things." As Sink explained to The Hollywood Reporter, "With Max and Lucas, it's so tricky because they both just really care about each other, but the love and care that Lucas has for Max terrifies her, and the love and care that she has for Lucas terrifies her, so she would never say anything to that extent in person."
As for the actor's own love life, Max may — or may not — be single. However, some speculate that she's in a secret relationship with Patrick Alwyn, as Elle reported. If the last name "Alwyn" sounds familiar to you, it's because his brother Joe is in a relationship with the Queen of Pop (and we stand by that assertion), Taylor Swift. As Elle explained, Sink and Patrick Alwyn likely met through Swift, as Sink starred in Swift's short film "All Too Well" with heartthrob Dylan O'Brien.
Finn Wolfhard may still be dating Elsie Richter
Finn Wolfhard plays Eleven's boyfriend Mike Wheeler in "Stranger Things," but he's far more secretive about his love life IRL. Nevertheless, the talented actor, musician, and up-and-coming writer and director, was, or is, in a relationship with Elsie Richter. The pair kept their relationship quiet, with Wolfhard only posting one photo with Richter on Instagram that's since been deleted (via The Washington Post). And if it had been up to Wolfhard, the photo would've never been posted. As he told The Washington Post, fans actually blackmailed the actor to post a photo confirming his relationship with Richter or they'd reveal her address, so he did. "They're like, 'Oh, okay, I'm so sorry. We love her.' It all fades literally once you're like, 'Hey, calm down. It's cool. I'm a real person.'"
Fans have since speculated that the couple has broken up as they haven't been seen together as much, and Richter didn't accompany Wolfhard to the Season 4 premiere of "Stranger Things" (via J-14). Seeing how Wolfhard keeps things close to his chest, it's hard to know if they split or if they're just keeping things tighter under wraps.
We know Joseph Quinn's relationship status thanks to Noah Schnapp
We can pretty much guarantee this is the cast member you've all been waiting for! Joseph Quinn, who portrays Season 4's Eddie, has won over the hearts of fans. Perhaps it's because he reminds fans of the late actor, Heath Ledger, in "Ten Things I Hate About You," as one TikTok user demonstrated in a mashup video. So what's his relationship status? Well, it may have been incidentally confirmed by his co-star Noah Schnapp (Mike).
Like legions of "Stranger Things" fans have wondered, Doja Cat was also curious about his relationship status. And so she hopped in Schnapp's DMs looking for answers. "Noah can u tell Joseph to hmu?" she asked, "Wait no. does he have a gf?" Schnapp responded with, "LMAOO slide into his dms" (via PopSugar).
Schnapp revealed screenshots of the convo in a since-deleted TikTok and, uh, Doja Cat wasn't too happy about that. In an Instagram Live, she said, "The fact that Noah did that, like went and posted a private conversation between me and him is so unbelievably socially unaware and wack" (via Vulture). And what did Quinn say about all this? Surprisingly nothing.
Noah Schnapp is likely single but has a marriage pact with Millie Bobby Brown
Like his co-star Joseph Quinn, Noah Schnapp appears to be a part of the singles' club. Perhaps he will meet someone at his lifeguard gig. Yes, he works as a lifeguard because he's the most non-celebrity celebrity we've ever seen (via The Things). One TikTok user said it best when duetting his video, "Noah Schnapp might be the most normal out-of-touch celebrity I've ever seen." We really love that for him.
While he's thought to be single, he apparently has a pact with co-star and best friend Millie Bobby Brown. In an interview with MTV News, Brown said, "We said if we're not married by 40, we will get married together because we'd be good roomies." Schnapp agreed. However, Brown clarified that their marriage would be strictly platonic. "No kids at all, only dogs, and separate bedrooms for sure," she joked. Hey, it's always good to have some sort of backup plan, right?
'You wouldn't know' if Caleb McLaughlin was in a relationship
While Lucas Sinclair may be swooning over Max Mayfield, it looks like Caleb McLaughlin (Lucas) doesn't have a special someone in his life, as of this writing. Back in a 2019 red carpet interview, Extra TV asked the star if he was dating. He looked straight at the camera and said, "No, I'm not." The face he made at the camera low-key screamed "I'm single and ready to mingle."
Then, in a 2021 interview with Wired, he was asked if he was single, to which he replied, "Yes, I am. Yeah, I'm chillin' right now." He went on to add, "You know what's funny? If I'm actually dating someone, if I'm in a relationship, you wouldn't know." Who knows, there might be a person out there that'll finally catch his eye. Or there may already be a significant other and he's just never going to let fans know.
Jamie Campbell Bower is dating talent manager Jess Moloney
Like Joseph Quinn, Jamie Campbell Bower is a new edition to the "Stranger Things" cast portraying Henry/Vecna/001 (if you know you know). You may remember him from "The Mortal Instruments: City of Bones." And we hate to be the ones to tell you, but Bower is not single. He is in a relationship with talent manager Jess Moloney (via Page Six).
If you've been a fan of Bower prior to his "Stranger Things" era, then you know he's had a couple of high-profile, long-term relationships. His first was with Bonnie Wright, aka Ginny Weasley from the "Harry Potter" franchise, according to Elle. The two were even engaged in 2011 (via Marie Claire). However, the couple called off their engagement the following year (via Us Weekly). That same year, Bower began dating his "Mortal Instruments" co-star Lily Collins, and they had an on-again, off-again relationship for some five years (via Your Tango).
David Harbour is married to singer Lily Allen
The "Stranger Things" kids aren't the only ones in relationships, David Harbour (aka Jim Hopper) is happily married to British singer Lily Allen. They were first spotted together in January 2019 at the BAFTA Tea Party (via People). Allen later shared an Instagram Story of Harbour's bicep from a skit he performed on "Saturday Night Live" with the caption, "mine." And after seeing him shirtless in Season 4, well, we totally get why she'd brag about it.
In September 2020, the couple secretly tied the knot in Las Vegas with an Elvis impersonator as their officiant (via Us Weekly). During an interview with Jimmy Kimmel, Harbour relayed a story about Allen's children. "She has two kids, these beautiful daughters, 8 and 9, and we were riding bikes … and the little one was riding along and she was going like, 'David, Dad, Dav-Dad.' And the older one got very upset with that, which I understand." When the younger daughter asked what exactly Harbour was, the older one said, "He's just some guy in our lives!" That's when Harbour knew something needed to change. "I was like 'I need to marry this woman,'" he told Kimmel. So that's exactly what he did.
Winona Ryder is in a long-term relationship wtih fashion designer Scott Mackinlay Hahn
In "Stranger Things," Winona Ryder plays Will and Jonathan's mom, Joyce Beyers. And while we will always be team #Jopper, her real-life romance seems pretty great too. She is dating fashion designer Scott Mackinlay Hahn, who she's been with since 2011. When they first met, Hahn didn't recognize who she was because he isn't well versed in the entertainment world. "He thought I was Milla Jovovich. He told me I was great in 'The Fifth Element,'" she told Harper's Bazaar. Ryder considers herself a "serial monogamist," but when it comes to marriage, she told The Edit, "Marriage? I don't know. I'd rather never have been married than been divorced a few times" (via People). She went on to clarify, saying, "Not that there's anything wrong with divorce, but I don't think I could do it if that was a possibility. When your parents are madly in love for 45 years, your standards are really high."
Prior to entering into a relationship with Hahn, Ryder had a few relationships with some big Hollywood names, most notably Johnny Depp. "I had my first real relationship with Johnny (Depp), a fiercely deep love that I don't know that I'll ever [get over it]. The first love is like that isn't it?" she said in an interview with Cinema back in 2001.